Back to News
Convocation and Matriculation Launches Trinity's Third Century
Trinity Community
posted
by Andrew J. Concatelli
Trinity College marked the beginning of its 200th academic year today, when President Joanne Berger-Sweeney welcomed the Class of 2027 as the first class to matriculate in the College's third century.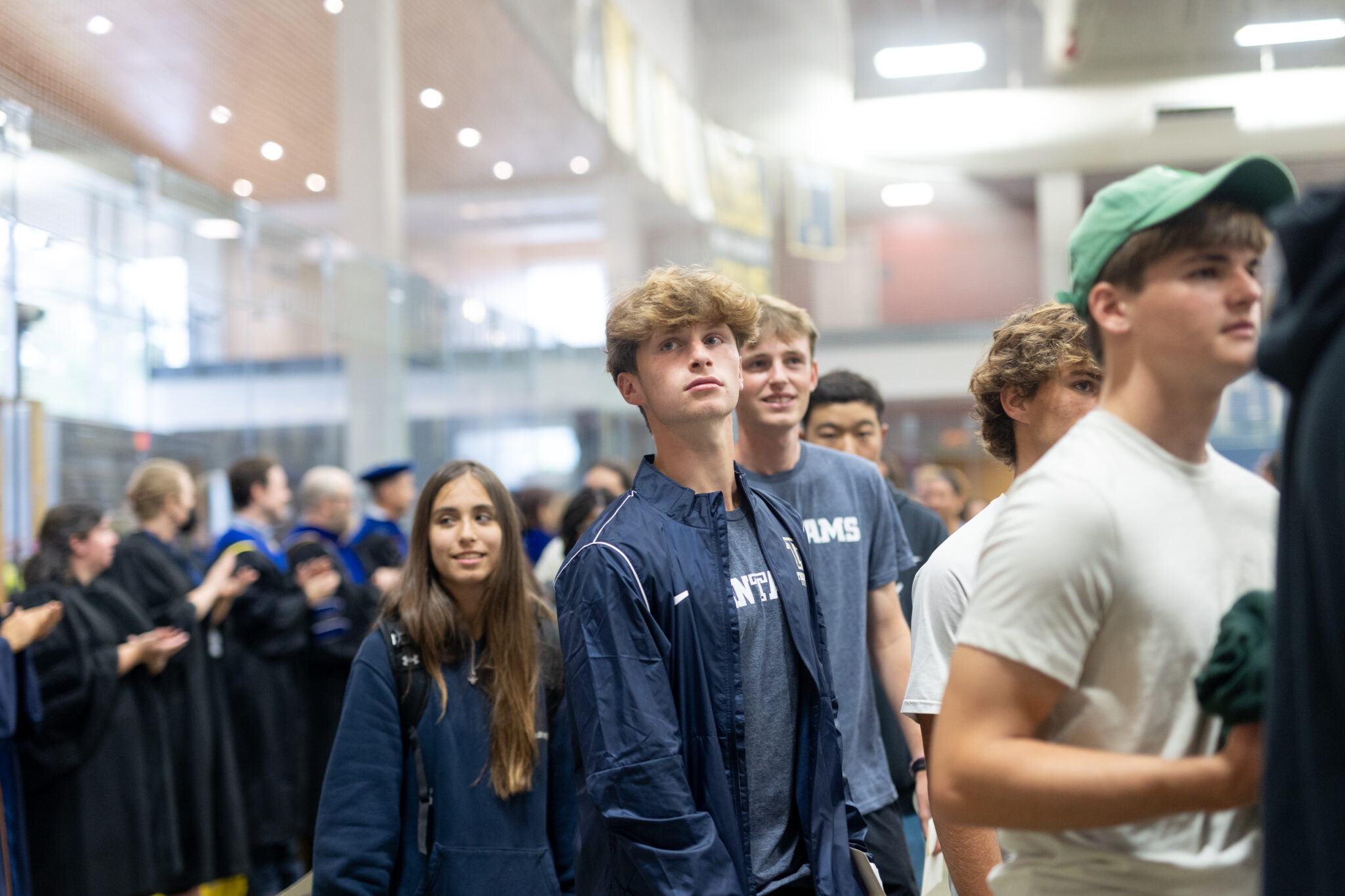 "There's something truly special about the arrival of a new group of students, the anticipation of the opportunities that await you in your Trinity journeys, and our faith that you will transform this place for the better as you transform yourselves," Berger-Sweeney said during the Convocation and Matriculation Ceremony at the Koeppel Community Sports Center.
In addition to the 590 members of the Class of 2027, others joining the Trinity community include 39 transfer students and five new Individualized Degree Program scholars. Those gathered to celebrate the arrival of the new students included faculty and staff members, parents, families, and friends.
Berger-Sweeney said that a liberal arts education can serve as an antidote to what she called "the outrage addiction" that permeates society and media. "A liberal arts education at Trinity teaches analytical and nuanced thinking and an appreciation of different perspectives, listening with empathy, and responding respectfully," she said. "You will learn nuance, and, as I love to say, you will learn 'how' to learn and 'how' to think, not 'what' to think."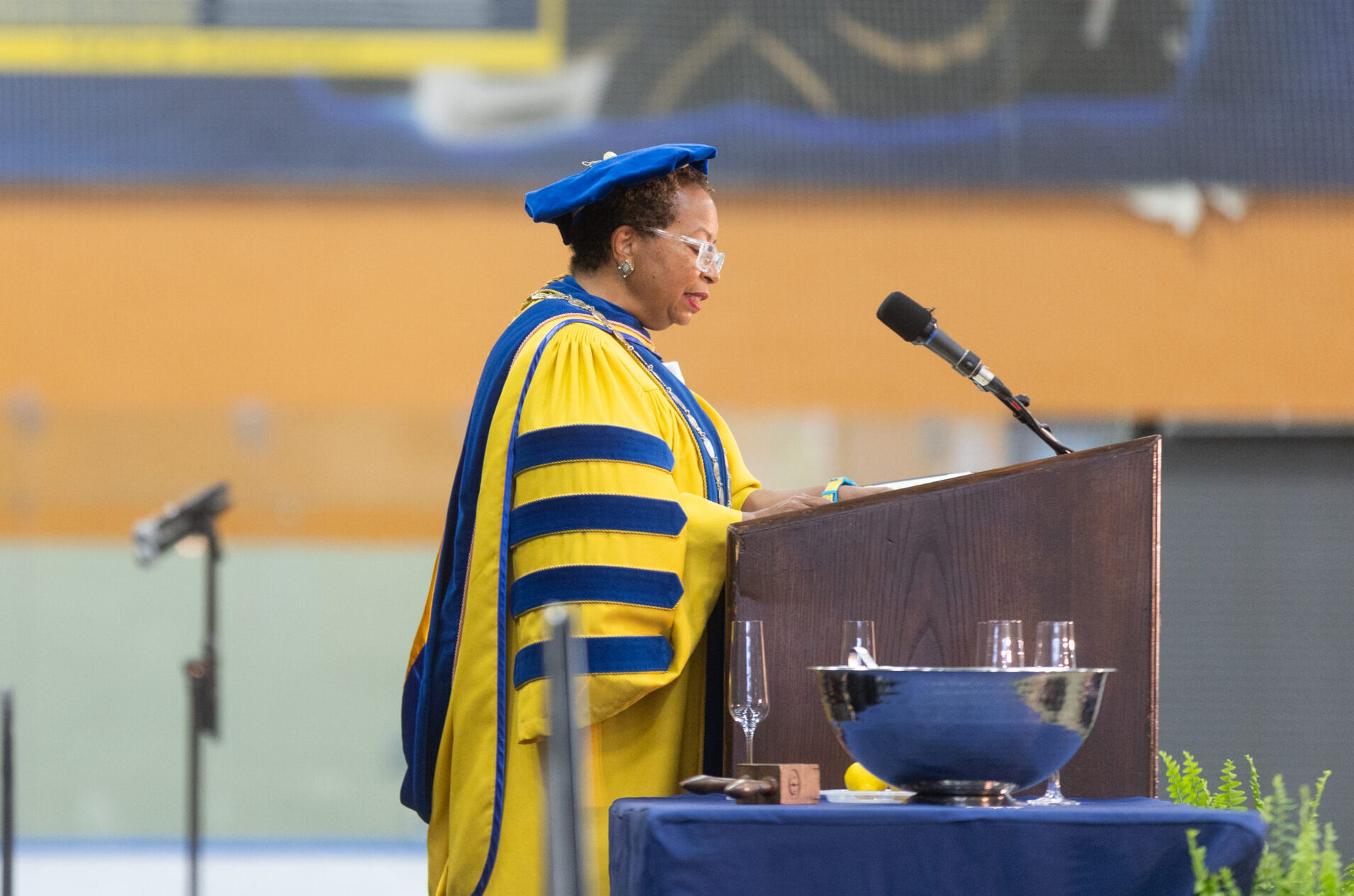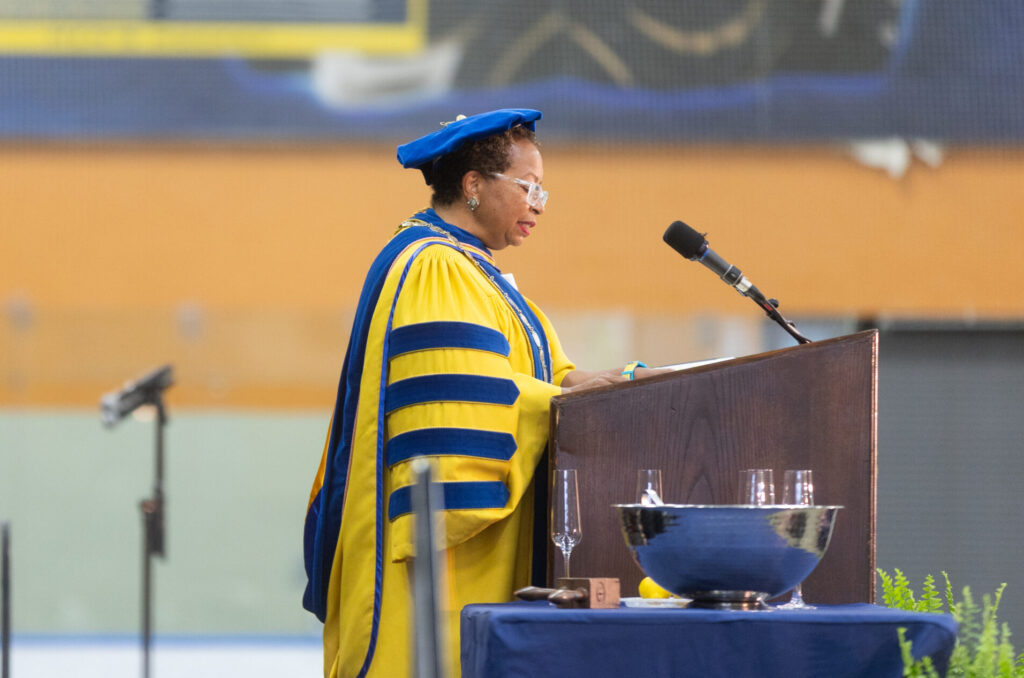 As he introduced Trinity's Bicentennial class, Matthew S. Hyde, dean of admissions and financial aid, said that members of the Class of 2027 represent a truly global community. "The most local among you can skip about a half mile to her Hartford home just a few blocks from here, while the Bantam among you who journeyed the farthest will need to hop 9,376 miles across oceans and continents to his home in Melaka, Malaysia," Hyde said.
The class includes recruited student-athletes, Posse Scholars, engineers, philosophers, neuroscientists, artists, and high school valedictorians, Hyde said. Twenty-eight class members are following a family member to Trinity, while 97 students will be the first in their families to earn a college degree.
"Your interests and intent, your ideas and ideals are vast and compelling," Hyde said. "Regardless of how you landed in this seat before me, let it be known that this day, your class, and your College unite all of you. Each and every one of you belongs at Trinity." Read more about the Class of 2027 here.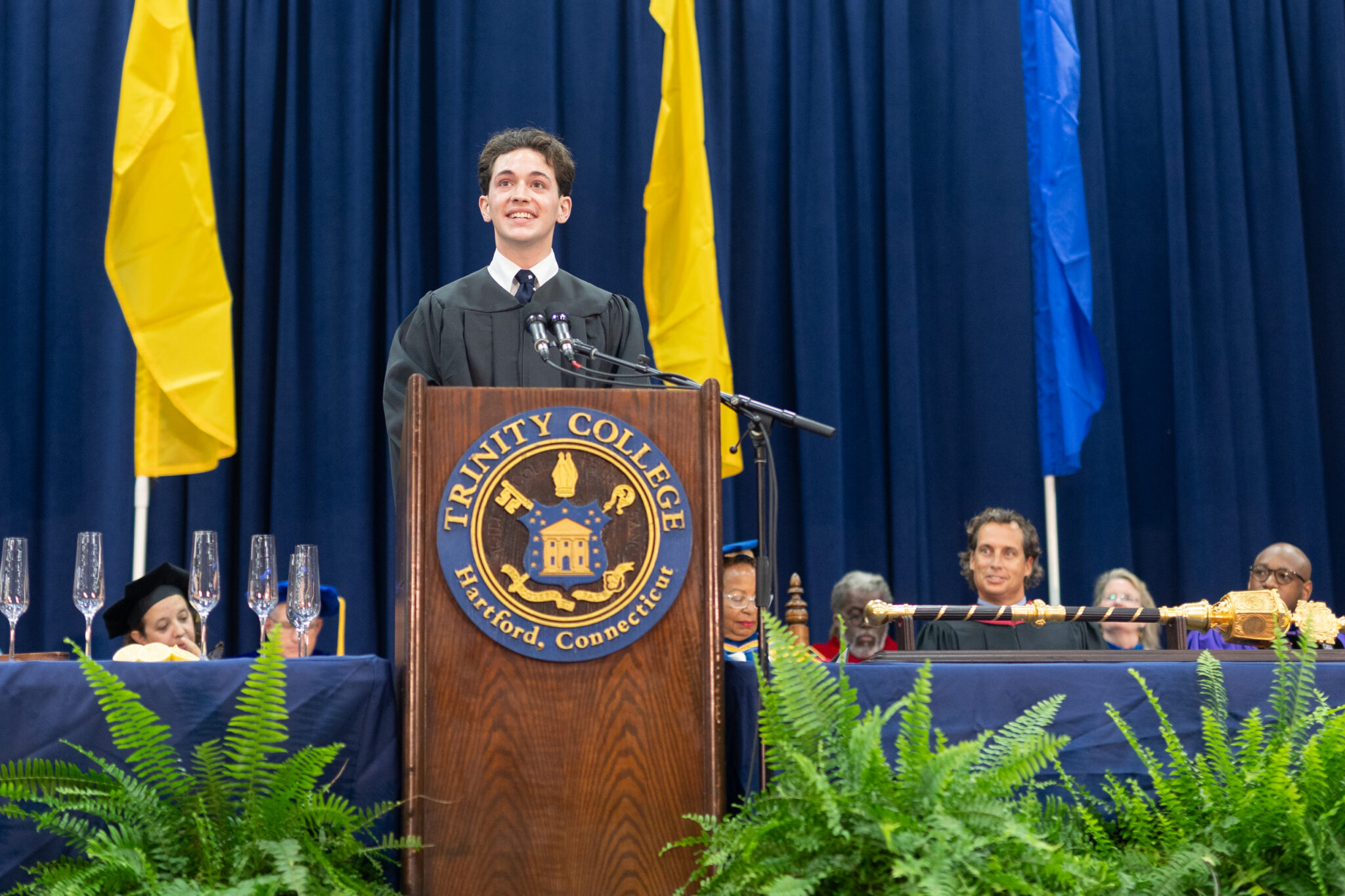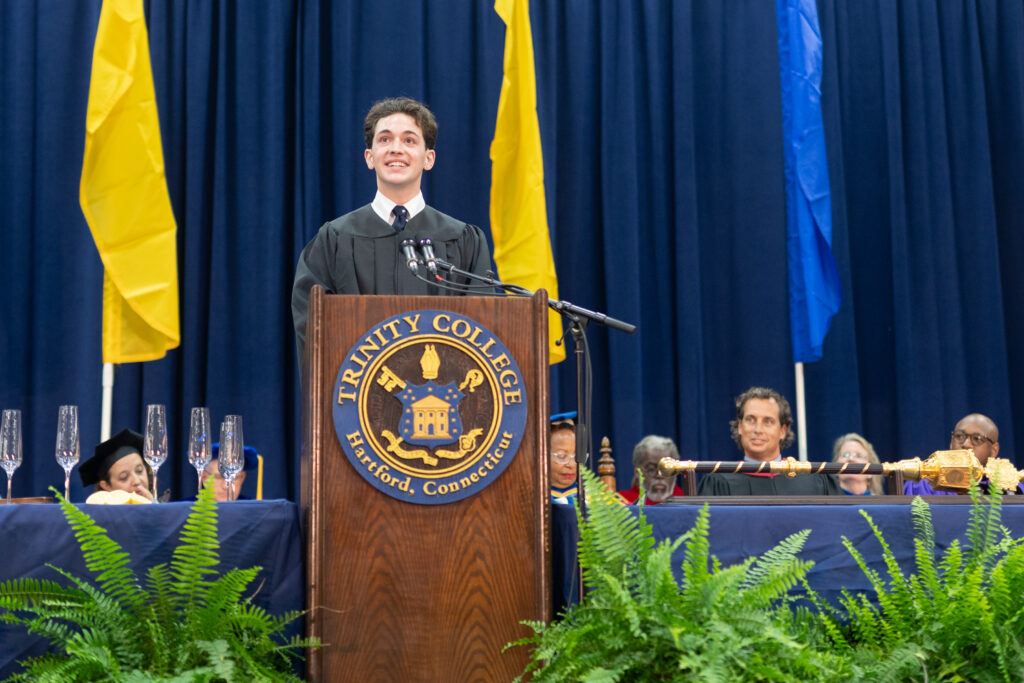 Jake McPhail '24, president of Trinity's Student Government Association, told his fellow students about the community of which they are now a part. "The foundation of our community is the diverse tapestry of individuals that come together from all walks of life," he said. "This diversity is our strength, our collective treasure that enriches our perspectives and fuels our growth. It's not just about existing side by side; it's the active embrace of our differences that makes us truly flourish."
McPhail reminded students that they will not be alone during their time at Trinity. "The journey might seem daunting, but it's the shared experiences, the friendships, and the collective wisdom of this community that will carry you through," he said.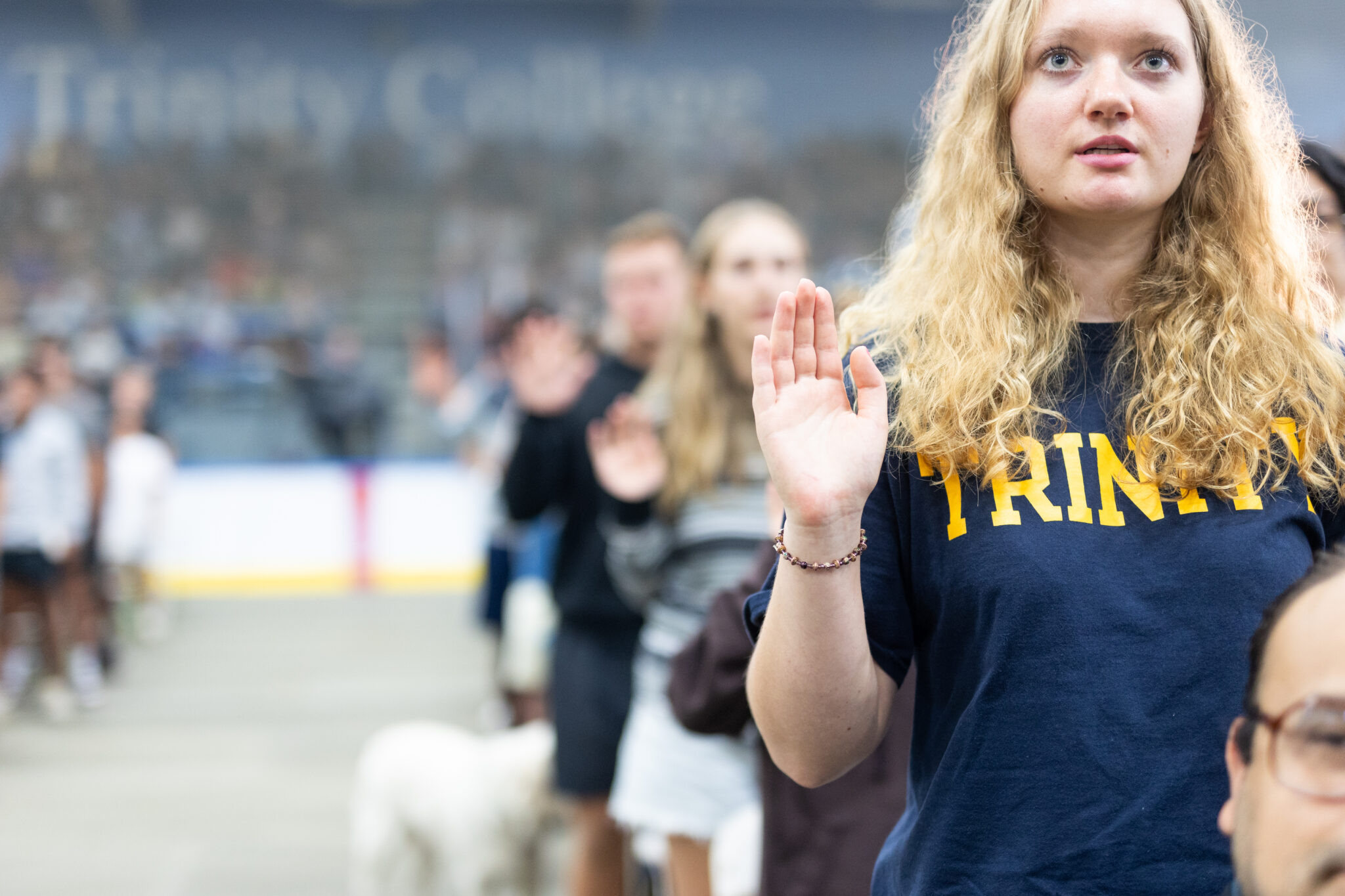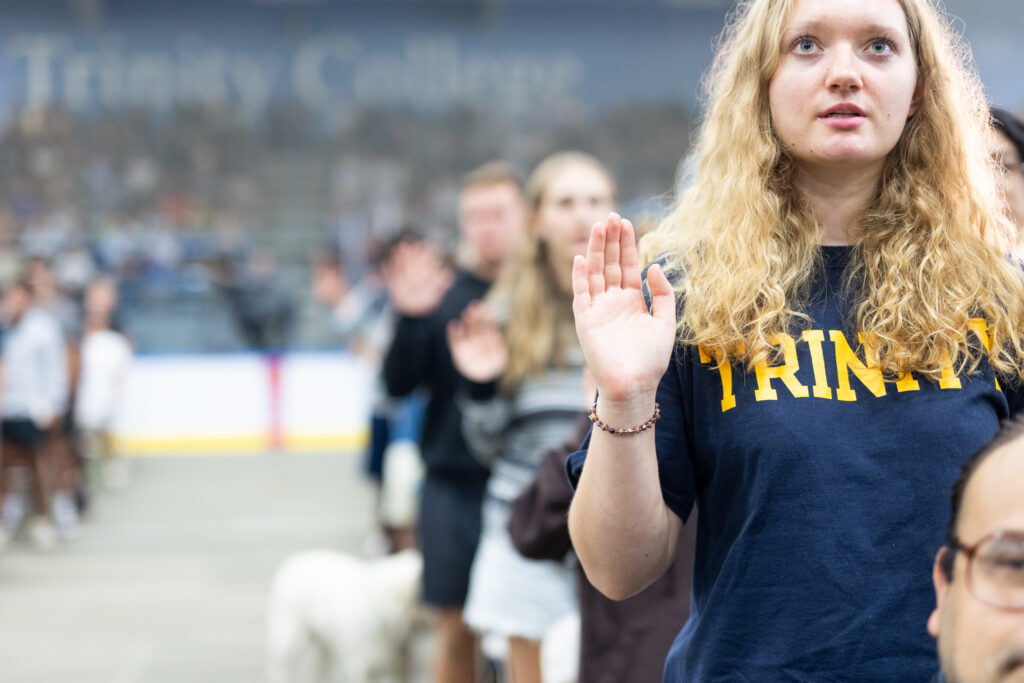 In his welcoming remarks as secretary of the faculty, Eric A. Galm, professor of music, challenged the newest members of the Trinity community to take ownership of their experiences and to create what they envision. "If you feel like there is something missing, get some friends together and make it happen over the next few years. Many of the clubs and groups that currently exist were started by your predecessors," Galm said. "Remember that while dreams may come easily, making them come true is often a result of hard work."
David Sterling Brown '06, associate professor of English—delivering an address as both a faculty member and an alumnus—advised the new students to engage professors in conversations about how to thrive at the College. "Understand why you are here at Trinity, and take advantage of all opportunities to learn inside and outside of the classroom, for it is often the process that teaches us the most," he said.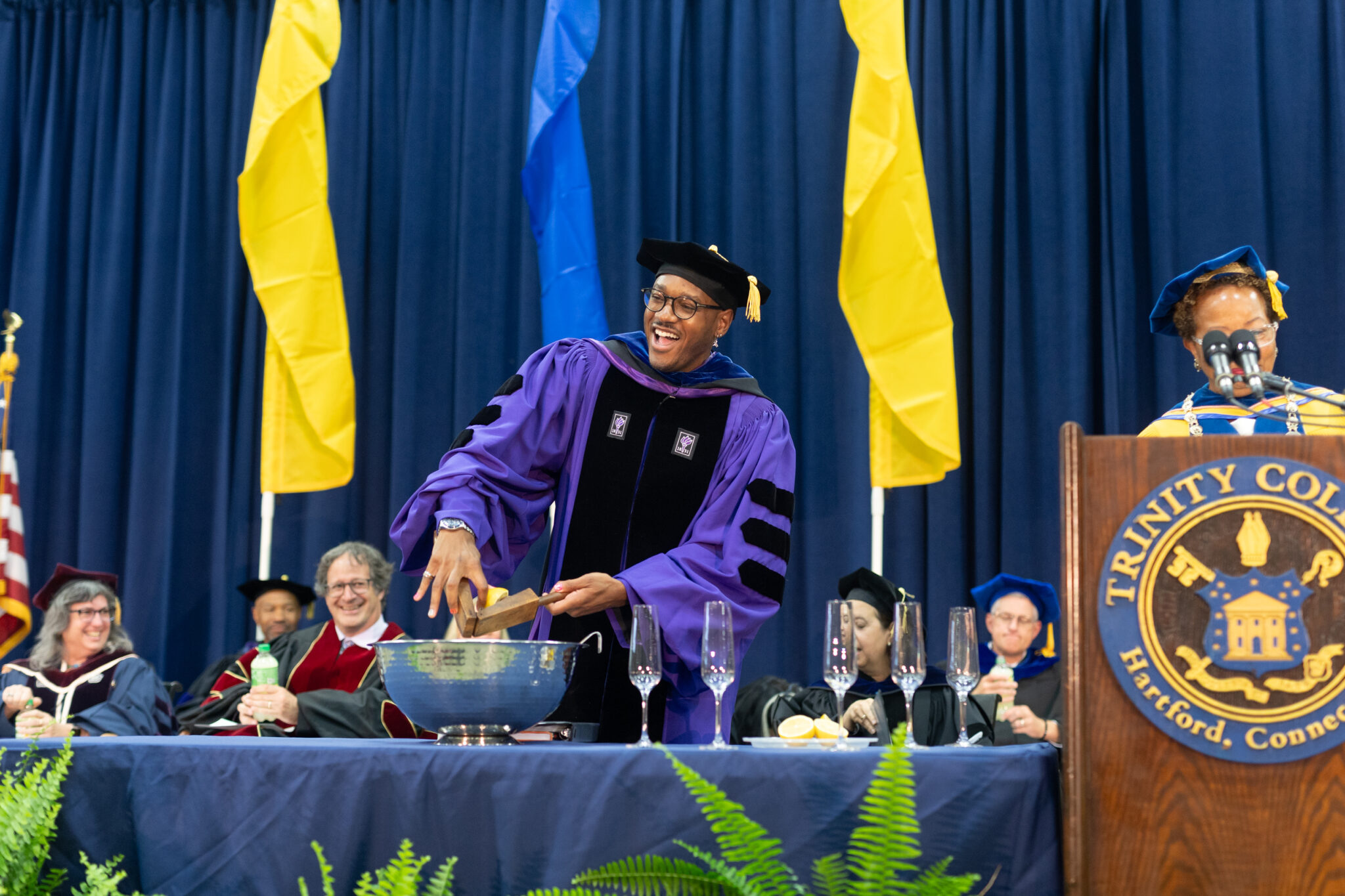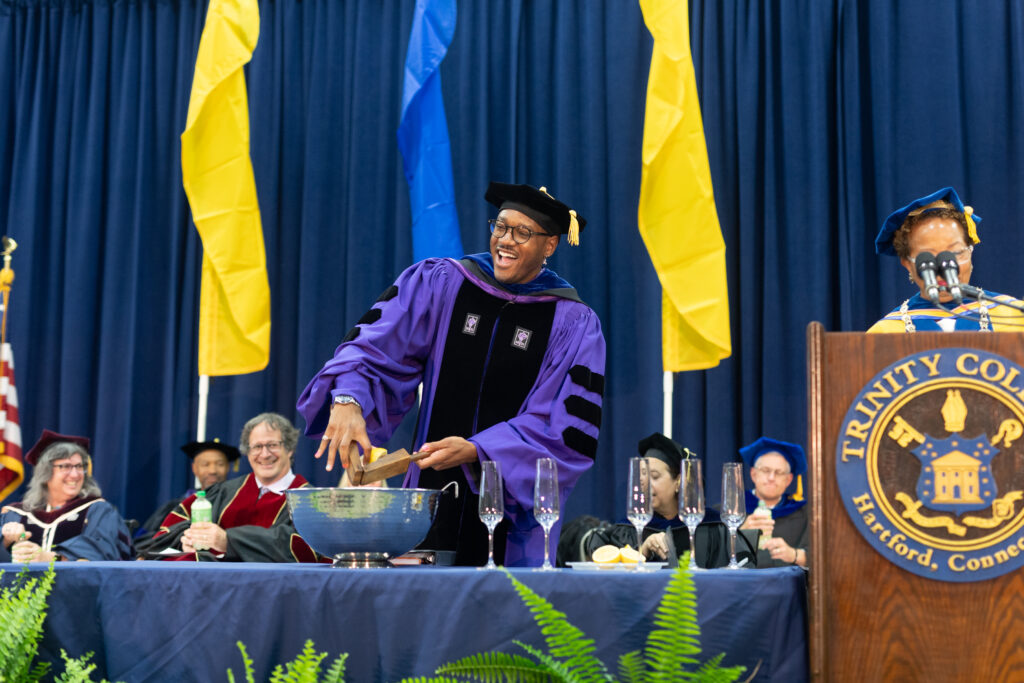 Speaking from his own experience, Brown added, "It is perfectly OK to change your mind, especially if doing so means honoring what you need or want, honoring your life's passion." He reminded students that they will grow and evolve during their years at Trinity and that they should continue to seek out connections and help when they need it. "Additionally, understand that Trinity is a part of Hartford, Trinity is a part of the world; it is not a bubble that shields us all from anything. It is a permeable membrane across which vital, creative, and imaginative ideas and sharings can and do move," Brown said. "And lastly, always remember this: Trinity College chose you."
Before the new students took the Oath of Matriculation, Berger-Sweeney said, "Matriculation seeks to welcome incoming students formally to this fellowship of learners that makes Trinity such a very special place to spend one's undergraduate years."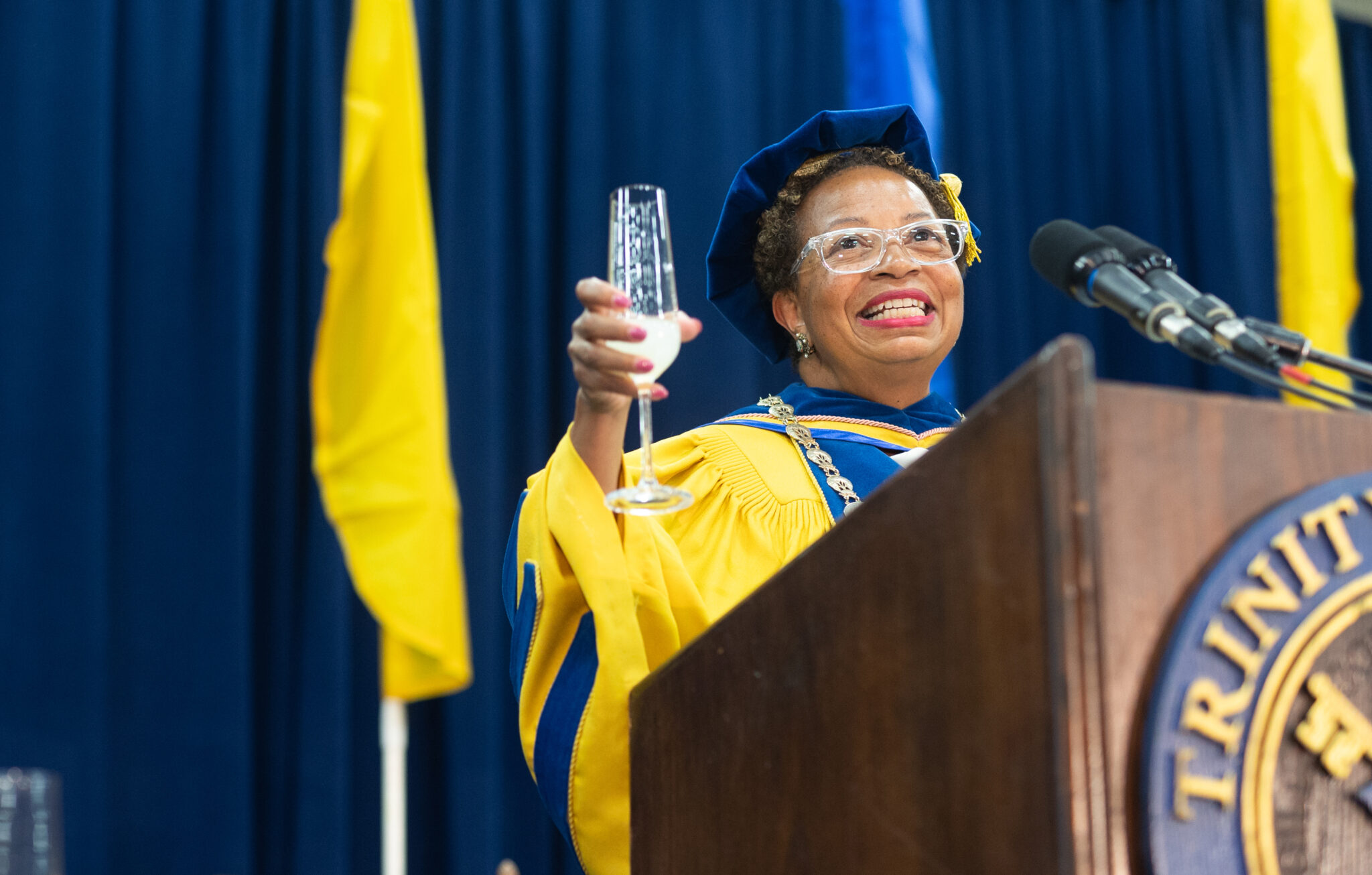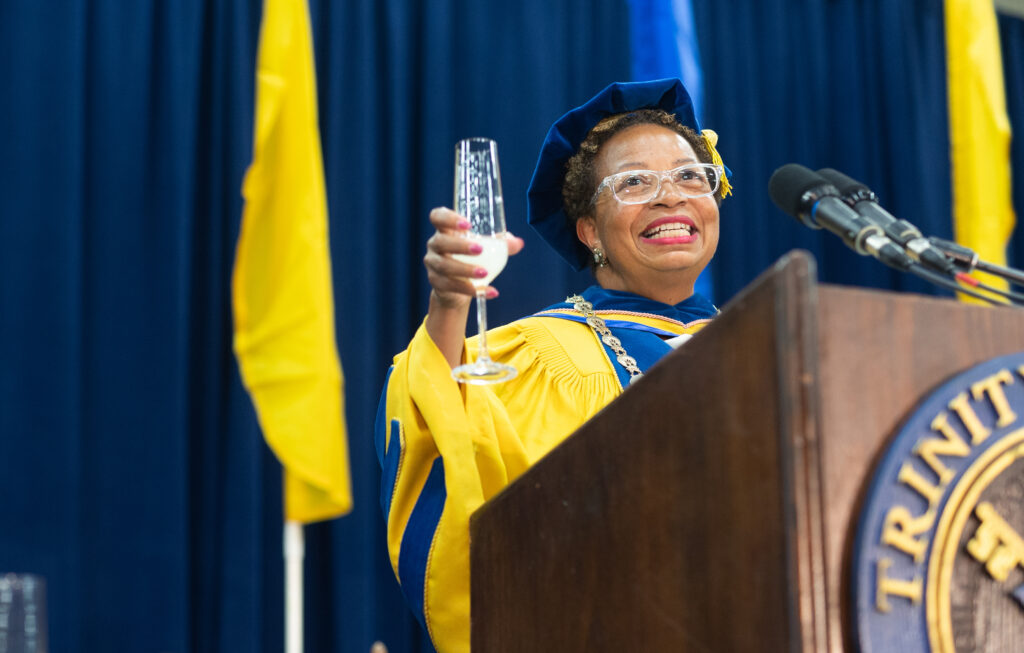 To mark their matriculation to Trinity, three representatives of the new students—a member of the Class of 2027, a transfer student, and an IDP student—signed the College's Matriculation book, as all new students will in the coming days. "Your addition to this book will serve as a reminder to you and to all who are witnesses that you will approach your responsibilities with seriousness of purpose and with exemplary judgment," Berger-Sweeney said.
Following Trinity's traditional lemonade toast using the historic wooden lemon squeezer, Sonia Cardenas, dean of the faculty and vice president for academic affairs, declared that the College's 200th academic year was officially under way. "May each of you excel in your studies and be moved and transformed by the ideas and the intellectual passions you are about to encounter," she said.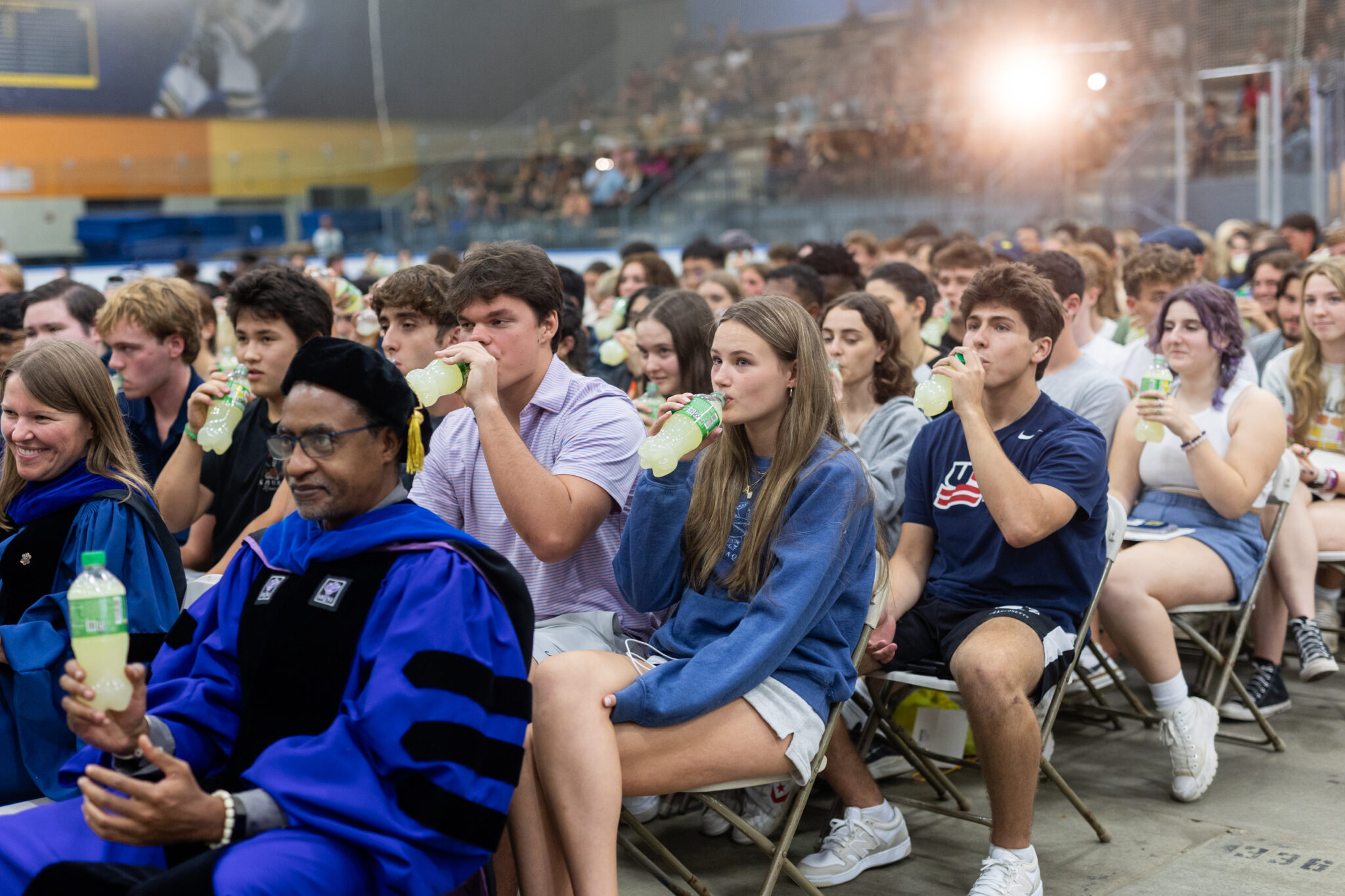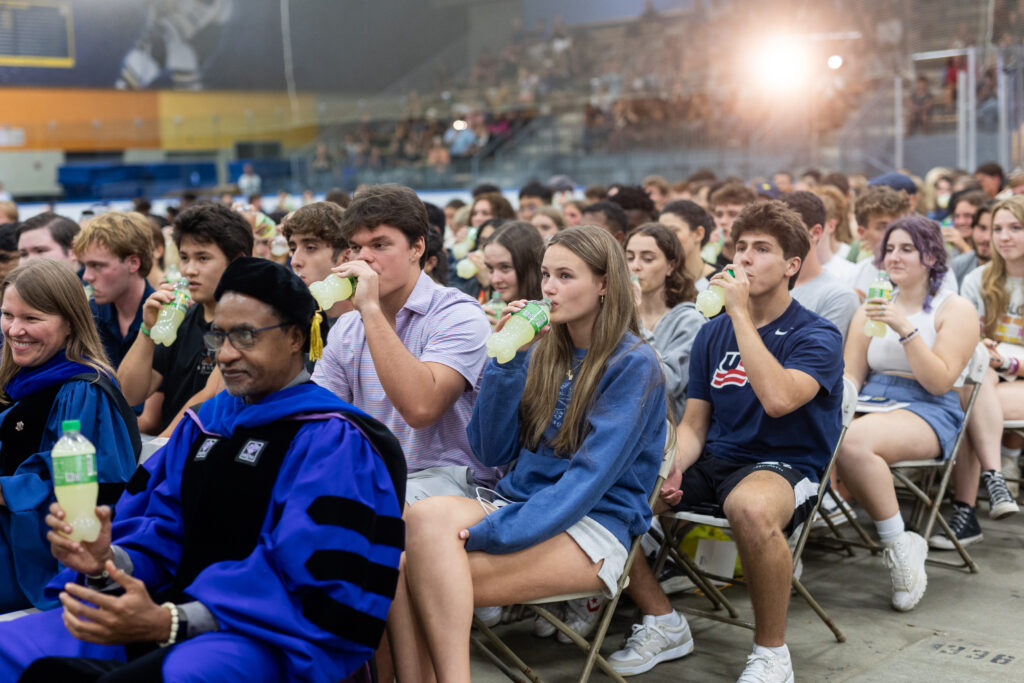 The ceremony led into the Bantam Beginnings: New Student Orientation program, to be held over the course of 11 days. It will connect students to campus resources, help students establish a strong Trinity identity, and offer various opportunities through Orientation NEXT programs for students to engage with campus partners in Hartford and beyond. Click here for the full schedule.
Watch the ceremony below.