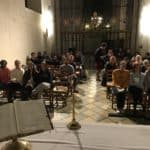 Roman Catholic Mass
Sundays, 7:00 p.m., Friendship Chapel, within the main chapel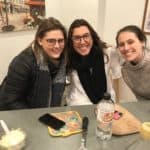 Newman Club dinner and discussion
Wednesdays, 6:00 p.m., the Charleston House of Interfaith Cooperation, 155 Allen Place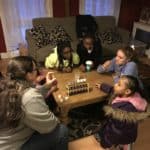 Community Service trip to Hartford's Catholic Worker House
Thursdays, leave from Admissions Circle 3:00 p.m., return 5:15 p.m.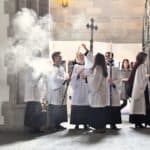 Evensong
Five Wednesdays throughout the academic year at 5:15 p.m.
The Newman Club co-hosts a meal following the service with Chapel Council
On Feast Days, other Roman Catholic holy days, and during Holy Week, Roman Catholic Life either offers services at the Trinity College Chapel or transportation to services at the Cathedral of St. Joseph.
Off-campus Mass schedules:
Cathedral of St. Joseph: https://www.hartfordcathedral.org , St. Lawrence O'Toole Parish: http://mariareinadelapazct.com/, St. Patrick-St. Anthony Parish:  http://www.spsact.org
Throughout the year, the Roman Catholic Campus Ministry Office partners with other organizations for service learning trips. In 2019, members of the community traveled with John Campbell to Philadelphia, Pennsylvania, to volunteer with partner organizations located there.