The Catholic community at Trinity participates in the sacramental life of the church and serves actively as a partner in community building and interreligious dialogue to promote understanding and tolerance on campus.
Roman Catholic Campus Ministry is sponsored by the Archdiocese of Hartford Campus Ministry Office and Trinity College's Office of Spiritual and Religious Life. It brings a vitally important dimension to life at Trinity College.
Roman Catholic Mass is offered every Sunday evening in the Chapel at 7:00 p.m.
Under the pastoral care of the Reverend Matthew Gworek, Roman Catholic Campus Ministry offers regular prayer, worship, and sacraments for students, faculty, staff, and visitors. The Roman Catholic community participates in the life of the college and the surrounding community by leading and participating in service and social justice programs, catechetical and community building efforts, leadership development, and advocacy for those who can't speak for themselves. The Newman Club, the Roman Catholic student organization, serves as the liaison to the other faith communities on campus.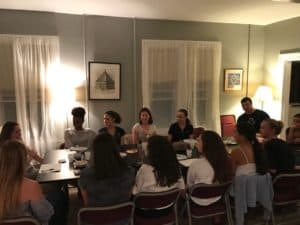 Throughout the academic year, the Newman Club hosts a dinner and discussion every Wednesday evening at 6:00 pm in the Charleston House of Interfaith Cooperation, located at 155 Allen Place.
The Roman Catholic Campus Ministry also has a weekly outreach program to the Hartford Catholic Worker after school program in the North End of the city every Thursday. The group leaves from the Admissions Circle at 3:00 p.m. and arrives back on Campus at 5:15 p.m. The program also offers winter and spring service opportunities, a senior retreat, and other timely prayer and ministry events.
Learn more about Roman Catholic Life