The 23rd annual Albert Schweitzer Organ Festival Hartford featured the Young Professionals competition and a sonic feast of concerts and recitals, including performances with the Hartford Symphony Orchestra.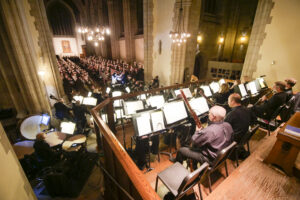 Music for Grand Organ and Orchestra
Friday, September 27, 2019, 8:00 p.m.
Sunday, September 29, 2019, 3:00 p.m.
The Hartford Symphony Orchestra | Carolyn Kuan, music director
Christopher Houlihan, organist | John Nowacki, narrator
Including Gene Scheer's Albert Schweitzer Portrait and Joseph Jongen's Symphonie Concertante for organ and orchestra. A pre-concert talk is offered one hour before each performance, in the Admissions and Career Development Center.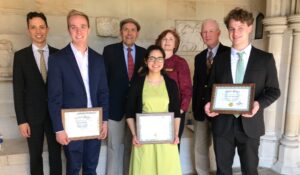 Young Professional Division Competition
Saturday, September 28, 2019
Each of three finalists presents a 45-minute solo recital including some of the most beautiful and technically challenging music in the organ repertoire. This year's judges are distinguished organists Diane Meredith Belcher, Thomas Murray, and John Rose. The first prize includes $15,000 to encourage and support the winner's continuing musical education.
Winner's Recital
Saturday, September 28, 2019, 4:30 p.m.
This year's first-prize winner presents a solo recital.
Choral Evensong
Saturday, September 28, 2019, 5:00 p.m.
Featuring the Festival Choir: The Chapel Singers of Trinity College and the choirs of St. James's and St. John's Churches, West Hartford. Music of Radcliffe, Stanford, and Gardiner. Vaughn Mauren and Scott Lamlein, conductors; Benjamin Straley, organist. A reflection will be offered by The Rev. Dr. Sidnie White Crawford, Trinity College '81, Willa Cather Professor of Hebrew Bible and Second Temple Judaism Emerita, University of Nebraska-Lincoln.
Hymn Playing Competition
Saturday, September 28, 2019, 6:00 p.m. The finalists compete once more, this time for the $2,500 David Spicer Hymn Playing Prize, demonstrating their ability to inspire and lead several hundred people in song. Joe Russel — 2019 Prize winner
Explore the Gallery
Music for the Grand Organ and Orchestra: The Opening Concert of the 2019 Albert Schweitzer Organ Festival
Explore the Gallery
Music for the Grand Organ and Orchestra: The Opening Concert of the 2019 Albert Schweitzer Organ Festival