The following information was updated on January 13, 2021. This information will be updated frequently as information becomes available.
Click the plus symbol to expand the selection.
As was announced in June, following the optional remote January term (January 5-February 5), the academic calendar for the spring semester mirrors the fall's calendar; 13-week classes will begin remotely on February 8, and in-person classes for the spring semester begin March 1. Courses will again be offered as in-person, remote, or hybrid.
The last day of classes will be Friday, May 7. The final exam period runs May 11 through May 17. Commencement is scheduled for Sunday, May 23.
Summer session begins Tuesday, June 1, and ends on Thursday, July 1.
As we did in the fall, we will welcome as many as 1,700 students back to campus residences this spring, housed in individual bedrooms within a variety of campus housing types. As many as 200 others will live nearby in off-campus housing, and a smaller number will live at home and commute to classes on campus. All students planning to be on campus need to complete a 10-day at-home quarantine and obtain a negative COVID-19 PCR test before returning to campus.
Quarantine means staying home—not leaving except for essential reasons (such as medical appointments)—and maintaining social distance from others.
The pre-arrival test needs to be a molecular PCR test, not a rapid antigen test taken within seven days of your return to campus. There are many options for obtaining a test, including ordering by mail, but they require some checking of availability and guidelines in your area, as well as advance planning. We've provided here some options for obtaining a pre-arrival test. You'll need to share the results of your pre-arrival test results with the college by uploading them via the CoVerified App before you come to campus. Note that you may need to update or reinstall the app if you haven't used it in some time.
Move-in will occur Thursday, February 18, through Monday, February 22. Students should complete the pre-arrival checklist and sign-up for a move-in time slot before you come to campus (https://moodle.trincoll.edu). You can access the checklist and sign-up for your move-in time slot by using your Trinity College username and password (parents: please note this is a site that requires student login). Careful completion of each of these tasks before arrival is required. You will not be granted access to residential buildings or classes until you complete your check-in, move-in, and testing processes. These are required steps for all students planning to be on campus this spring—whether living off-campus or in campus residences.
If you are experiencing COVID-19 symptoms, please remain at home and call the Health Center at 860-297-2018.
To help us maintain a safe number of people on campus, please do not arrive early and do not come to campus if you are not scheduled to do so. Contact housing@trincoll.edu if you are not able to access COVID-19 Onboarding Return To Campus on Moodle for more information.
Upon arrival, you should report first to the testing center in Ferris for your arrival PCR test. Then you'll check in and self-quarantine (with some exceptions, including to pick up meals and for COVID-19 testing) until you have received three negative test results through our campus testing center. We will begin our regular testing cadence (students being tested either Mondays/Thursdays or Tuesdays/Fridays) the week of February 22.
As we did before the start of the fall semester, we'll host informational virtual town halls for our community in early February. Watch for a separate invitation soon.
For specific questions not addressed here or on our website, please email planstoreturn@trincoll.edu. Please note that this email address is managed by colleagues in our communications office, who will do their best to find answers to your specific questions from various offices across the college.
Trinity College has assembled a cross-functional team to monitor the impact of the virus and assist with the development of policies, procedures, and training to resume some activities on campus. The college is following guidance provided by the CDC, WHO, healthcare professionals (including our student healthcare provider, Hartford Healthcare), and state government directives.
Students feeling ill and seeking medical treatment or advice should contact the Health Center during normal business hours or the Campus Safety Department after the Health Center has closed. Employees will follow their departmental call-out procedures and discuss alternative work arrangements with their supervisor when able to work.
People on campus must wear a face covering (disposable mask or cloth covering that covers their nose and mouth) outdoors and indoors in any space that one would reasonably expect to be shared (common work areas, hallways, bathrooms, studios, etc.). A face covering is not required when alone in a private, enclosed office or in one's own bedroom. 
Hand sanitizers will be at entrances to all buildings, classrooms, and dining halls. Disposable wipes or cleaning solution will be in all bathrooms, classrooms, and other shared facilities (e.g., copy machines, coffee stations) for wiping down surfaces.
As noted by the CDC and other medical experts regarding the global health crisis, this pandemic is a significant and rapidly evolving medical situation with far-reaching consequences for individuals and families and for the various communities each of us inhabits. All students and families must inform themselves about the health and safety concerns related to this communicable disease and assess their particular situations; we especially urge those with underlying health conditions to seriously consider not returning to campus this fall.
Students at high risk for severe illness from COVID-19 who are considering returning to campus are asked to confidentially self-identify with the Student Accessibility Resource Center to discuss concerns. Employees at high risk are asked to contact their department chairs or managers to discuss concerns and workplace situations. Employees will not be asked to share sensitive information about their specific situation.
Trinity has developed a plan to care for students in quarantine or isolation. The plan includes the designation of a building on campus for isolation, as well as monitoring of isolated or quarantined students by the Health Center and the delivery of food to those students.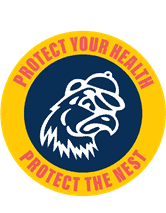 Protect the Nest is our collective responsibility to care for this community—at all times, including during a pandemic. Everyone on campus will be required to follow important health and safety practices and protocols, the most fundamental of which are:
Face coverings/masks
Physical distancing (including reduced sizes of social gatherings)
Frequent handwashing
Mandatory public health education
You can watch helpful PSAs and download graphics on our Protect the Nest page.
SURVEILLANCE TESTING – On-Campus (students, faculty, and staff)
Seating in our dining facilities will be following the six-foot distancing guidelines, and operations will be in compliance with the state's guidance for restaurants.
Four meal plan options will be offered for the coming year:
19 Traditional Plan—Includes 19 meals per week in Mather Dining Hall only
15 Flex Plan—Includes 15 meals per week for use in Mather Dining Hall or the Bistro and $300 in Meal Plan Dollars
15-5 Flex Plan—Includes 15 meals per week in Mather Hall, 5 of which can be used in the Bistro, and $50 in Meal Plan Dollars
Senior Plan—Includes 10 meals per week for use in Mather Dining Hall or the Bistro, and $400 in Meal Plan Dollars
Meal Plan Dollars can be used at the micro market in Mather Hall, at the Bistro, and in the GrubHub ordering app. Chartwells has expanded its partnership with GrubHub and will be offering online mobile ordering at Mather Hall and the Bistro for order ahead and express pickup.
Mather Dining Hall will be open with the same hours as last year:
Monday–Friday 7:30 a.m.–2:00 p.m./5:30 p.m.–8:00 p.m.
Saturday and Sunday 10:30 a.m.–2:00 pm/5:30 p.m.–8:00 p.m.
As mentioned above, Mather Hall will also have a micro market at the cashier station carrying many of the popular convenience items carried at the Cave.
The Bistro will be open with slightly different hours from last year:
Monday–Wednesday: 11:00 a.m.–10:00 p.m.
Thursday and Friday: 11:00 a.m–midnight
Saturday: 3:00 p.m.–midnight
The Cave will be closed for the academic year. Wednesday lunches at Hamlin Hall will not be offered.
Our academic year will consist of four terms. Fall term courses will run either 10 weeks or 13 weeks, depending on the needs of the course. In-person learning for the fall would conclude by November 20 (students would not return to campus after the November vacation break). Thirteen-week classes would continue remotely through December, with exams for all concluding by December 21.
There will be a 5-week, optional, remote winter term beginning in January (January 5-February 5). There will be a 10- or 13-week spring term, a mirror image to the fall semester (13-week classes would begin remotely on February 8; in-person, if possible, and 10-week classes would begin March 1, ending by May 14), followed by a 5-week, optional summer term here on campus, assuming conditions allow (June 1-July 1). Students will be able to take up to 11.5 credits across all four terms.
More details are in this letter from Acting Dean of Faculty Sonia Cardenas.
Barring exigent circumstances, meetings are expected to be virtual.
There are a variety of courses which include both in person and remote options. Available choices differ by department.
Yes. Students can book private study rooms online. There are rooms available in the Raether Library and Information Technology Center, the Life Sciences Center, and McCook Hall.
Yes, this is considered essential travel.
All enrolled students will be able to graduate with a minimum of 34.5 credits, provided that all other graduation requirements have been fulfilled. This means that if you take 8 credits this academic year, you can still stay on track to graduate.
For the 2020-21 academic year, good academic standing and satisfactory academic progress will be defined as follows:
Passing at least 4 credits over the fall semester and J-Term combined (a passing grade consists of a C- or higher);
Passing at least 4 credits over the spring semester and June summer session combined.
For the 2020-21 academic year, the date to convert a class to P/LP/F (pass/low pass/fail) will be extended from 6 days after the semester begins to October 23, which is the midpoint of the semester.  This date will provide you with more time to assess your performance in a course before deciding on the grading basis.
For the 2020-21 academic year, during which students may encounter various extenuating circumstances, students will not need to petition to receive an Incomplete. Faculty will be able to enter a grade of Incomplete at their discretion. The Incomplete can remain the official grade up to the last day of the following semester, at which time the work must be completed and a letter grade entered. Extensions beyond this deadline will require petitioning the Academic Affairs Committee.
RLITC will be open in the fall, including spaces in the 24-hour zone. The Information Services Desk will be open for remote services only:
Monday – Thursday, 7:30am – 9:00pm, stacks areas open until 1:00am
Friday 7:30am – 5:00pm, stacks areas open until 9:00pm
Saturday 12:00pm – 6:00pm
Sunday 12:00pm – 9:00pm, stacks areas open until 1:00am
To protect your health, services are contactless. You may:
We will try to get back to you quickly, but we have less staff onsite and some services will be slower than in the past. When your problem cannot be solved remotely, in-person services will be provided by appointment only. Appointments will be made through the help ticket system.
The ID Card Office will also be by appointment only and will no longer do in-person photo taking. If you are new to the college and need your Trinity ID, or have turned 21 and want to replace the photo on your Trinity ID, please create a ticket. You will upload a picture to this ticket and we will schedule an appointment with you for pick up.
This year there are no physical reserves. The library is providing ebooks and book chapter digitization when requested by faculty.
Check with your professor. If they haven't done so already, they can ask the library to purchase a copy. We will try to buy an ebook version, and if that fails, we can digitize some chapters.
Due to limited seating in RLITC we will not have assigned thesis carrels available this year. You may ask for an assigned locker.
Yes, a self-checkout station is available near the RLITC entrance and the Information Services Desk.
Yes, although some computers were removed or moved to provide safe distances. You can find computers on levels B, A, and 1 of RLITC.
There are Chromebooks available for you to checkout for 3 hours at a time. You can request from Onesearch, and then pick it up from the Information Services Desk by appointment.
No problem, just bring them back with you to campus. The library is abolishing all late fees. You do need to pay for lost items, and if you don't return a book past a grace period you may have borrowing privileges revoked.
Yes, we may be able to pull books from the collection and mail them to you in the United States. Warning: mail is slow. You may also want to check what resources are available to you at your local public library.
Connecticut and Wesleyan are not yet sending books, but they should resume once the semester starts. It is a similar situation elsewhere—some but not all schools have interlibrary loan up and running. We are taking requests and doing our best to fill them.
Try our room reservation app. Several small study rooms are available for up to 2-hour reservations, many with projectors you can plug your laptop into.
We have followed state regulations in reducing the number of seats in RLITC by half. Seats have been arranged so that there are 6 feet between you and your nearest neighbor. Please do not rearrange the furniture.
You must wear a mask at all times in RLITC, even when no one is near you.
No, you must use the furniture as configured.
The Watkinson Library is open for remote support, research, and reference requests. Watkinson staff are available remotely (email, video, audio) for teaching support and research questions from the general public and Trinity College students, faculty, and staff. Special Collections and Archives materials will be digitized when possible at no cost to researchers. When it is not possible to digitize materials, they can be shown with our object/document viewer via Zoom. Because work with special collections is highly interactive, in close quarters, and involves interpersonal handling of materials, the Watkinson Reading Room will remain closed until further notice.  For help accessing the collections, please contact:
Christina Bleyer, PhD, Director of Special Collections and Archives, christina.bleyer@trincoll.edu
Eric Stoykovich, PhD, College Archivist and Manuscript Librarian, eric.stoykovich@trincoll.edu
Eric Johnson De-Baufre, PhD, Special Collections Librarian, eric.johnsondebaufre@trincoll.edu
The Dean of the Faculty's Office has prepared a pamphlet with information specifically geared to faculty concerns. You can download the pamphlet here.
While acknowledging that some faculty may make accommodations to account for the time zone challenges of remote students, the classes are being programmed with the expectation that all students (who are able) will be present during that time slot.
Housing students in single bedrooms is a measure we feel is appropriate and necessary to minimize the health risk.
Yes, some students will be permitted to live in off-campus housing, including Greek Letter housing.
Yes, students will have access to common areas in the residential communities. Guidelines for use of these spaces will be provided.
Only students with exceptional circumstances who are unable to go home will be permitted to remain on campus during the J-Term session. For example, students whose permanent address is in a country classified by the CDC as Warning Level 3 or a student who identifies Trinity as their permanent address. We are asking students to consider all options for places they could go if they cannot go home (e.g., extended family, friends).
Only students with exceptional circumstances who are unable to go home will be permitted to remain on campus. For example, students whose permanent address is in a country classified by the CDC as Warning Level 3 or a student who identifies Trinity as their permanent address. We are asking students to consider all options for places they could go if they cannot go home (e.g. extended family, friends). Students experiencing the circumstances mentioned above, can continue to remain on campus until circumstances allow for them to return home or they make plans to stay with a friend or family member. Students with circumstances that may necessitate their needing to remain on campus should contact housing@trincoll.edu for assistance.
Students who test positive for COVID-19 or become ill with will be placed in isolation in a residential building identified for that purpose. Students who have been in contact with individuals who become ill with or test positive for COVID-19 will remain in their room and quarantine in place.
Yes, students who live within 25 miles of campus can commute.
Commuting students are not required to purchase meal plans.
Billing and Refund Information - Fall 2020
The Nelnet Campus Commerce system includes a detailed fall-term e-bill. Students can set up additional authorized payers in the Nelnet system. As reported in the budget letter on June 25, 2020, the college has not increased tuition, the general fee, or room rates for the 2020–21 academic year, and we have lowered board rates by 5 percent. Please note that the current balance in the system may not represent the final amount due as your family makes decisions about housing and meal plans.
The new payment due date is August 26, 2020.
The chart below details the refunds calculated on a prorated basis as the semester progresses. Tuition is not included in the refund calculation, and all refunds would be issued net of any financial aid that is more than tuition. The refund calculation will begin the first Monday after the campus closes and moves to remote instruction.
| | | | |
| --- | --- | --- | --- |
| Week | Fall Refund Dates | Spring Refund Dates | Percentage Refunded |
| 1 | 9/7 or Before | 3/1 or Before | 100% |
| 2 | 9/14 | 3/8 | 88% |
| 3 | 9/21 | 3/15 | 76% |
| 4 | 9/28 | 3/22 | 64% |
| 5 | 10/5 | 3/29 | 52% |
| 6 | 10/12 | 4/5 | 40% |
| 7 | 10/19 | 4/12 | 28% |
| 8 | 10/26 | 4/19 | 16% |
| 9 | 11/2 | 4/26 | 4% |
| 10 | 11/9 or After | 5/3 or After | 0% |
If a student must withdraw due to individual circumstances, that student's refund will follow our existing personal withdrawal policy for refunds. A student who withdraws due to individual reasons before a campus closure, even if during the same semester as the campus closure, is not eligible for the refunds outlined above.
No. Residence halls will be for residents only.
Due to the need for physical distancing and the prohibition of large social gatherings, there will be no social registration of parties for the fall 2020 term.
The Bantam Network, SAIL, and the Department of Athletics are planning alternative programming and activities.
Athletics, Recreation, and Arts - Fall 2020
Trinity athletics has provided detailed information about facilities, polices, and procedures. Always our top priority, the health and safety of the Trinity community within the college's athletic, recreational, and wellness facilities and programs are more important than ever.
Club sports will be asked to mirror the NCAA Return to Play guidelines and have adult oversight of all activities. Director of Recreation Kevin Johnson will work with club sport captains to develop plans and schedule facilities. Club sports will not have outside competition.
Facilities and Building Safety
Since the move to remote instruction in mid-March, all heating, ventilation, and air conditioning (HVAC) building systems have been operational, and the facilities team has been routinely cleaning, disinfecting, and monitoring buildings. Essential employees have been working on campus throughout the pandemic.
The college has worked to develop strategies to mitigate the risk of COVID-19 transmission as much as possible. We are keeping up-to-date as more research about COVID-19 emerges and will continue to adapt our processes to meet CDC recommendations and current best practices. Face coverings, reduced room occupancy, social distancing, increased cleaning and disinfection, and adjustments to the HVAC systems are some of the ways that Trinity is working to ensure community safety in buildings.
Yes, the facilities and college events teams have led efforts this summer to examine each room on campus to determine possible occupancy and layouts to maintain social distancing. Seating is designed to allow for 6 feet of distance between room occupants.
ABM, our contracted partner for housekeeping, maintenance, and grounds, has developed the EnhancedClean program to clean and disinfect campus. EnhancedClean is a certified process backed by experts in infectious diseases and industrial hygiene. Beyond the standard cleaning procedures, the approach focuses on frequent high-touch disinfection and broader disinfection. The housekeeping team will concentrate on high-touch surfaces, including door handles, elevator buttons, phones, entrances, and restroom areas, and will clean and disinfect these areas up to three times daily. Additionally, they will deploy electrostatic sprayers when buildings are unoccupied to provide 360 degrees of coverage. Disinfection specialists are certified internally to ensure absolute training comprehension and consistent program delivery. The team uses hospital-grade disinfectants and specialized equipment and is committed to investigating other innovative options as research emerges and as additional recommendations are provided.
Residence hall community bathrooms and bathrooms in public spaces also will be cleaned following EnhancedClean. Suite bathrooms are the responsibility of the room occupants. Trash and recycling removal in residence halls will be increased in anticipation that people will be eating in their rooms more often than in the past.
The safety of campus is not just the responsibility of the facilities team but the responsibility of the entire campus community. All community members should follow essential health and safety practices and protocols, including face coverings/masks, physical distancing, frequent handwashing, self-monitoring for symptoms, following posted signage, and completing mandatory public health education.
Students also should follow the commitments outlined in the Community Responsibility Agreement.
Disinfecting materials and cleaning solutions will be provided in all bathrooms and shared facilities.
Individuals should clean and sanitize their personal area using the provided materials.
Hand sanitizer stations will be available in each building and will be kept stocked. If a station is out of stock, please submit a work order using the instructions found here.
Students will be provided with cleaning materials for suite bathrooms throughout the semester. If you run out of materials, please submit a work order using the instructions found here.
When the schedule allows, ABM staff members will disinfect classrooms several times per day under the EnhancedClean program. We are asking faculty and students to clean their personal hard surfaces between classes. ABM will provide the proper wipes and supplies for disinfecting the classroom.
Maintenance technicians have performed routine and additional preventative maintenance on all air distribution equipment in campus HVAC systems. The maintenance includes changing filters, checking and cleaning heating and air conditioning coils, and ensuring outside air dampers are functioning correctly.
ABM is working with its environmental health and safety partner, Triumvirate Environmental, to ensure that our HVAC systems meet recommendations issued by the CDC, referencing the guidelines set by the American Society of Heating, Refrigerating and Air-Conditioning Engineers (ASHRAE). The facilities team also is in the process of upgrading the filtration system on the larger air distribution equipment to higher performing filters, which have a greater likelihood of capturing particles than the existing HVAC systems.
Per ASHRAE guidelines, ABM and Triumvirate are reviewing HVAC programming to keep the HVAC systems running two hours before and after campus rooms are occupied to fully flush the air in the room. They will operate exhaust fans and open the outside dampers. For buildings without the capacity to treat large quantities of outside air and when outside air conditions are moderate, windows should be opened to facilitate additional airflow.
ABM and the facilities team will continue to evaluate options for improving our HVAC operations.
If you have concerns about a specific classroom or room, please submit a work order, and an ABM technician will check on the ventilation in the room.
All building systems have been operational since the move to remote instruction, and all essential employees have been working in the buildings. Routine maintenance has continued in the buildings.
Special Events, Policies, Additional Questions