While you live in the United States, you should develop a basic understanding of your legal rights here.
The American Civil Liberties Union has compiled information about your rights in various situations, including at the border, if stopped by the police, or if questioned about your immigrant status. Below are some key takeaways.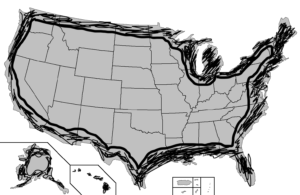 U.S. Customs and Border Protection claims the right to stop people without warrant and ask them questions about citizenship status within a 100-mile region of the U.S. border. That region is all areas scribbled black on this map, and, yes, it includes all of Connecticut and most of New England. Nevertheless, most internal immigration checkpoints are along the U.S.-Mexico border. Unless you travel to that region, it is unlikely that a U.S. Customs official will stop you or question you about your status after you have crossed the border. Since it is doubtful that a USCBP agent will randomly stop you while in Connecticut, we do not recommend you carry your I-20 at all times. The chance of you losing your documents is far greater than your chance of needing to produce them. However, if you are planning a trip near the Canada or Mexico border, it might be a good idea to bring your passport and I-20.
What should I do if the police stop me?
Please remain calm in this situation and know that in the United States, you have the "right to remain silent." This right means you are not legally required to answer any of the police's questions, including those about citizenship status. If you are pulled over in a vehicle, put your hands on the steering wheel and do not reach for anything, or make sudden movements.
Produce your driver's license, proof of insurance, and car registration when the police ask for these documents. You should always keep your car insurance and registration information in your glove box (passenger's side container) in case the police pull you over.
You may ask the police if you are being arrested or detained by saying, "Am I being detained?" Police may only lawfully detain you if they suspect you of committing a crime. If you are detained or arrested, do not speak to the police, answer any questions, or sign any papers before speaking to an attorney.
Finding legal counsel
Trinity retains an immigration lawyer that students may consult with for immigration/citizenship specific questions. If you have an issue that you'd like to bring up for consultation, please contact Katharine Clair, International Student Advisor at katharine.clair@trincoll.edu.
You may also contact Campus Safety with additional questions about law enforcement. Please see their website here.
Your Rights, Your Options