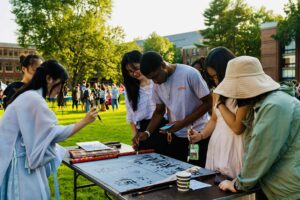 The Cross Cultural Living Community (CCLC) is a living learning community located in Doonesbury Hall on Vernon Street.
We've been proud to watch our college grow more diverse in recent years and have established this residential community to bring in students of all backgrounds who wish to build and live in a safe, self-affirming, energetic, and close-knit community. With an almost 50/50 split between international and domestic students, we provide a unique housing experience that aims to inspire and support each other through programs that explore our unique and intersecting struggles and identities.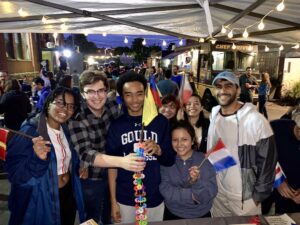 We're about creating connections with the local community through outings and service. We're about culture in all its forms, whether it's sharing your mom's biryani recipe or transforming our dorm into a haunted house with ghosts from Mexico to Japan. If you're reading this and digging this, we're probably about you—Apply!
Applications are due by April 8 and can be found here.
Rooms in the CCLC consist of triple suites with one single room and a double room that share a bathroom. Students may request to live with specific suitemates. There are also two apartments that are considered triple occupancy but have a kitchen. The CCLC also has a shared kitchen for all residents as well as lounge space on the first floor of the building.