Back to News
'We Did It as a Community': Trinity College Class of 2020 Reunites for Commencement—Two Years Later
Alumni
posted
by Andrew J. Concatelli
"Success belongs to us because when it mattered most, we did it as a community," class speaker Matthew Rivera '20 said to fellow members of the Trinity College Class of 2020 during their long-awaited Commencement, held two years after the COVID-19 pandemic interrupted their senior year.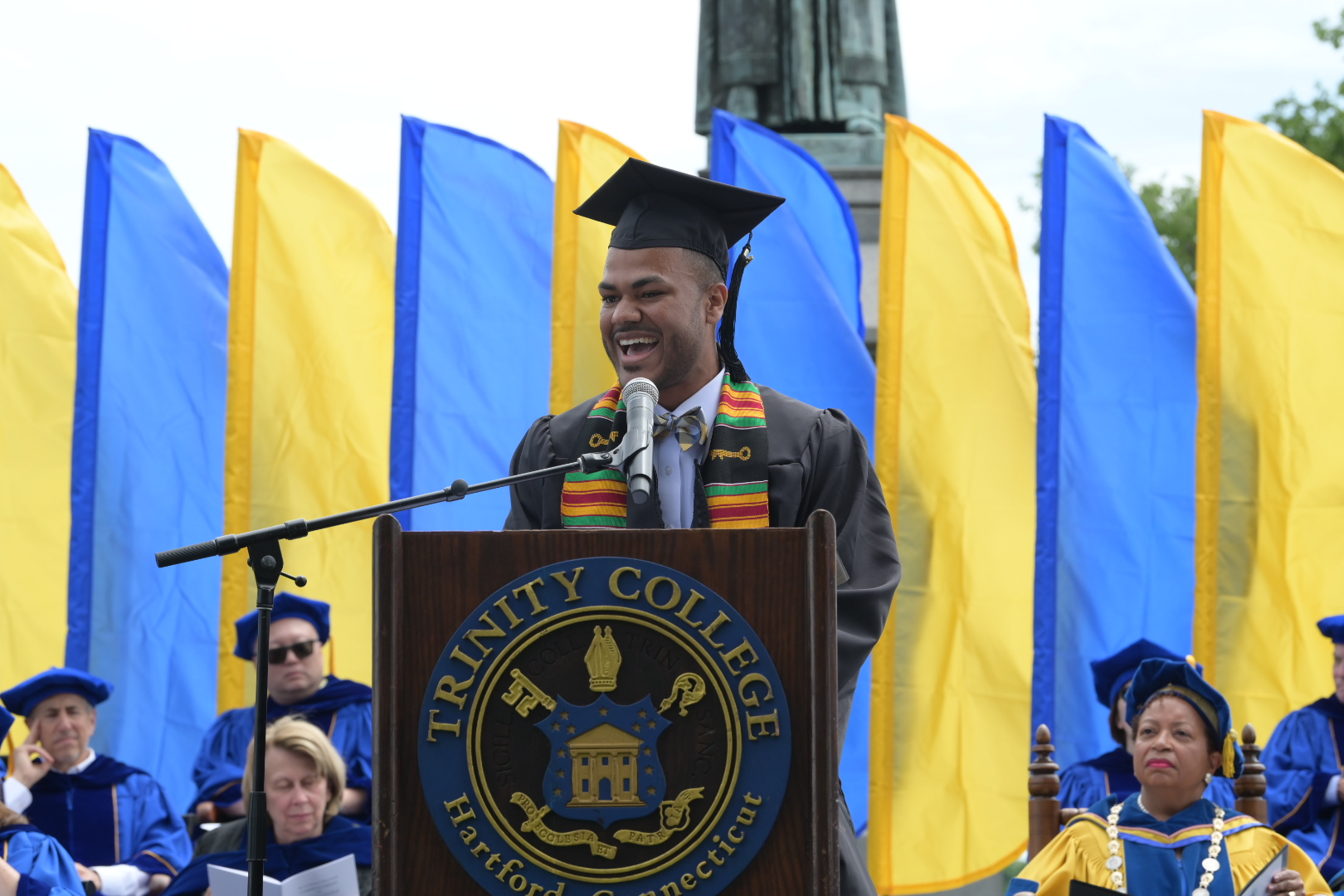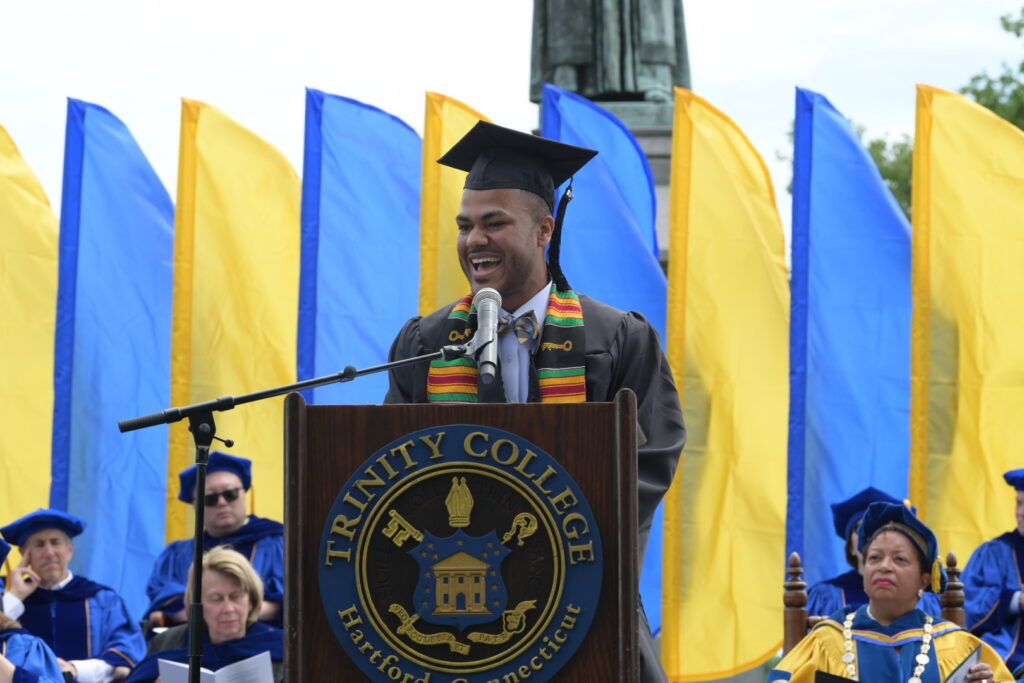 About 350 alumni from the Class of 2020 returned to campus on Saturday, June 11, for the celebration of their graduation during Reunion Weekend 2022. The crowd gathered on Trinity's Main Quadrangle included family members, alumni, faculty, staff, administrators, and guests.
While the members of the Class of 2020 already received their diplomas by mail after being honored via a virtual celebration in 2020, a total of 537 degree recipients—not all of whom could attend in person—were celebrated at the special ceremony, with 335 earning B.A. degrees, 187 earning B.S. degrees, and 15 earning master's degrees. Included among the undergraduate degree recipients recognized were 13 Individualized Degree Program (IDP) students.
The alumni processed down the Long Walk and finally had their postponed opportunity to step on the Luther-Roosevelt stone in front of the Fuller Arch in Northam Towers. The inscribed stone was laid in 1919 to commemorate a 1918 visit by former President Theodore Roosevelt, who received an honorary degree that year. Trinity students later began the tradition of not walking on the stone before Commencement day, observing a superstition that to step on the stone sooner could somehow prevent one's graduation. Stepping on the stone has become a treasured Commencement tradition and one that Class of 2020 alumni have been eager to complete as a way to bring closure to their time at Trinity.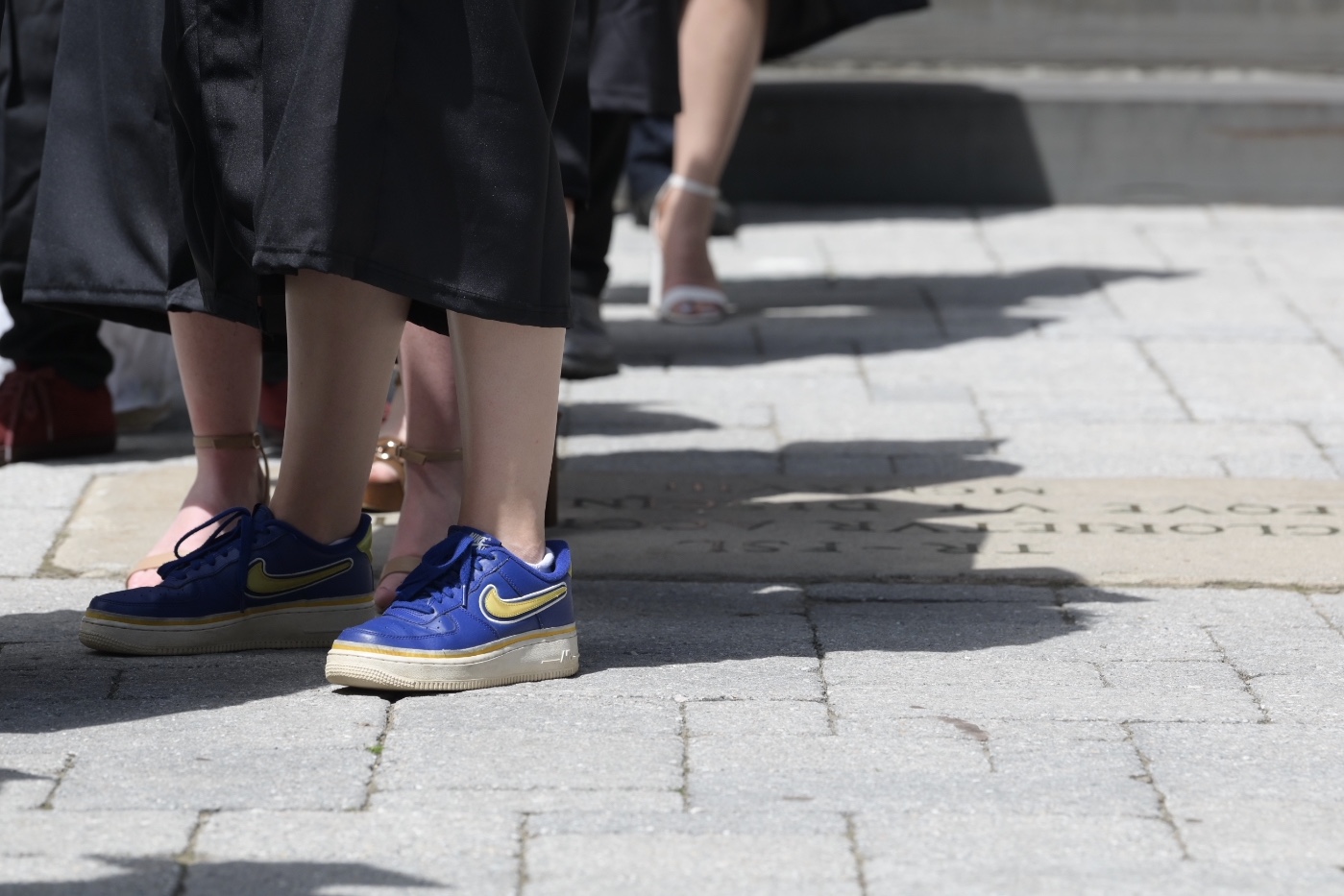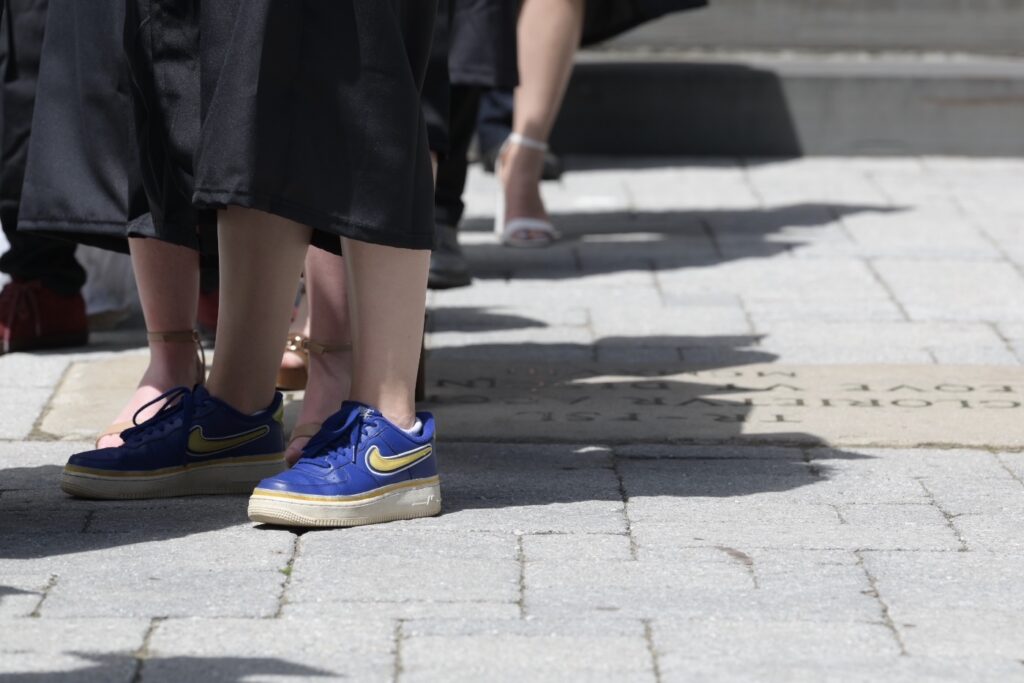 Rivera told his fellow alumni to think back to the spring of 2020, when students were sent home and classes were completed remotely online, and how the students supported one another. "We made our relationships with one another a priority and recognized that the only way to weather the storm that was in front of us was to do it together," he said. "And even after COVID-19 disrupted our ability to be in community through proximity, we learned to do so virtually. It was through our unique care for one another that we successfully made it to the end of the semester, despite all the many moments of just wanting to give up when we realized our time apart was more than just an 'extended spring break.'"
A sociology major at Trinity, Rivera was the first in his family to attend and graduate from college. He serves as the executive director of The Dream Support Network, a Connecticut organization whose mission is "to inspire, educate, and support individuals as they discover, restore, empower, activate, and manifest dreams that know no bounds." Through the Dream Support Network, Rivera has worked with more than 40 Connecticut schools, delivered more than 100 speeches, and exchanged more than 40,000 "ice creams for dreams." He is pursuing a master of divinity degree at Yale Divinity School.
Rivera reminded his classmates of what a big achievement it was to graduate and to start to follow their own paths during a pandemic. "We all deserve the right to be proud of ourselves," he said. "The unique part of living through the introduction of the pandemic during such a pivotal transitional period of our lives was that we were able to reinvent and maybe even discover the talents, gifts, and abilities that lie deep within to shine during a moment like this." He challenged the members of the Class of 2020 to hold true to the ideals of community that they embraced as students, to become the greatest versions of themselves, and to live Trinity's mission statement, summarized as "Engage. Connect. Transform." Rivera concluded, "However you feel led, share in the community today, for we will never be together like this again. Seize the moment to build and connect in community so we might leave this place ready to continue to live transformed lives."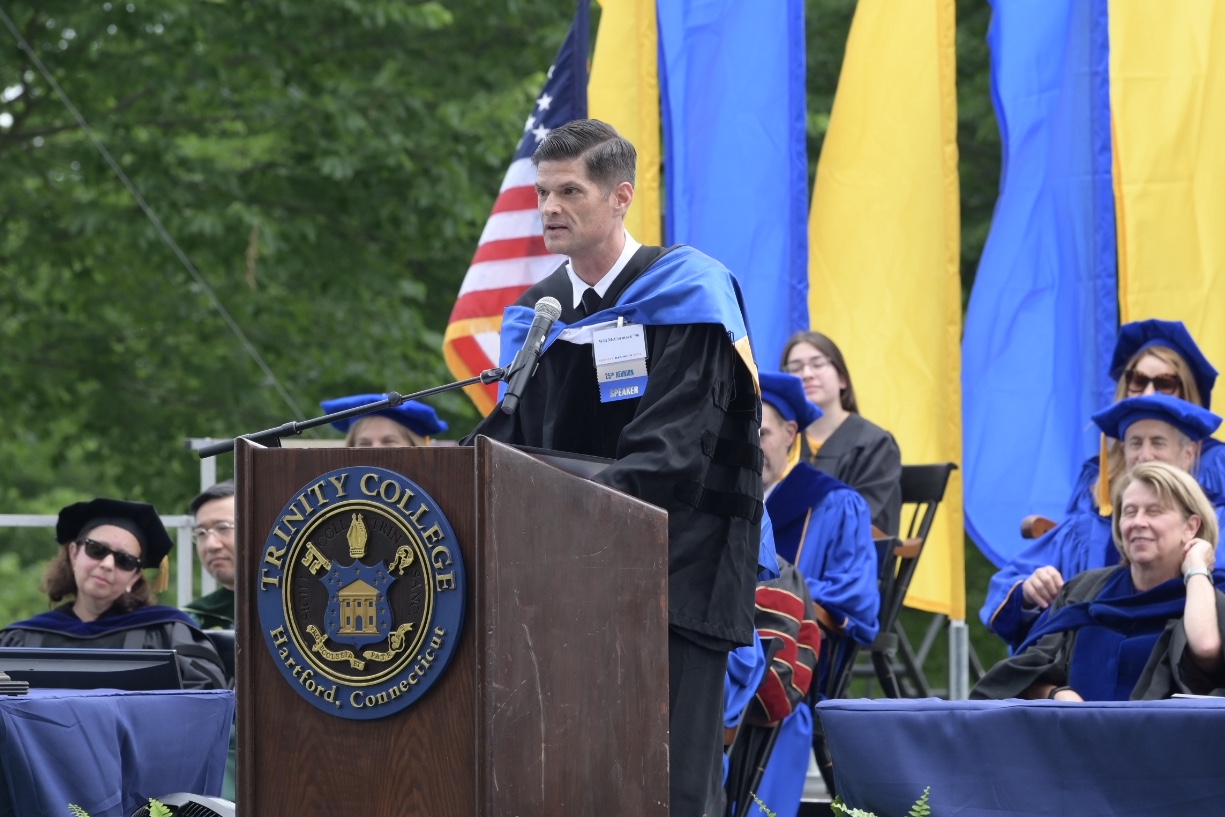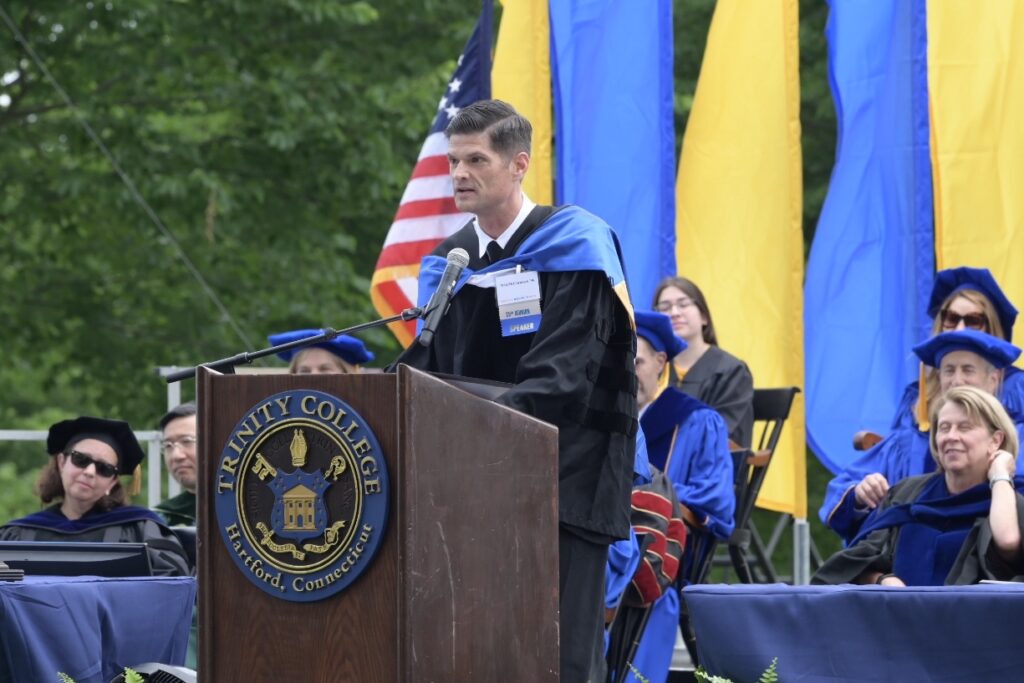 Actor and Academy Award-winning filmmaker Will McCormack '96 said to the Class of 2020 during his Commencement remarks, "You're inheriting a world that needs you; one that cannot afford or survive cynicism. You're the Class of 2020. You have an asterisk, but your asterisk makes you beautiful. You're original. You're unexpected. You're strong. You know what it's like to get knocked down and get up again."
McCormack, who graduated from Trinity with a bachelor's degree in English, is the recipient of a 2021 Oscar for Best Animated Short Film for If Anything Happens I Love You (2020), which he co-wrote and co-directed. McCormack came to Trinity in the footsteps of his sisters: Bridget Mary McCormack '88, H'13, chief justice of the Michigan Supreme Court, and actress Mary Catherine McCormack '91. Will McCormack was among members of the Class of 1996 belatedly celebrating their 25th Trinity College Reunion on campus this year, after reunion celebrations were delayed in 2021 due to the pandemic.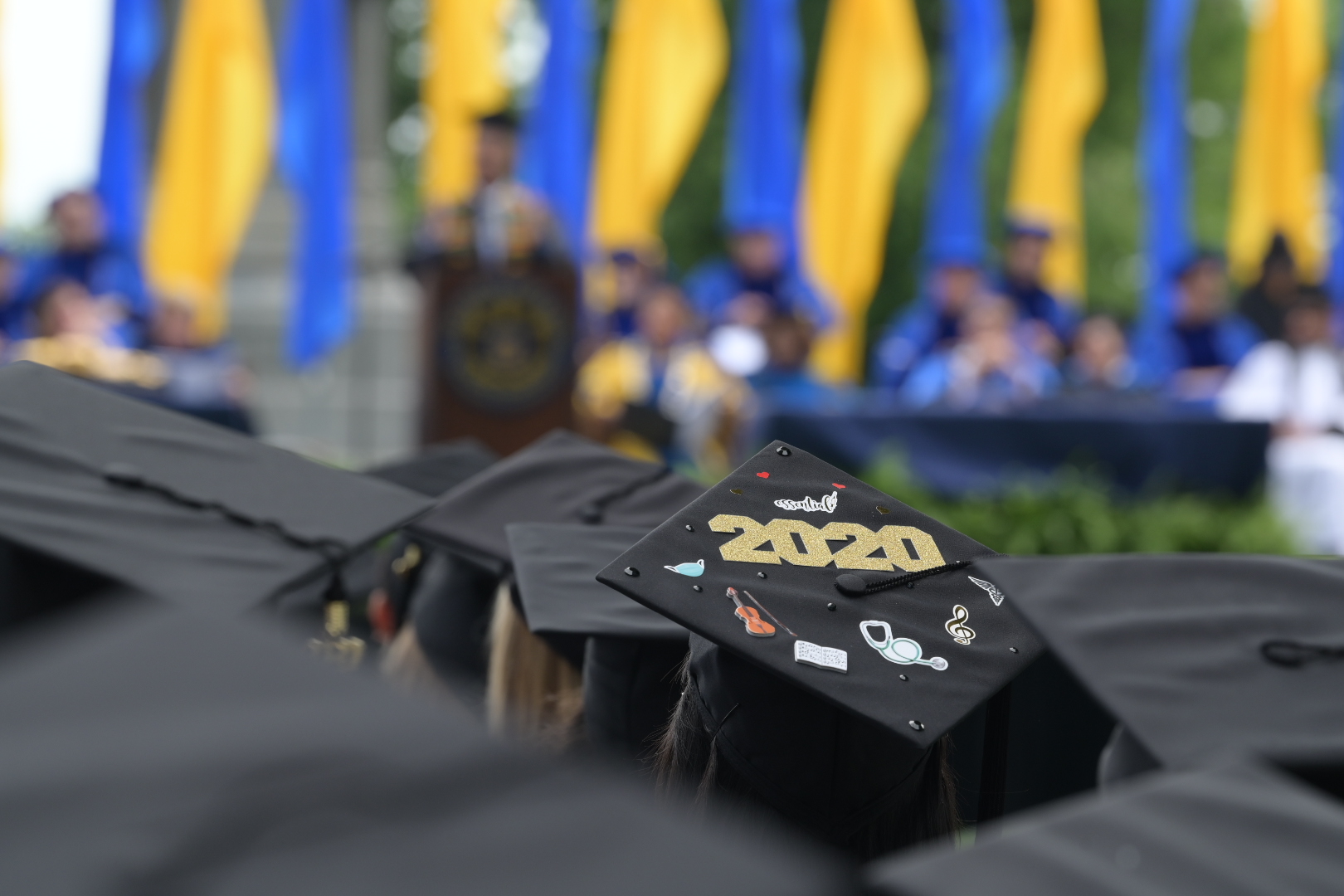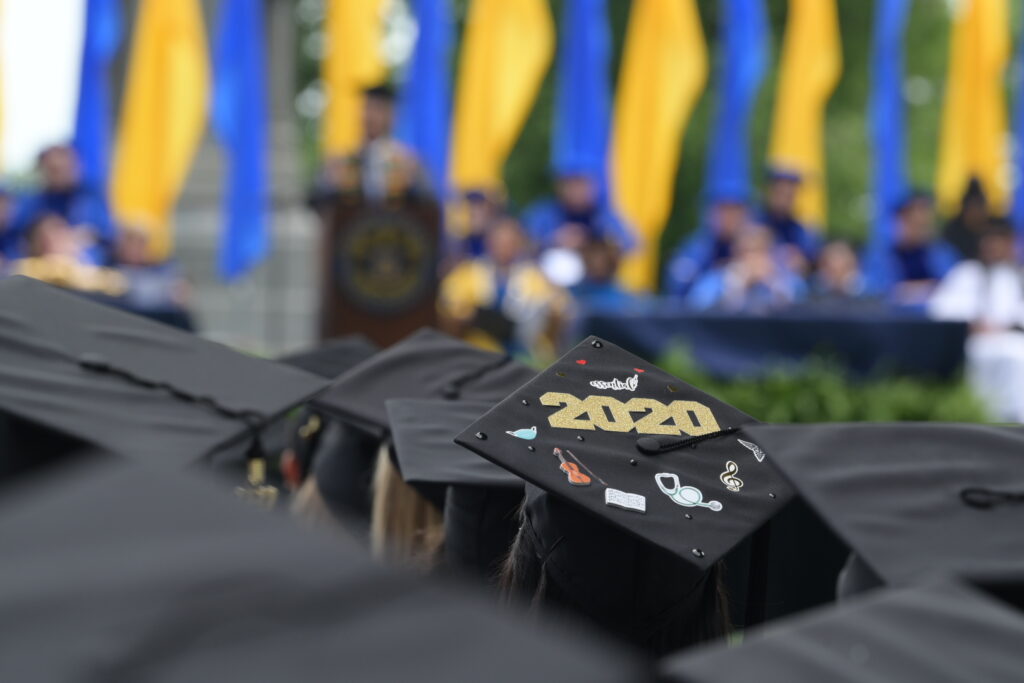 During his speech, McCormack offered lessons from his life about the importance of storytelling, finding one's voice, and embracing surprise. He remembered feeling pure joy and connection after his first performance on stage at Trinity. "In a moment, I knew, at age 19 that I would devote my life to storytelling. I didn't know how, but I knew why. I believed stories mattered," he said. "Trinity College nurtured and championed this passion for story. I did every single play I could. I worked at Cinestudio and saw every single film."
Ever since then, McCormack has studied how stories work and tried to understand how to tell the ones that feel the most genuine. "But the best moments of your story are when you don't know what will happen next. The part you didn't plan. The moment you find yourself lost. Have the courage to step into that moment. That's the moment of the story, and life, when we get to be brave and human," he said.
"People will admire you more for trying than for your successes," McCormack added. "When tragedy strikes, will you show courage and compassion and resilience? When joy meets you, will you seize it and amplify it? These are the moments in life that make one successful. Not what you do, but who you are."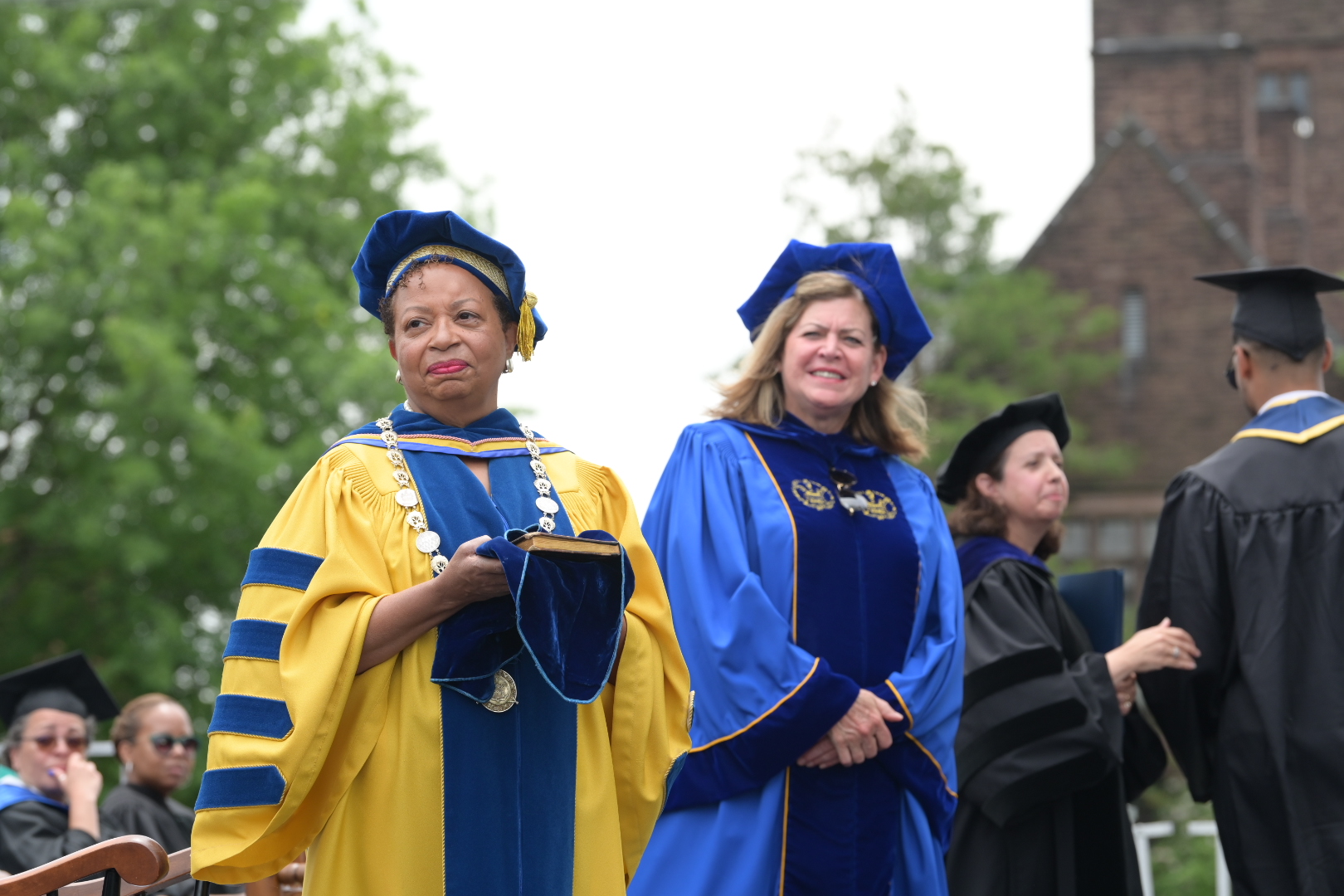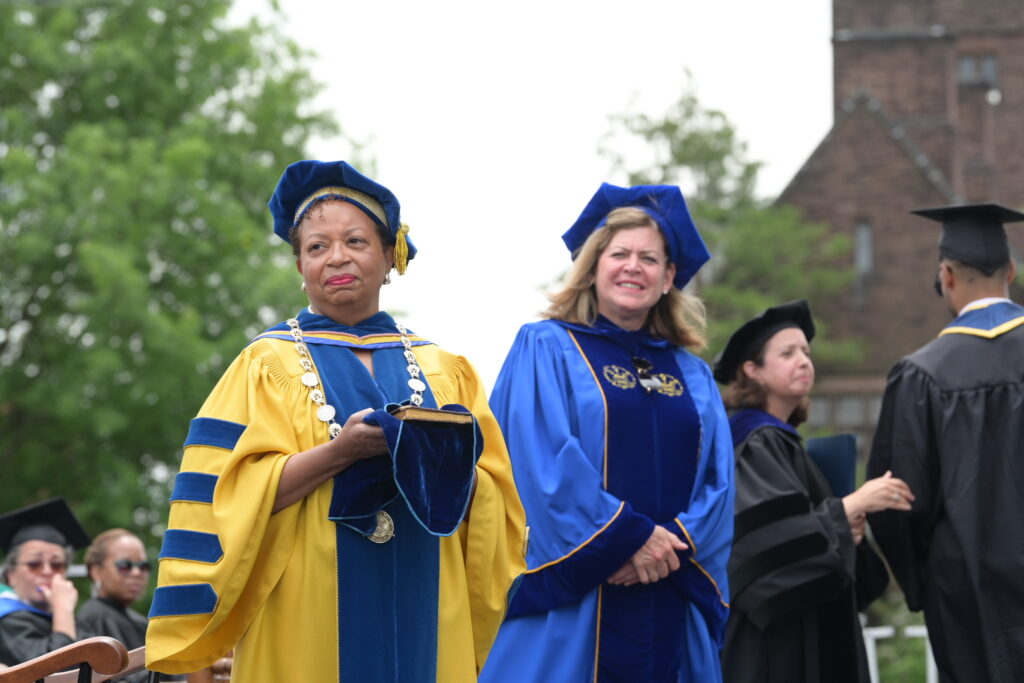 In her charge to the Class of 2020 alumni, Trinity President Joanne Berger-Sweeney reminded the graduates that they had much to celebrate, including the care shown by the entire Trinity community when students left campus in March 2020. "Staff cared for students who were unable to go home, and you, your families, and many alumni and others made donations to the Student Emergency and Equity Fund to ensure that all of our students had whatever they needed to complete their Trinity educational experience," she said. Berger-Sweeney also mentioned that the Class of 2020 received personal notes of encouragement from members of the Class of 1980, aimed at lifting their spirits and reminding them of the alumni network they were about to join.
"The COVID years have been a time of great learning, pivots, and tremendous resilience. You discovered the all-important combination of relying on yourself while simultaneously relying on others, especially to get through difficult times," Berger-Sweeney added. "Today, as we celebrate you and the knowledge and fortitude you found at Trinity—whether in books or classes, on the field or stage, or in everyday life during a global pandemic—we also recognize your resilience in waiting two whole years to return to the Main Quad, 'neath the elms, to celebrate your Commencement."
Berger-Sweeney concluded by asking the Class of 2020, "How will you share your wisdom—what you learned during the pandemic—with the Bantams who come after you? How will you show them the same care that you received? I can't wait to see all that you give to the world and what you accomplish, and importantly, how you will care for others."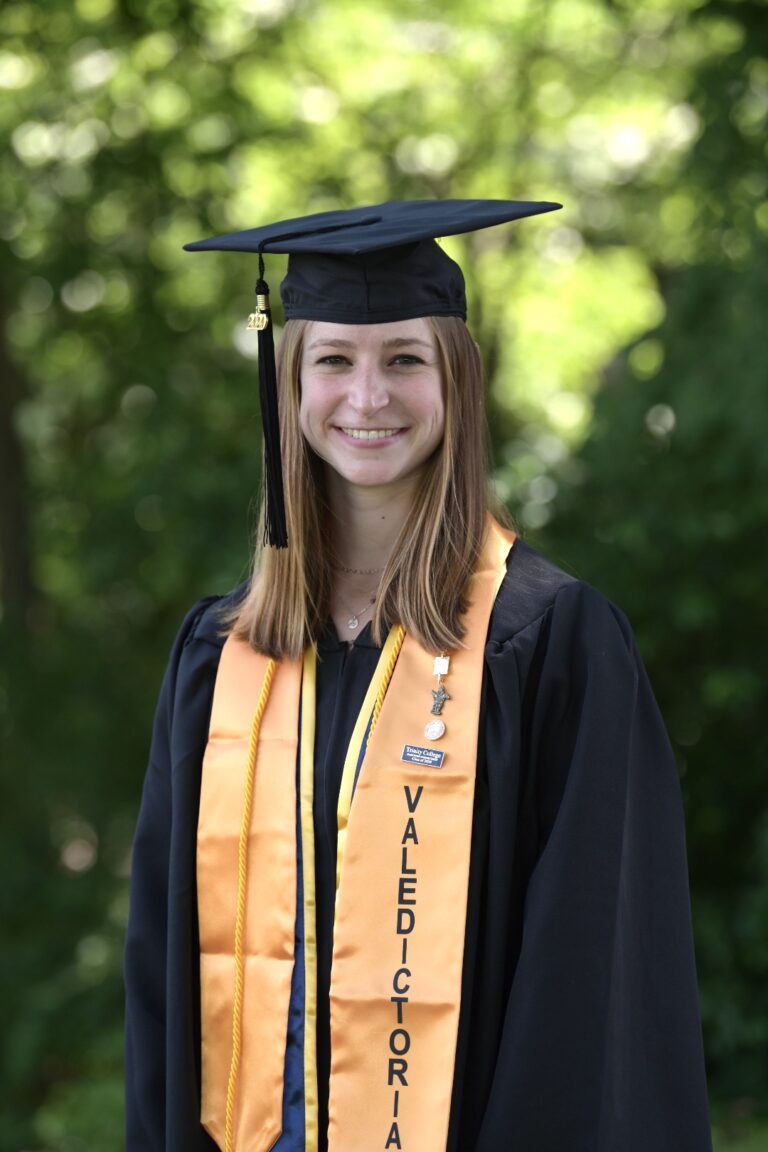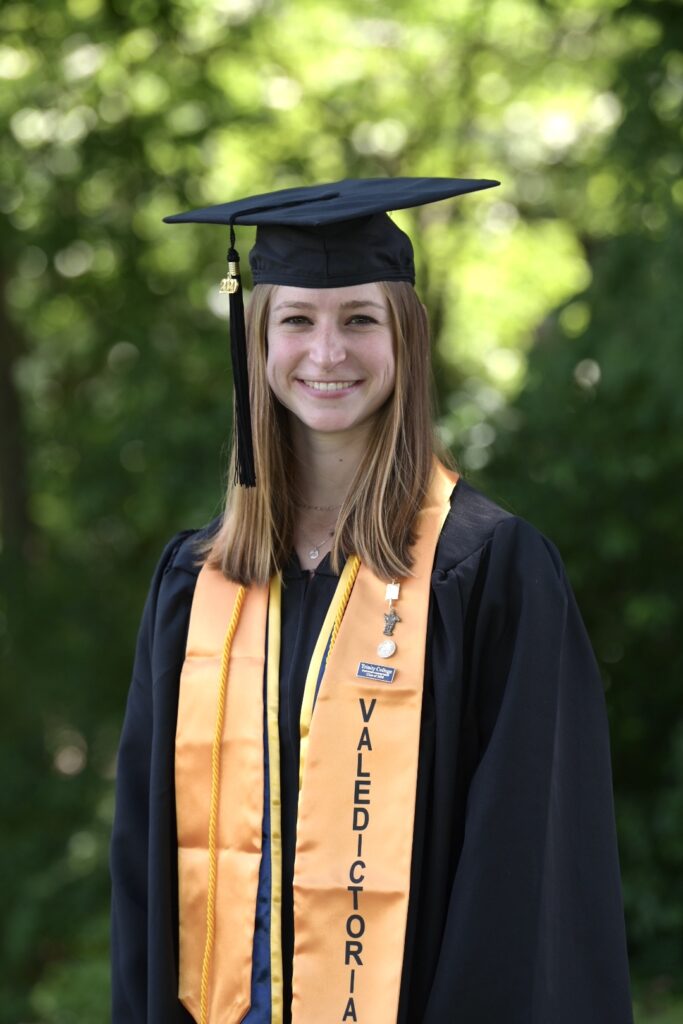 The ceremonial conferring of degrees began by recognizing the outstanding academic achievements of the valedictorian and salutatorian of the Class of 2020. Alexandra M. Sinson, of Wisconsin, who earned a B.S., summa cum laude, with honors in engineering and with a second major in environmental science, was the class valedictorian. Tarek Abdallah, of Germany, who earned a B.S., summa cum laude, in economics, was the class salutatorian.
After all of the Class of 2020 alumni in attendance walked across the stage, Trinity College Alumni Association President Jamie Tracey Szal '06 offered greetings from the community of about 30,000 Trinity alumni. "I am really proud to say that your class already embodies the characteristics that I see in our Trinity alumni family: nimble-mindedness, grit, community, and so much more," Szal said. "Your tenacity in the face of utterly unprecedented circumstances is a testament to the success you will achieve."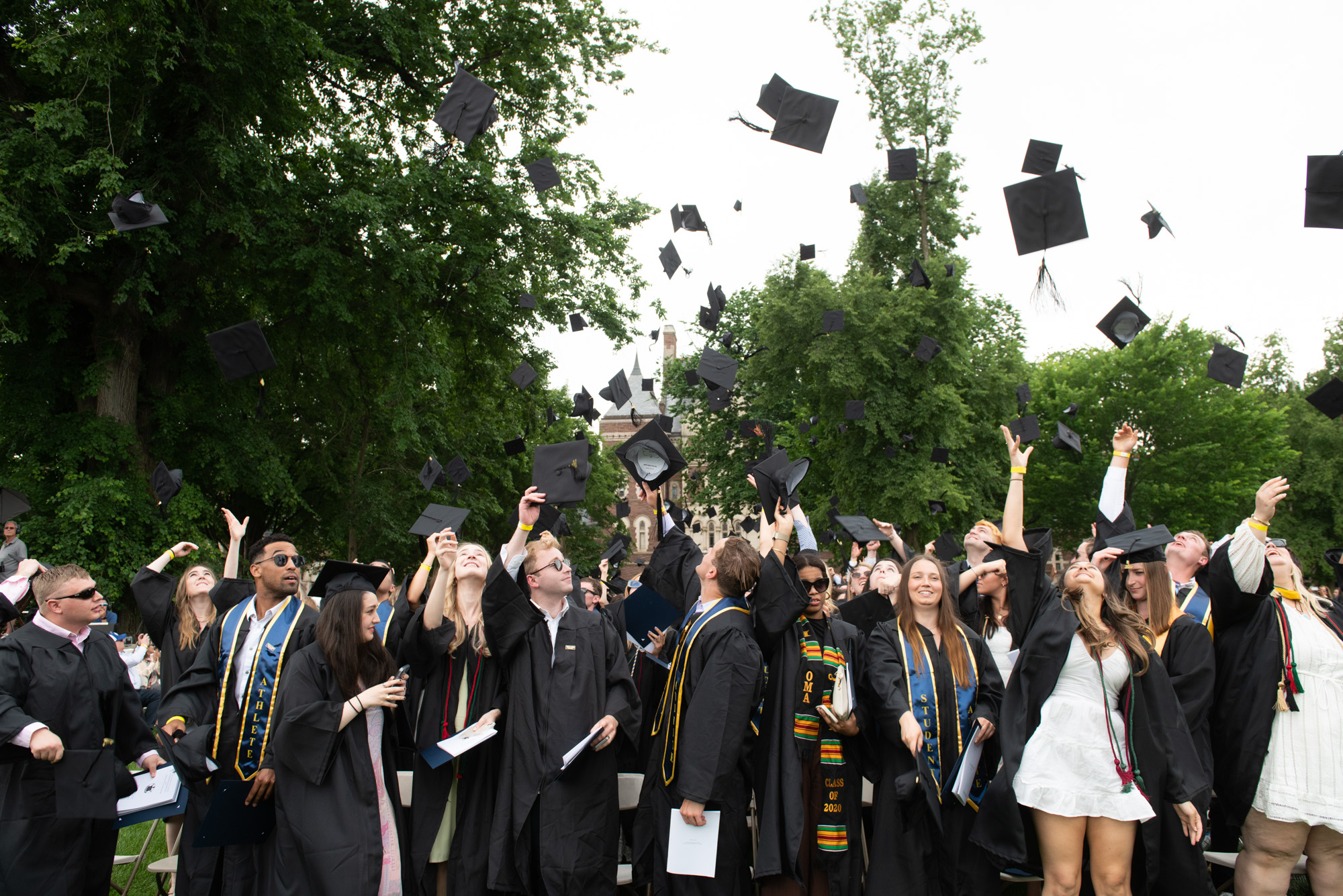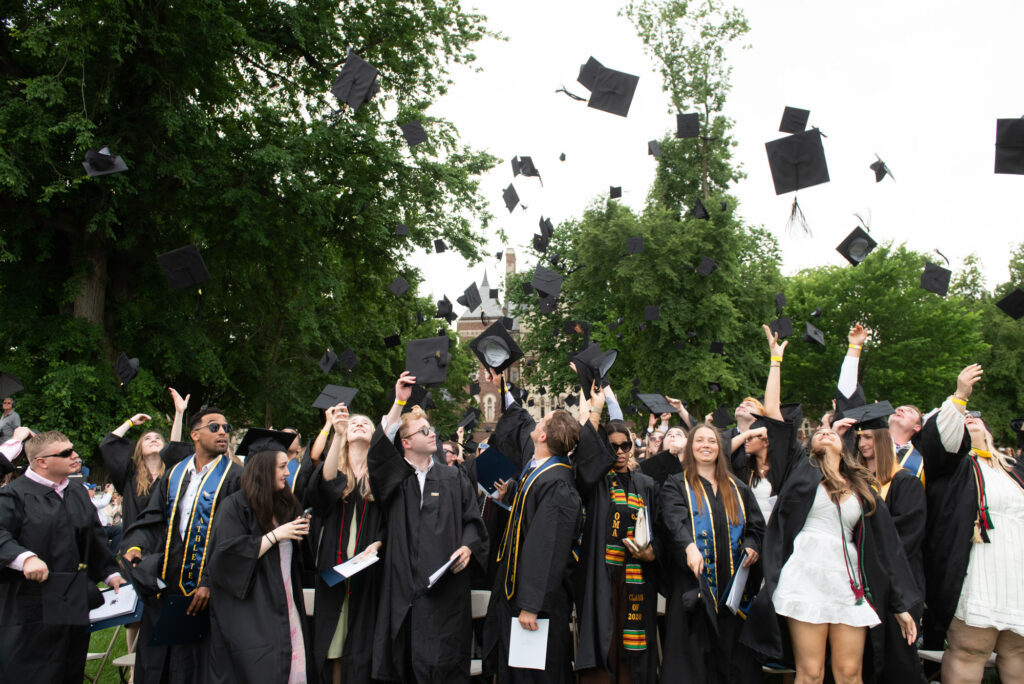 Honorary degree recipients from 2020 were celebrated last year during the Commencement for the Class of 2021. In honor of the 50th anniversary of coeducation at Trinity, the institution bestowed honorary degrees on the first four women to receive undergraduate degrees from Trinity, in 1970. They are: Trinity College Professor of Theater and Dance, Emerita, Judy Dworin '70; Elizabeth Martin Gallo '70; Judith Odlum Pomeroy '70; and Roberta Russell '70, who was awarded the honorary degree posthumously. Additional 2020 honorands were Francisco L. Borges '74, chair and managing partner of Landmark Partners; the Most Rev. Michael Bruce Curry, the 27th presiding bishop and primate of the Episcopal Church (Curry received his honorary degree in May 2020, when he served as Baccalaureate speaker); and James Hanley and Peter McMorris, co-founders of Cinestudio, the art house cinema on the Trinity campus.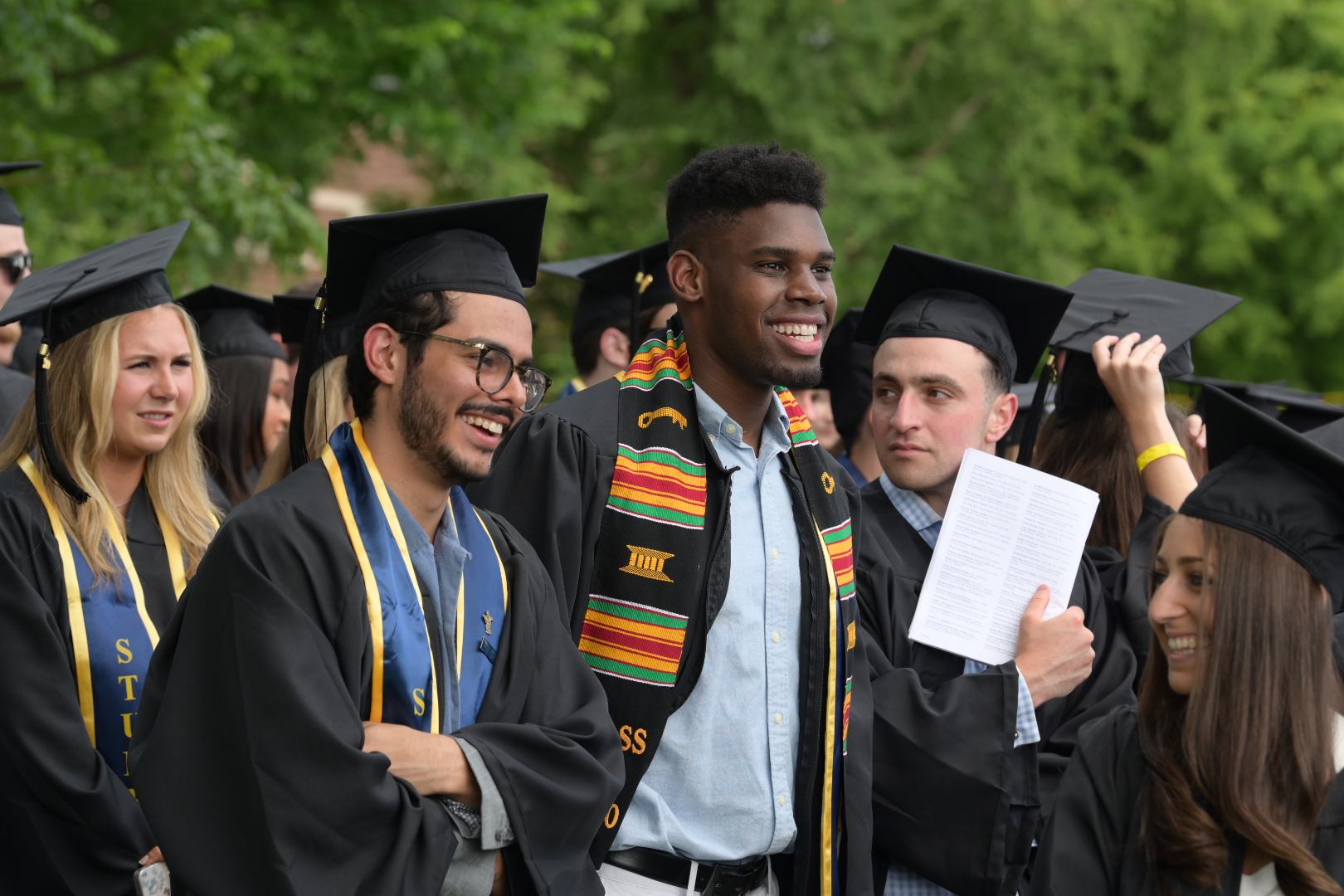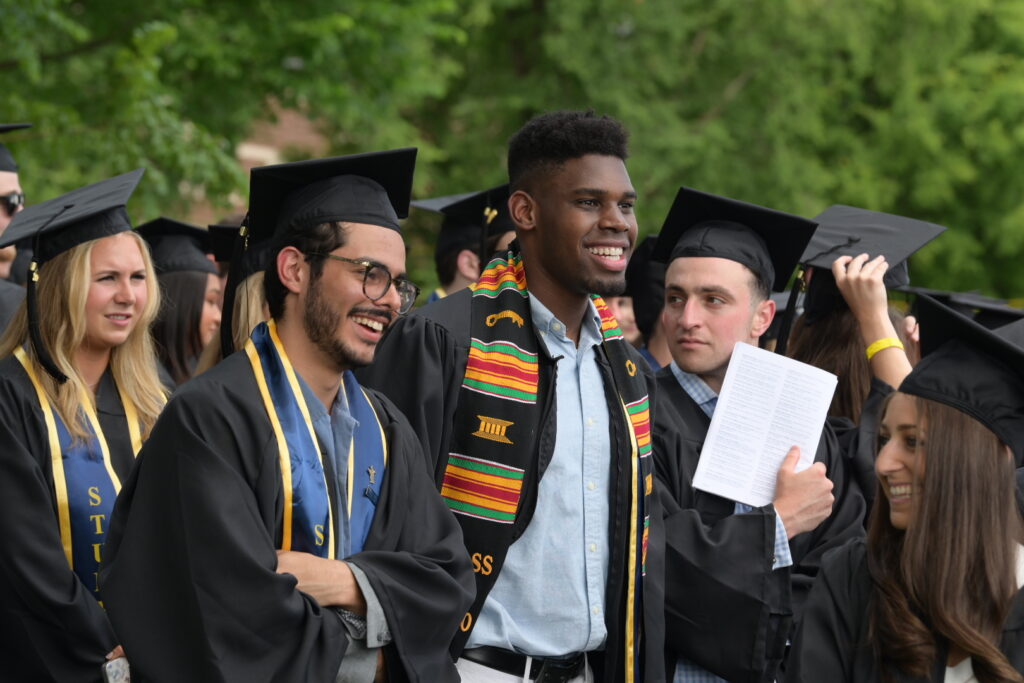 The 2020 Trustee Award for Faculty Excellence went to Professor of Physics and Environmental Science Christoph E. Geiss and principal lecturer and laboratory coordinator in the Environmental Science Program Jonathan R. Gourley. The 2020 Trustee Award for Staff Excellence went to then-Director of Campus Safety Brian Heavren. The 2020 Trustee Award for Student Excellence went to Rahuljeet Chadha '20 and Hamna Tariq '20.
Several members of the faculty were honored in 2020 for their dedication to the academic life of Trinity. The Thomas Church Brownell Prize for Teaching Excellence for 2020 went to Paul E. Raether Distinguished Professor of History Cheryl L. Greenberg. The Dean Arthur H. Hughes Award for Achievement in Teaching for 2020 went to Assistant Professor of Psychology Michael Grubb.
Download the full Commencement program here.
Read the Commencement speeches here.
Watch a video of the ceremony here.
See more photos.