Back to News
'This is Your Moment to Shine': Trinity College Celebrates Class of 2021 at 195th Commencement
Trinity Community
posted
by Andrew J. Concatelli
"The pandemic has taught us that we can't go back to the way things were, nor should we want to. You are too good, too smart, and too wise to go back to normal. You will make a future that is better than normal," Hartford HealthCare President and CEO Jeffrey A. Flaks said to the graduates of the Trinity College Class of 2021 during his Commencement address. "There is, as they say, a light at the end of this long tunnel. That light is you. This is your moment to shine."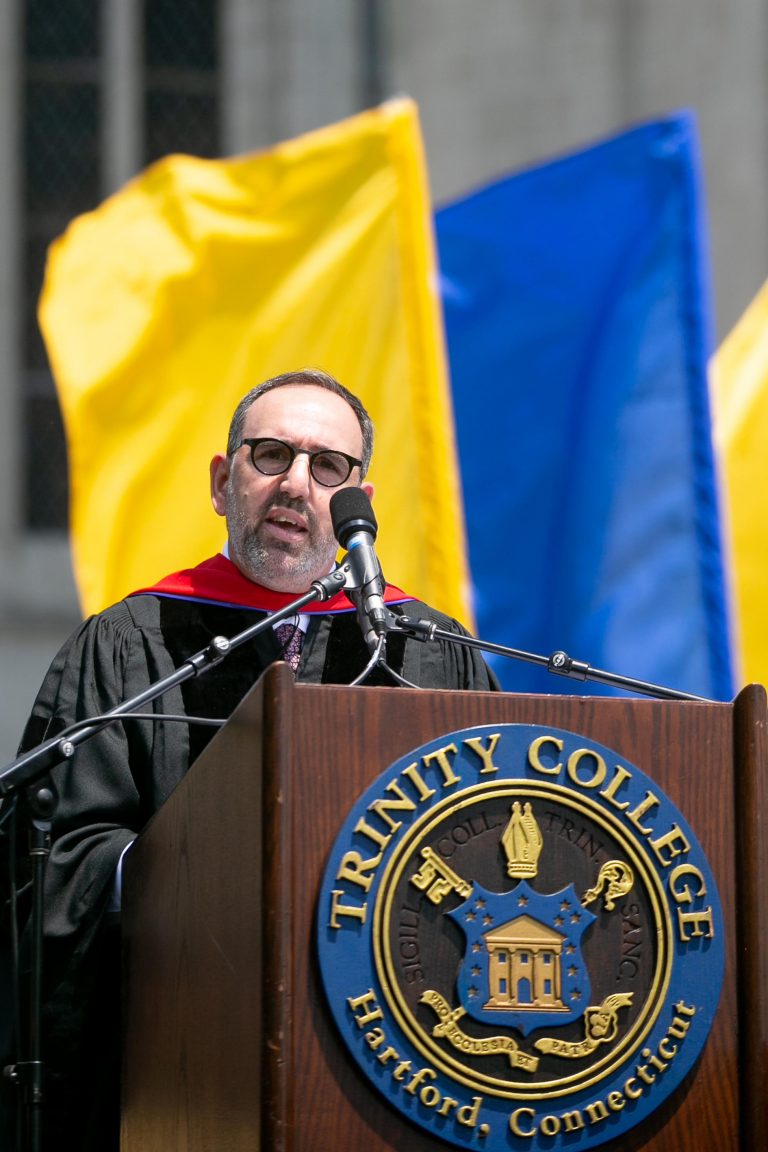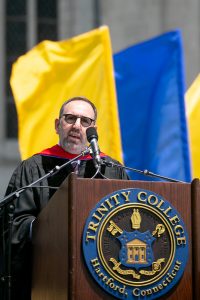 To maintain low density and physical distancing during the COVID-19 pandemic, Trinity hosted two consecutive Commencement ceremonies on the Main Quad on Friday, May 21. Following a year unlike any other at the college, graduates receiving their bachelor's or master's degrees were seated with their two invited guests in separate groups spread out on the lawn beside the Chapel.
Flaks spoke at both the morning and afternoon ceremonies. "I want to offer you four practices that have helped me tremendously. I hope they help you as you begin your next chapter. They are: to dream big, to innovate, to lead, and to serve," Flaks said. "There are no simple solutions to complex problems. The world has a to-do list that is long and urgent. You inherit both the successes and shortcomings of previous generations. Yes, the world is troubled, but its troubles can be healed. Yes, there are threats, but there is so much more promise. Yes, the tasks ahead may be hard, but when has that stopped you?"
For the past 15 months, Flaks has helped the state navigate the challenges of a global pandemic through extensive testing and vaccination outreach to communities. In recognition of his distinguished career and contributions to the field of health care, Trinity presented Flaks with an honorary doctor of humane letters degree.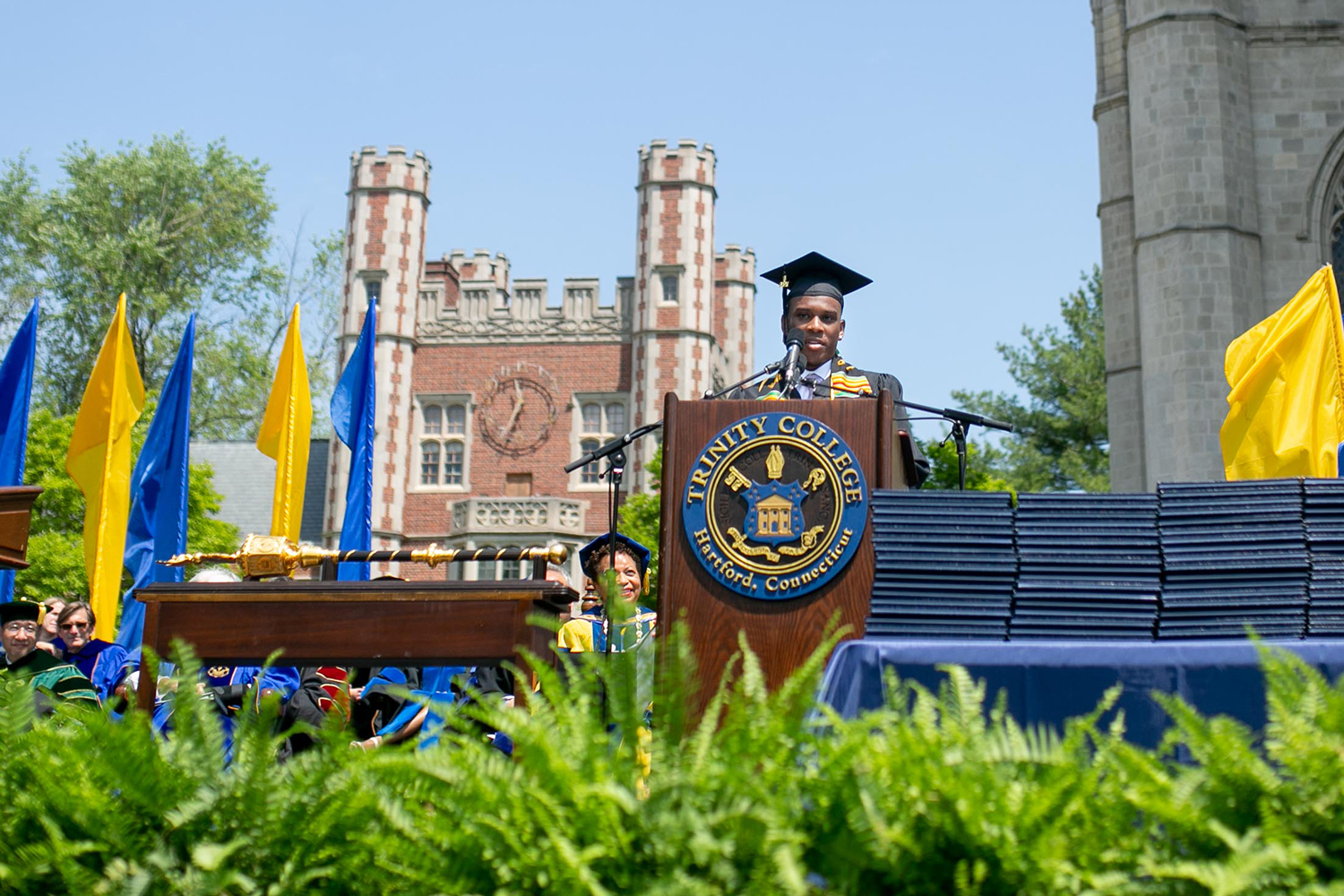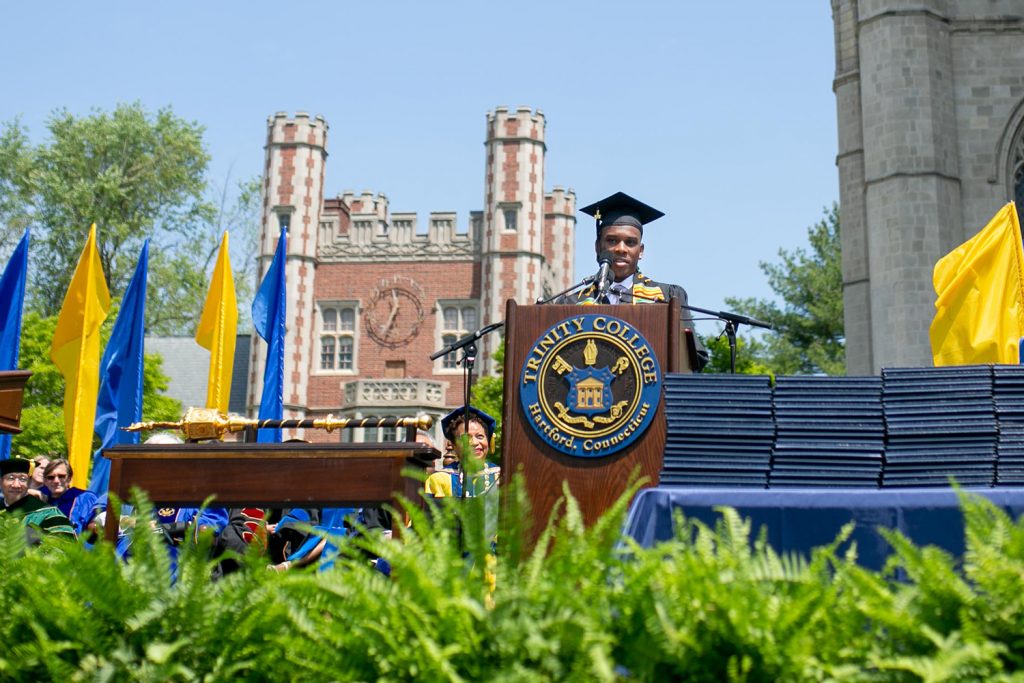 Giovanni Armani Jones '21, president of Trinity's Student Government Association and the graduate who was selected to be the student speaker, shared his personal story during both ceremonies: "Being born right down the street at Hartford Hospital and being the first member of my family to graduate from college, I do not take one bit of this moment for granted," he said.
In his remarks, Jones celebrated the city of Hartford and spoke about the day when he and fellow Global Communications Academy students Kiera Flynn '21 and Tiana Starks '21 were surprised with full scholarships to Trinity. [Watch a video about the "Trin Trio" here.] "Every little kid in our school and around Hartford shared this moment with us. We were known as 'the kids who got into college.' Who would've thought three students from a Hartford public school would end up at a prestigious intuition in their hometown? Who would've thought one of them would become the first Black man from Hartford to be Trinity College's SGA president?" Jones said. "I say this all to say, whenever I was down, whenever I wanted to give up, I looked back on that day. It's important to reflect throughout your journey, as it reminds us of where we started and where we are headed."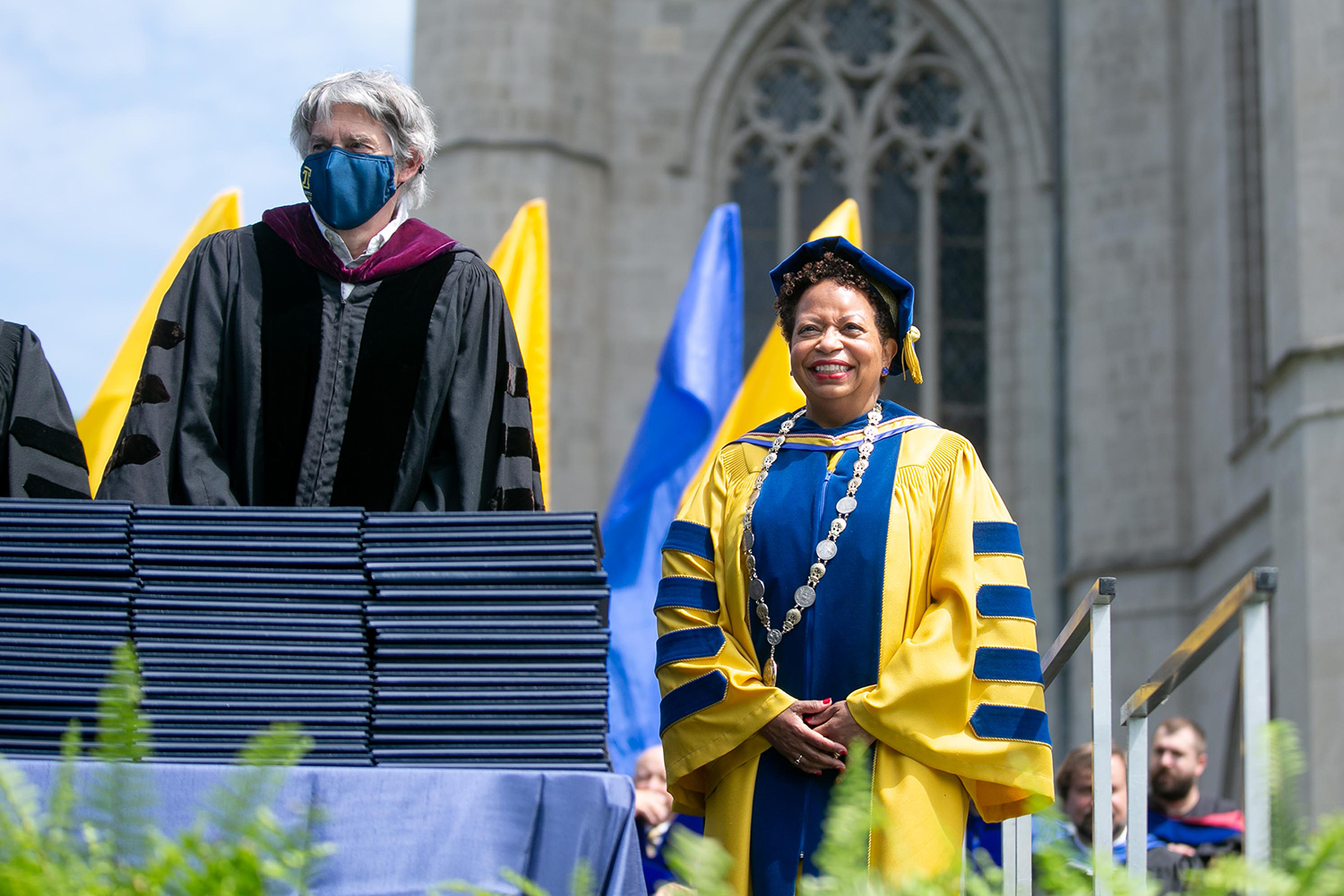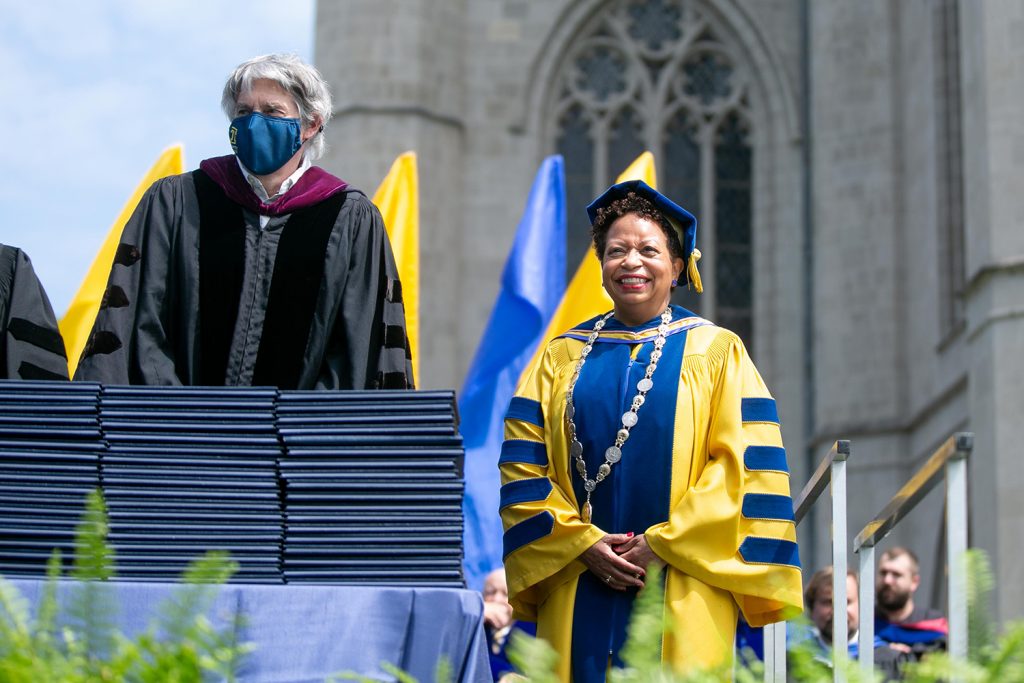 Jones said the members of the Class of 2021 represented strength and resilience. "We've not only made it through college, but we have also made it through a pandemic. COVID-19 has taken a lot away from us but has also given us new perspectives and lessons. One lesson being … remain in the moment," Jones said. "No matter how hard it gets, don't let that inner voice stop you from finishing what you started."
In her charge to the graduates, Trinity College President Joanne Berger-Sweeney celebrated the triumphs and perseverance of the Class of 2021. "I thank all of you graduates for your extraordinary efforts throughout this trying time. I also thank all the faculty and staff for all they did to continue our mission despite the innumerable challenges sparked by COVID-19," she said.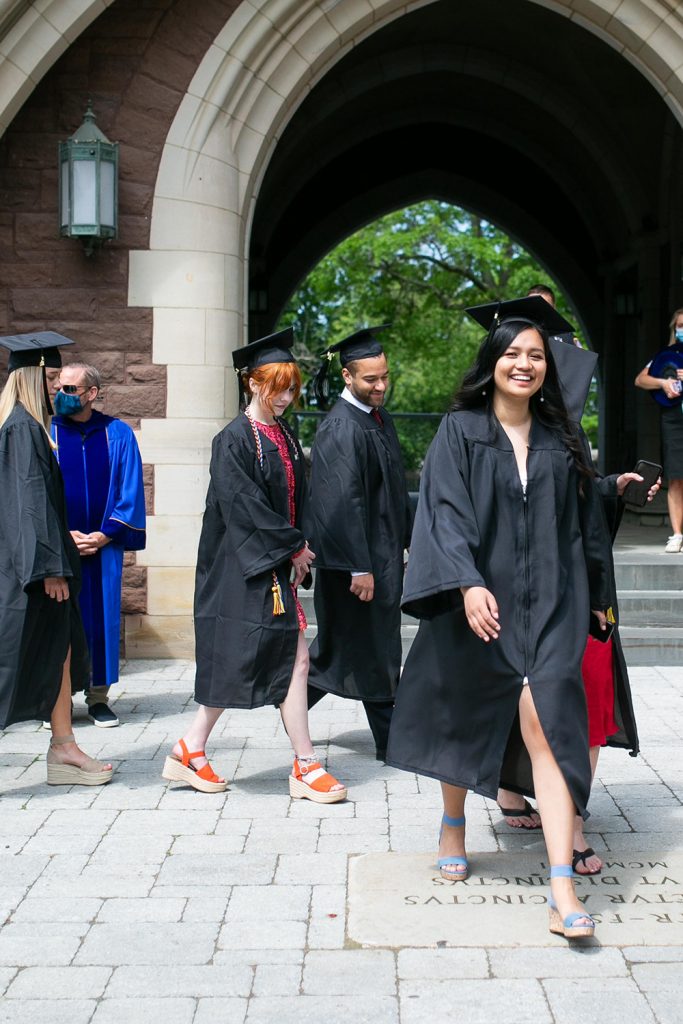 "You all are bound together by the unusual circumstances of the year," Berger-Sweeney said, as she left the graduates with questions to consider. "What affect did these shared experiences have on the bonds you have with one another? During this time of COVID-19, how did your relationships with others in the Trinity community change? What shared bonds will draw you back, 10, 20, or even 50 years from now, to reminisce with your classmates about these extraordinary times?"
The valedictorian and salutatorian of the Class of 2021 were recognized for their outstanding academic achievements. Samantha McCarthy '21, of Washington, who earned a B.A. in sociology with a minor in community action, was named valedictorian; Thomas C. McKinney '21, of California, who earned a B.A. in economics with a minor in history, was named salutatorian.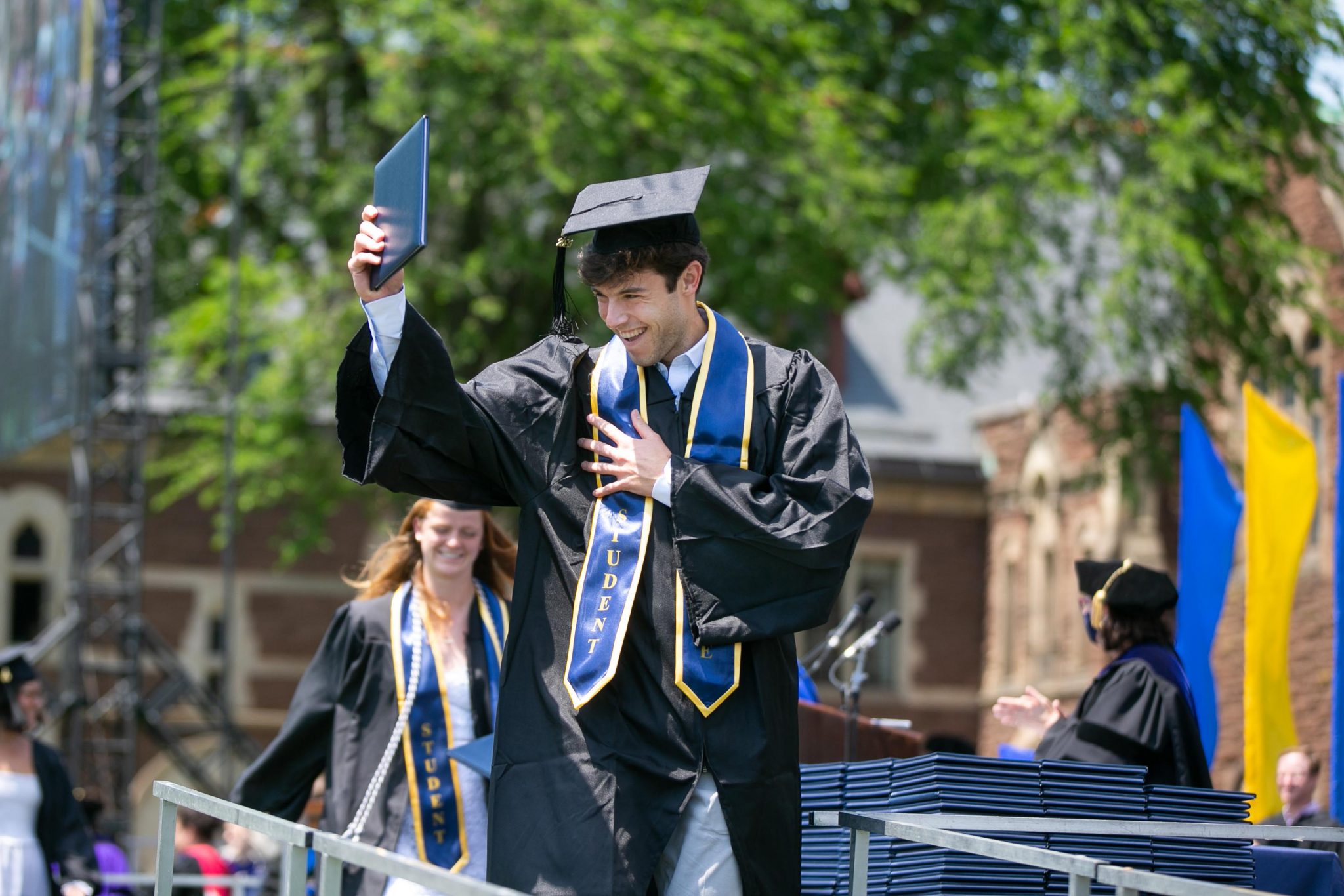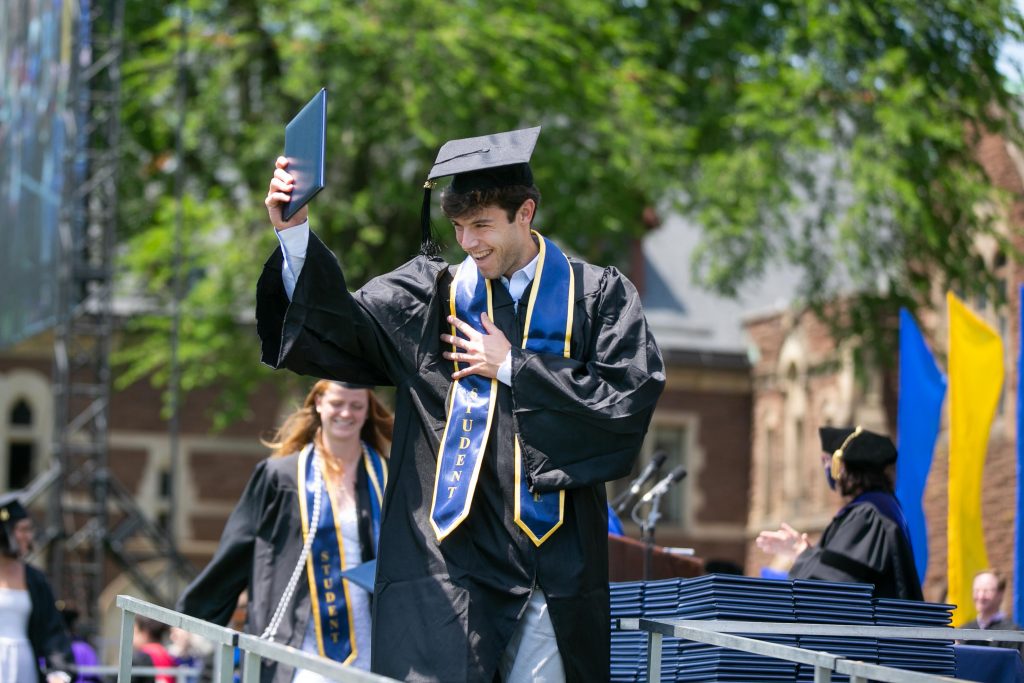 Following the conferral of degrees, Trinity College Alumni Association President Eric S. Estes '91 offered greetings to the new graduates from the alumni community. "One of Trinity's greatest strengths is its tremendous alumni network, and we welcome you with open arms," Estes said.
In addition to Flaks, 2021 honorary degrees also were presented to: Philip O. Geier, co-founder of the Davis United World College Scholars Program and creator of Projects for Peace; Katharine Hayhoe, chief scientist for The Nature Conservancy and Paul W. Horn Distinguished Professor and the Political Science Endowed Professor in Public Policy and Public Law at Texas Tech University; and Philip S. Khoury '71, associate provost and Ford International Professor of History at the Massachusetts Institute of Technology and former trustee and vice chair of the Trinity College Board of Trustees.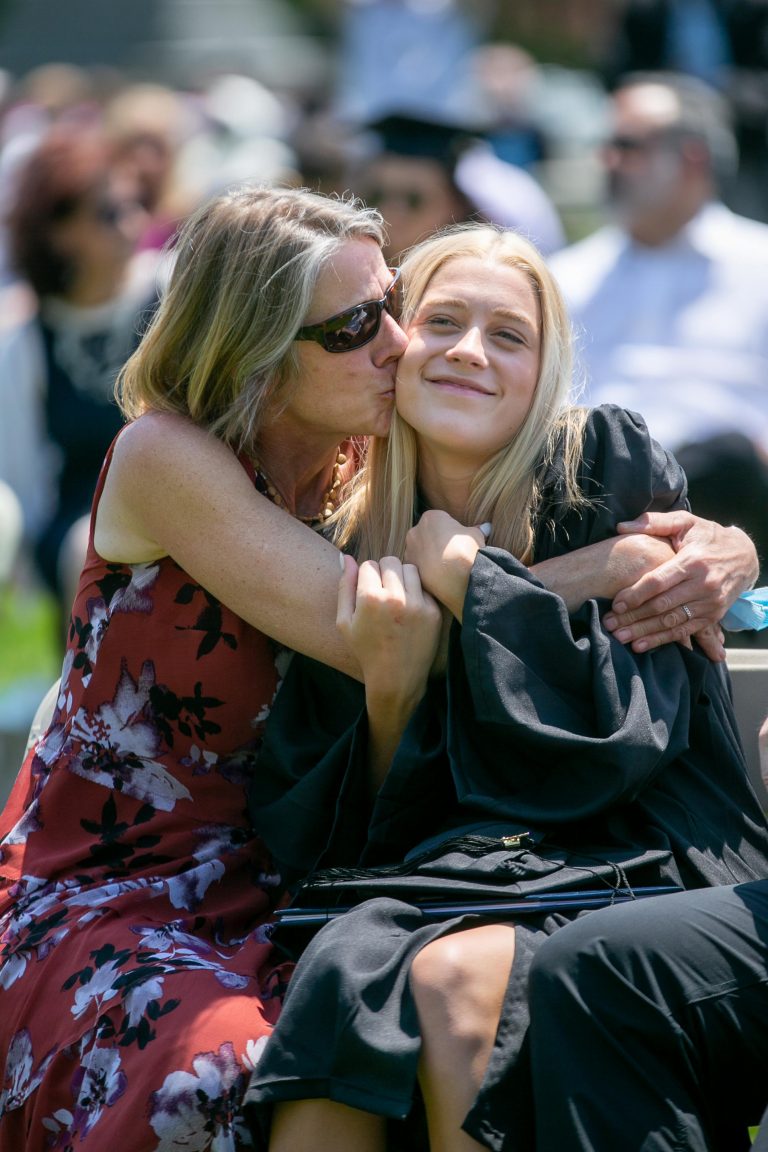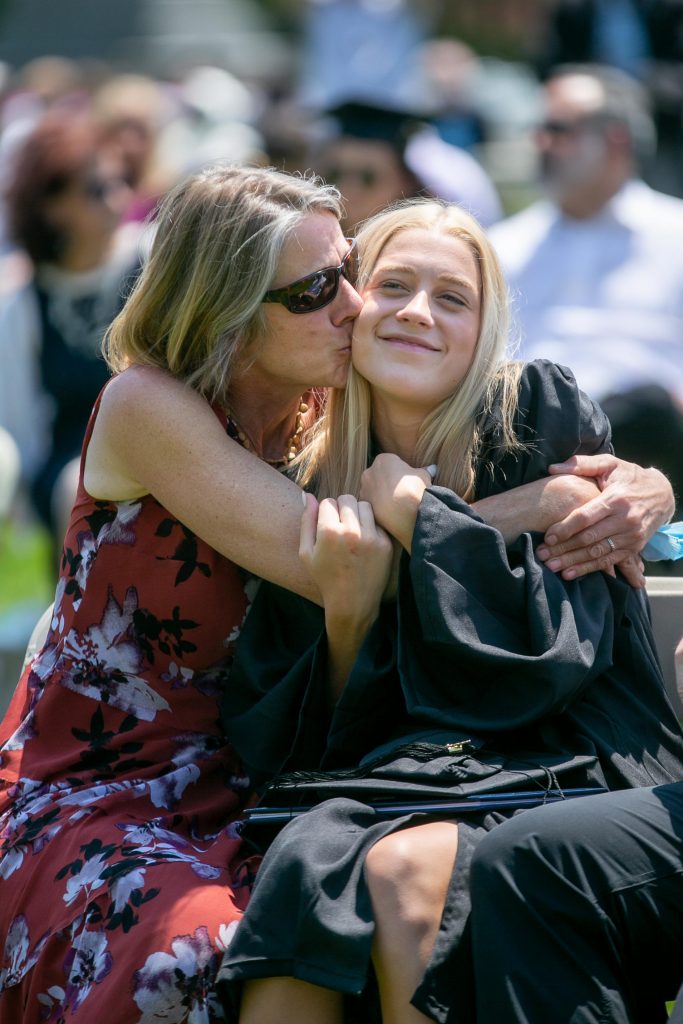 Trinity also celebrated the 2020 honorands. Last year, the pandemic prevented the college from hosting a full in-person Commencement when, in honor of the 50th anniversary of coeducation at Trinity, the institution was to have bestowed honorary degrees on the first four women to receive undergraduate degrees from Trinity, in 1970. They are: Trinity College Professor of Theater and Dance, Emerita, Judy Dworin '70; Elizabeth Martin Gallo '70; Judith Odlum Pomeroy '70; and Roberta Russell '70, who passed away earlier this year and was awarded the honorary degree posthumously. Other 2020 honorands are Francisco L. Borges '74, chair and managing partner of Landmark Partners; the Most Rev. Michael Bruce Curry, the 27th presiding bishop and primate of the Episcopal Church (Curry received his honorary degree in May 2020, when he served as Baccalaureate speaker); and James Hanley and Peter McMorris, co-founders of Cinestudio, the art house cinema on the Trinity campus.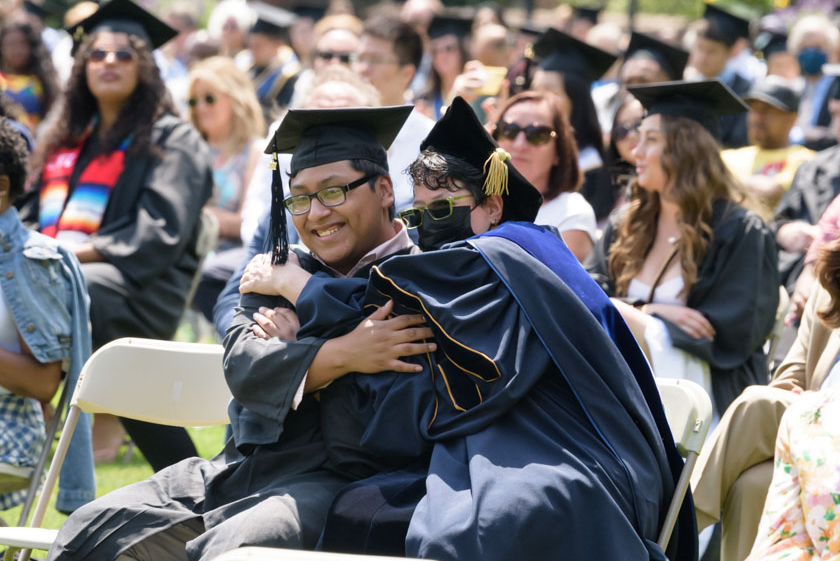 On behalf of the Board of Trustees, Board Chair Cornelia P. Thornburgh '80 presented awards for faculty, staff, and student excellence. The Trustee Awards for Faculty Excellence went to Professor of Mathematics David Mauro and Professor of Engineering Taikang Ning. The Trustee Awards for Staff Excellence went to Learning Space Manager and Media Technology Specialist
John J. Dlugosz; Assistant Vice President for Construction, Facilities, and Operations Tom Fusciello; Associate Director of Athletics for Compliance and Student-Athlete Welfare Kristen J. Noone M'07; and History Department Administrative Assistant Georgene "Gigi" St. Peter. The Trustee Award for Student Excellence went to Class of 2021 graduates Jaymie Dawn Bianca, Vanessa Ross, Jeffrey P. Sagun, and Ana Stambolic.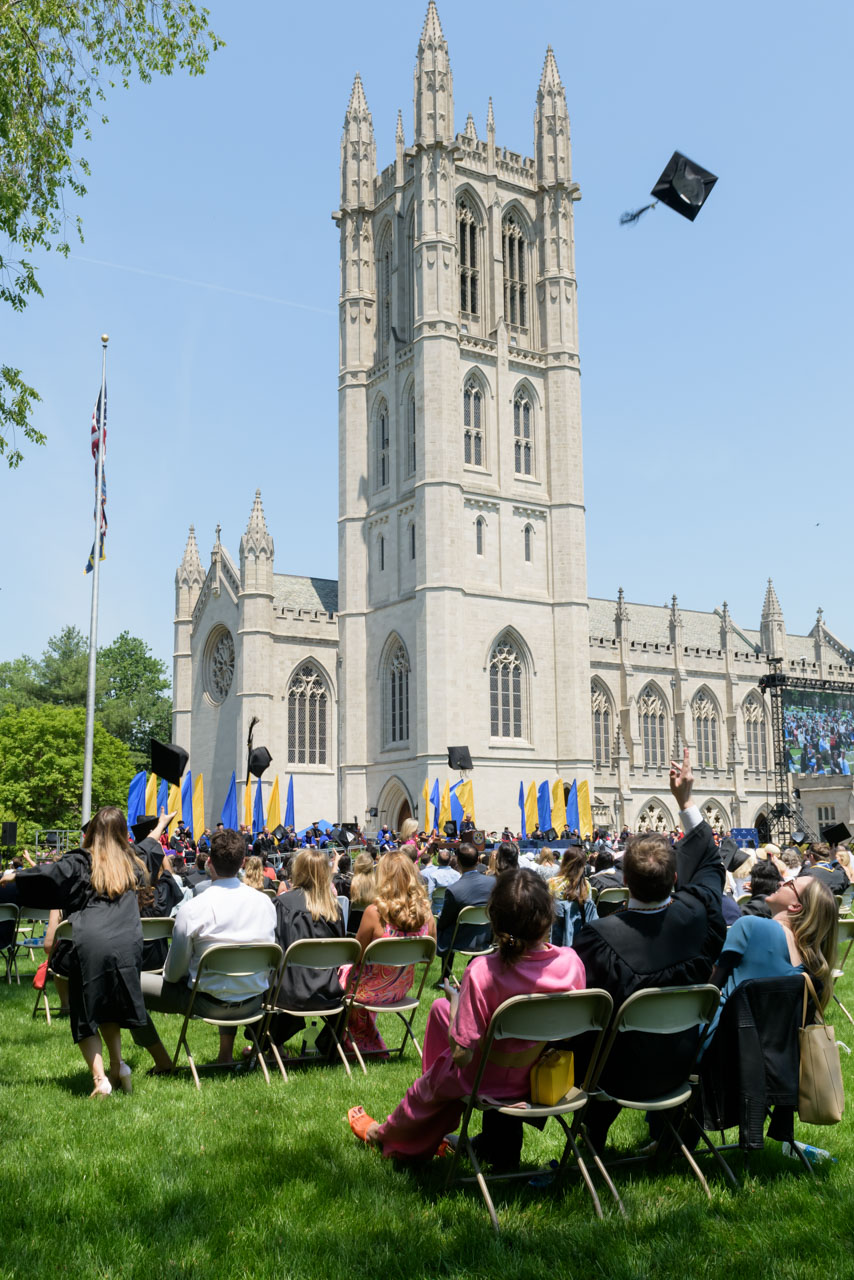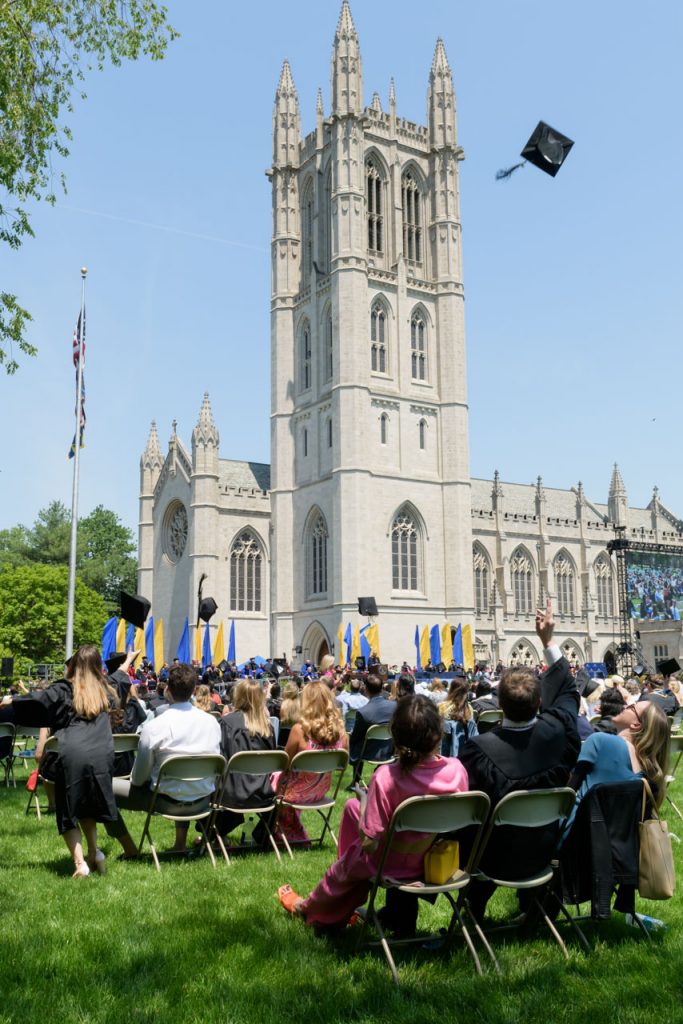 Acting Dean of the Faculty and Vice President for Academic Affairs Sonia Cardenas honored several members of the faculty for their dedication to the academic life of Trinity. The Thomas Church Brownell Prize for Teaching Excellence for 2021 went to Professor of Political Science Stefanie Chambers and Gwendolyn Miles Smith Professor of Philosophy Erik Vogt. The Thomas Church Brownell Prize for Teaching Excellence for 2020 went to Paul E. Raether Distinguished Professor of History Cheryl L. Greenberg. The Dean Arthur H. Hughes Award for Achievement in Teaching for 2021 went to Visiting Lecturer in Political Science and Human Rights Benjamin C. Carbonetti and Assistant Professor of Environmental Science and Biology Amber L. Pitt. The Dean Arthur H. Hughes Award for Achievement in Teaching for 2020 went to Assistant Professor of Psychology Michael Grubb. The Charles A. Dana Research Professorship Award for 2021 went to Professor of History and International Studies Dario A. Euraque. The Charles A. Dana Research Associate Professorship Award for 2021 went to Associate Professor of Language and Culture Studies Kifah Hanna and Associate Professor of Psychology Laura J. Holt.
Download the full Commencement program here.
More Commencement links:
Video: The Class of 2021—Cultivating Community
Awards and Distinctions
2021 Honorary Degree Recipients
Read the Commencement Speeches
Photos by Nick Caito and Sarah McCoy