Back to News
Trinity College Names Class of 2020 Valedictorian and Salutatorian
Announcement
posted
by Bhumika Choudhary '18
The valedictorian and salutatorian of Trinity College's Class of 2020 are Alexandra Sinson of Wisconsin and Tarek Abdallah of Germany, respectively. Sinson completed a bachelor of science degree, summa cum laude, with majors in engineering and environmental science, while Abdallah completed a bachelor of science degree, summa cum laude, with a major in economics.
With new academic policies in place due to the COVID-19 pandemic, final grade point averages were not available before the "Tribute to the Graduating Students of the Class of 2020" video was released in May, when degrees were conferred remotely.
Both graduates at the top of their class said they had a transformative time at Trinity, where they each nurtured new and existing interests.
Sinson has been passionate about environmental science and interested in building things to solve problems from a young age. "I didn't consider studying engineering until I conducted research with Professor John Mertens," she said. "After trying to decide which major to choose, I decided on both because of the amazing support from my professors."
Abdallah was drawn to economics because he wanted to understand the rules and mechanisms that govern the economy. "Economics is fascinating because one can utilize equations and models to examine human decisions and policy measures," he said. "Pursuing economics was enlightening, as it encompasses findings from neighboring fields like political science, psychology, and sociology."
Valedictorian Alexandra Sinson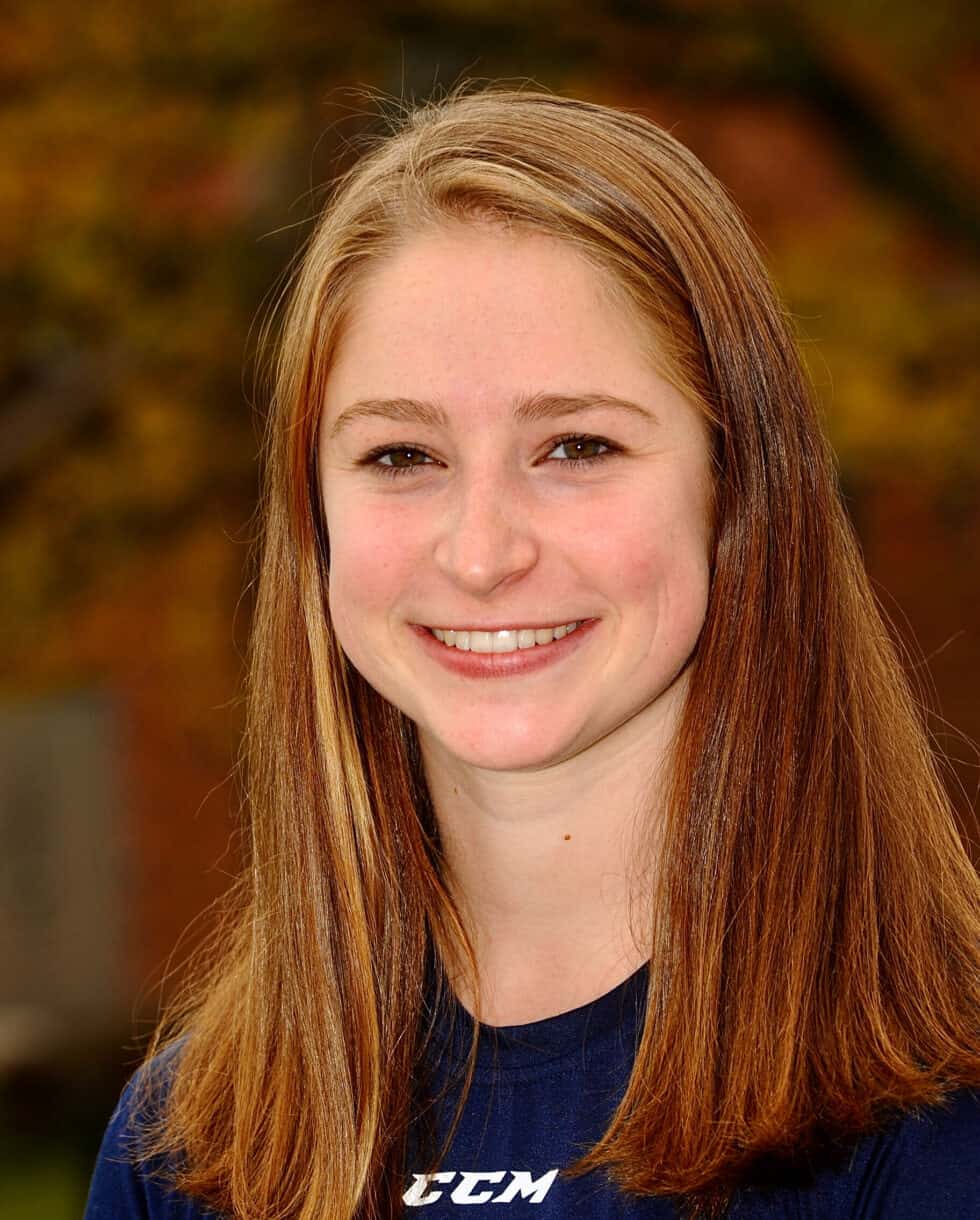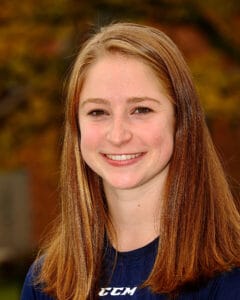 Sinson, who was a Dr. Robert A. Moran '85 Scholar, received the Susan E. Martin Award, Senior Environmental Science Award, Junior Engineering Book Prize, Hartford Section of the American Society of Mechanical Engineers Prize, Board of Fellows Award, Phi Gamma Delta Prize in Mathematics, and Physics Prize. She won the NASA Connecticut Space Grant Scholarship and Research Grant and also was the president's fellow in engineering and a member of the national honor society Phi Beta Kappa.
During her time at Trinity, Sinson played ice hockey and was captain of the team during her junior and senior years. She played in all 25 games and totalled four goals along with five assists while anchoring Trinity's defense in 2019-20. "Being an athlete inspired me to become a better person and leader," said Sinson. Some of Sinson's favorite experiences at Trinity were on the ice and watching her friends compete in different sports. "The support for athletes during home games and the energy of the campus while teams were competing was always a highlight," she added.
Sinson was co-president of Trinity's chapter of the Society of Women Engineers, for which she organized mentoring events where alumni were invited to campus to speak with current students. She also devoted her time as a student manager in the Student Accessibility Resource Center and as an intern in the Alumni and Annual Giving office. Sinson plans to move to Boston in the fall and work in the city.
Salutatorian Tarek Abdallah
Abdallah, who was a Thomas Holland Scholar at Trinity, won the G Keith Funston Economics Prize, which is awarded annually to a senior majoring in economics who is an outstanding scholar and is actively involved in the life of the college.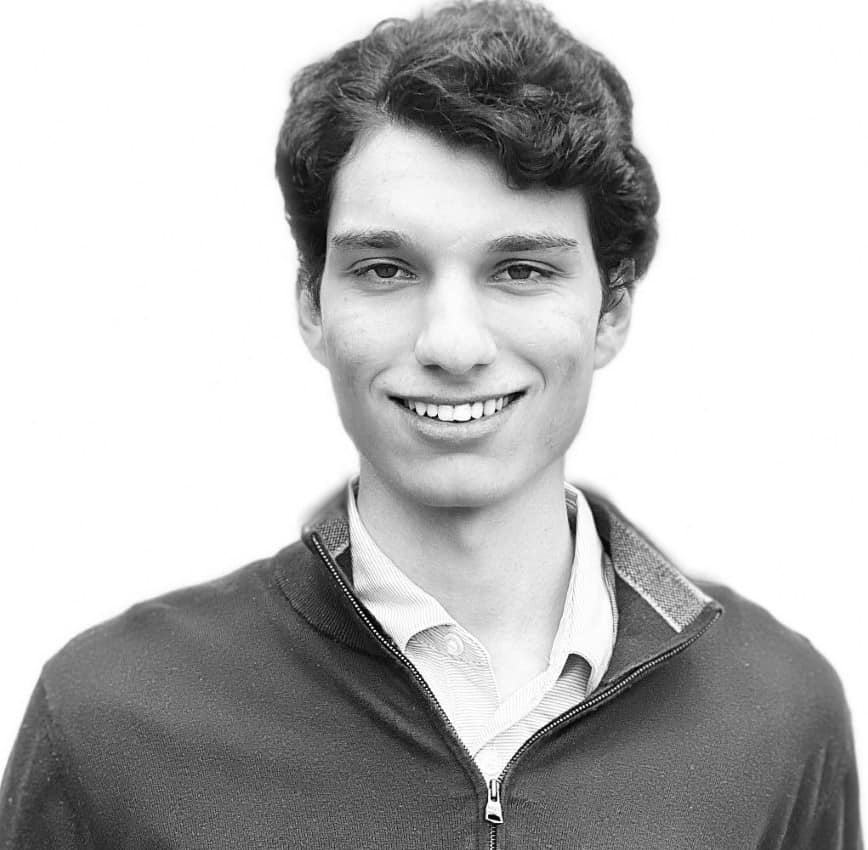 Outside the classroom, Abdallah devoted time to the German Club and the Summit to Wall Street Program. He also was a mentor to students interested in pursuing a career in finance and learning German. For a year of his college career, he was a member of the varsity men's tennis team.
Representing the college with his peers at the global CFA Research Challenge, which is an annual global competition in equity research, has been Abdallah's favorite experience. "My team and I worked closely to conduct in-depth analysis and produce a full sell-side equity research report on SS&C Technologies (NASDAQ: SSNC) that exceeded the expectations of our industry mentor as well as the CFA committee members," he said.
Abdallah will begin working as an analyst in the healthcare coverage group at Cowen & Company in New York. He hopes to attend business school in the future. Abdallah shared that he is honored to have graduated as the salutatorian. "This achievement came unexpectedly," he said. "I am exceedingly grateful to be recognized for my hard work and for the opportunity to attend Trinity, which would not have been possible without the support of generous donors."
To read more about how Trinity celebrated the Class of 2020 this spring, click here.