Back to News
Trinity's 199th Academic Year Opens with President's Convocation and Matriculation
Trinity Community
posted
by Andrew J. Concatelli
Trinity College's 199th academic year officially began on Thursday, September 1, 2022, with the President's Convocation and Matriculation Ceremony. "Welcome to the new academic year and, for many of you, to the formal beginning to your life as a member of the Trinity College family," Trinity President Joanne Berger-Sweeney said to the crowd gathered on the Main Quad on a sunny late-summer afternoon. "Students, parents, faculty, staff, alumni, and friends, we are all part of the Bantam family."
Berger-Sweeney welcomed to campus the 575 students in the Class of 2026, in addition to 27 transfer students, and 5 new Individualized Degree Program students. "This is a community of people who care for one another, hold one another responsible for our actions, take an active role in advancing the college and Hartford, and enthusiastically support future generations of learners and doers, paying forward and building upon the opportunities that we have received," she said.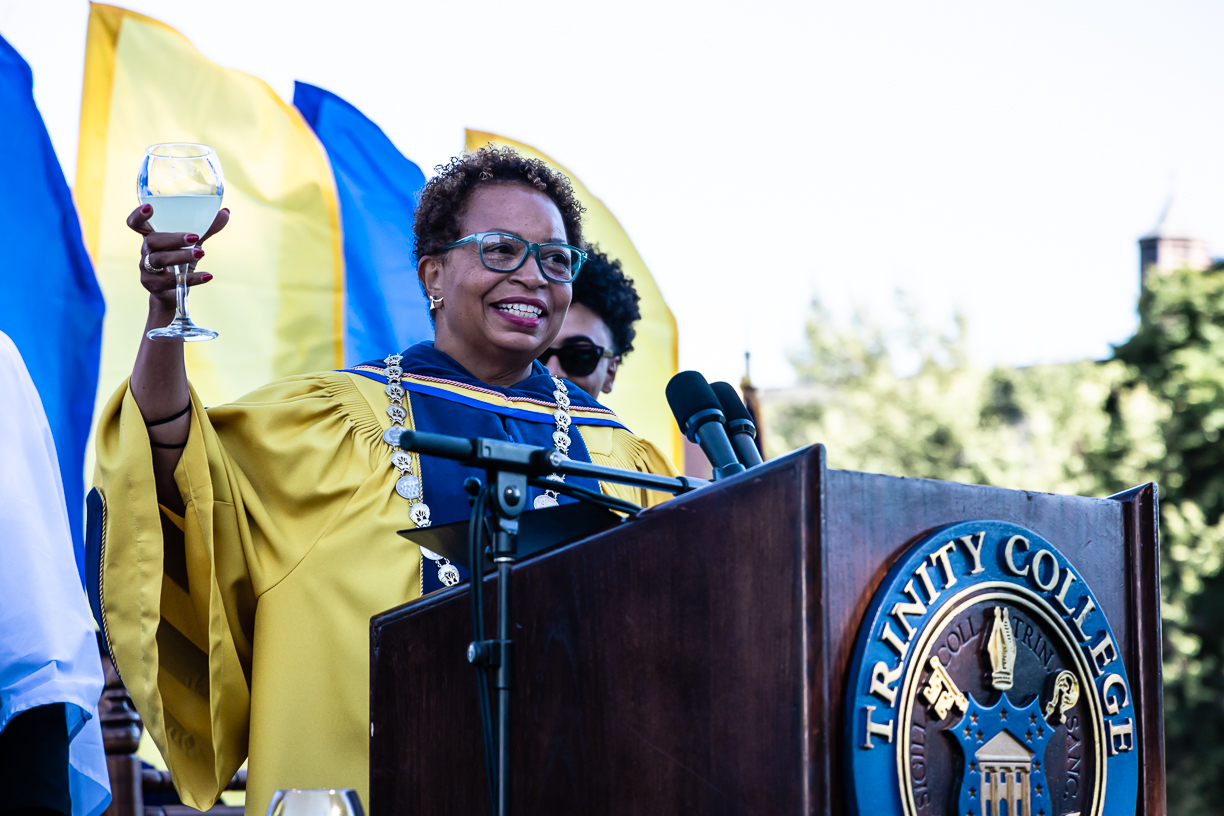 In her address to the class, Berger-Sweeney talked about how a book she had read recently made her think about the importance of making connections at Trinity, whether they are connections to people, connections to place, or connecting ideas. "I've always thought that the essence of a liberal arts education is making connections in new and different ways," she said. "Therefore, my charge to you is to use this time at Trinity to open your mind to new perspectives, to read a different genre of book, to interact with people who are decidedly different from you, to persist at something that may seem hard initially, and to find answers to questions that you never knew existed. These are the opportunities that await you here at Trinity."
Dean of Admissions and Financial Aid Matthew S. Hyde introduced the Class of 2026, which he noted will graduate at the college's 200th Commencement. Founded in 1823, Trinity is preparing to celebrate its bicentennial beginning in May 2023. Click here to learn more about the yearlong celebration.
"Your reach is truly global," Hyde said to the class. "The most local amongst you can jog 1.4 miles to her home on Harvard Street, right over there, while the Bantam amongst you who journeyed the furthest will need to hop 9,325 miles across oceans and continents to his home in Shah Alam, Malaysia."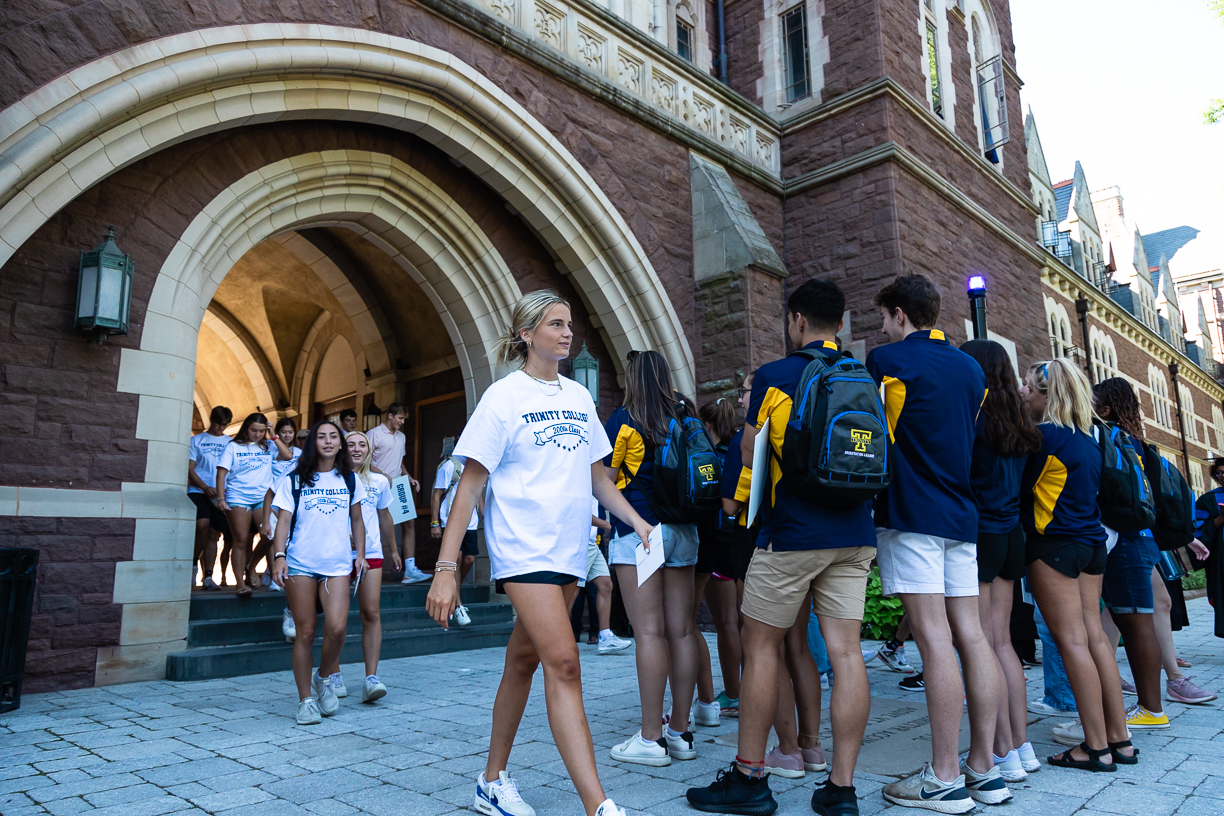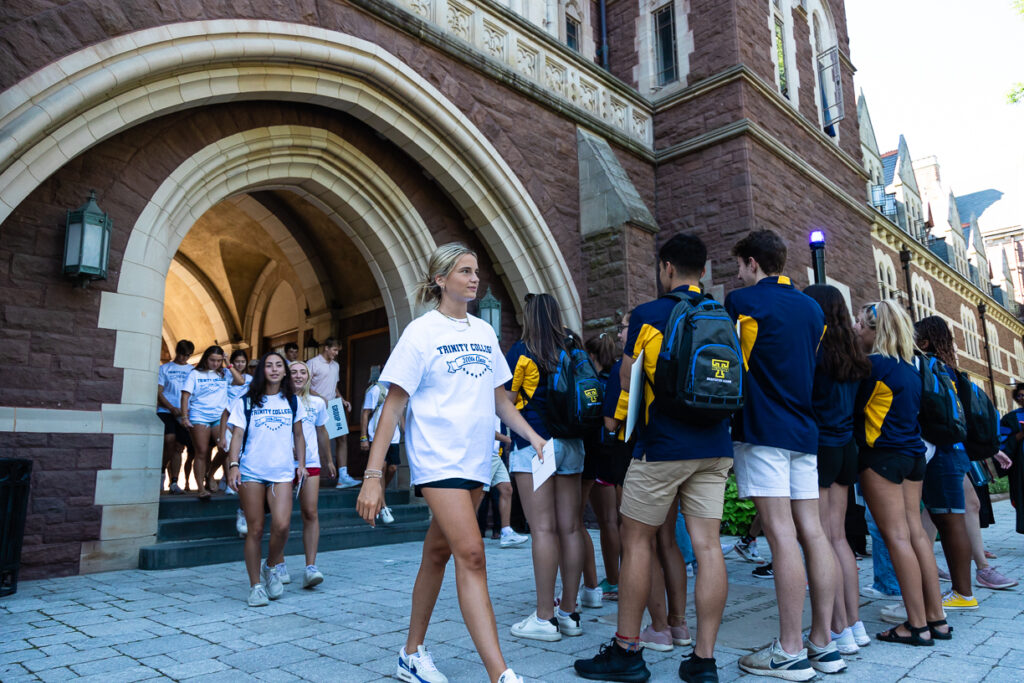 Hyde further told the new students, "Your interests and intent, ideas and ideals are vast and compelling. Regardless of how you landed in this seat before me, let it be known that this day, your class, and your college unite all of you. Each and every one of you belongs at Trinity." He encouraged the new students to think deeply, to learn actively, and to gain a keen sense of why their education matters in the world. "You will be well-served when your education gets uncomfortable and your mind and heart open—and remain open—to differing perspectives and new possibilities," Hyde said.
Vernon D. Roosa Professor of Applied Science and Secretary of the Faculty Susan A. Masino offered welcoming remarks on behalf of the faculty. "A Trinity education is as relevant and valuable today as it was 200 years ago," Masino said. "We believe in the liberal arts education we offer, and we look forward to having you in our classrooms."
Student Government Association President Jason Farrell '23 delivered greetings from the student body and told the new students to leave each part of campus even better than when they arrived. "Be like a sponge while you're here at Trinity," Farrell said. "Take advantage of every opportunity, every fun excursion with your friends. But don't forget to check in with yourself and make sure that you are in close proximity to the things that make you feel whole."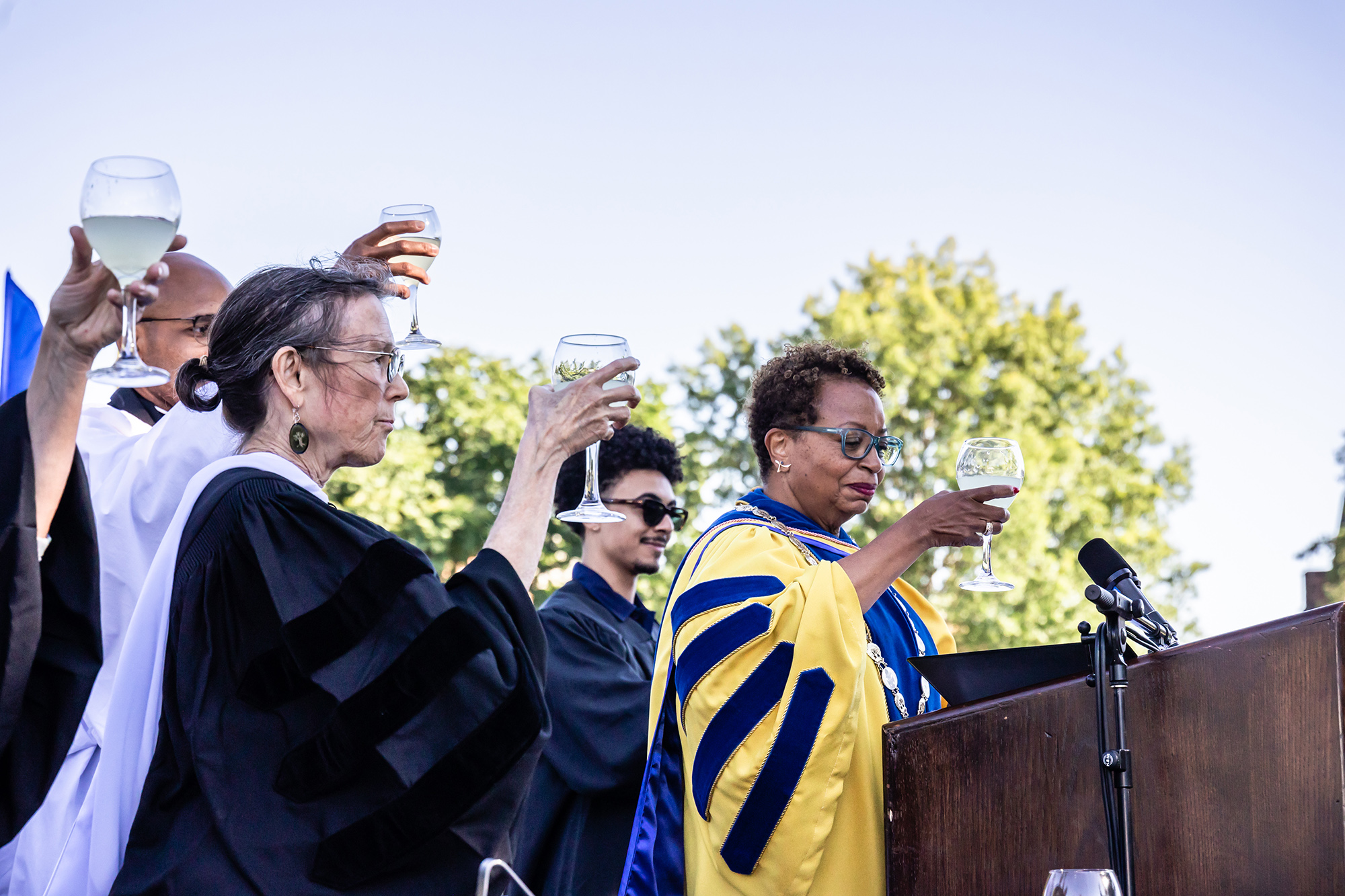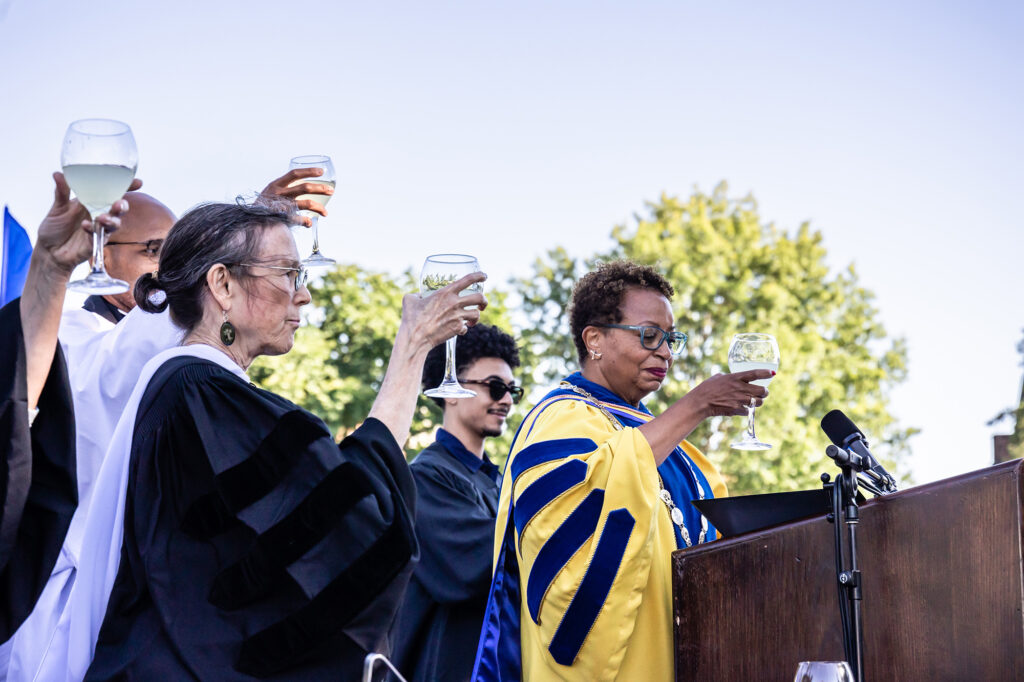 As part of the ceremony, Berger-Sweeney presented an honorary degree to Professor of Theater and Dance, Emerita, Judy Dworin '70, H'20, who was selected to receive the honor in 2020 before the pandemic forced the postponement of that year's in-person Commencement ceremony. "During her time at Trinity, [Dworin] established the Trinity Dance Program, co-founded the Trinity/La MaMa Performing Arts Program in New York City, and the Justice Dance Performance Project that works with Hartford youth and women affected by incarceration," Berger-Sweeney said. "Judy, in recognition of your vital role in and tireless dedication to the college's dance program as well as your commitment to giving voice and inspiring social action, I have, at long last, the honor of presenting you the degree of Doctor of Fine Arts, honoris causa."
Dworin's address to the new students encouraged them to create and follow their own traditions in their education and throughout their lives. "The challenge to realize a dance curriculum from the ground up initiated a vitally important personal tradition for me—that of persistence in realizing a vision, never giving up," she said. "This 43-year endeavor, seeing students open up to new worlds of awareness, creativity, and voice, consistently reaffirmed to me: follow your passion, trust it, and keep that tradition of persistence alive and well as you confront life's challenges and move forward."
The message that Dworin left with students was one of finding personal inspiration and drive. "I encourage you to keep your responsive ears listening and eyes seeing and to find creative and meaningful ways to apply what you have learned. For me, it was through dance and the arts; discover what it is for you," she said. "Persist in what you find means something to you and realize it as fully as possible. See the world and yourselves with fresh eyes. The door is open, the time is now. I encourage you to go for it!"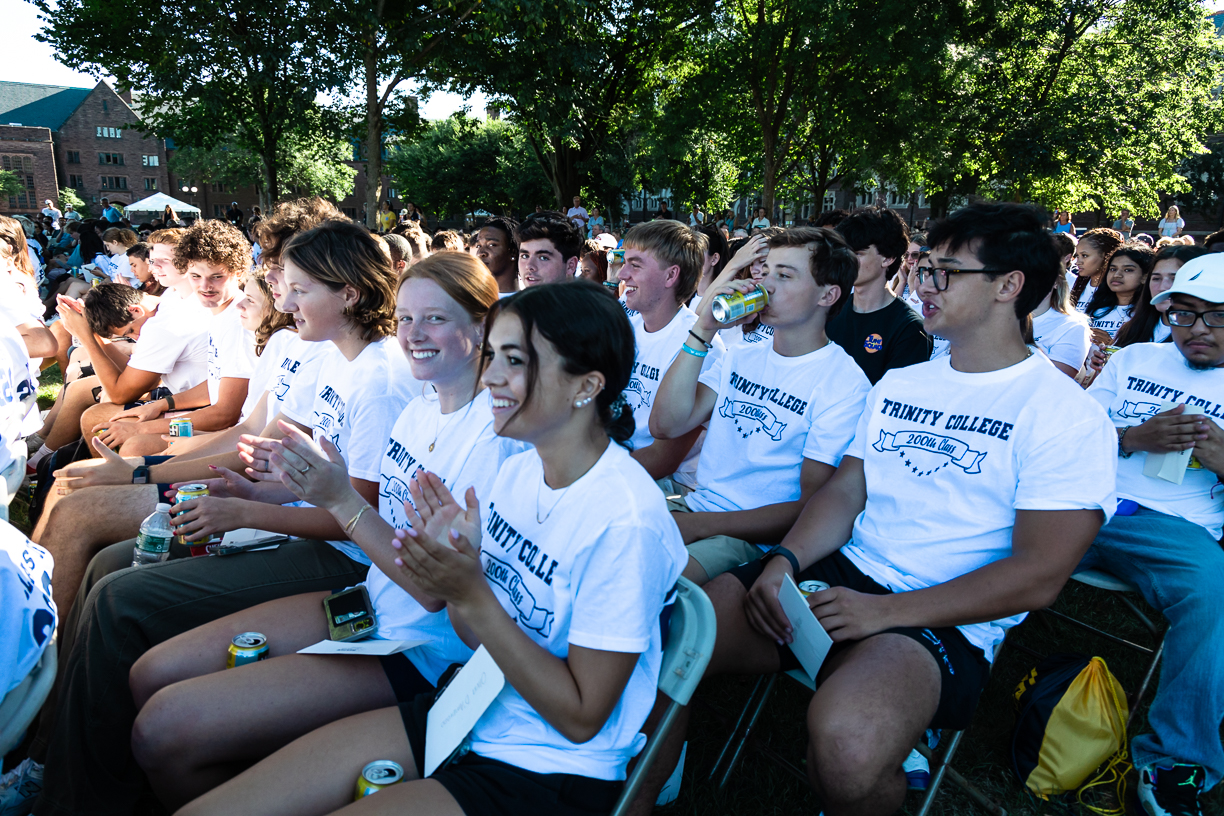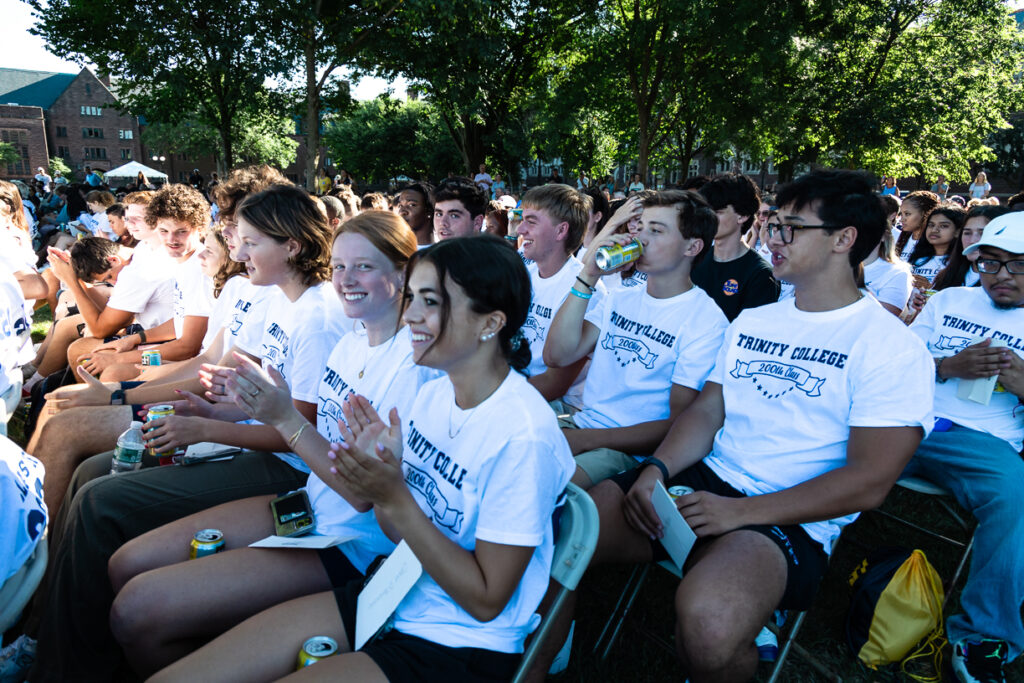 Before the new students took the Oath of Matriculation, Berger-Sweeney said, "Matriculation symbolizes the commitment to preserve, to transmit, and to advance knowledge. For you who are students, it signifies both the opportunity to attend college and the responsibility to seek your own education in company with your fellow students and the faculty."
To mark their matriculation to Trinity, three representatives of the new students—a member of the Class of 2026, a transfer student, and an IDP student—signed the college's matriculation book, as all the other new students will in the coming days. "Your addition to this book will serve as a reminder to you and to all who are witnesses that you will approach your responsibilities with seriousness of purpose and with exemplary judgment," Berger-Sweeney said.
Following Trinity's traditional lemonade toast to the Class of 2026 using the historic wooden lemon squeezer, Associate Dean for Faculty Development and Associate Professor of Computer Science Takunari Miyazaki declared that the college's 199th academic year was officially underway. "May each of you excel in your studies and be moved and transformed by the ideas and the intellectual passions you are about to encounter," he said.
Another tradition—a performance of the alma mater, "'Neath the Elms," by The Trinity College Chapel Singers—concluded the ceremony, which was followed by a community cookout on the Gates Quad.
Below, see highlights from the Bantam Beginnings programs for first-year students and watch the full President's Convocation and Matriculation Ceremony: