Back to News
Trinity Innovation Center Now Open in Downtown Hartford
Announcement
posted
by Andrew J. Concatelli
Trinity College has opened the 13,000-square-foot Trinity Innovation Center in downtown Hartford as a space for boundary-crossing collaborations and creativity. The new center—located on the third floor of One Constitution Plaza, directly across the plaza from Trinity's Liberal Arts Action Lab at 10 Constitution Plaza—will house Trinity's partnership with Infosys; Digital Health CT, an accelerator led by Startupbootcamp; and new innovation and entrepreneurship programming for students. The center was made possible by a $2.5 million grant from the State of Connecticut and was designed by SLAM Collaborative.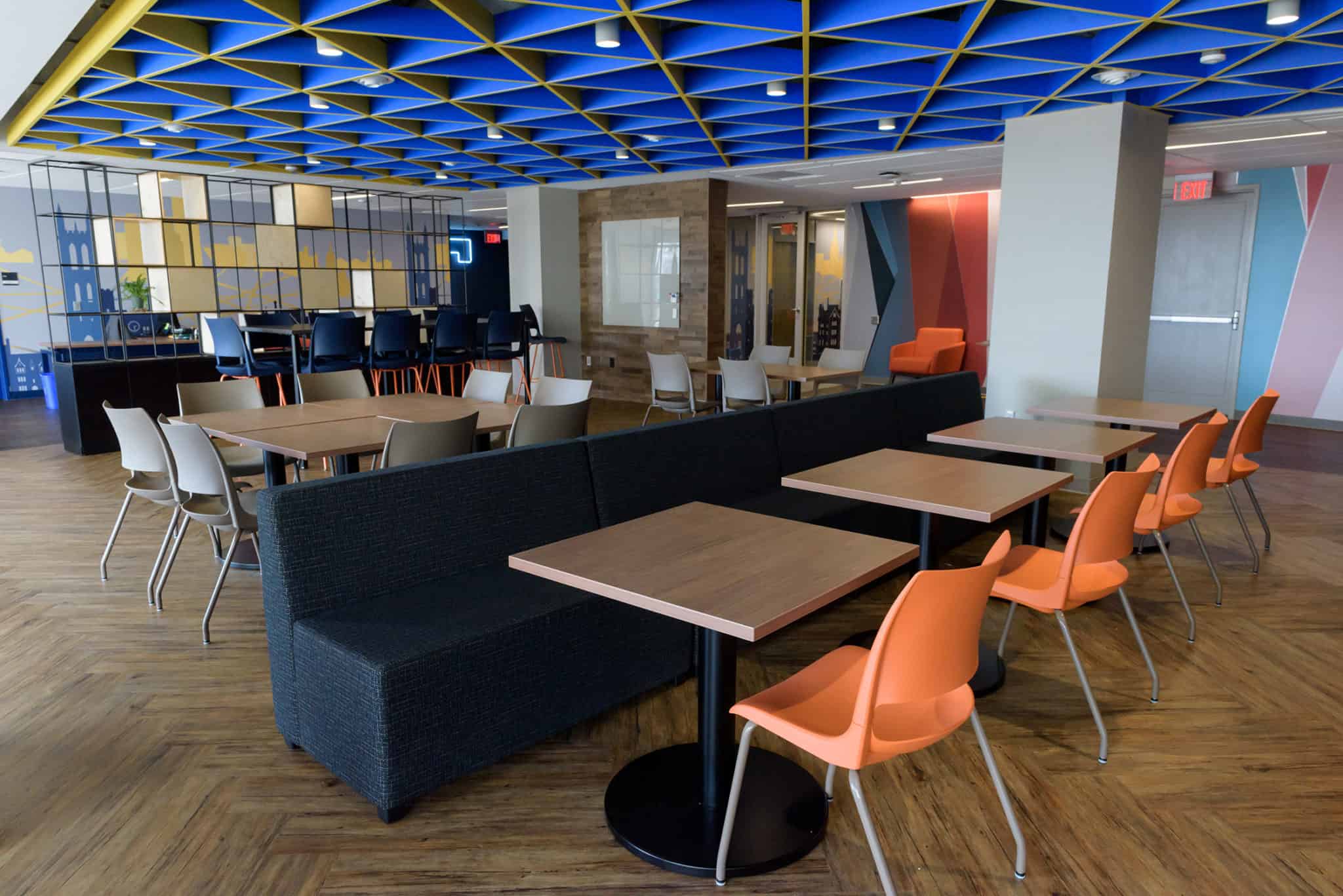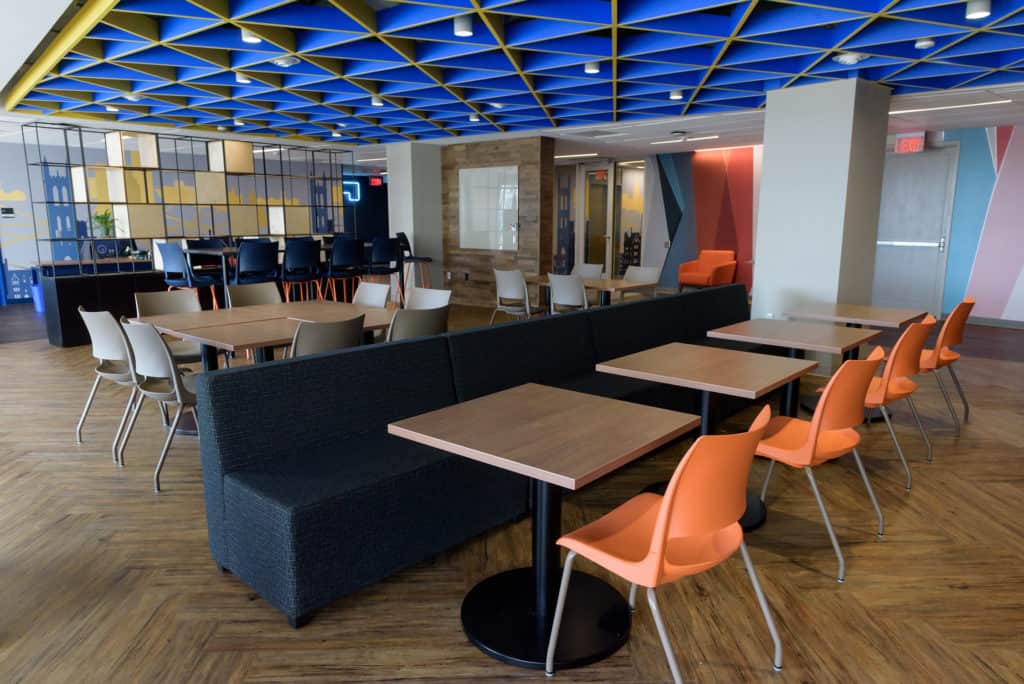 Sonia Cardenas, interim dean of the faculty and vice president for academic affairs, said that the new space downtown signals that Trinity is part of the city's and state's initiatives to build an innovation ecosystem that will attract and retain talent. "Institutions of higher education, including Trinity, are essential to these initiatives," Cardenas said. "We have a strong pool of talent and are positioned to bridge the liberal arts with digital technology and innovation. We're proud to have Trinity be a strong presence in downtown Hartford."
Infosys partnership
The Trinity-Infosys partnership, called the Applied Learning Initiative, moved into the Innovation Center in February. Infosys employees in the Business Analysis for Digital Transformation program are making use of the large training room and the many flexible work areas and meeting spaces. More than 150 Infosys employees have trained through this program, which previously had been held at other locations on campus during the past year.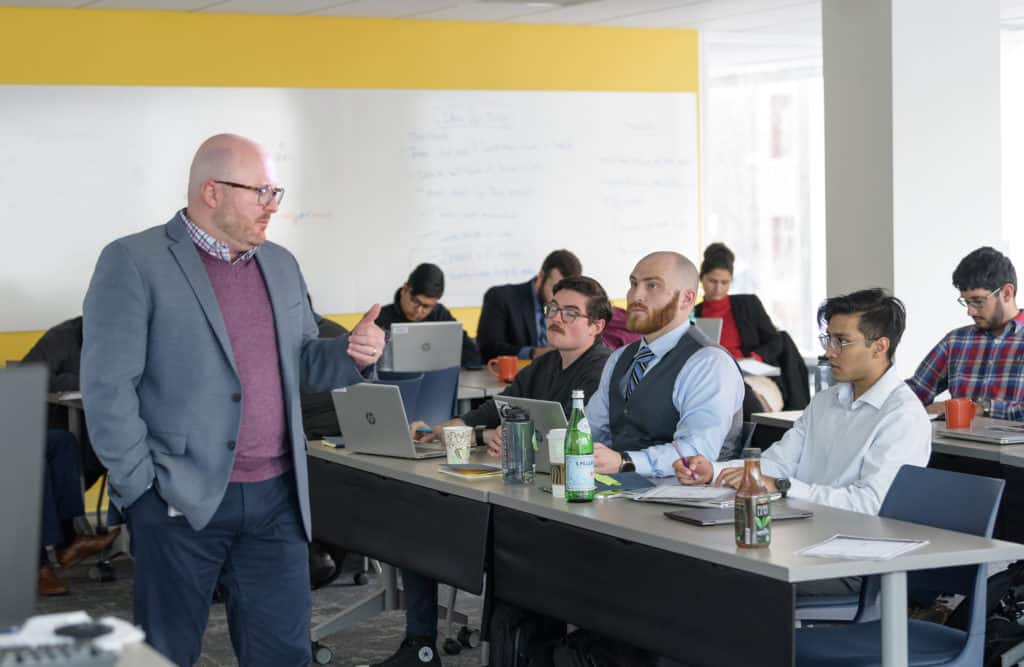 Each group of new Infosys employees includes about 25 to 30 liberal arts graduates who are recruited from Hartford and all over the country. The ninth cohort in the five-week business analysis training program at Trinity is the first to meet entirely in the Innovation Center. Trinity faculty and staff members serve on an advisory board for this partnership and teach many of the training modules.
Thalia Giraldo M'19, assistant director of the Applied Learning Initiative and innovation projects, serves as a Trinity liaison to Infosys and oversees the day-to-day operations of the Innovation Center. "More than 10 Trinity instructors teach in the work training program," Giraldo said. "Both Infosys and Trinity feel that liberal arts graduates are the most prepared for the field of digital technology and innovation, which involves critical thinking to generate creative solutions."
Digital Health CT
Also slated to move into the Trinity Innovation Center is Digital Health CT, a business accelerator program that was designed to rapidly scale health-care-focused technology start-ups. In addition to Trinity, other founding local partners include Hartford HealthCare and UConn's School of Business and Technology Commercialization Services team. This effort was catalyzed by investment from CTNext through the Hartford/East Hartford Innovation Places Program.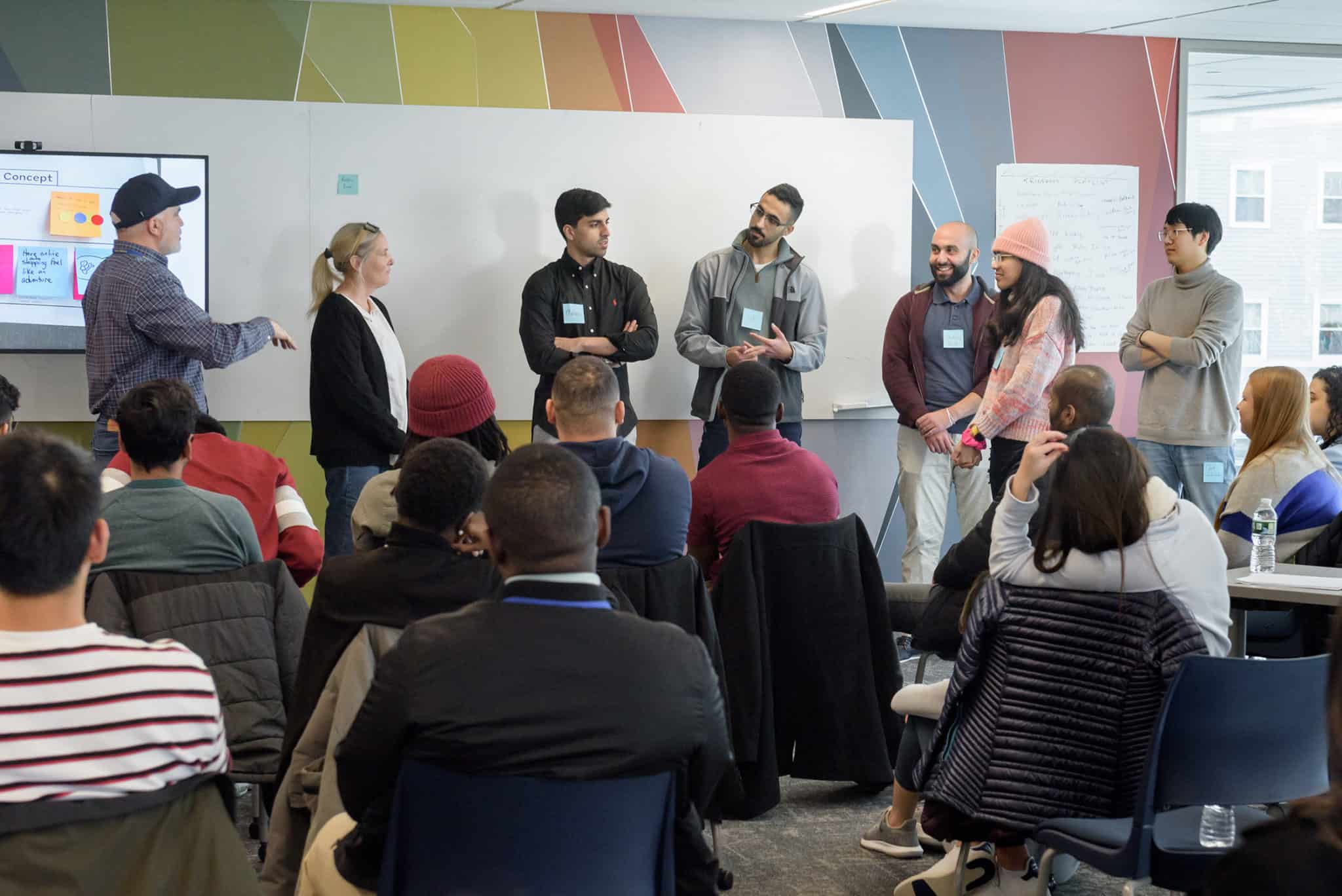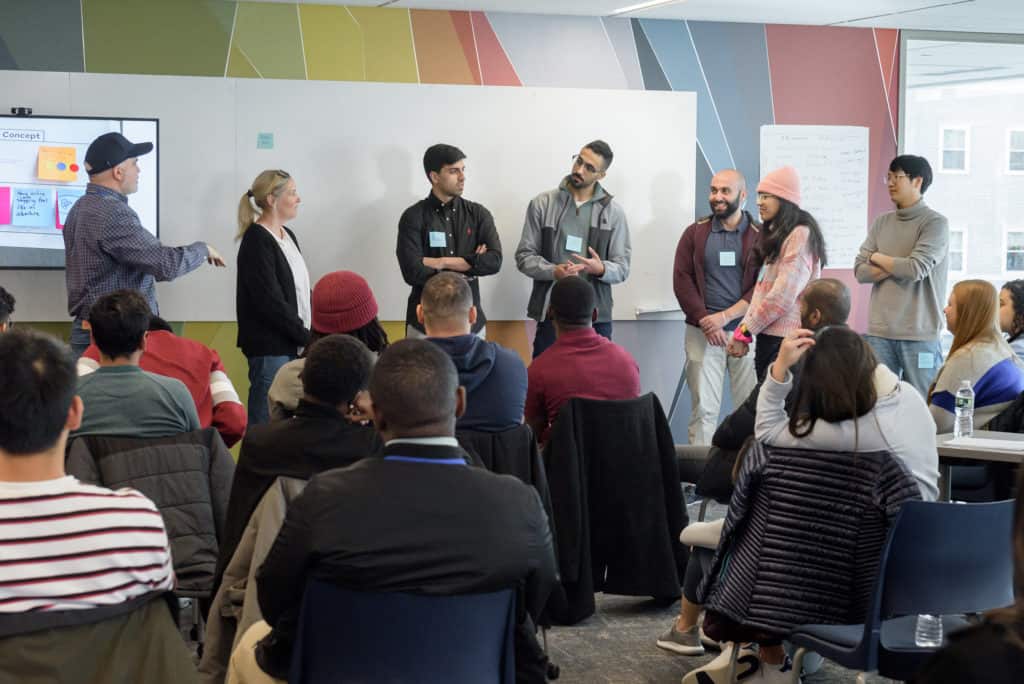 Giraldo said, "The first cycle of the accelerator program just finished at the Liberal Arts Action Lab and hosted its Demo Day in February. The next cohort of start-ups will begin its three-month accelerator program here in the Innovation Center in the fall. Our role is to provide the space for them to work and meet with their partners, and to provide Trinity faculty and others who have expertise in the types of services and products that they are working on."
With Stanley Black & Decker's own innovation hub also located at One Constitution Plaza and more start-ups coming to the city, Giraldo said, there is a real energy building downtown. "There are a lot of people and organizations in Hartford all thinking about innovation and how to make the city better. I think that being in downtown Hartford provides us with easy, quick resources to build partnerships and strengthen relationships," she said. "I'm excited for Trinity's place in this movement of rediscovering what Hartford has to offer and bringing in talent. We're right in the middle of it."
Space open to Trinity community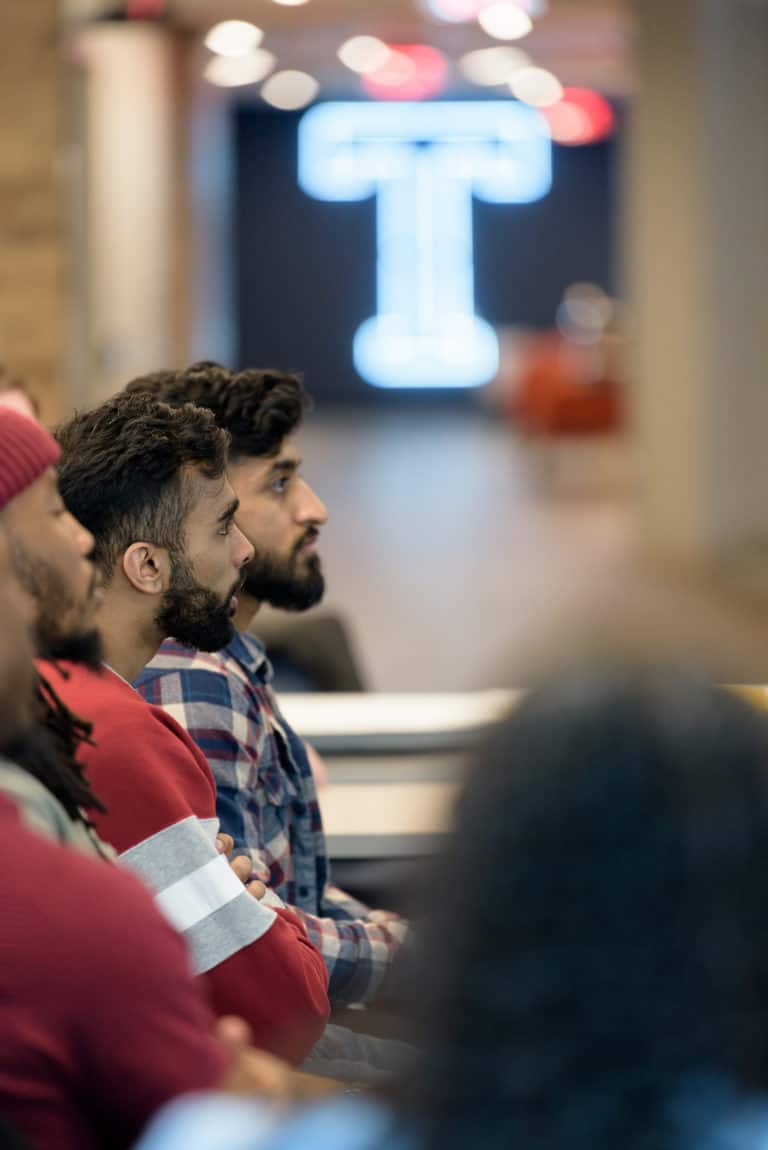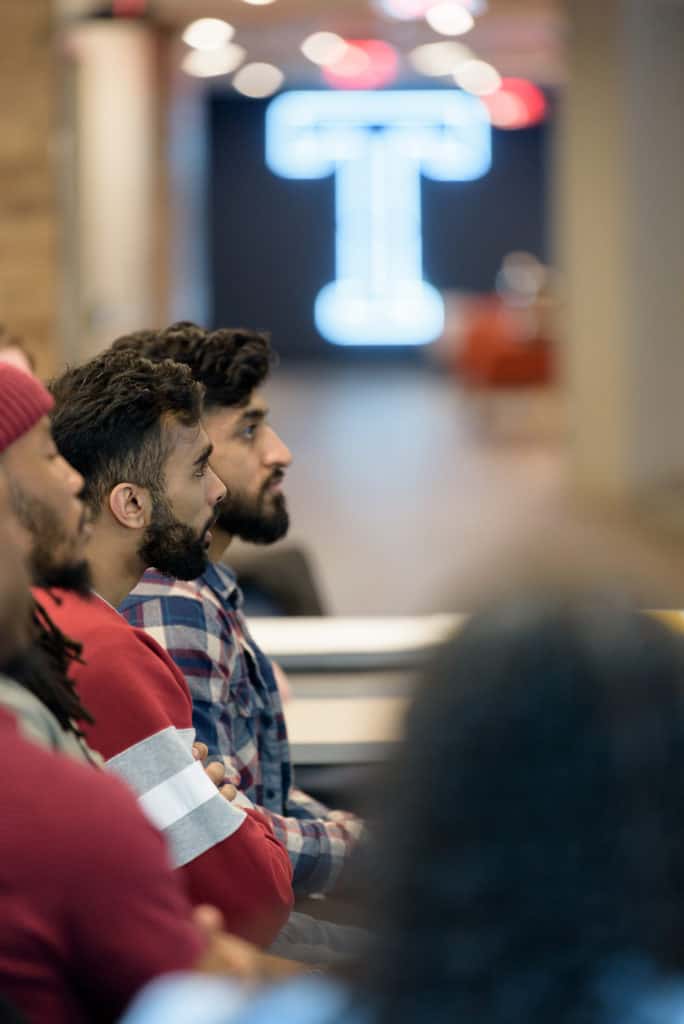 Digital Innovation Fellow Evan Field is working with Giraldo to support programming at the Innovation Center for the Infosys partnership, the accelerator, and the Trinity community. Giraldo said, "Our roles involve making the connections between Trinity and what's happening with this space, like by working with the Center for Student Success and Career Development and different clubs on campus."
Giraldo added, "We're thinking about what the future of work will bring and making sure our students have what it takes to thrive in the workforce. By coming downtown, students can make connections, potentially secure internships, and have diverse experiences. The Innovation Center encourages collaborative work and thinking outside the box. It's a beautiful space, and everyone should come see it."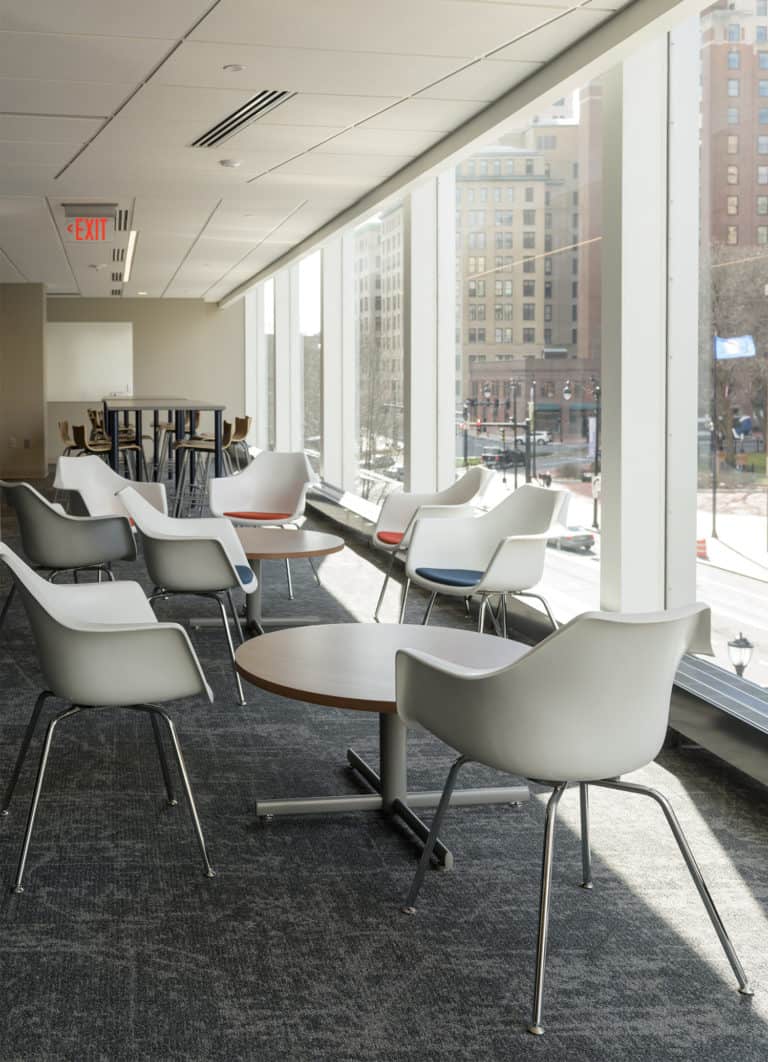 Cardenas said that the flexible space is open to all members of the Trinity community as a place to create and collaborate with a cross section of people. "We also hope to introduce student programming around innovation and entrepreneurship open to all majors. We want it to be a space that celebrates our alumni's accomplishments and where they can interact with students as well as faculty, staff, and leaders from Hartford-area businesses, nonprofits, and government," Cardenas said. "We are also planning an exciting three-week program this summer for liberal arts students and recent undergraduates from around the country to acquire basic skills in technology and innovation."
A ribbon-cutting and grand opening for the Trinity Innovation Center will be held this spring.