Back to News
Trinity Supports Digital Health Care Innovation in Hartford
Hartford
posted
by Amanda Lafferty '21
Ten start-up companies recently showcased their development work that has been supported by Digital Health CT, a Hartford-based business accelerator program in which Trinity College is a partner. President Joanne Berger-Sweeney has said that the goal of the partnership is to "accelerate start-up companies focused on digital health technologies, thus deepening the relevance of our liberal arts education and spurring an entrepreneurial ecosystem in our Connecticut home."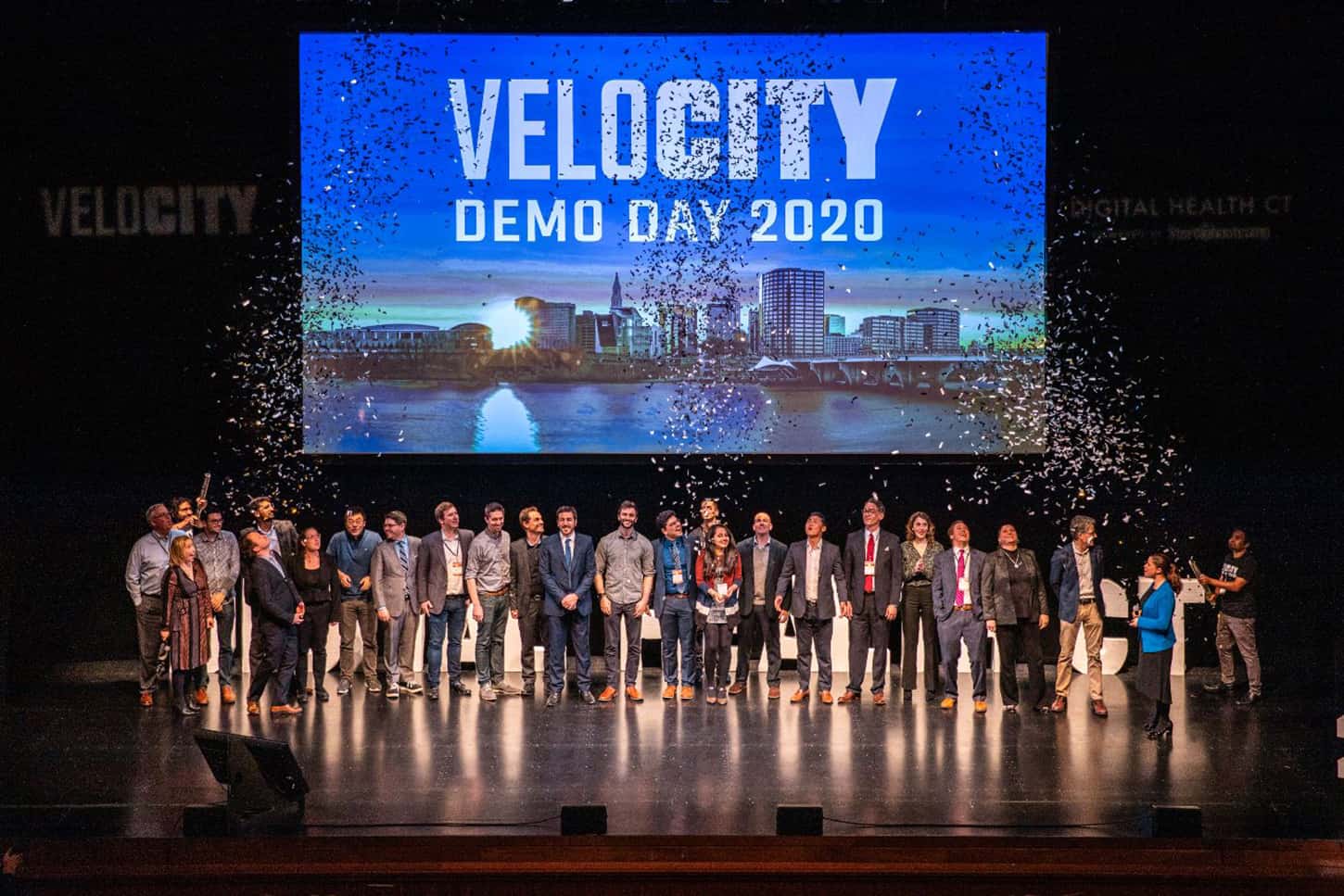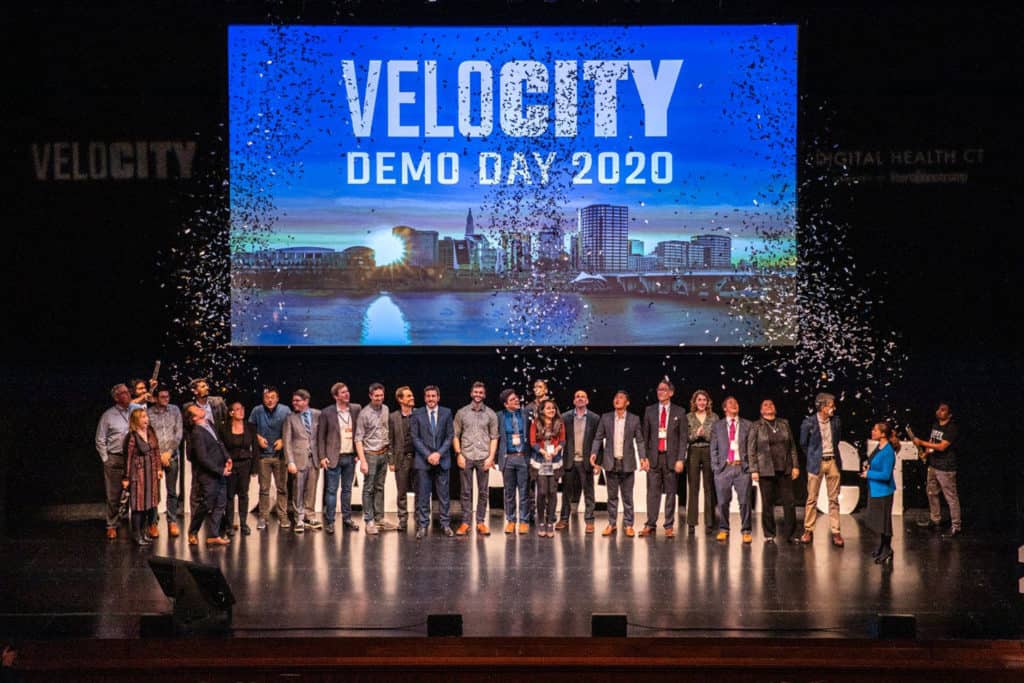 Digital Health CT is run by Startupbootcamp—a network of industry-focused programs that support early-stage tech founders—and was designed to attract new talent and to rapidly scale health-care-focused technology start-ups. In addition to Trinity, other founding local partners include Hartford HealthCare and UConn's School of Business and Technology Commercialization Services team. This effort was catalyzed by investment from CTNext through the Hartford/East Hartford Innovation Places Program.
For the past three months, Trinity's downtown Hartford campus at 10 Constitution Plaza has been the host of innovative work being done by companies in the growing field of digital health care. Jason Rojas, the college president's chief of staff and assistant vice president for external affairs, who was part of the team that helped generate the idea for the accelerator, said that the recent cohort of start-ups focused their programming at the Liberal Arts Action Lab. "There are five or six companies that will continue to work with Hartford HealthCare, and the plan is for them to use our space at One Constitution Plaza now that it is complete," said Rojas.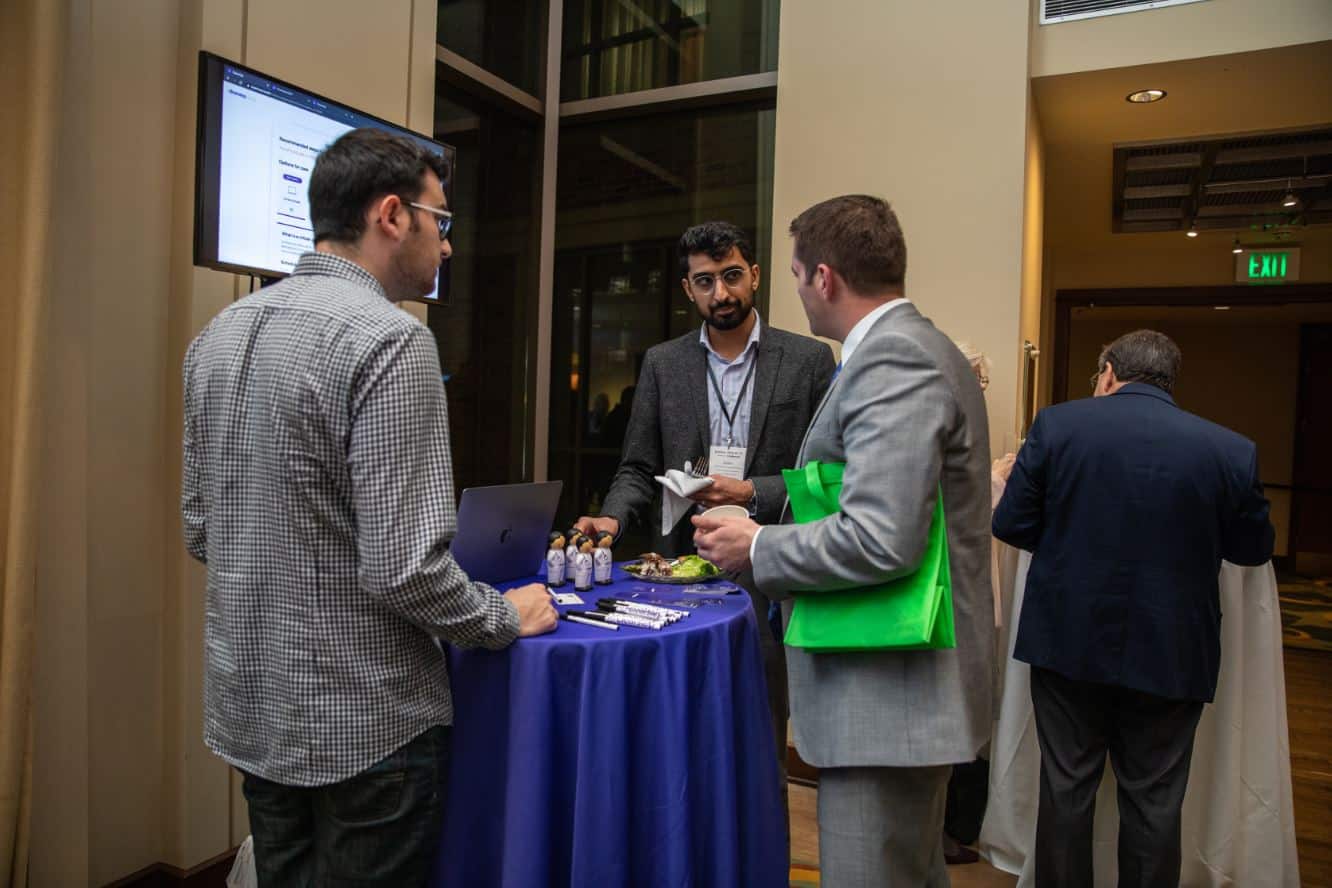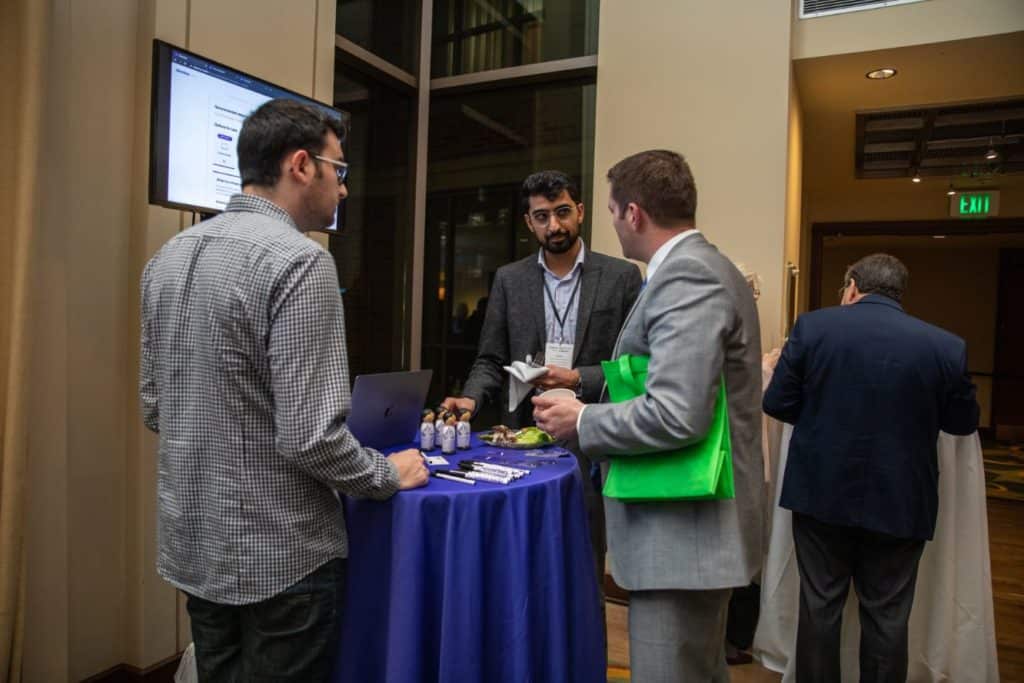 Nine of the startups came from the United States—including two founded and based in Connecticut—and one was founded in Tel Aviv, Israel. The start-ups have been working with doctors, surgeons, and medical teams at Hartford HealthCare and with students, faculty, and staff at the UConn School of Business and Trinity. To showcase the first group of 10 start-ups that aim to improve health care services and products, Digital Health CT held its inaugural "Velocity" Demo Day at the Bushnell Center for the Performing Arts on Monday, February 10.
"Demo Day was an inspiring day for Hartford and our digital health team, which includes Hartford HealthCare, where I am a proud member of the Board of Directors," Berger-Sweeney said. "I look forward to our ongoing partnership and expanded opportunities for our students and faculty to contribute to Hartford's growth as a national hub for innovation and entrepreneurship."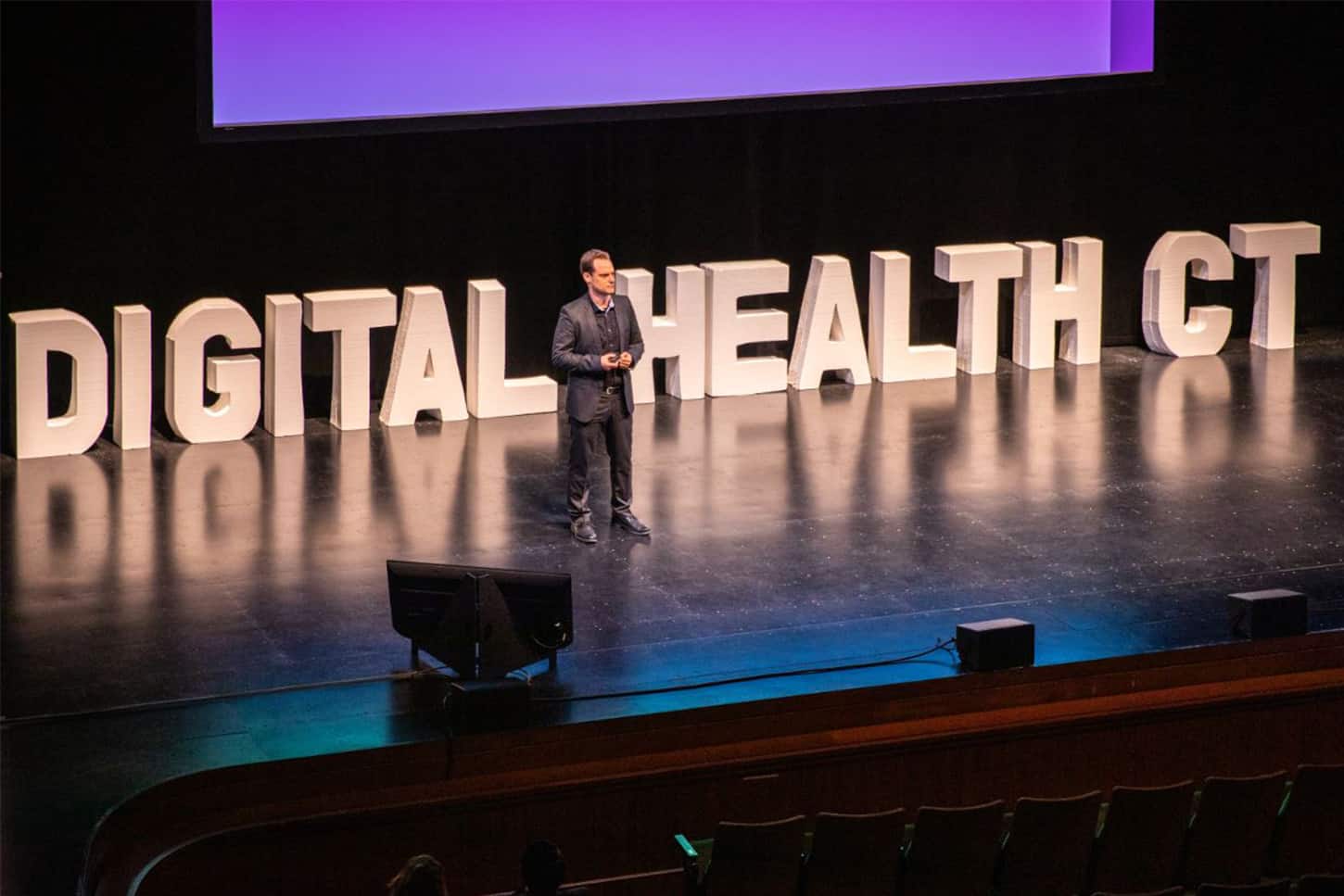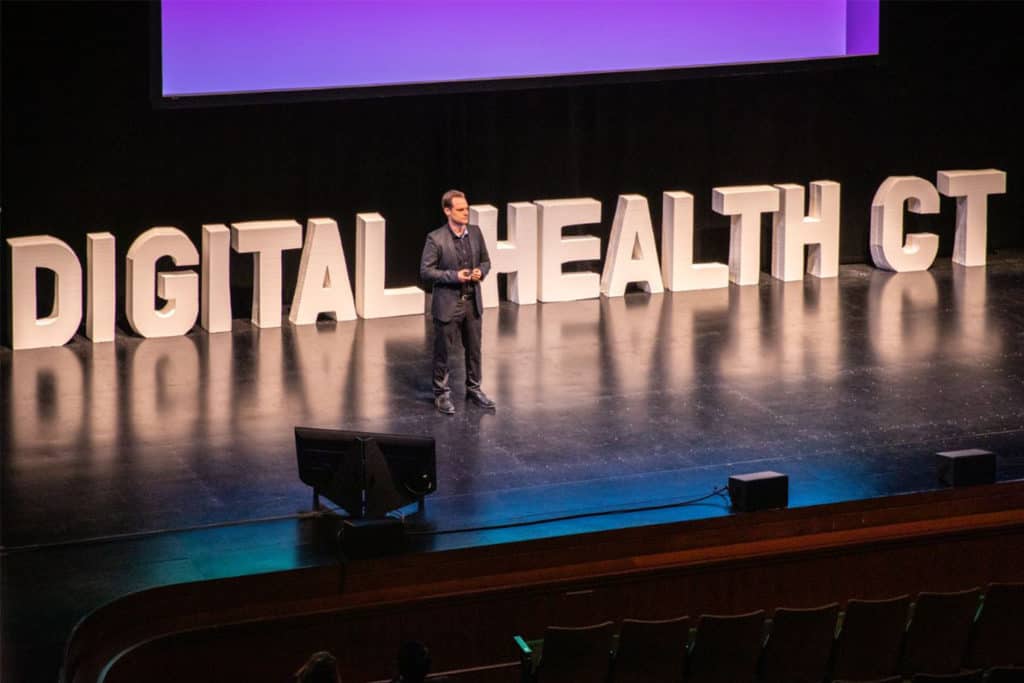 The event featured remarks made in-person and via video by health care experts and members of the partnership, including Berger-Sweeney, followed by pitches from the start-ups. After each company provided the 600-person audience with information about the innovations they've developed, attendees had the opportunity to network with and learn more about the start-ups.
Victoria Smith, the acting CEO of Boston-based CompanionMx, which uses AI algorithms to quantify clinically validated mental health symptoms, spoke about her involvement with the accelerator. "It was a really great experience," Smith said. "We were really looking to expand our footprint in the program and in a typical start-up way, lots of exciting things happened for us while we were in the program. Our clinical trial reports got published and we signed two of our commercial customers, so it was great to have the support of Digital Health CT."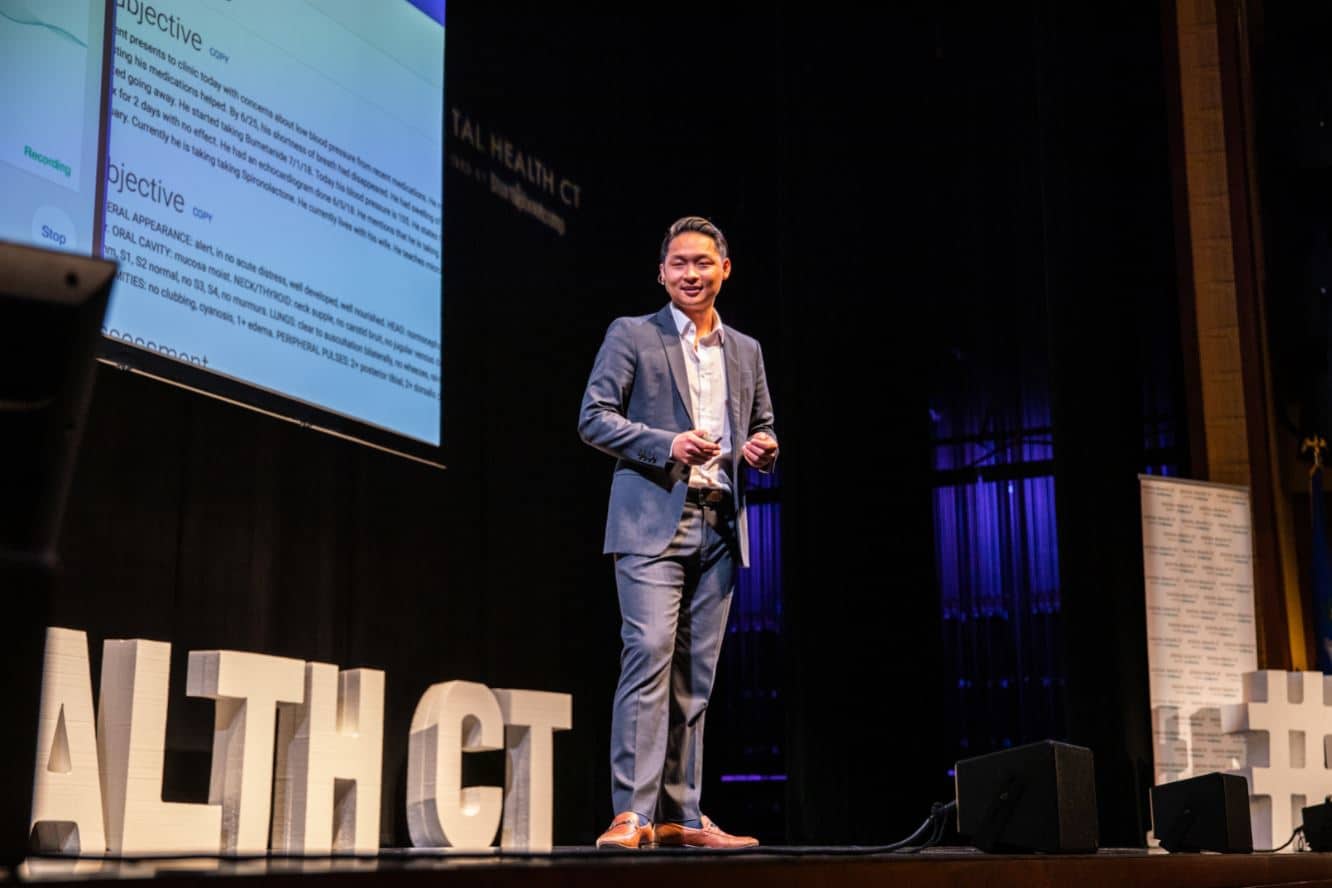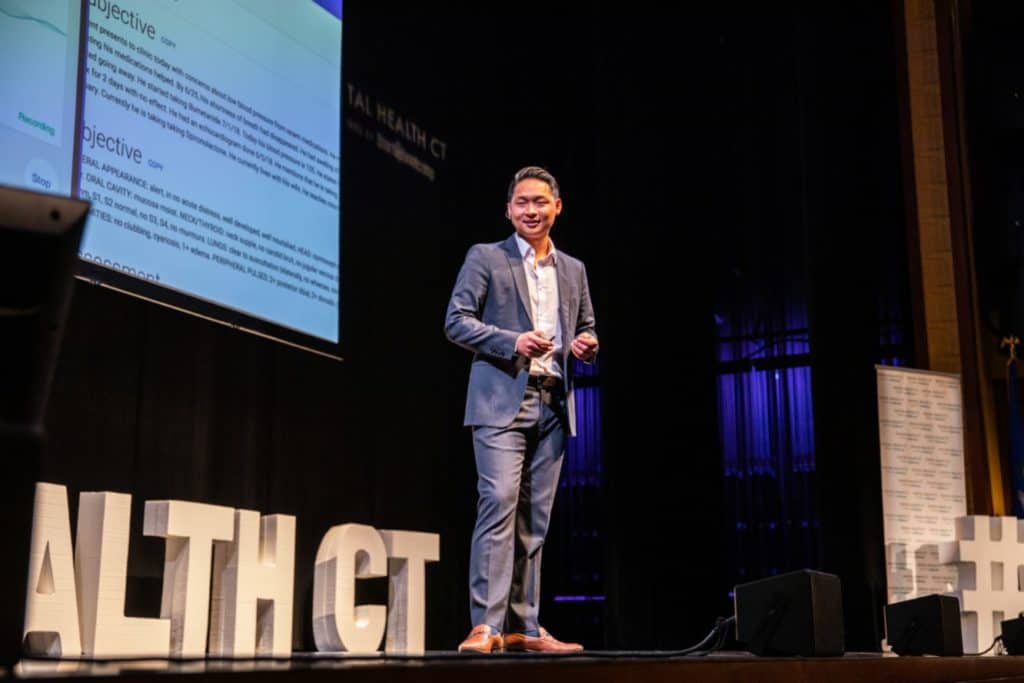 DeepScribe, based in San Francisco, is an AI-powered medical scribe that uses machine learning and natural language processing to produce clinical documentation for physicians by listening to the natural conversation with their patients. COO Matthew Ko saw direct collaboration from professionals at Hartford HealthCare over the past three months and emphasized the uniquely supportive environment Hartford provides for start-up companies. "In order to really drive innovation, it really depends on the community," said Ko. "You can have the management and everyone be on board, but if you don't have the community behind them, then nothing is going to get done. In Hartford, that spirit of innovation is driven through everybody that is involved in the program."
Trinity student Matthew Solomon '22, who is majoring in computer science and mathematics, was excited to see the accomplishments of the start-ups at Demo Day. "Technologically, the companies are very advanced and there's a lot of talent in Hartford that can take advantage of the market and test out products," said Solomon. "I was very impressed."
Along with the University of Connecticut and Hartford HealthCare, Trinity has helped to form a hub for innovation and entrepreneurship for students, faculty, and alumni. "It's a model of institutions of higher education partnering with the private and public sector for the public good," Berger-Sweeney said in The Trinity Reporter.
Each year, up to 10 start-ups will be accepted into the three-month intensive digital health accelerator in Hartford. "We plan for a second cohort to launch in September, with more information to share with students and faculty who might have an interest in working with a particular company," said Rojas. To be eligible for the program, entrepreneurs must have a working prototype and have secured from other sources the operating capital to fuel their current stage of growth.
Read more about the 10 companies that participated in Digital Health CT's first accelerator cohort here. View a video of the Demo Day presentations here.