Trinity-Infosys Partnership
Leveraging the Liberal Arts in Creating the Future of Work
In the first year of a new partnership, Trinity College and global technology company Infosys are providing Trinity students and alumni with unique opportunities to complement their core liberal arts education with technological skills that position them to thrive in the digital workplace.
Trinity alumni are among the new Infosys employees who have gone through the Business Analysis for Digital Transformation Program, which is part of the Trinity-Infosys Applied Learning Initiative. The program takes place on Trinity's campus and many of the training courses, or "modules," are taught by Trinity faculty and staff.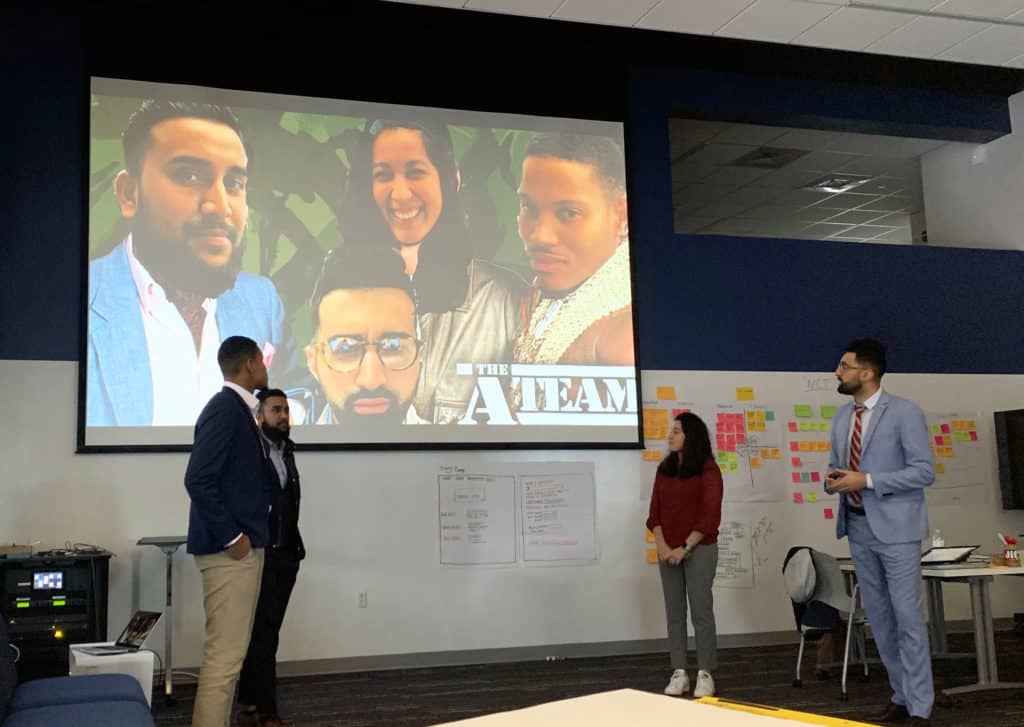 Each group of new Infosys employees in this program includes about 25 to 30 liberal arts graduates who are recruited from Hartford and all over the country. "We've just started our seventh cohort in the five-week business analysis training program on campus," said Jennifer Regan-Lefebvre, Trinity's faculty director of innovation initiatives and an associate professor of history. "The modules will be taught in a flexible space at Trinity's One Constitution Plaza as soon as that space downtown opens in early spring." With its Hartford hub located at the Goodwin Square building, Infosys has pledged to create 1,000 jobs in Hartford by 2023. Infosys is working with other educational institutions, but Trinity is the only liberal arts college with which it has partnered.
Regan-Lefebvre said that in the Infosys model of technology consulting, business analysts meet with companies to assess their needs and challenges before suggesting technical solutions, which is where employees with liberal arts backgrounds can shine. "They have an education that forces them to see things from many perspectives, with flexibility and agility in their thinking," she said.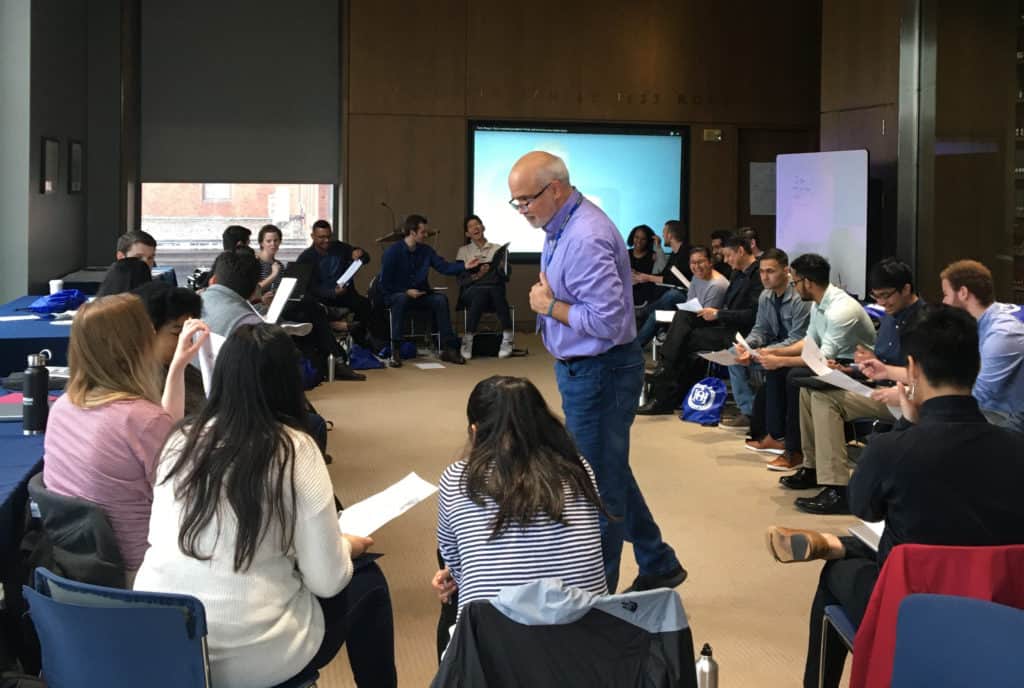 According to Interim Dean of the Faculty and Vice President for Academic Affairs Sonia Cardenas, "Liberal arts graduates are uniquely poised to succeed in the tech sector. A broad-based, communication-rich education equips our students with the analytical and people skills needed to drive digital innovation."
Infosys President and Deputy COO Ravi Kumar has become an outspoken advocate for recruiting liberal arts graduates. "We need people with human-centered skills who can approach problems in entirely new ways, not just solve them, and who will contribute to out-of-the-box thinking in a digital age," he said.
Alumni trained as business analysts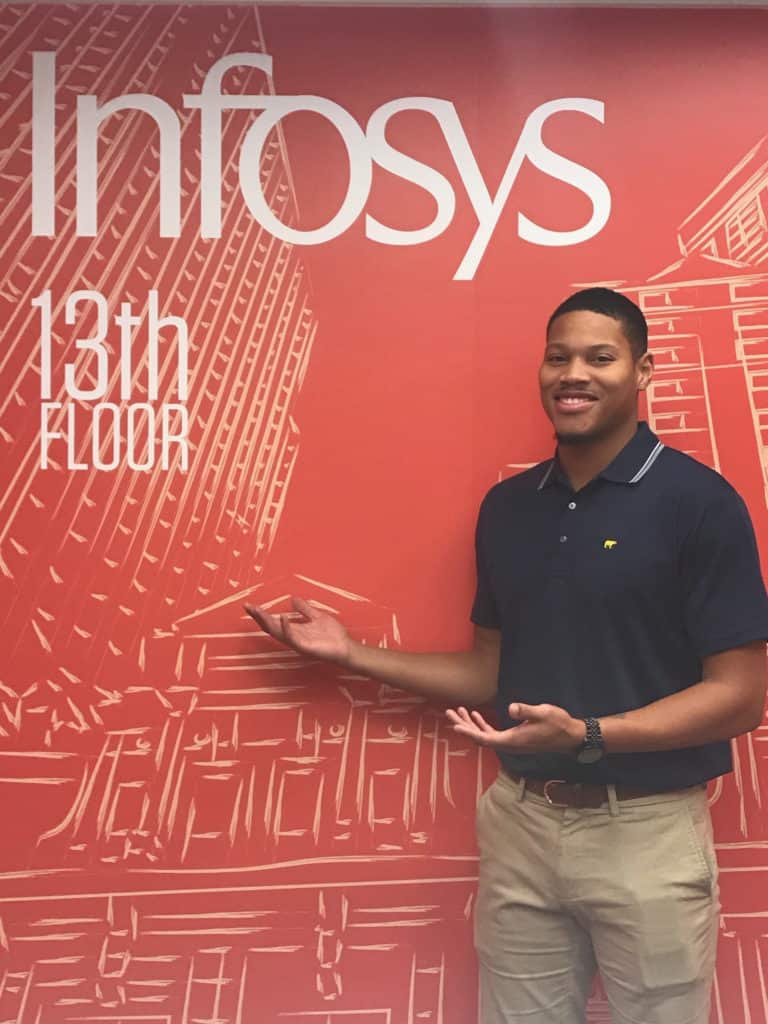 As part of the first cohort of business analyst trainees last spring, Wilfried Nganyak Tentchou IDP'18 said that his willingness to learn new things and Trinity's emphasis on writing and communicating helped his onboarding process go smoothly. "I never envisioned myself in the tech world," said Nganyak Tentchou, who grew up in the west African country of Cameroon and majored in biochemistry at Trinity. "It was a little bit scary at the beginning. There were a lot of unknowns, but I'm very grateful to Infosys for understanding where I am, where I want to go, and providing me that ride to my destination through training. It's an amazing opportunity."
During his training, Nganyak Tentchou said, "one of the skills I had to develop was knowing that it's okay to ask questions. In this field, you have to ask questions so that you are gathering the right requirements." Read more about Nganyak Tentchou in an April 2019 article by the Hartford Courant.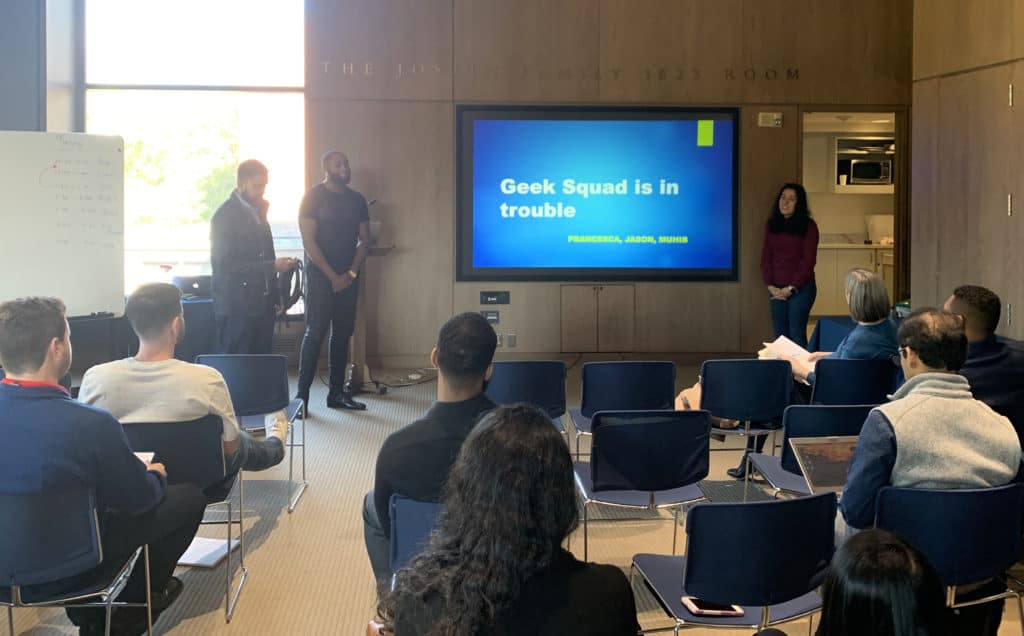 Tim Flynn '19, who is from Hartford and completed a major in sociology and a minor in writing, rhetoric, and media studies at Trinity, liked that the "Design Thinking" training emphasized creativity, which fits well with a Trinity education. "Liberal arts college grads are seen as strong job candidates because they are trained to think flexibly and adapt," he said. "I think the purpose of technology is to solve real-world problems, and you can't do that by thinking narrow-mindedly or not accepting different ideas, perspectives, or thoughts."
Francesca L. Velarde '19, who is also from Hartford and majored in art history and economics at Trinity, said that having employees with a variety of backgrounds brings new and innovative perspectives. "With a liberal arts education, I have learned to be a better communicator, analytical thinker, and have developed the problem-solving skills that are an important part of the Infosys culture," Velarde said.
New experiences for faculty and staff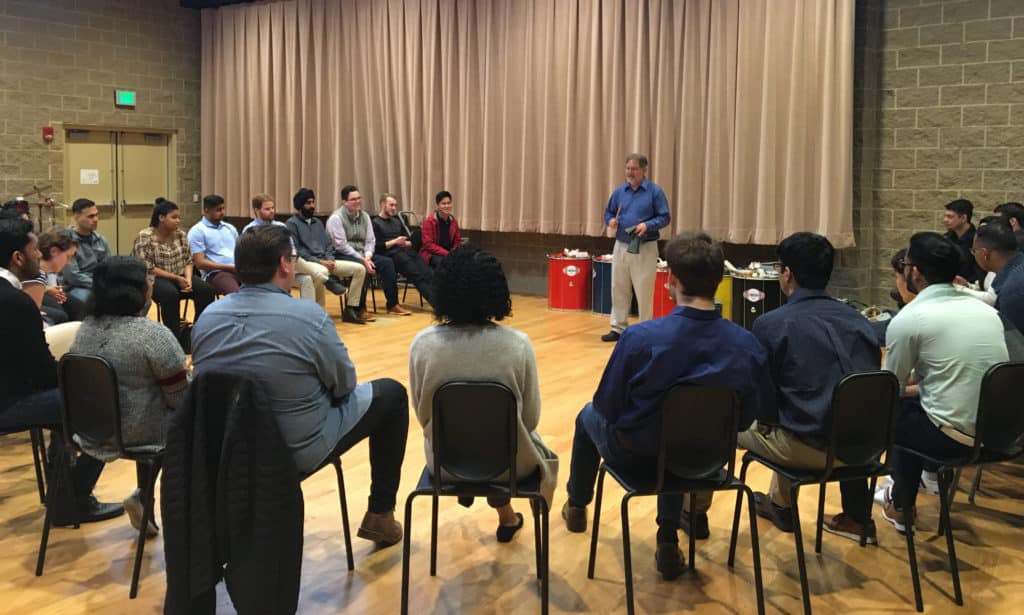 Trinity faculty and staff members serve on an advisory board for this partnership and teach many of the training modules for new Infosys employees. Tennyson O'Donnell, the director of the Allan K. Smith Center for Writing and Rhetoric and Allan K. Smith Senior Lecturer in English Composition, said that module topics include listening, empathy, mindfulness, and innovation. "We're injecting skills that we think are the hallmarks of liberal arts education into the Infosys onboarding," he said. O'Donnell regularly teaches a module called "Rhetorical Analysis and Requirements Gathering," which focuses on considering a client's needs, and has taught another called "Leadership Journaling for Innovation," which is about mindfulness, innovation, and the role that writing has in being creative.
O'Donnell noted that this partnership may help illustrate to current Trinity students the value of their education and the career possibilities ahead of them. "This shows students how they can put their skills to work through an employer who will really value them," he said.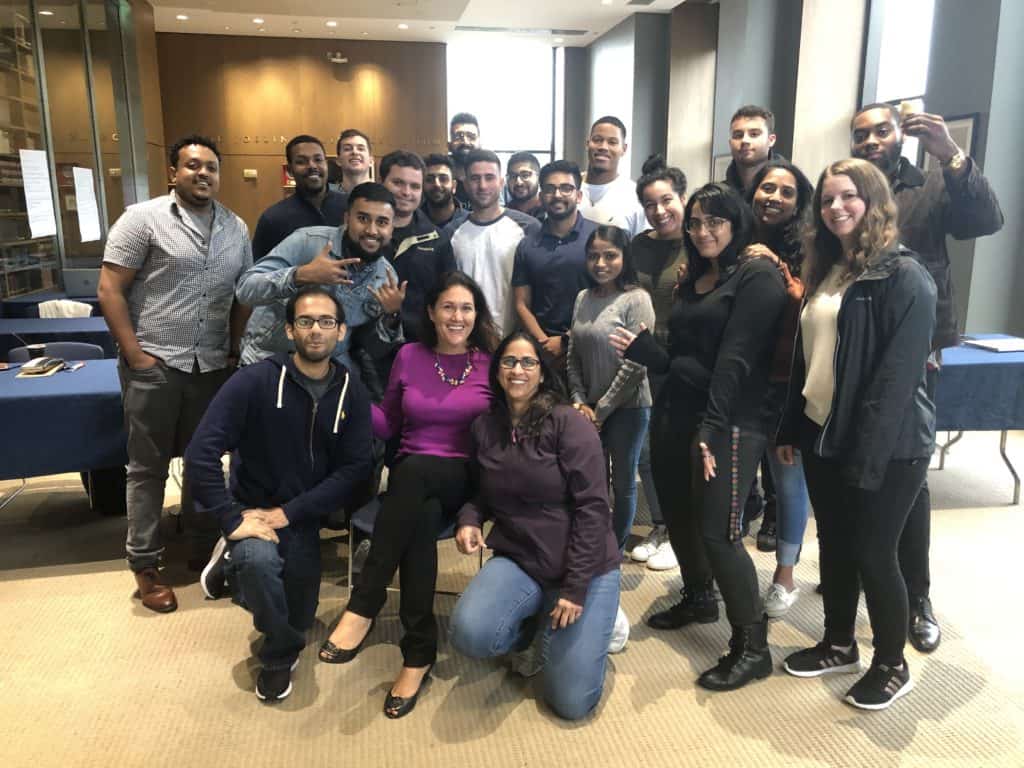 Associate Professor of Computer Science Madalene Spezialetti teaches Infosys training modules about presentation skills and storytelling. "Business analysts are the interface between the client's needs and the people on the technical side, so it's very important that they can speak in compelling ways to both the client and the team doing the analysis and implementation," she said. These modules can benefit not only the employees who go through the training, but also the faculty and staff from Trinity who teach them, Spezialetti said. "It's very interesting to me to be interacting with the instructors who are from industry to see their approaches. There's a great deal to be learned on all sides, including for the Trinity instructors," she said.
'Hands-on' internships for students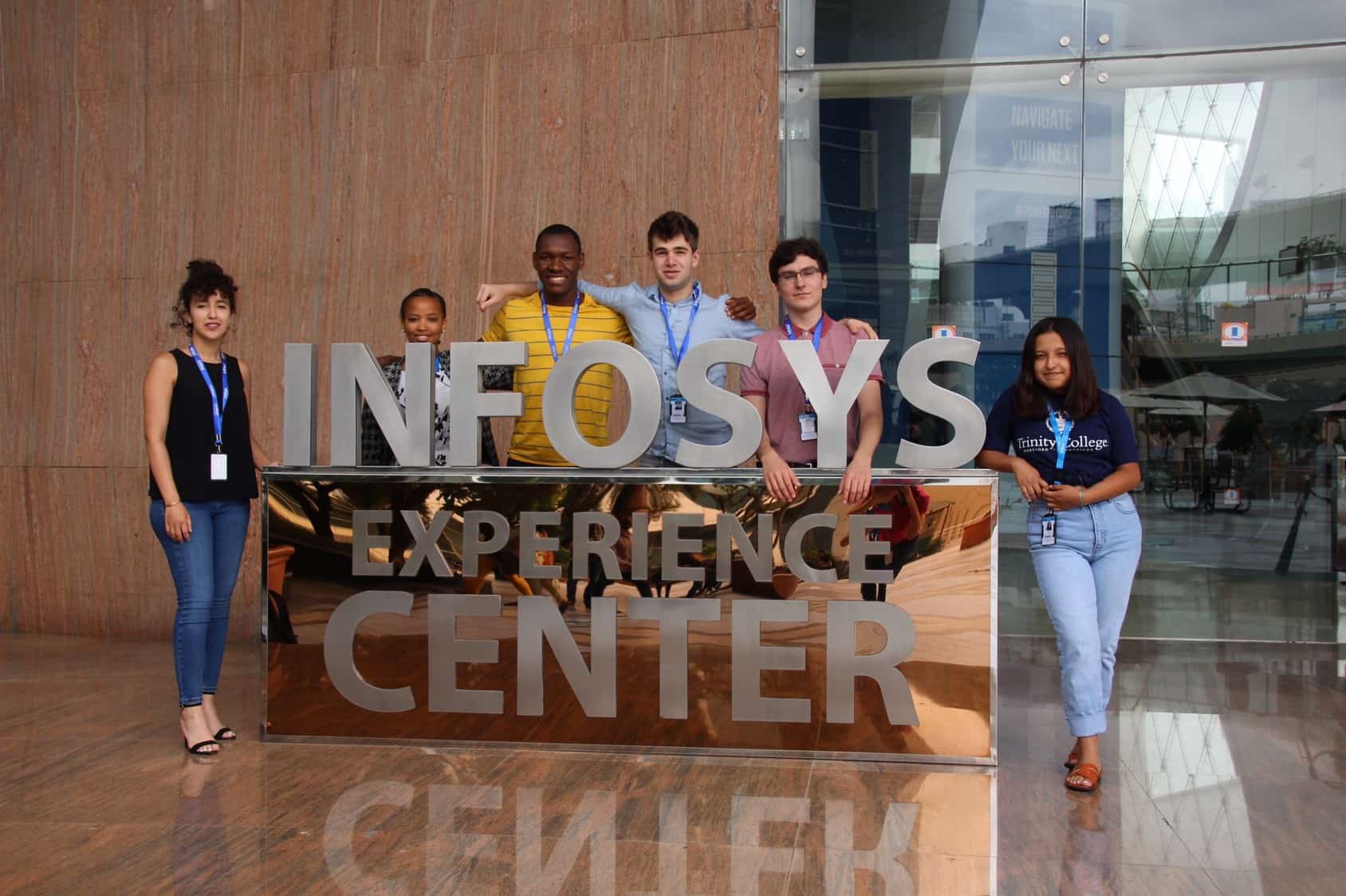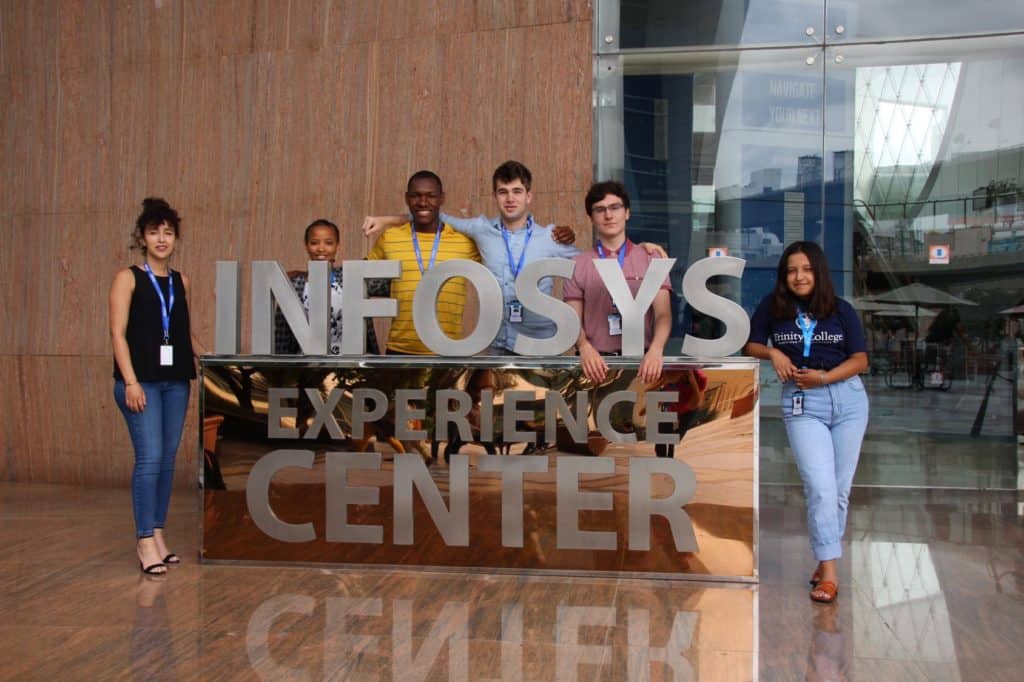 Current Trinity students are able to explore top-ranked internships with Infosys around the world. Seven students took part last summer in the Infosys InStep internship program in Bangalore, India. Joe Catrino, Trinity's director of career development and special assistant to the vice president for innovation, said that the program is ranked as the top internship in the world by Vault. "Students are working on a concrete project that gets them some very hands-on experience," Catrino said. "Only students at Infosys's partners are eligible."
Regan-Lefebvre added that this is just a first step toward offering several Infosys-partnered programs for Trinity students. "There will be more opportunities for students, both through traditional internships and some exciting new programming that we're developing," she said. "We are very conscious of helping students to see how the liberal arts skills they are learning in the classroom will make them very employable."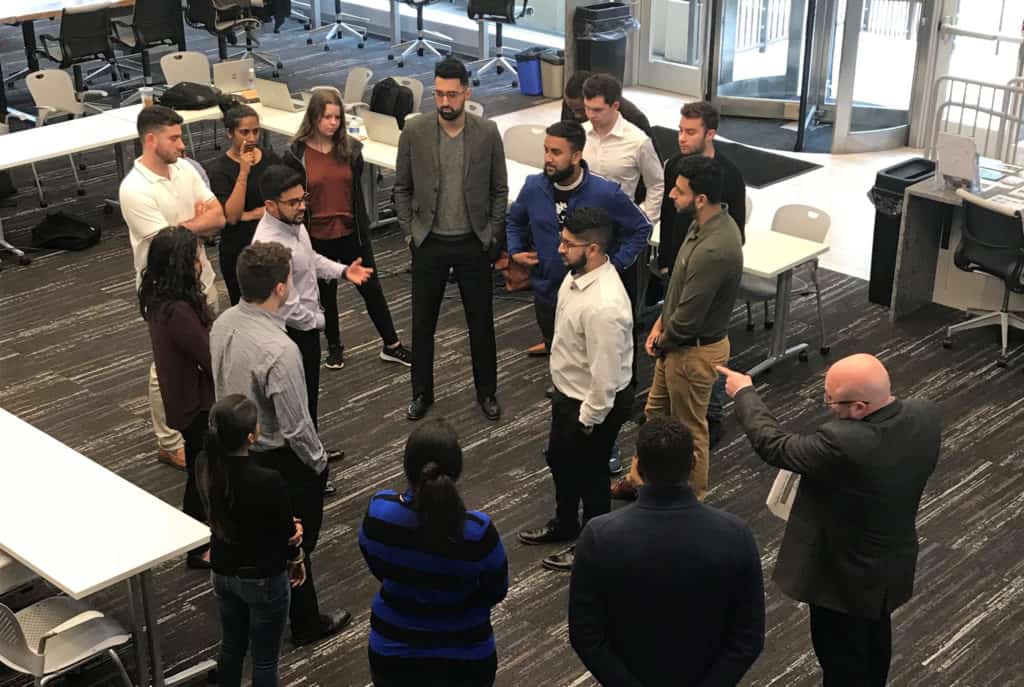 Catrino, who teaches "Personal Branding" and "Conflict Management and Resolution" modules for the Infosys training, said that students and alumni who are looking for internships and employment should never limit their searches to industries that are directly related to their majors. "People habitually try to find linkages from their major to a career, but that doesn't have to be the case," he said. "I teach a lot about the 'future of work'—and we don't know just what that will be. The skills that liberal arts students acquire in their studies really make them prepared for whatever the future of work is because they have the ability to pivot across different careers."
Written by Andrew J. Concatelli