Back to News
Summer Internships Build on a Trinity Education, Showing Students the Path Ahead
Academics
posted
by Andrew J. Concatelli
This is the third of three stories this summer featuring the internship experiences of Trinity College students. Read more here and here.
Trinity students are making the most of the summer by completing a wide variety of internships that add new depth and direction to their academic pursuits.
Below, four Bantams from different majors talk about how their summer internships build on what they have learned in their Trinity courses and help to illuminate their career paths.
Alexandra Berenice Barbosa Gonzalez '24 – Central Engineering Summer Intern with PECO–An Exelon Company in Philadelphia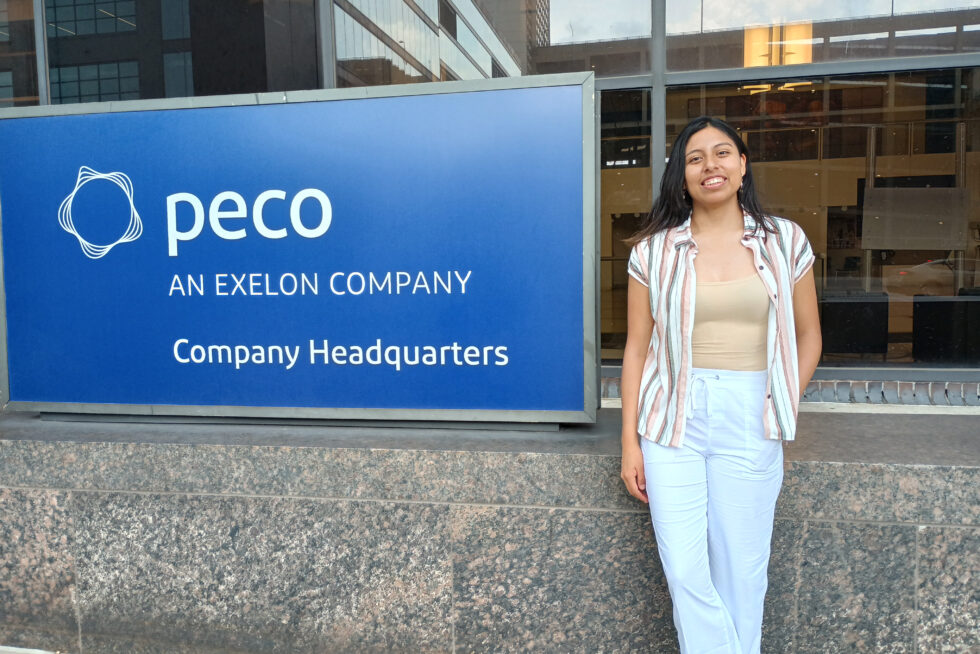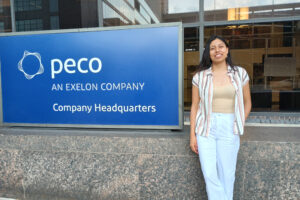 Majors: Engineering; Physics
Hometown: Mexico City, Mexico
Summer experience: Working with Alison J. Draper, director of Trinity's Center for Interdisciplinary Science, Barbosa Gonzalez is receiving academic credit while interning at an energy company this summer. One of her main tasks is to ensure job synchronization of different systems to support effective outage response. "I have enjoyed meeting and talking to people working in different departments at PECO, from Regulatory Strategy to Grid Connection Engineering," Barbosa Gonzalez said. "This allowed me to learn about the utility business and get a better understanding of how the company works."
Takeaways: "Learning about the transmission and distribution of electricity connects with the fundamental knowledge of circuits that I learned in my introductory physics and engineering courses at Trinity," Barbosa Gonzalez said. "This experience allowed me to explore a completely new career field to me and helped me gain a better understanding of what I am passionate about, which will be helpful as I navigate my last year in college."
Sab Clumeck '24 – Mergers and Acquisitions Technology Summer Analyst at BMO Capital Markets in Chicago, Illinois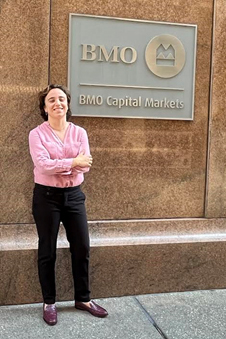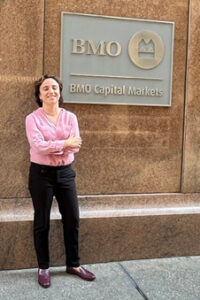 Summer experience: While receiving Trinity credit by working with Rasha M. Ahmed, associate professor of economics, Clumeck has contributed to significant financial decisions while learning from seasoned professionals in the field. "Being part of such important transactions and acquisitions has been an incredible experience. The best part of my internship was the opportunity to work in a bank alongside a team that I absolutely love," she said. "My internship provides a practical application of the knowledge and skills I've acquired during my time at Trinity."
Takeaways: The summer internship has helped Clumeck realize her passion for working in finance and has clarified her career aspirations. "My experience has been a pivotal moment in my educational journey, shaping my career path, and providing me with valuable life skills that will continue to benefit me in both my academic and professional pursuits," Clumeck said. "It has not only provided me with valuable knowledge and skills in finance and M&A, but has also played a significant role in my personal growth. Through this experience, I have become more disciplined, learned to handle challenging tasks, and honed my abilities to work effectively in a professional environment. This hands-on experience complements my education, giving me valuable insights and preparing me for a successful career in the finance industry upon graduation."
Christian Espinosa '25 – Director/Director of Photography at Hartford Public Access Television, Inc. (HPATV) in Hartford, Connecticut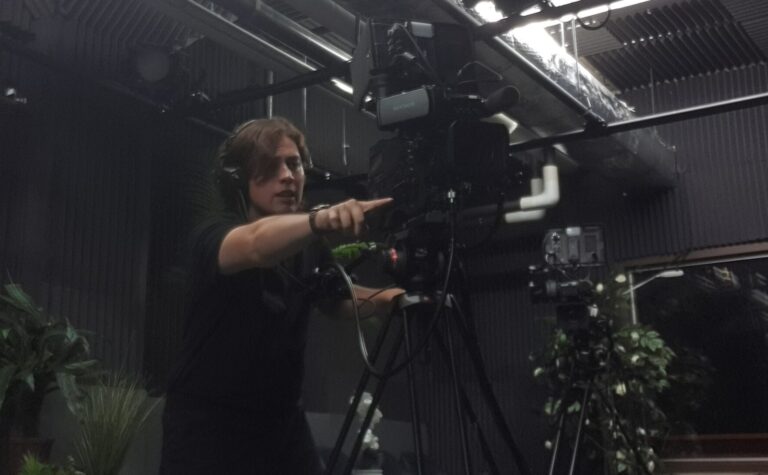 Major: Film Studies
Hometown: Escuintla, Guatemala
Summer experience: Espinosa is serving as director of the talk show, "More 2 Life," with duties related to all technical and creative aspects of its creation. "The opportunity to work in a professional TV broadcasting studio while using professional equipment provides me valuable knowledge and experience," he said. "As a film production major at Trinity, it is important to constantly keep doing film projects outside of the classroom. My advisers always tell me that the more exposure I get, the more complete of a filmmaker I will become." Espinosa is earning Trinity credit by working with Leo Schuchert, associate director of Trinity's Center for Academic and Experiential Advising.
Takeaways: "I accepted this opportunity because the producer and I have similar goals to promote Latin American empowerment," Espinosa said. He added that he always strives to do his best and to show his commitment to a project, in order to be remembered and recognized. "That results in the source for new opportunities. A normal conversation with someone can lead you to an offer in becoming part of someone's next big project," he said. "The network I have developed during these last months demonstrates to me how much I love the entertainment industry. My aim is to one day become a full-time part of it."
Emma Hersom '24 – Legal Intern at the District of Columbia Superior Court's Family Court Self-Help Center in Washington, D.C.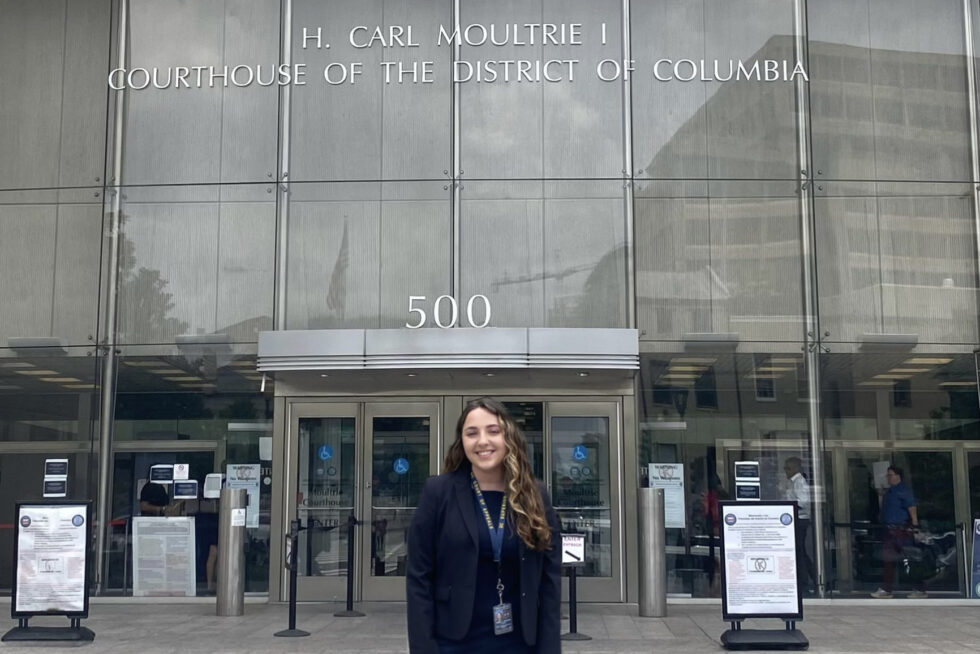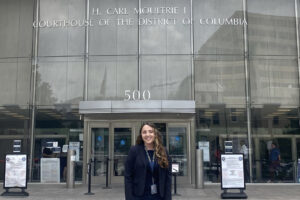 Summer experience: Hersom has seen how human rights issues shape an individual's legal challenges and the barriers to working through them, especially when representing themselves. "The best part of my experience at D.C. courts this summer by far has been the opportunity to help increase access to justice for people on a daily basis," she said. "Being able to help them better understand the legal process and assist them with filling out paperwork has been incredibly rewarding and humbling. It has taught me so much about patience, the intricacies of the law, and just how far compassion can go in making someone feel heard when grappling with a legal system that often makes them feel disregarded."
Takeaways: "My internship has allowed me to see the part we can play, as future lawyers and legal professionals, in prioritizing equitable access to justice for every socio-economic background, race, sexual orientation/gender identity, language, and education and ability level," said Hersom, who intends to go to law school after Trinity and work in public interest law. "Beyond getting the unique opportunity to work directly with customers and their diverse family legal matters on a daily basis, I have also had the chance to observe, learn from, and connect with Superior Court judges, seasoned attorneys, and legal professionals, which have all strengthened my decision to pursue a career in the legal realm."
For more information about how Trinity supports students with their internships, on-campus jobs, post-graduation employment, and graduate schools, visit the Career & Life Design Center.