Back to News
Computer Science Majors Prepare for Careers through Summer Internships
Academics
posted
by Andrew J. Concatelli
This is the first of three stories this summer featuring the internship experiences of Trinity College students.
Each summer, Trinity students explore career fields of interest to them through internships across the country and around the world. Whether receiving academic or co-curricular credit or being paid for their work, students see many benefits to learning outside of the classroom.
Trinity's Career and Life Design Center emphasizes the importance of internships as an essential part of experiential learning and as a way to leverage a liberal arts education in the world of work. "It is through internships that students hone and develop their critical thinking and communication skills while becoming informed decision-makers about their career and life. Internships allow students to navigate and design their lives," said Joe Catrino, executive director of career and life design.
Funding is available to support students during the summer and to help make their off-campus experiences possible. The Catalyst Summer Internship Fund provides stipends for those completing unpaid or low-paid internship in the United States. The Weingarten Cross-Cultural Internship Fund provides funding opportunities for cross-cultural internships in the United States and abroad. Learn more about funding for summer internships here.
Here, five computer science majors talk about their internships and about how real-world experiences prepare them for careers:
Meg Allen '25 – Intern Abroad through Arcadia University's Sydney Internship Program at Ezerus in Sydney, Australia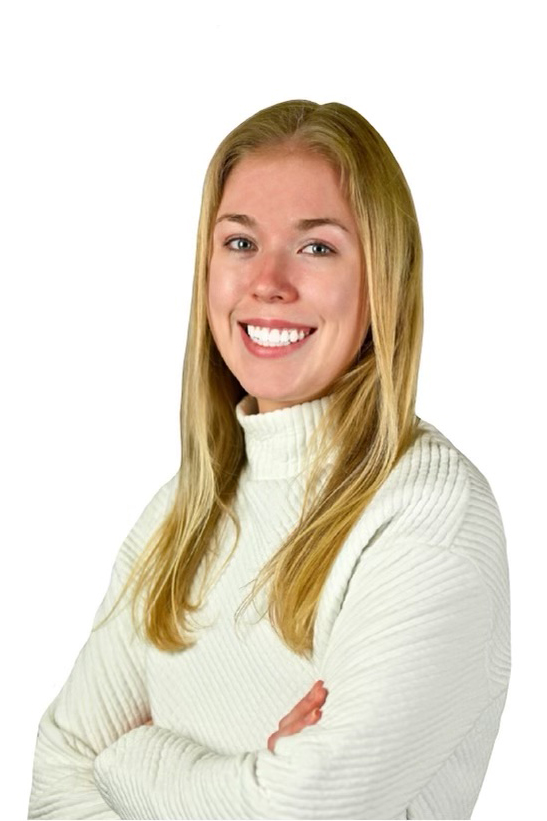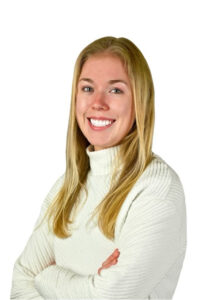 Summer experience: Her internship at an Australian marketing and software development company has allowed Allen to research emerging technologies, become proficient in data analysis and reporting in digital marketing, gain experience in application development and design, and practice strong customer interaction and communication. "The most influential part of my experience has been my mentor and CEO of Ezerus, Jeremy Webster," Allen said. "He provided valuable guidance and expertise, helping to bridge the gap between theory and real-world application. Having an insightful employer has significantly accelerated both my personal and professional growth." Allen is earning credit at Trinity by working with Madalene Spezialetti, associate professor of computer science.
Takeaways: Allen saw many benefits to interning abroad, including the personal growth and independence that comes with immersing oneself in a foreign country. The experience also has encouraged her to navigate new challenges, build self-confidence, and develop valuable life skills, all while creating networking opportunities that could lead to future career prospects. "Ultimately, studying and interning abroad offers a transformative experience that not only enhances academic and professional growth, but also fosters personal development in the process," Allen said.
Anahit Avagyan '24 – Cloud Security Summer Analyst with Jefferies, LLC in Jersey City, New Jersey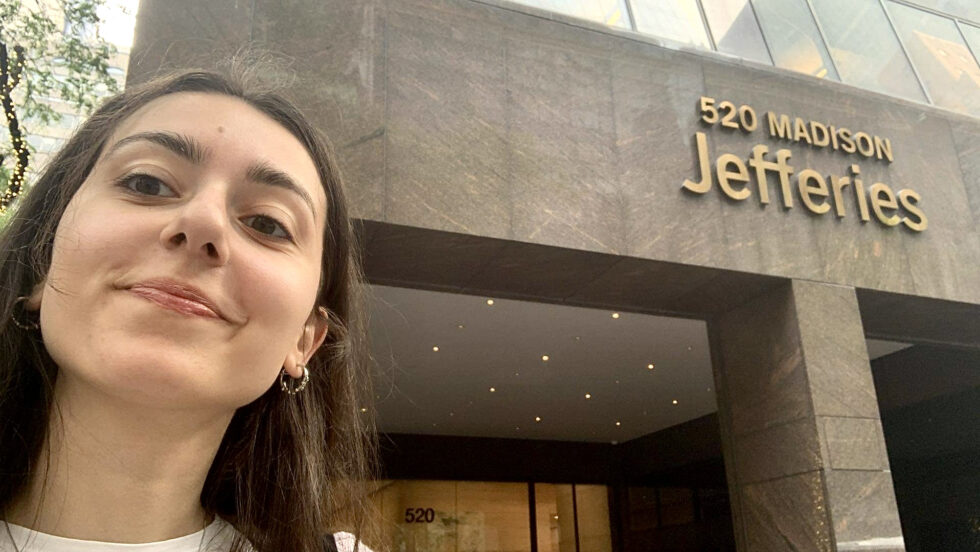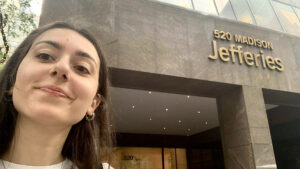 Major: Computer Science
Hometown: Yerevan, Armenia
Summer experience: Avagyan is working with Ewa Syta, associate professor of computer science, to earn academic credit for this internship at a global investment bank. "Jefferies provides me with the unique opportunity of working on real-life projects that bring value to the company as part of the cloud security team," said Avagyan, who developed an interest in the field through Trinity courses. "I've been able to apply the theoretical knowledge gained at college to my projects and understand how exactly it can be used to solve real-life issues. It has also been great to work with, learn from, and get inspired by some of the smartest people in the industry that I have met."
Takeaways: "The percentage of women working in the field of cybersecurity is very low, and having early experiences in my career is incredibly meaningful for me. This internship is essential for gaining credibility for my future and allows me to see all the ups and downs that one can face by choosing this as their career path," Avagyan said.
Cordelia Campbell '25 – Engineering Intern with Sighthound, Inc. in Longwood, Florida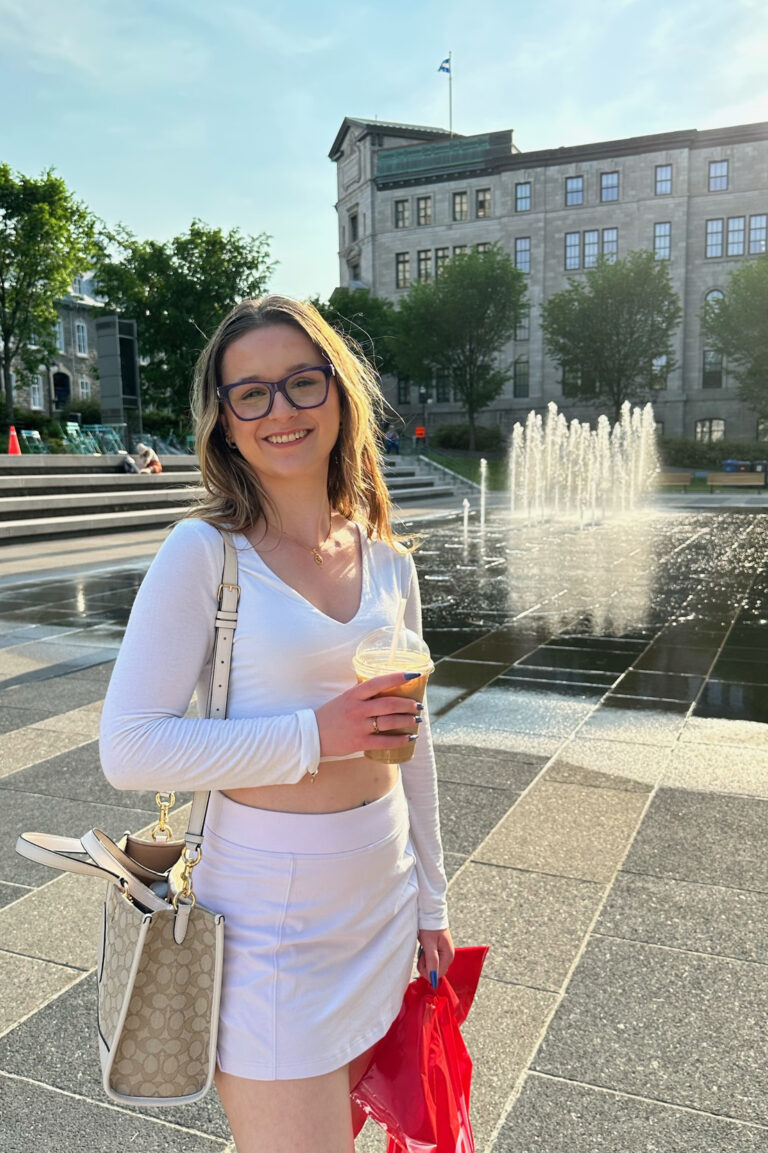 Major: Computer Science
Hometown: Winter Springs, Florida
Summer experience: In her internship, Campbell works on front-end development and testing for a computer vision technology developer. She is earning Trinity credit by working with Maminur Islam, assistant professor of computer science. "I have really loved working in the tech field, as opposed to just studying it as a computer science major," Campbell said. "Coordinating with teams and bringing new tech into the world that will be used by customers is a really cool feeling. It is nice to build something people actually use."
Takeaways: "It was a really rewarding experience working with things used by real customers. Being able to put all of that work into something people will actually use and look at often was a really great experience," said Campbell. She added that her manager has become a strong mentor for her and has helped her learn everything she needed to know on the job. "At Sighthound, I have formed many great connections that I believe will help me. The leadership team is very down-to-earth and genuinely cares for the employees, including the interns," Campbell said. "I feel a sense of comfort knowing the individuals at Sighthound for future work and guidance."
Metasebia Habtegiorgis '25 – Explorer Intern with Microsoft in Redmond, Washington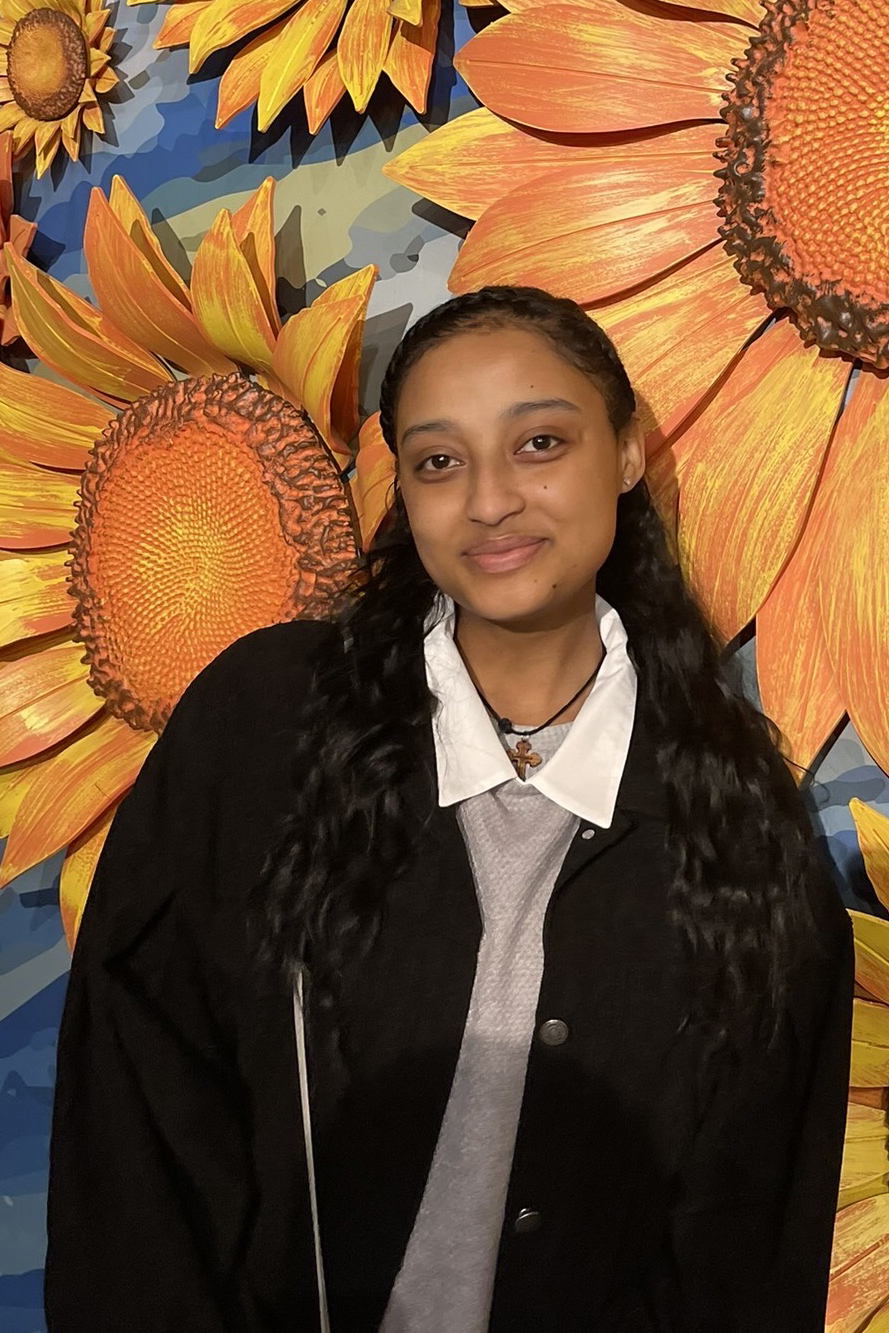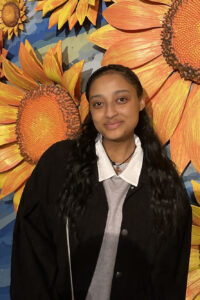 Major: Computer Science
Hometown: Mbabane, eSwatini
Summer experience: At an internship that encourages immersive learning, Habtegiorgis works on software engineering and product management. "The best part has been learning about real world technology from people who are responsible for key changes in the industry," Habtegiorgis said. "I have enjoyed having conversations about how Microsoft has been at the forefront in the current war of AI and the challenges and responsibilities that come with always wanting to innovate and grow." At Trinity, Habtegiorgis has established a good foundation in computer science and technology in academia, but the internship's focus on industry technology provides a different perspective. "I have learned new skills on how and where to focus my energy on projects, and how to research and collaborate in a team. It has been an amazing experience—one that has exceeded my expectations."
Takeaways: "I think this internship will greatly benefit my career path," Habtegiorgis said. "I want to become a software engineer, so having conversations with managers and mentors about their experiences and advice on how to navigate my career will be very fruitful. I have also seen their day-to-day life, and that early exposure has motivated me to be more proactive and focused on my education and the necessary skills I need to reach my goal."
Enock Niyonkuru '24 – Quantitative Research Intern with Morningstar, Inc. in Chicago, Illinois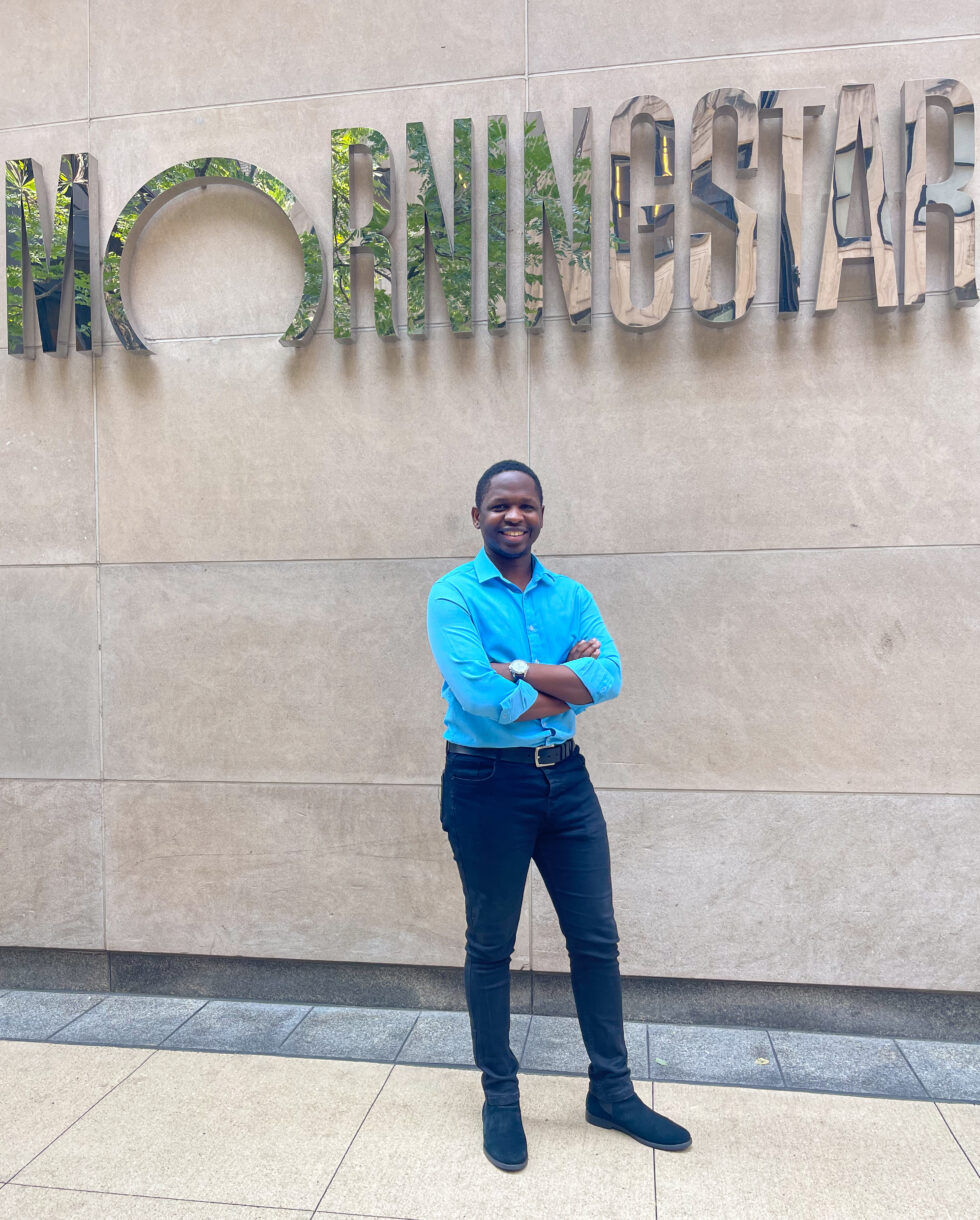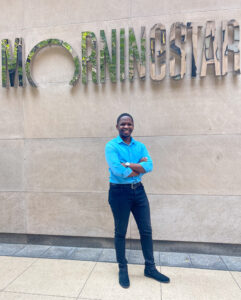 Summer experience: Duties at Niyonkuru's internship at a financial services firm include data mining, analysis, and ML/statistical model development for informed decision-making and optimization. "The best part of my summer internship at Morningstar has been the opportunity to be surrounded by intelligent and supportive individuals in the field," he said. "I've had the chance to network with experienced professionals who have mentored me and shared their valuable insights. Learning from experts in quantitative research and using data to drive better business decisions aligns perfectly with my passions for entrepreneurship and computer science. This real-world experience has allowed me to see how my academic knowledge can be applied to solve practical problems." This summer, Niyonkuru is working with Maminur Islam, assistant professor of computer science, to earn Trinity credit.
Takeaways: "This internship will significantly benefit my educational and career path," Niyonkuru said. "It has provided me with a deeper understanding of how the corporate world operates and allowed me to build a strong professional network." He has been able to explore the intersection of his quantitative and entrepreneurial interests and discover that he enjoys building machine learning and statistical models to analyze data and communicate findings to stakeholders. "The mentorship I've received during the internship has been instrumental in guiding my next steps and shaping my career goals," Niyonkuru added.
For more information about how Trinity supports students with their internships, on-campus jobs, post-graduation employment, and graduate schools, visit the Career & Life Design Center.