Back to News
Success in Helping Students Persist, at a Time When It's More Urgent than Ever
Trinity Community
posted
by Kathy Andrews
Trinity's Student Success team is adept at connecting students with resources and strategies to help navigate challenges and succeed in college. During a pandemic, providing this support became even more urgent—and trickier—to deliver. Yet, as the fall 2020 semester concluded, Trinity achieved a retention rate for first-year students of 90 percent, an accomplishment to celebrate in any year and even more so in the time of COVID-19.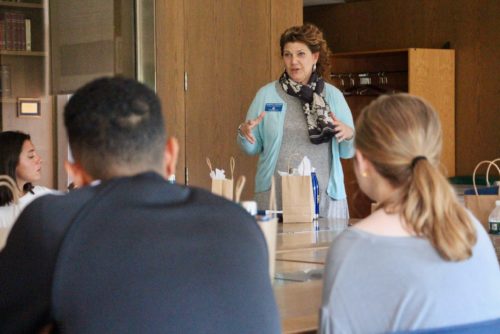 Director of Student Success Roberta Rogers IDP'10, M'18 said, "This year, only four fewer first-year students returned for reenrollment, compared with the previous year. That's remarkable, with all the pandemic-related disruption."
Vice President for Student Success and Enrollment Joe DiChristina said, "The entire campus community is dedicated to the success of our students. During this last year, the faculty and staff have worked to respond to student needs and to be present for our students. It shows in that our retention numbers over the last few years have remained steady. All of us should be proud of what has been accomplished."
When Trinity shifted to remote learning in March 2020, Rogers's team started hearing from faculty about students becoming less engaged. Concerned that this could be widespread, "We mobilized an effort to reach out to every first-year student, every second-year student, and to other students about whom we had acute concerns," said Rogers.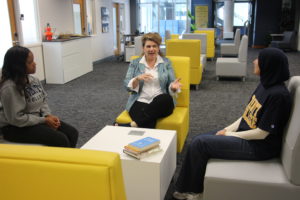 Along with the Student Success team, a group of 15 people from the Center for Student Success and Career Development and enrollment services reached out to more than 1,400 students in under 20 days. "We prioritized how each student was doing," said Rogers. "Where there were ongoing concerns, Student Success reached back out to students to help."
Throughout the spring and summer, Student Success and others provided more targeted outreach and individual support, listening to, accommodating, and helping prepare students to return for fall courses.
"The more we know about our students' experience, the better we can target interventions and high-return strategies," said Rogers, for whom Trinity is a family tradition. She earned both her undergraduate and master's degrees from Trinity, her mother graduated in the college's first coeducational class (the Class of 1973), and her son is a 2018 Trinity graduate.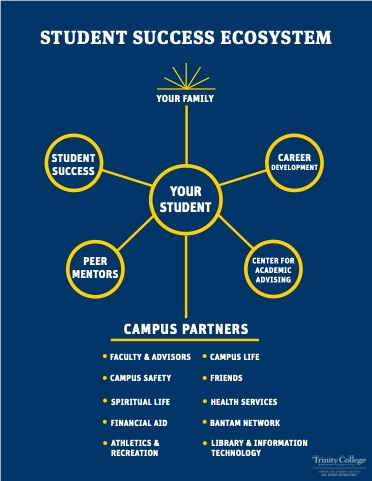 It was in fall 2018 that Student Success began conducting a "deep dive" into data, reviewing the characteristics and experiences of students—aspects such as academic achievement, first-generation status, athletic participation, college courses and activities, and pre-college experiences. By analyzing that data carefully, Trinity gained insights into students' experiences, allowing the college to be increasingly systematic and helpful in supporting students.
According to Rogers, one clear trend is that students with more diverse pre-college experiences—such as holding a job or helping care for siblings, alongside school responsibilities—tend to persist at higher rates than those with fewer of those experiences. "Students may be disadvantaged because they haven't had as much experience in needing to prioritize their time," she said.
Students also can be challenged when their actual college experience differs from their expectations. "Part of the college experience—part of the life experience—is that we don't achieve all our success linearly," said Rogers. "But a student can learn to pivot, to step back, reframe, and go at it again. This is critically important, and we offer workshops and individualized coaching to help students develop this habit and practice it."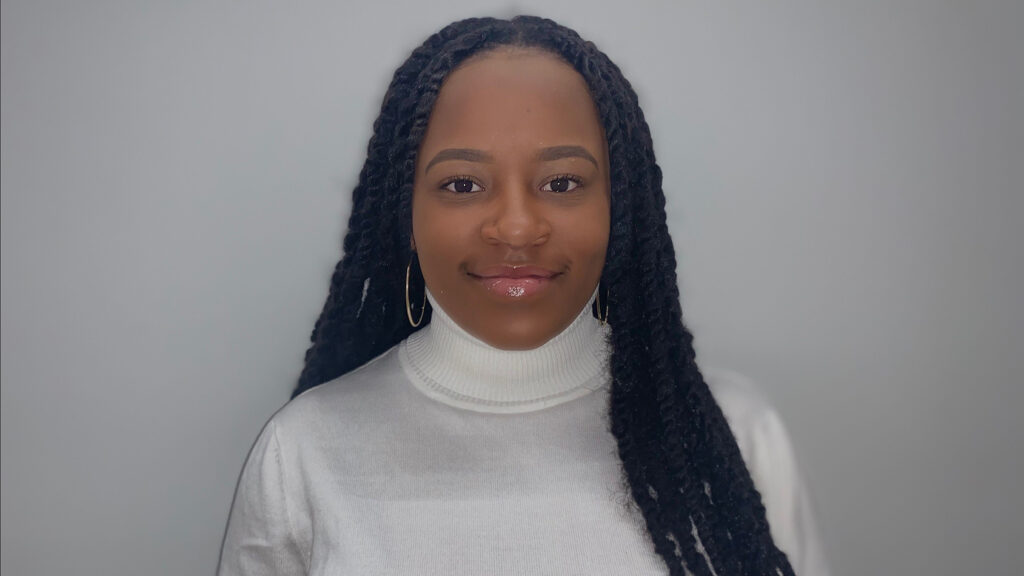 One recent workshop, on journaling and time management, was led by Tiana Starks '21, who also mentors individual students. Starks recalls her own struggles as a first-year and how she developed the skills to organize and prioritize her studies. "I take my own experiences and say, 'OK, when I had a really tough time in a class, what did I do?' That becomes a kind of blueprint for helping others," said Starks. "As a senior, being able to be provide support for other students is super-important to me."
The Center for Academic Advising (CAA) is another resource for students. Lisa-Anne Foster, director of the CAA and a faculty fellow—as well as associate professor of biology—said the center typically focuses on helping students in their first one to two years to lay the groundwork for academic success. During winter 2020–21, the CAA is working with Student Success on an intensive effort to help students with incomplete coursework so they can finish those courses. "Our role is to be a cheerleader and a support," said Foster. "We can help students map out a plan to be able to achieve their goals."
Just like the students they mentor, the Student Success team has hopes and dreams for what they aim to accomplish. "We've made great strides in collecting and analyzing data to inform our work. But we're doing it without a centralized system," said Rogers, who has her eye on an automated system to increase efficiency.
"Trinity offers extraordinary, individualized support to help students realize their potential and maximize their talents," said Rogers. "Despite the challenges of the past year—a pandemic, social justice concerns, political unrest, or more 'ordinary' college transitions—Trinity resources remain active and dedicated to guiding students through the periodic storm, toward clearer skies and smoother, independent sailing."
 Read more here and here about efforts by Trinity donors and volunteers to ensure support for students during the pandemic.
 Read more here about the student success ecosystem launched in fall 2017 by Trinity's Center for Student Success and Career Development.