Back to News
Recent Trinity College Graduates Named Fulbright Students
Announcement
posted
by Andrew J. Concatelli
Two new Trinity College graduates have been awarded prestigious Fulbright Program grants to support teaching in Peru and research in Germany.
Aiden Chisholm '23 received a Fulbright English Teaching Assistant (ETA) Program Grant to support the teaching of English in Peru. Nic Zacharewski '23 received a Fulbright Study/Research Grant to work at the German Cancer Research Center in Heidelberg.
The Fulbright Program is the flagship international educational exchange program sponsored by the U.S. Department of State's Bureau of Educational and Cultural Affairs and is designed to increase mutual understanding between the people of the United States and the people of other countries. Recipients of Fulbright grants are selected on the basis of academic or professional achievement, as well as demonstrated leadership potential in their fields. The program operates in more than 160 countries worldwide.
Mark Hughes, associate director of grants and fellowships in Trinity's Grants Office, works with students on their Fulbright applications. "This year we had an outstanding group of Fulbright applicants," Hughes said. "Fulbright is very competitive, and even outstanding students are far from assured selection. Even so, the application process itself is worthwhile and helps students think about their time at Trinity and what they want to do after they graduate, whether selected for a Fulbright or not."
Trinity President Joanne Berger-Sweeney said, "Trinity has a proud tradition of service in the Fulbright program, and I offer my sincerest congratulations to this year's impressive class of Trinity Fulbright scholars. Challenged by our remarkable faculty and staff to think, reflect, and connect, our extraordinary students and alumni continue to demonstrate an uncommon interest in transforming a dynamic world through global citizenship. I'm grateful to our Fulbright scholars for their dedication to our international community. The experience will be rewarding."
Aiden Chisholm '23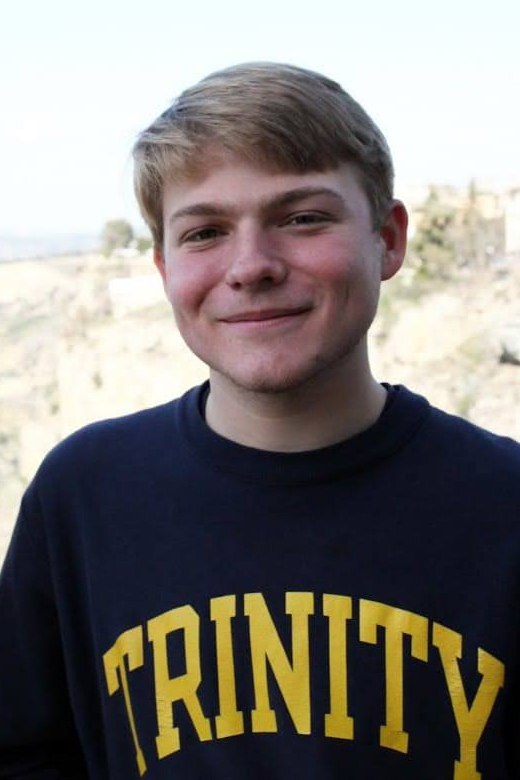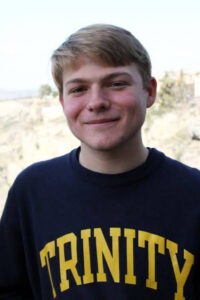 Chisholm will begin teaching English at a post-secondary school in Peru starting in March 2024.
"I believe that going to Peru is the next step in bringing my cross-cultural communication to the level of my Spanish-language communication," said Chisholm, of Westfield, Massachusetts, who completed majors in political science, international studies, and language and culture studies: Hispanic studies and Arabic.
When he arrived at Trinity, Chisholm first considered studying math or economics, but ultimately pursued interests in political science. "I was paying attention to the 2020 election campaign and wanted to look into politics more," he said.
His love of learning about other cultures attracted Chisholm to the study of languages. "I'm really interested in the study of tourism and how it's connected to and reflects the larger politics of the world and the history of global politics and colonization," he said.
With that interest in mind, a Grossman Global Studies Grant through Trinity's Center for Urban and Global Studies (CUGS) last summer allowed Chisholm the opportunity to research Orientalism in tourist shops in Granada and Cordoba, Spain, following a semester studying abroad in Granada.
"In the tourism in Granada, there are a lot of allusions to an imagined Orient, because of Spain's Muslim history," said Chisholm, whose field work helped to inform his international studies senior paper. Read more about his summer research here.
A passion for languages, cultures, and travel led to a Fulbright application as the next logical step for Chisholm.
"Post-grad, I knew I wanted to go to the Global South, outside of Europe, since I did study away in Spain. And that brought me to look specifically at South America," he said. "A focus of the study of South America since middle school was about its Pre-Columbian civilizations and their colonization. I realized the portrayal of Peru in my high school studies was solely concerned with the past—talking a lot about the Inca heritage or Machu Picchu—but no representation of the present-day Peruvian people." As a cultural ambassador through Fulbright, Chisholm hopes to gain a greater understanding of the country and its people.
Chisholm acknowledged the importance of the support he received during his time at Trinity and while applying for a Fulbright. He credits Hughes; Zayde Antrim, professor of history and international studies; Priscilla Meléndez, professor of language and culture studies; Isaac Kamola, associate professor of political science; and the staff and students at the Writing Center.
Following the Fulbright ETA, Chisholm's goal is to get a master's degree. "I might like to be a professor myself; it combines research and teaching, which are both things I enjoy," he said. "I really want to do something international in scope, and I'd like to use my language skills every day in a work setting."
Nic Zacharewski '23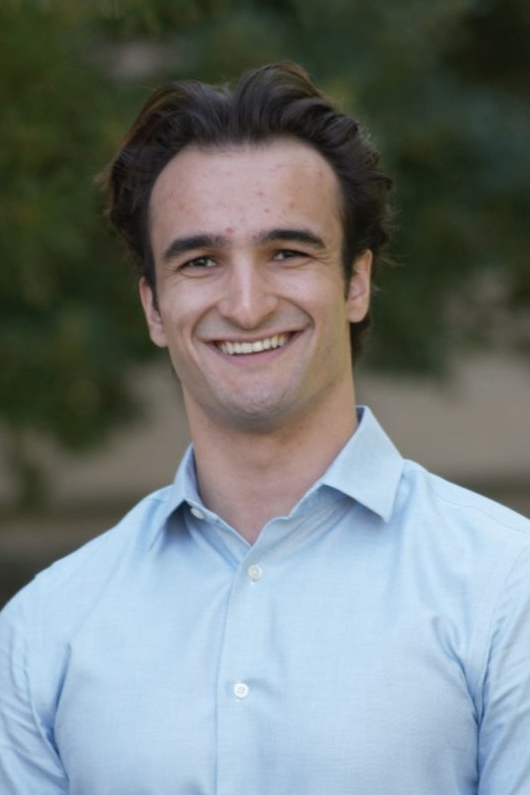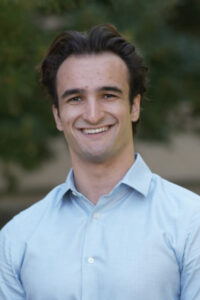 Hailing from Holt, Michigan, Zacharewski came to Trinity as a member of the Interdisciplinary Science Program (ISP), which gives first-year students an opportunity to conduct research. A neurology research position at Hartford Hospital confirmed his interest in majoring in neuroscience, but his path to a second major in German studies was not as straight-forward.
After studying Latin in high school, Zacharewski took a Latin language proficiency exam during his first week at Trinity, to forego a language course requirement and load his schedule with science courses. "It was the only test I ever failed as a Trinity student, so then I had to take a language," he said. Zacharewski remembered enjoying an introductory German class in middle school and decided to pick up the language again.
"I only did that in middle school because students picked their languages in alphabetical order, and by the time I got to choose, every other language was filled up and German was the only one left," he said.
A summer research internship at the German Cancer Research Center in 2021 allowed Zacharewski to combine his majors in a unique way and inspired him to apply for the Fulbright, which will be carried out in the same lab. Read more about his summer research here.
"I realized how important it was to think differently and be able to tie my fields together, approach them in different ways, and get lots of experiences," Zacharewski said. "I'm glad I failed that Latin test and that everything panned out the way it did."
Zacharewski plans to apply to medical schools during the grant period, which begins in September 2023. Before then, he is continuing his research at Hartford Hospital, studying for the MCAT, and working as an EMT.
"I've always been interested in medicine and the science behind it," Zacharewski said. "I want to be a physician, but also someone who conducts research. Brain tumors have always fascinated me; both the research aspects and finding possible treatments. I like the idea of getting a holistic view of everything, to optimize what you're doing in a research setting and also in a medical practice."
"This Fulbright will allow me to meet new people and broaden my horizons once again," Zacharewski added. "I'm so thankful for the support and encouragement from professors and staff at Trinity. It was a collective effort. I worked hard, but I couldn't have done it without everyone supporting me."