Back to News
Alumni Artists 'Come Home' for Austin Arts Center's First Production of Fall 2021 Semester
Academics
posted
by Kate Whitman '23
During Homecoming Weekend, Trinity College's Austin Arts Center (AAC) presented its first production of the fall 2021 semester, Coming Home, a "Performing Hartford" event featuring three Trinity alumni artists: Jasmin Agosto '10, Kerry Kincy IDP'09, and Mixashawn Rozie IDP'12.
Coming Home was an opportunity for Hartford artists and alumni, specifically non-binary people, Indigenous and Native people, Black women, women of color, and the queer POC community, to share their voices and express themselves via art and performance at Trinity. Rebecca Pappas, assistant professor of theater and dance, said the performance came about because of a sense that the Theater and Dance Department should be doing more to "welcome Hartford artists into our community and onto campus." She added, "We are really trying to expand our arms and welcome back as broad a spectrum of alums as we can, and so that is something we are really excited about."
Agosto, the host and curator of Coming Home, worked closely with Pappas to produce this performance. Said Agosto, "This particular project is about bringing together an intimate group of non-traditional Trinity alum[ni] to take up space and claim space at Trinity. It's about coming 'home' and making home out of spaces we have not traditionally been welcomed in."
Presented on Friday, October 1, in AAC's Goodwin Theater, Coming Home highlighted the stories and history of people of color and Indigenous people through music, dance, video, and prayers. Agosto introduced the performance, leading the audience in a breathing exercise at the start.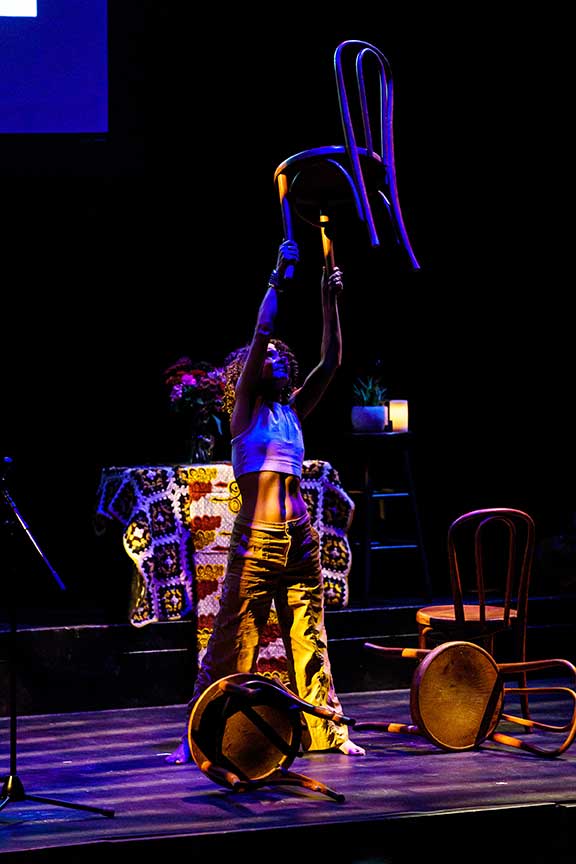 Kincy used movement to explore the idea of home, the struggle of being excluded from feeling a sense of home, and how, when one is centered, home is wherever one is. A video with images of home played in the background while Kincy danced. In Rozie's set, he and his band, the Original Afro Algonquin, played original and traditional music, which Rozie described as spontaneous "being," or a state of being that the music is a product of, relating it to the spontaneity of the Native people. The band used their blend of instruments to convey the bonding of Indigenous and African American music. Both Kincy and Rozie captured the audience by expressing their points of view through their different art forms.
Throughout the performance of Coming Home, interaction between the artists on stage and members of the audience was high-energy, including cheering and clapping. For many students, alumni, and others in the audience, it was the first live performance they had experienced in person since the pandemic began.
Audience member Jonny Sundermeier '25 said, "It was super interesting to hear all the different instruments—including the saxophone, drums, bongos, flute, and shakers—blend together in unique ways. Mixashawn also taught the audience about how music intertwines with itself across genres over time."
Coming Home builds on an initial partnership between Pappas and Agosto, supported by Trinity's Center for Hartford Engagement and Research (CHER), that created a "Performing Hartford" Community Learning course and performance series highlighting Hartford artists during the 2020-21 academic year.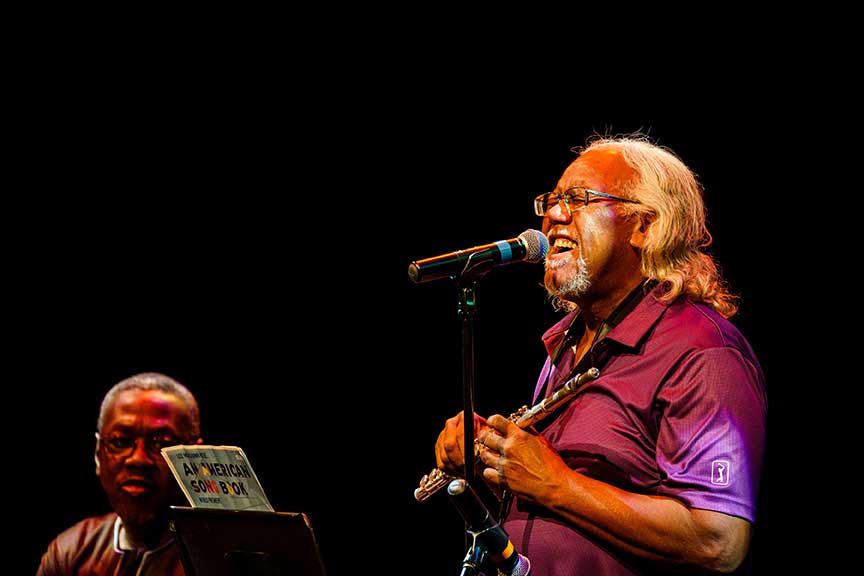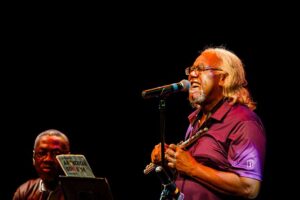 As a Trinity student, Agosto studied educational studies and American studies. Both Kincy and Rozie were Individualized Degree Program students at Trinity. Kincy self-designed a major in movement, learning, and social development, and Rozie studied history and ethnomusicology.
Rozie encourages members of the Trinity community to join him at the 2021 Hartford Harvest Celebration of Native American Culture and Cross Cultures to be held October 23, 2021, 11:00 a.m. to 3:00 p.m., at the Ebony Horsewomen Equestrian & Therapeutic Center in Hartford. See details here.
Learn more about Trinity's Department of Theater and Dance here and about Diversity, Equity, and Inclusion at Trinity here.