Back to News
'Performing Hartford' Course and Performance Series Highlights Local Artists
Academics
posted
by Emma Sternberg '21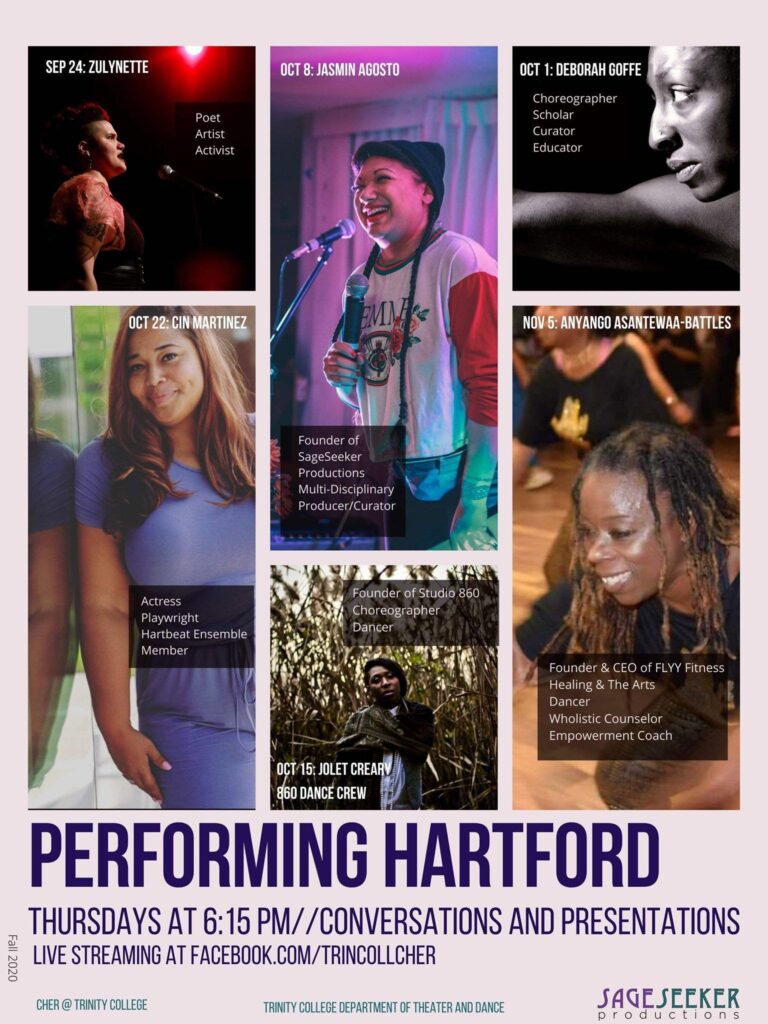 Trinity College Assistant Professor of Theater and Dance Rebecca Pappas partnered this semester with Trinity alumna Jasmin Agosto '10 to create a "Performing Hartford" Community Learning course and performance series highlighting Hartford artists.
The course is supported by Trinity's Center for Hartford Engagement and Research (CHER) and focuses on the diversity of artistic practice in Hartford, connecting students with artists through discussions, virtual performances, and question and answer sessions. Director of Community Learning Erica Crowley said, "'Performing Hartford' is a unique example of how we can offer Community Learning courses that engage multiple modes of engagement and center on Trinity-Hartford gatherings, even during a pandemic."
On certain nights of the week, "Performing Hartford" opened the class up to the public to view the virtual performance series. Pappas and her students held a broadcast on several Thursday evenings during the fall semester through Facebook Live, where a different artist performed and spoke about their own journey. The artists featured in the series were Zulynette, a poet, artist, and activist; Deborah Goffe, a choreographer, scholar, curator, and educator; Jolet Creary, founder of Studio 860, choreographer, and dancer; Cin Martinez, an actress, playwright, and a Heartbeat Ensemble member; and Anyango Asantewaa-Battles, founder and CEO of FLYY Fitness Healing and the Arts, dancer, and holistic counselor empowerment coach. The series was curated by Agosto, the founder of Sageseeker Productions and a multi-disciplinary producer, who also spoke with the class.
Pappas wanted her course to support Hartford artists and to give them a platform on which to perform. "Many artists have been out of work because of the pandemic and have been in need of paid opportunities to share their work," said Pappas. In addition, Pappas wanted to consider how Theater and Dance Department classes could be tools for anti-racist organizing and could offer support to artists in Hartford, especially those not affiliated with large arts institutions. "There is intimacy in the series in that the students are in direct contact with the artists, but then the broader community is invited to listen in and be present in a less direct way," Pappas said.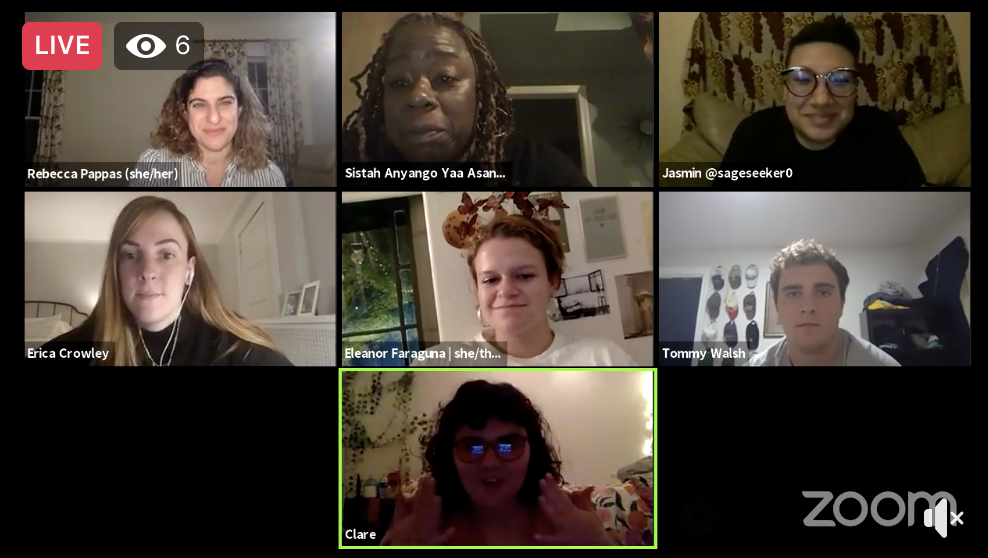 For the past two and a half years, Agosto has been creating La Sala Femme, a non-binary/womxn of color performance installation series. Agosto's experience and business are what led Pappas to ask Agosto to find artists to highlight in the "Performing Hartford" class. "Jasmin was already doing amazing work as a curator, and I knew she could bring a vision to the course, so I was honored that she wanted to be a part of the program," said Pappas.
The Trinity alumna said that it was when she attended the annual Trinity International Hip Hop Festival as a student that she felt excited about further connecting the Trinity community with the community of Hartford artists. She had begun building these relationships as a high school student and that is what led her to her current career path. "The Trinity Hip Hop Festival made me energized about what was possible about community gathering," said Agosto. "The arts, history, culture, and politics converging on campus became important for me as a student of color and gave me the skills and relationships I needed to have a career in producing and curating."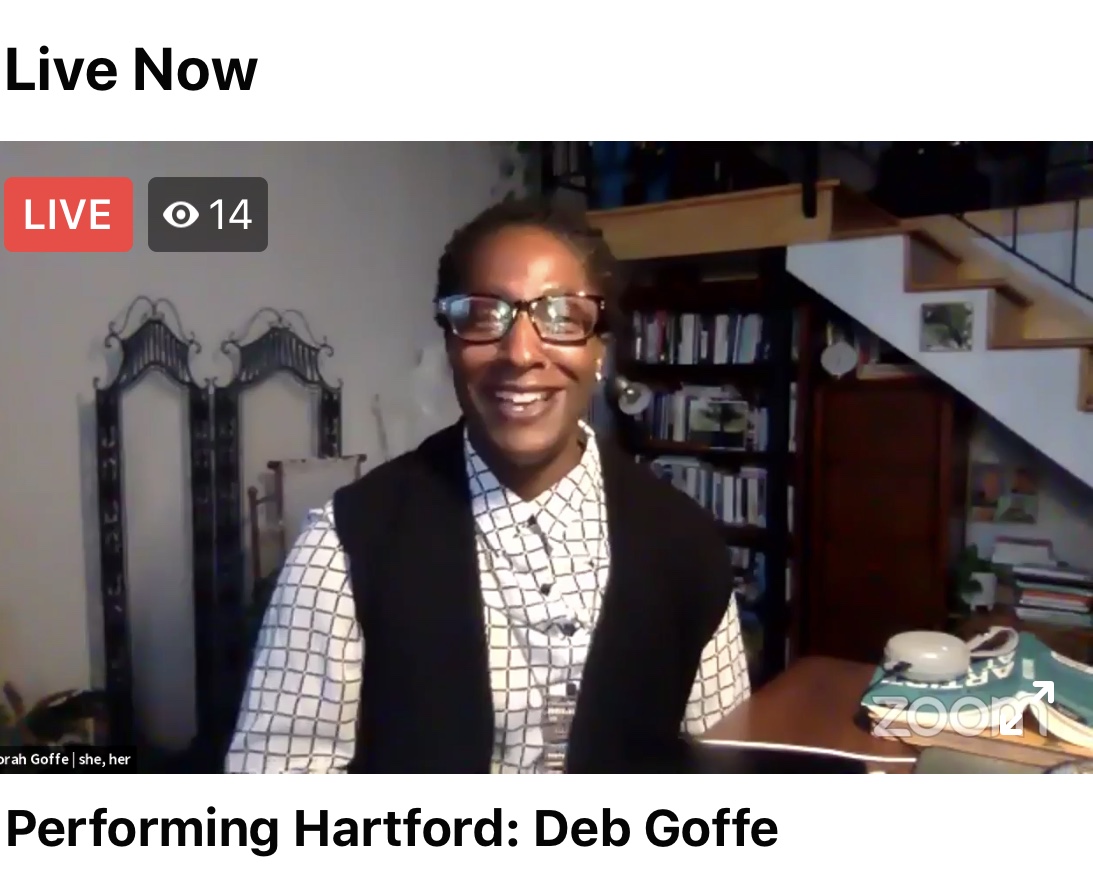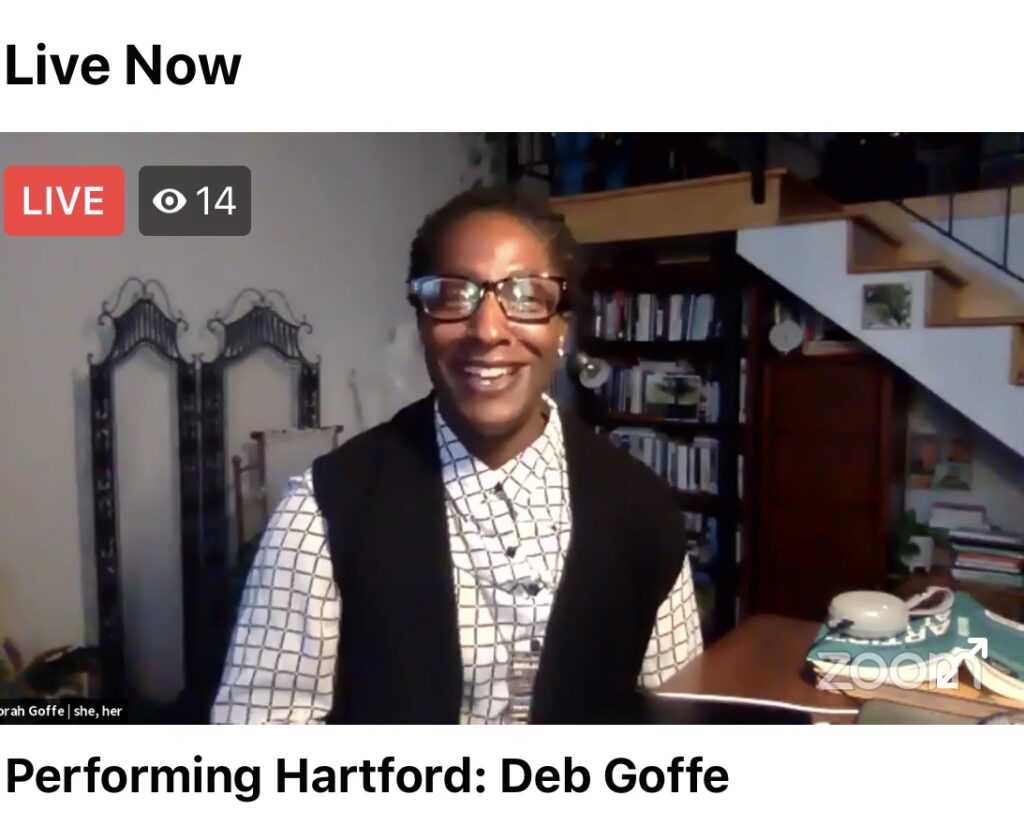 Pappas and Agosto said that the goal for the course was for the students to feel connected to the city of Hartford. "They are burgeoning artists, so this course and series was their chance to connect with the artists of Hartford," said Agosto. "This was their opportunity to get into the depth of the artistry and the networks that these Hartford artists have."
Clare Donohoe '22 said the course helped her see the cultural breadth that exists in Hartford. "The arts community in Hartford is so interconnected, personal, and loving," said Donohoe. "This class made me realize the importance of a community, especially as an artist. Artists are doing incredible things all the time, and we just have to show up for them to demonstrate our support."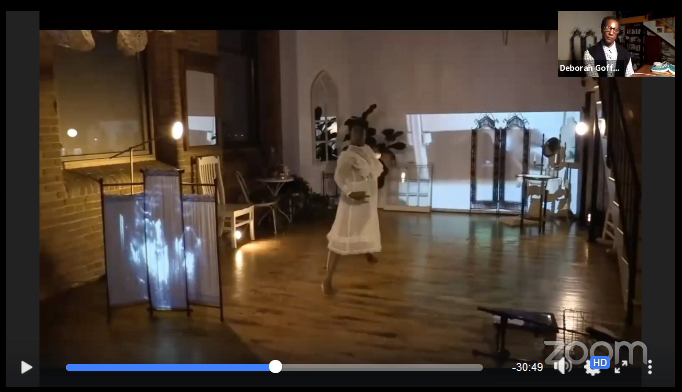 As a final project, groups of the students are doing a variety of things, including: creating pamphlets outlining how to engage with Hartford artists; designing a proposal for a festival featuring Hartford artists; and writing a series of poems that speak about the work they saw throughout the semester. Donohoe's group hopes that their pamphlet will help forge a stronger connection between Trinity students and Hartford. "We want our project to inspire more Trinity students to take advantage of the cultural wealth surrounding them," she said.
The "Performing Hartford" course and series will run on Tuesday evenings in the spring 2021 semester.
To view the past "Performing Hartford" virtual events, visit the Trinity College Center for Hartford Engagement and Research Facebook page.