Jewish studies is a multi-disciplinary, College-wide investigation of Jewish civilization in its many historical and geographical manifestations. The scope of the Jewish studies curriculum covers Jewish civilization from its ancient Near Eastern origins through its contemporary history and culture in Israel and the diaspora communities around the world. It is a secular, academic program with diverse, cross-cultural emphases.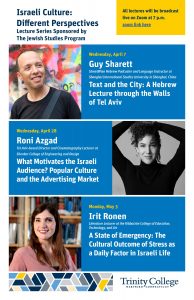 The Jewish Studies Program offers both a major and a minor. Either way, students will get an opportunity to learn and study from a wide set of offerings in Jewish history, religion, society, and literature.
The Jewish Studies Program presents Israeli Culture: Different Perspectives Lecture Series. All lectures are virtual, see the calendar listings below for additional information and Zoom link.
GET IN TOUCH
Jewish Studies
Ron Kiener
McCook Academic Building
Trinity College
300 Summit Street
Hartford, CT 06106