"The crème de la crème of the crème de la crème," said Barbara Kirshenblatt-Gimblett, University Professor Emerita and professor emerita of performance studies at New York University, of her longtime friend and collaborator Samuel D. Kassow '66, Charles H. Northam Professor of History at Trinity College.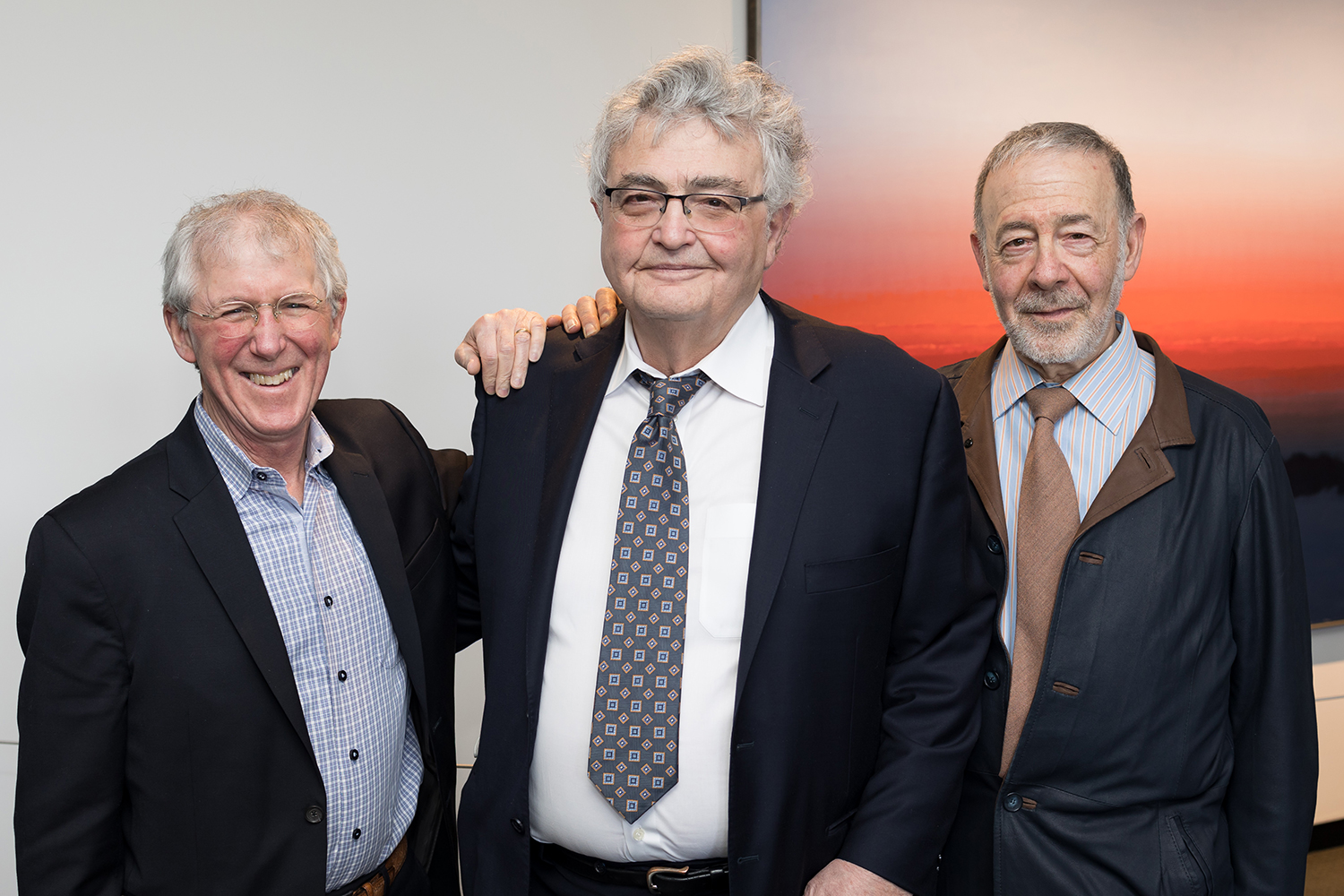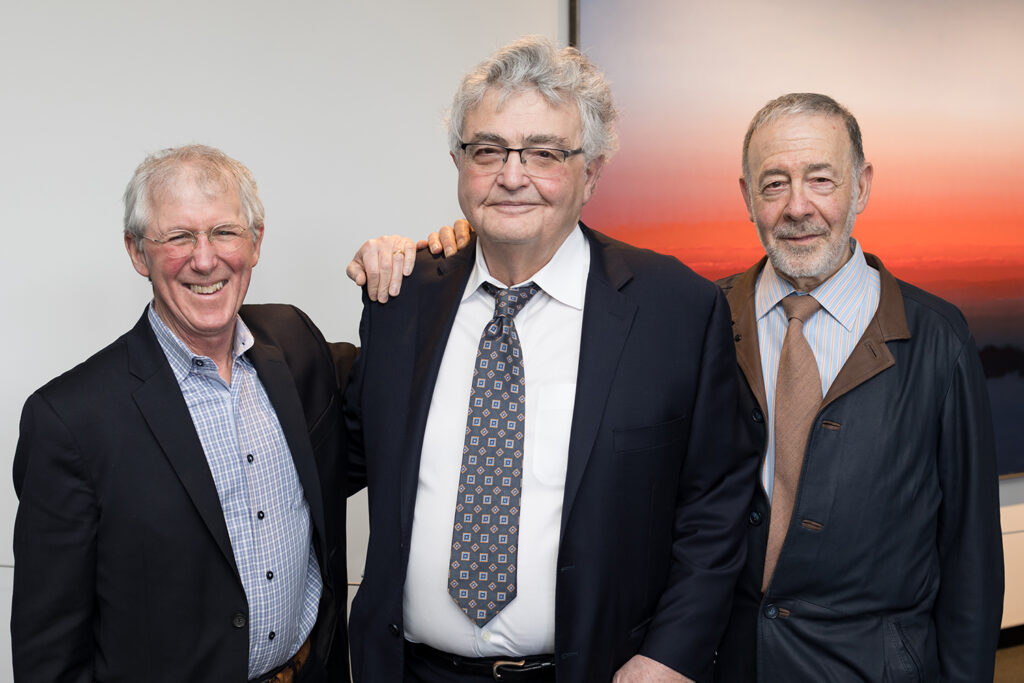 On Wednesday, April 27, community members gathered to honor Kassow's 50th anniversary of teaching at Trinity and his world-renowned scholarship on Russian and Jewish history. The evening began with a panel discussion at the Austin Arts Center featuring Aaron Lansky, founder of the Yiddish Book Center; David Roskies, Sol and Evelyn Henkind Chair in Yiddish Literature and Culture and professor of Jewish literature at the Jewish Theological Seminary; and Kirshenblatt-Gimblett, who served as chief curator of the core exhibition at the POLIN Museum of the History of Polish Jews in Warsaw.
"Sam does what very few of us can do," said Associate Professor of History Jonathan Elukin when he opened the panel discussion. "He not only teaches Jewish history, but he also embodies Jewish history in every part of him. He tells its story with authenticity, with conviction, and with an almost first-person immediacy—and students respond accordingly."
Kirshenblatt-Gimblett reflected on collaborating with Kassow on the creation of the POLIN Museum in 2014. "I feel like I was one of his students, and I had a front seat to his erudition and his wonderful, wonderful spirit." She spoke of Kassow's talent as a storyteller and his gift for writing illustrative narratives for historic figures displayed throughout the exhibition.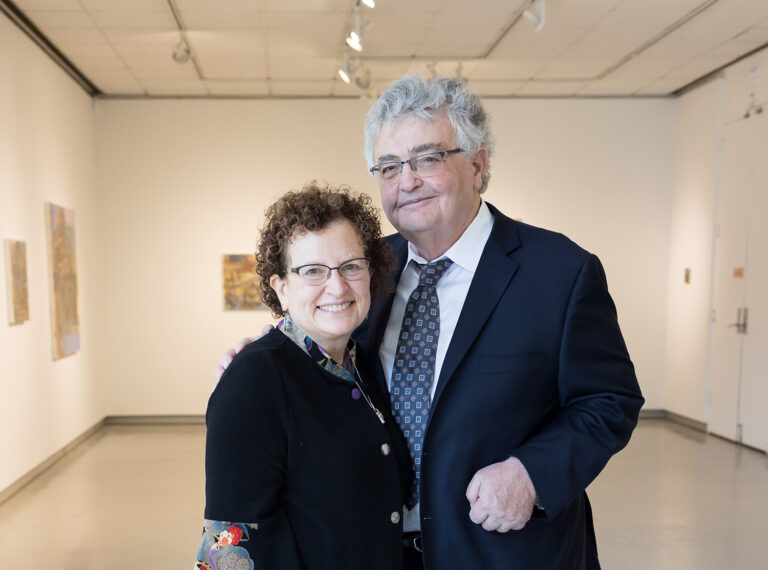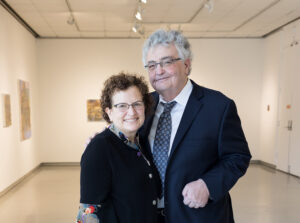 Kirshenblatt-Gimblett said that when the museum was under construction, Kassow led a group of Trinity students through the facility during a Hillel trip organized by his wife, Trinity Hillel Director Lisa Kassow. "There's nothing more glorious than to have Sam take you through this 1,000-year story," Kirshenblatt-Gimblett said.
Roskies spoke of an early encounter with a young Kassow who had given a lecture at Brandeis University on community and identity in the interwar shtetl. He recalled how Kassow, who speaks several languages—including Russian, Polish, Hebrew, and Yiddish—impressed older scholars with his talk about the economic restructuring of communal life in the Jewish shtetl and his ability to read and cite original sources in Polish.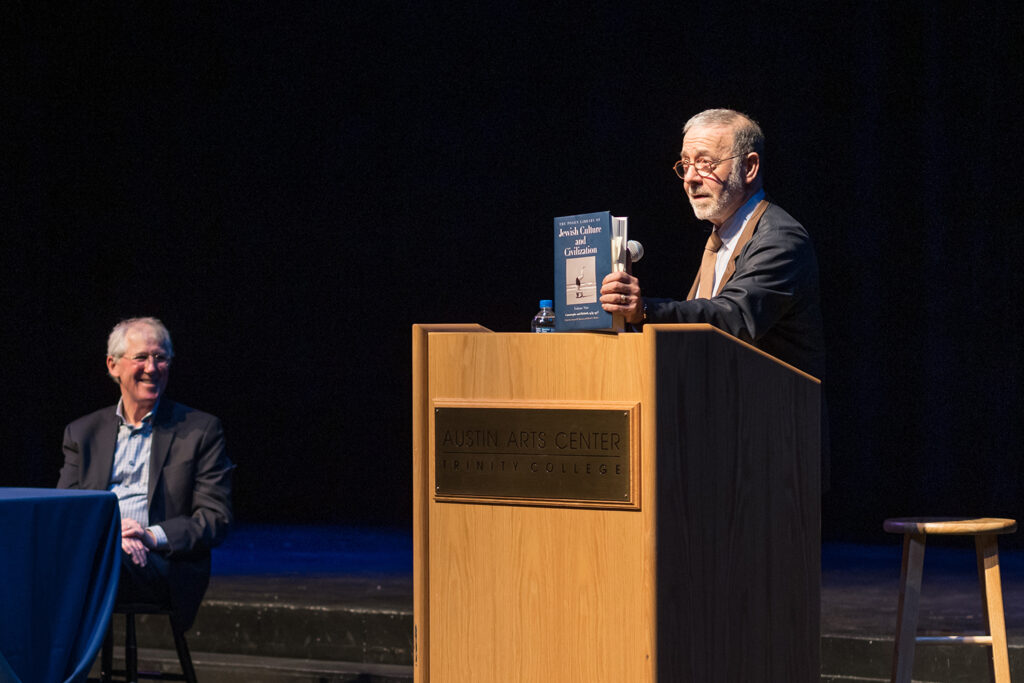 Roskies noted that after the Soviet Union collapsed, Boris Yeltsin created Russia's first liberal arts college, where both Roskies and Kassow were invited to join the faculty for Project Judaica. With a leave from his position at Trinity, Kassow taught a survey course in Russian on the Jews of Russia in the 19th and 20th centuries. Roskies taught Jewish literature in Yiddish, and from that time forward, a longtime friendship blossomed. Eventually, the pair would collaborate for a decade on The Posen Library of Jewish Culture and Civilization, Volume 9.
After dinner, participants were treated to a showing in Cinestudio of Who Will Write Our History, the 2018 documentary based on Kassow's book. The evening also marked Yom HaShoah, or Holocaust Remembrance Day, which ends on Thursday, April 28. The Zachs Hillel House will host a conversation with Leon Chameides, M.D., a Holocaust survivor and former director of pediatrics at Hartford HealthCare, on April 28 at 4:30 p.m.
Sonia Cardenas, dean of faculty and vice president for academic affairs, remarked, "Sam has inspired countless students and generations of alumni. The world is a better place with the work that Sam has done, illuminating and recording modern Jewish history. We are grateful for his incredible spirit and distinguished body of work."