In September 2022 the Board of Trustees approved the first phase of a heating and cooling master plan for Trinity College. This plan will allow the college to modernize and decentralize our aging underground heating and cooling infrastructure, creating a more reliable and resilient system. Beginning in October 2022 and concluding in September 2024, this project will completely renovate the underground heating and cooling system that serves the south area of campus.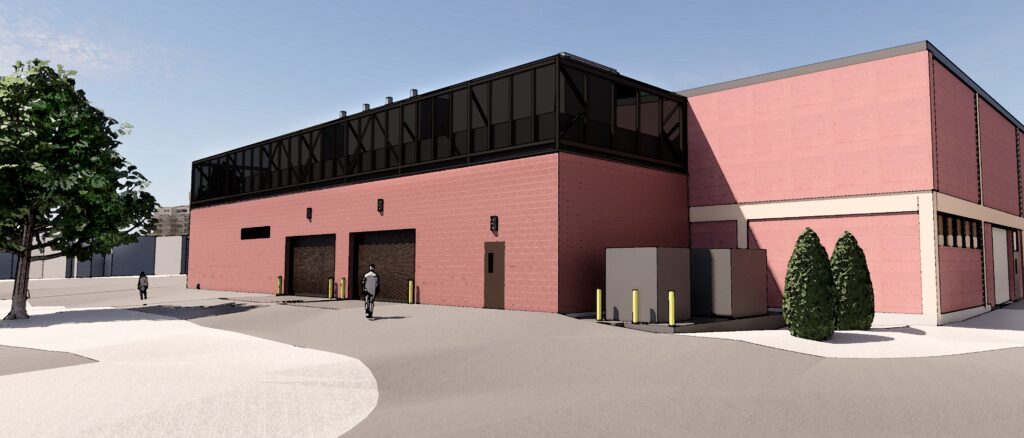 View of new utility plant addition to the existing Facilities Services Center (click to enlarge)
Project Work Description
New 2,500 square foot addition for a utility plant onto the east side of the existing Facilities Services Building
Installation of new underground heating and cooling pipes that serve Elton Hall, Facilities Services, Funston Hall, Jackson Hall, Jones Hall, LSC, MECC, Smith Hall, Summit Hall, Trinity Hall
Replacement of underground campus heating and cooling main pipe between Central Utility Plant and Austin Arts
Full renovation of the existing first-year residence halls courtyard
Project Outcomes
Beyond a more reliable and resilient heating and cooling system, we will also see benefits in sustainability.
Improve building heating and cooling distribution system safety and reliability
Reduce Trinity's carbon dioxide emissions by 144 metric tons annually, equivalent to 31 gasoline-powered passenger vehicles driven for one year
Ability to install additional high-efficiency boilers and chillers within new utility plant in the future to supply more buildings with more reliable heating & cooling
Planting of 2 trees for every 1 tree removed by the project.
Construction Timeline
The project kicked off in October 2022 around the Facilities Services building with the construction of a new utility plant for the south end of campus. The project is expected to conclude in September 2024 with the replacement of underground pipes and renovations to the first-year residence halls courtyard. A more detailed project timeline can be found below.
Fall 2022–Summer 2023
New Utility Plant construction
Spring 2023–Summer 2024
Install new underground heating & cooling distribution piping

Work requires 6 week shutdown of roadway south of MECC starting March 20th, 2023
Summer 2023
New piping tie-ins to MECC and Summit Suites (North, South & East)

Work requires shutdown of pedestrian way between MECC and LSC, as well as portions of the Summit courtyard area

Replace existing steam & condensate piping from Jones Hall to Elton Hall

Work requires shutdown of courtyard area between north ends of Jones & Elton Halls
Summer 2023–Fall 2023
Replace existing dual temperature piping from existing Central Utility Plant to Austin Arts

Work requires shutdown of Ferris Roadway adjacent to south side of Austin Arts
Summer 2024
New Hardscape Installation in Courtyard adjacent to Funston, Jackson, Smith and Trinity Halls

Work requires full shutdown of first-year residence hall buildings and courtyard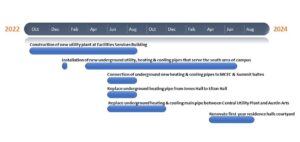 Impact to the Campus Community
Anticipated disruptions in the area include noise, dust and vibration during construction. Care will be taken to reduce noise during sensitive times in the academic year.
Scheduled 6 week shutdown of roadway south of MECC and Clemens Hall parking lot starting spring break 2023
Scheduled shutdowns to buildings in spring and summer 2023 and summer 2024 (details will be communicated closer to the scheduled occurrences). See below image for tentative schedule
Ferris Road closure, tentatively scheduled to begin in May 2023
Construction Work Area Maps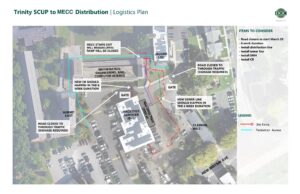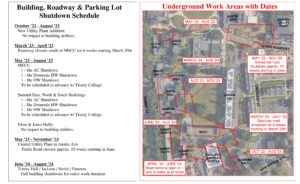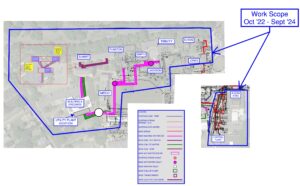 Mike Gibbons
Facilities Project Manager
Trinity College Facilities Services
238 New Britain Avenue
Hartford, CT 06106