The Center for Urban and Global Studies (CUGS) has been honored to host visiting scholars from around the nation and around the world.
Current Visiting Scholar Programs
Kelter Postdoctoral Fellow in Urban Studies
The Kelter Postdoctoral Fellow in Urban Studies helps to advance the urban educational mission at Trinity College. The postdoctoral fellow is expected to have a Ph.D. in urban planning and design, geography, sociology, anthropology, public policy, or any other urban studies related discipline. The postdoctoral fellow teaches two undergraduate courses during two semesters that pertain to American cities with a comparative perspective, urban planning, land use, real estate, and/or spatial analysis using GIS. These courses are integral to the growing Urban Studies program and the Cities Program for first-year students, and can be cross-listed with the department or program of the fellow's discipline. The fellow also contributes to the advising of Urban Studies majors and the Cities Program students. In addition, the fellow is expected to carry out his or her research while participating in and assisting CUGS research projects and activities.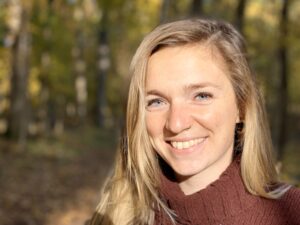 The current Kelter Postdoctoral Fellow in Urban Studies is Keavy McFadden. Dr. McFadden is an urban geographer with specializations in urban development and infrastructure, education, social movements, and community-based research. While completing her PhD at University of Minnesota, Keavy studied the intersection between education and urban politics in Chicago. Politically engaged research is central to her ongoing research agenda, and the theoretical insights of her research are grounded in collaborative research engagements with community-based organizations. Keavy's latest research project explores the entanglements between social reproduction and environmental justice. Keavy's research has been supported by fellowships and grants from the National Science Foundation, the Interdisciplinary Center for the Study of Global Change at University of Minnesota, and the Graduate School of the University of Minnesota. She is also the co-founder and co-editor of AGITATE! Journal, an online, open-access platform that explores the possibilities and challenges of interweaving scholarship, activism, and artistry in search of justice.
Contact: [email protected]
Visiting Rescue Scholar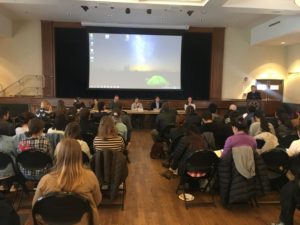 Trinity College's Scholar Rescue Program is a one-year fellowship supported by the International Institute of Education's (IIE) Scholar Rescue Fund and the Scott Michael Johnson '97 Memorial Fund, which was established by a former chairman of Trinity's Board of Trustees, Tom Johnson '62, Hon. '05, P '97, and his wife, Ann. They initiated the fund in honor of their son Scott, a member of the Trinity College Class of 1997 who lost his life in the World Trade Center on September 11, 2001. The Johnson Fund supports rescue scholars while they are in residence at Trinity.  The IIE's Scholar Rescue Fund supports scholars who are suffering severe and targeted threats to their lives and/or careers because of their academic work in their home countries. Scholars are brought to host institutions in safe countries where they can continue their academic work in safety.
CUGS has hosted scholars from the following countries since 2008:
2008-09: Zimbabwe
2010-11: Iran
2011-13: Uzbekistan
2013-15: Iraq
2014-16: Iran
2016-18: Belarus
2018-20: Turkey
2021-23: Venezuela
Thomas Visiting Professorship
The Thomas Visiting Professorship at CUGS officially launched during the 2016-17 Academic Year. It is supported by The Karen and David Thomas China Urban Research and Teaching Endowment at Trinity College set up by former Trustee Karen Kelsey Thomas '78, P'13 and David F. Thomas P'13. With this support, we invite and host one professor from Fudan University to teach one or two courses on general topics related to China at Trinity during each fall semester. The specific focus of the course(s) is determined between the Thomas Visiting Professor from Fudan, CUGS, and the department/program in which the course(s) are listed. Besides teaching, the Thomas visiting Professor carries out research at CUGS, gives one public lecture, and participates in other academic activities related to his or her scholarly interests. The Thomas Visiting Professorship is half of a symmetrical exchange program between Trinity College and Fudan University, also supported by the Thomas Endowment with partial financial support from Fudan University, that sends a Trinity professor to teach two courses at Fudan during each spring semester.
Past Visiting Scholar Programs
Luce Visiting Scholar
Supported by a major grant under the Luce Initiative on Asian Studies and the Environment (LIASE) from the Henry Luce Foundation, we host a visiting scholar from China or Southeast Asia at CUGS for one semester from 2013 to 2017. The Luce Visiting Scholar teaches one course related to the topic of sustainability in Urban Studies and carries his or her research at CUGS. The scholar also gives one public lecture, works with Trinity faculty to strengthen Trinity's educational partnerships in China, especially with Fudan and Tongji Universities in Shanghai, and participates in other academic activities on campus related to his or her scholarly interests. Thus far we have hosted one short-term visiting scholar from Fudan University, two junior scholars from Tongji University, and one British scholar working on agricultural development and nature conservation in the Mekong River basin in Southeast Asia.
Raether Postdoctoral Fellow
From 2008 through the end of 2011, CUGS hosted three recent humanity or social science Ph.D. graduates as the Paul E. Raether Postdoctoral Fellow. Supported by endowed funds for the Center, the postdoctoral fellow taught one undergraduate course in each semester on the comparative issues and challenges facing American and world cities, with a comparative focus on cities of the global South. These courses helped to meet the teaching needs in Trinity's growing urban studies curriculum and were cross-listed between the department of the fellow's discipline and another department/program.