Back to News
Studying Immigrant Welcoming, Disability Employment & High School Absenteeism in the Action Lab
Liberal Arts Action Lab
posted
This past spring semester, the Liberal Arts Action Lab welcomed twenty-four students to three project teams. The upbeat new energy from the fall semester continued as Trinity College and Capital Community College students participated in an Action Research Methods in Hartford course (LAAL 200) and a Hartford Research Project (LAAL 201) each semester. This semester Dr. Ozlem Atalay taught Action Research Methods in Hartford and led one of the three Hartford research project teams. Dr. Laura Minor led the other two project teams. Each team worked with a community partner who posed a pressing question about the city.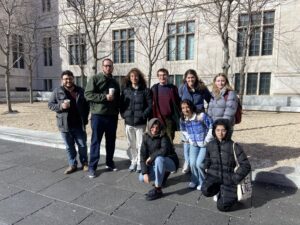 Dr. Minor led the Immigrant Welcoming team with Connecticut's Working Families Party to explore ways to support the needs of Hartford's vibrant immigrant communities. The team members were Trinity students Nora Blamires '26, Marco Bragado '24, Teodora Brnovic '24, Tushna Elavia '25, Otis Klawans '25, Emma Kozak '25, Sara Zahoor '26 and Capital Community College Student Victoria Farrow. Connecticut's Working Families Party sought to investigate the feasibility of an immigrant welcoming center in Hartford and to research what other cities similar to Hartford are doing to welcome immigrants. The team identified several comparison cities with potentially relevant models for Hartford. They found that effective welcoming strategies involve establishing an adequate city infrastructure that supports immigrant needs and allows them to develop social and economic capital to contribute to the broader community. The research team also interviewed community members who worked with Hartford's many immigrant-serving organizations and compiled their feedback to help guide the city's strategy in the future.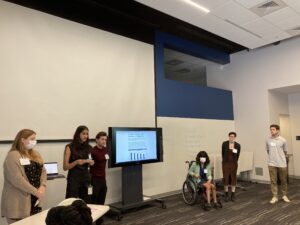 Dr. Atalay led the Disability Employment team and partnered with Harc, Inc. to bridge the gap between employers and employees with disabilities in Hartford area businesses. The team members were Capital Community College students Andy Droney and LaDonna Samuel and Trinity students Liam O'Connor '23, Cameron Partridge '26, Tvisha Singh '26, and Kelly Thomas '24. This project aimed to lift the voices of job seekers with intellectual and developmental disabilities and promote them as equally viable job candidates, inform businesses about the benefits of hiring individuals with disabilities, and spread the word about Harc's services. The team took an individual-centered approach and employed Photovoice as a methodology to gain an in-depth understanding of individuals' experiences and perspectives regarding the role of employment in their life. They identified strategies that can help improve access to meaningful employment opportunities and best practices on inclusive workplaces for people with disabilities.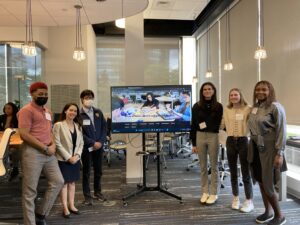 Dr. Minor led the High School Absenteeism team and partnered with the Hartford Public Schools, Administrative & Executive Offices to investigate factors associated with chronic absenteeism in three public high schools in Hartford. The team members were Capital Community College Student Denasia Davis and Trinity students Alicia Anchondo '24, Demi Janis '24, Sophia Jones '24, Deion Kelly '23, Satya Mamdani '26, and Charlie Taing '25. This project aimed to uncover factors contributing to absenteeism by interviewing students who have recently been attendance-challenged and their families. The significant finding of this project was that absenteeism is much more than an individual issue – it is a community issue as well. More prominent societal factors such as food and housing insecurity, lack of adequate transportation and health care, economic challenges, and lack of labor rights all contribute to why a student may find it difficult to attend school. The team also found that immigrant families – of which Hartford has many – can find it challenging to navigate the cultural differences in the new school environment and could benefit from increased communication efforts and a support group.
After a semester of studying methods and learning research design strategies and tools to work with community partners to explore pressing issues, each group presented at the Spring Digital Poster Fair on May 4, 2023. Each team showcased the websites they created for their research that gave an in-depth analysis. Attendees could participate in a Q&A with group members.
If you couldn't attend and want to learn about the projects, you can watch the presentation recap here or below and learn more about each project.