Ozlem Atalay joined the CHER team as postdoctoral fellow in the Liberal Arts Action Lab in early August. Ozlem is a Ph.D. candidate in Urban and Regional Planning at Florida State. Their research focuses on queer spaces and LGBTQ involvement in local planning. They have experience with community engaged research in the US and Turkey. Learn more about Ozlem below.
What is your current position at Trinity and what are you most looking forward to this academic year?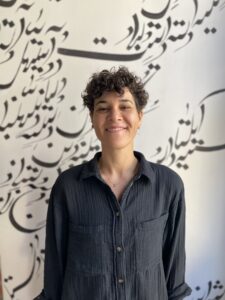 I am a postdoctoral fellow at the Liberal Arts Action Lab (LAAL). I will be teaching two classes to students from Trinity College and Capital Community College. One of the classes I will instruct is a project class that we will bring together students in collaboration with our community partners, Hartford NEXT and three neighborhood revitalization zones (NRZs). We will be researching the economic and social impacts of small businesses on NRZs and making suggestions about the ways in which reciprocal relations between them can be strengthened.
I am looking forward to learning from one another while bringing this and other similar exciting projects to fruition in Hartford, and to connecting with students, community partners and Hartford in general. I am so excited for the synergy that we can create together not only as professors or students at the LAAL but also as members of the Hartford community who value this city and want to contribute it.
What has your educational and professional journey looked like up to this point?
I completed my Bachelor's in urban planning in Istanbul, Turkey where I am from originally. I then got my Master's in urban planning from SUNY at Buffalo where there were long winters full of snow that I enthusiastically biked and miraculously survived without a car for two years! I am working towards finishing my PhD in urban planning at Florida State University (FSU) right now. Over the last 10 years, I have worked in the public and private sectors as an urban planner and research analyst at urban planning and real estate departments. Before coming to the LAAL, I was a research and teaching assistant at FSU where I taught introductory and more advanced urban planning courses.
What do you focus on in your research?
Currently, I am working on my dissertation which is about the participation of LGBTQ+ communities in decision making processes and inclusive city politics in contemporary urban Turkey and the United States. In particular, I am focusing on LGBTQ+ Advisory Boards to understand what kind of effects they produce towards what forms of social change.
My broader research focuses on queer life and queer spaces across the Global North and South in the pursuit of discovering different meanings, formations and conceptualizations of gayborhoods as well as understanding the phases and experiences they go through under the effects of gentrification and neighborhood change.
What are your favorite books or podcasts?
Oh, many! But, one that I read a couple of times since my high school years is "Moon Palace" by Paul Auster. And just before I knew I would move to Hartford, I read "On Earth We're Briefly Gorgeous," which presents memories and fragments from its author Ocean Vuong's life across Hartford, gives glimpses of being an immigrant, and shares experiences of being a single mom. It was a gift to me from my partner. It just became one of my favorites.
What are your interests and passions?
My interests and passions are discovering neighborhoods in different cities and countries through rural and urban settings; observing, learning and understanding how people make their lives through different states of being, experiences and challenges. I am always so excited and curious about this dynamic between us and spaces around us, spaces we occupy. I am passionate about asking questions and understanding in what ways we shape each other and how we can keep this dynamic in a way that does not do harm.