Back to News
Liberal Arts Action Lab Researches Youth Diversity, Small Businesses, and Inclusive Museums
Liberal Arts Action Lab
posted
This past fall semester, the Liberal Arts Action Lab welcomed new community partners, an interim director, and a postdoctoral fellow. The new energy contributed to the Action Lab's continued work, where Trinity and Capital Community College students partake in an Action Research Methods in Hartford course (LAAL 200) and a Hartford Research Project (LAAL 201) each semester. Postdoctoral fellow Professor Ozlem Atalay taught Action Research Methods in Hartford and led one of the three Hartford research projects. Interim Director Professor Laura Minor led the other two projects. Each team worked with a community partner who posed a pressing question about the city.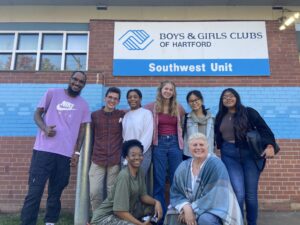 Professor Minor led the Youth Diversity and Equity team with the Boys and Girls Club of Hartford (BGH) to investigate ways to amplify the organization's social justice and racial equity programming. The team members were Trinity students Jack McPhail, Maria Vicuna, Anna Grant-Bolton, Selina Deng, Aliya Prosser, and Capital Student Reina Wisdom. BGH sought to understand how to implement inclusive after school programming with marginalized youth. The team identified best practices in culturally responsive after school programming and created an activity library in line with best practices. View the team website to learn more about their findings: https://action-lab.org/youth-diversity/
Team member Anna Grant-Bolton '25 says, "As part of the Liberal Arts Action Lab Boys & Girls Club team this semester, I had the opportunity to engage directly with a local issue that I care about: cultural responsiveness in youth programming. During the semester, our team visited Boys and Girls Club Locations, met with staff members, delved into the literature on cultural responsiveness in afterschool activities, and created, disseminated, and analyzed a digital survey on the BGCH's cultural programming. The Liberal Arts Action Lab provided me the opportunity to support a local organization advancing justice in Hartford while equipping me with the practical skills that are critical to effective community-based research."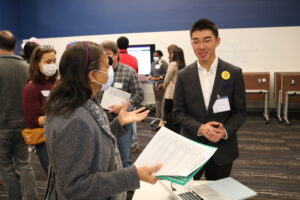 Professor Atalay led the Hartford Small Business team. The team partnered with Hartford NEXT to understand the value small businesses bring to residents across Hartford's neighborhoods and the challenges small businesses in the city face. The team members were Capital students Shanessa Gordon and Steve Smith and Trinity student Jiahe Zong '25. The team conducted an analysis of publicly available data and 14 semi-structured interviews. The findings included information on the distribution of business types, the challenges and support systems of small businesses, and their awareness of the NRZs. The team created great maps connecting Hartford neighborhood boundaries to census tract/block group boundaries and generated business contact lists for the NRZs in three neighborhoods. View the project website: https://action-lab.org/small-business/
Dr. Minor led the Inclusive Museums team and partnered with the Connecticut Historical Society (CHS) to learn what makes young adults in and around Hartford more likely to visit the museum and how CHS can reduce barriers to accessing the museum. The team members were Trinity students Joe He, Kendall Dorsey, and Yuna Dai, and Capital Students Joy Lee, Jacob Graf, and Ericka Salazar. The team designed and distributed a survey to residents and conducted informal interviews with Hartford young adults. The team identified best practices in university museum youth inclusion and collected survey and interview data to generate recommendations for how these could work in the Hartford context. View the project website: https://action-lab.org/inclusive-museum/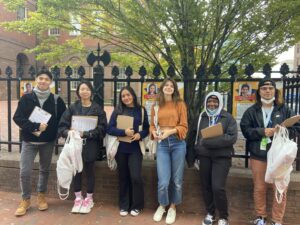 Team member Joe He says, "To me, the Liberal Arts Action Lab is a valuable community research opportunity. It helped me establish an understanding of how to design, conduct, and present research. During the process, I was excited about how we, as a research group, came together to shape the research direction and communicate with community partners in real life."
After a semester of studying methods and learning research design strategies to work with community partners to explore pressing issues, each group presented at the Fall Digital Poster Fair, held on December 14th, 2022. Each team showcased the websites they created for their research that gave an in-depth analysis. Attendees asked questions and engaged with group members.
If you couldn't attend and want to learn about the projects, you can watch the presentation recap below and learn more about each project.