Being a Bantam is a family affair—we talked to one family with multiple generations in Blue and Gold.
Two Generations of Twins Make Bantam Pride a Family Tradition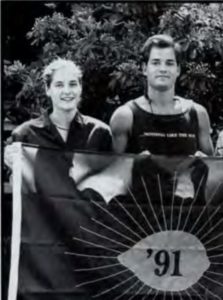 When Andrew Halpern '91 and Robin Halpern Cavanaugh '91 came to Trinity in 1987, they came with something many of their peers did not have—a sibling starting at the same time. Robin and Andrew are twins, and their first day, years ago, started a multigenerational relationship with the college. Robin and her husband Michael Cavanaugh '90 now have twins, Aidan '23 and Charlie Cavanaugh '23, who are in their first-year at Trinity and have followed in their parents' and uncle Andrew's footsteps.
The Trinity story began for Andrew and Robin when their older brother decided to look at Trinity while searching for colleges. They tagged along on the tour. "It was pouring rain," Robin said, "and everyone was happy!" That rainy day full of smiling faces was all it took for her and her twin brother to consider Trinity for their own college search a year later.
Though they had lived together all their lives, when they got to Trinity they had their own separate spaces and were able to build their own networks. "Immediately we had double the friends!" Robin explained. Being from Maine, they enjoyed the urban setting Trinity offered, and benefited from it when it came time to venture into the workplace. Both had internships in Hartford during their tenure at Trinity, and they remain deeply connected to their friends from their alma mater—Robin is both a class agent and a former member of the Trinity College Alumni Association. She is also a former Funston Trustee of the college and former president of both the New York City and Boston alumni clubs. Mike attests that most of the jobs he has had has come from a Trinity connection. They admit they were a little biased in encouraging their children to attend Trinity, but only because they knew it could offer an exceptional experience, both as students and as alumni.
Robin said her children grew up coming to Trinity, and that Aidan and Charlie knew they liked being in Hartford and were comfortable at Trinity. "One applied one day, and the other applied the next day—but they didn't tell each other until after," she recounted. Now, the Cavanaugh twins have continued the family tradition, joining the class of 2023. They are athletes, and were excited to come to Trinity where there is an active club rugby team. On move-in day, their parents were able to enjoy dropping their sons off to live in the same dorms they lived in while they were students. Charlie and Aidan also see their uncle Andrew when he is in town visiting campus.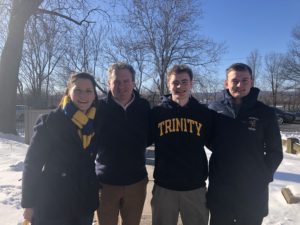 For Aidan and Charlie, being at Trinity is exciting for many reasons. "It means a lot to be here at Trinity, not just because it is a renowned college, but because both of my parents also went here…I have the ability to follow in my mom and dad's footsteps here at Trinity," Aidan shared. His brother Charlie added "I have been a loyal Bantam for as long as I can remember. In my opinion, one of the best things about Trinity is the strong alumni network. After I graduate, I hope to be an active alum just like my parents. Maybe one day my own children will become Bantams!" Both are enthusiastic about one day joining their parents as alumni, and being able to experience Trinity over multiple generations of their family.
The Cavanaughs are not the only twins joining Trinity this year. In fact, there are at least six sets of Trinity twins on campus as freshman—meaning there may be a lot of  "seeing double" for the next four years.
"I have been a loyal Bantam for as long as I can remember. In my opinion, one of the best things about Trinity is the strong alumni network. After I graduate, I hope to be an active alum just like my parents. Maybe one day my own children will become Bantams!"

Charlie Cavanaugh

Class of 2023