After 60 years, Bill Scully '61 still has a strong bond to Trinity College. Whether planning a get-together of the cluster of Bantams in his neighborhood in Florida, or a reunion gathering "'neath the Elms," Scully and his wife Marlynn are deeply connected to the Trinity community. He is a member of Alpha Delta Phi fraternity, and his fellow fraternity brothers and classmates have remained close. They gather when they can, and remain connected by the many life experiences they have shared in the years since leaving Trinity.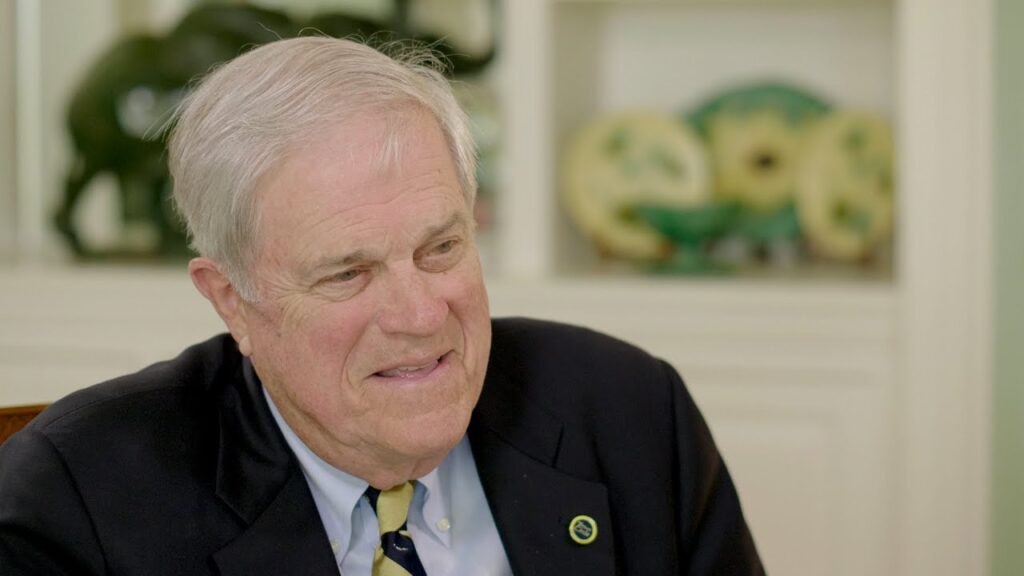 It is these bonds that have driven Scully's philanthropy. He gives to Trinity to honor his Trinity classmates who were a formative part of his growth during the critical years of his life. He began by honoring those who were called to serve in the military during the tumultuous period of the 1960s. "We started this at the 50th Reunion, with the first Vietnam Veterans Recognition Fund," he said. The fund was a way to honor his Trinity friends who served during the war. Two never returned, and others came home to a less than warm welcome. "They were treated terribly, and that was a travesty," said Scully. To pay homage to these friends who gave so much for their country, Scully created the fund to provide scholarship support for new generations of Trinity students.
He has since created several other scholarship funds including a second Vietnam Veterans Recognition Fund. As he sees it, it's a "three-for-one deal." "When you do something like what we have done, you're adding to the college endowment, you're honoring these Trinity guys who have the scholarships named after them, and you're giving a highly-qualified student a chance to go to a great school."
In all, Bill and Marlynn have created scholarships celebrating fifteen Trinity undergraduates and former administrators. The group of Vietnam veterans he has honored includes recipients of the Bronze Star, the Purple Heart, and the Navy Cross: Jeffrey Chandor '64; Michael Getlin '62; William O. Frawley, '60;  Dr. Warren Kessler '62; George P, Lynch '61; Thomas D. Reese, Jr. '61; Jon Reynolds '59; Judson Robert '62; Shep Spink '62; Ron Joyce, form Vice President for Advancement from 2005-2012. The Scullys have also created a fund in honor of O.W. Lacy, former Dean of Students.
A recent "three-for-one," to celebrate his forthcoming 60th Reunion was the addition of another endowment fund, this time honoring Trin Hall of Famer Roger Leclerc '60; and another gift adding a significant boost to the first Vietnam Veterans Recognition Fund.
Scully believes athletics can play an important role in the development of undergraduates. Many of the recipients of his scholarship funds are scholar-athletes. The Scullys have also established endowment funds to support the operating budgets of Men's intercollegiate golf and basketball. More recently, he established another endowed fund to support football, honoring classmates Kenneth (Ken) C. Cromwell '61, Thornton (Tony) G. Sanders '61, both stellar athletes from the class of '61.
He hopes others will join him in using this powerful act of kindness to make students' financial obligations less onerous, and to honor those that came before. He is hopeful about Trinity's future, noting that he wishes to see greater progress in lightening students' financial burdens as they pursue their education.  "I am a firm believer," he notes, "because the endowment is important and people need help. This is a path other alums and classes can follow."
For those interested in joining him in this effort, learn more about giving to support financial aid by contacting the Trinity College Office of Advancement.