Juan Hernandez '13, M'15
Hometown: Chicago, Illinois
Major: Political Science and History
Additional Education: M.A. Public Policy '15, Trinity College
Doctorate Degree at University of Hartford, expected May '21
Current Profession: Director, Myatt Center for Diversity & Inclusion, University of New Haven
Extracurricular Activities at Trinity: Men of Color Alliance (MOCA), La Voz Latina (LVL), Student Government

Q&A with Juan
I appreciated Trinity as a small setting. I was not prepared to attend a large university, so Trinity's size was perfect. I also strongly preferred an institution that was in an urban setting like Hartford.
Posse prepared me to have some of the most difficult conversations I had on campus. Navigating Trinity's campus isn't always the easiest thing to do when you come from Chicago and your high school was majority people of color. Posse provided me with the tools to adjust and to prosper.
My favorite Trinity experience was having to walk from the south side of the campus all the way to the Umoja House or to La Eracra for an LVL or MOCA meeting. With MOCA in mind, those men will be my groomsmen at my wedding.
Taniqua K. Huguley '15, M'17
Hometown: Queens, NY
Major: Sociology
Minor: Legal Studies
Additional Education: M.A. Public Policy '17, Trinity College
Current Profession: Outreach Director, Open Communities Alliance
Recent Recognition: U.S. Fulbright Student Research Program, "50 for the Next 50" at Trinity College, Hartford's Finest 100 Women of Color
Extracurricular Activities at Trinity: Trinity College Black Women's Organization (TCBWO, President), Students Who Achieve Greatness (SWAGG, Founder and mentor), Multicultural Recruitment Team Intern, Umoja House (Cultural House Coordinator), Alumni Relations (Student Alumni Ambassador and Student Manager)
Research or Internships while at Trinity: , Trinity's Legislative Internship with the Connecticut General Assembly, Senior Research Project, Master's Research Project

Q&A with Taniqua
-Posse
-Office of Multicultural Affairs seemed like they created a safe, close, and welcoming community
-Admissions Office did extensive outreach to prospective applicants
-Located in a city
-Liberal Arts education
My Posse was the glue to my Trinity experience. My posse was one of my biggest support systems. We remained close while at Trinity, and we are still close today.
– Late night bistro (alternative campus dining option)
– During my first semester, I took a Sociology course with Dr. Johnny Williams. This was a life-changing experience!
– Welcome back parties for Trinity alumni
Be sure to take advantage of resources on campus and in the city of Hartford.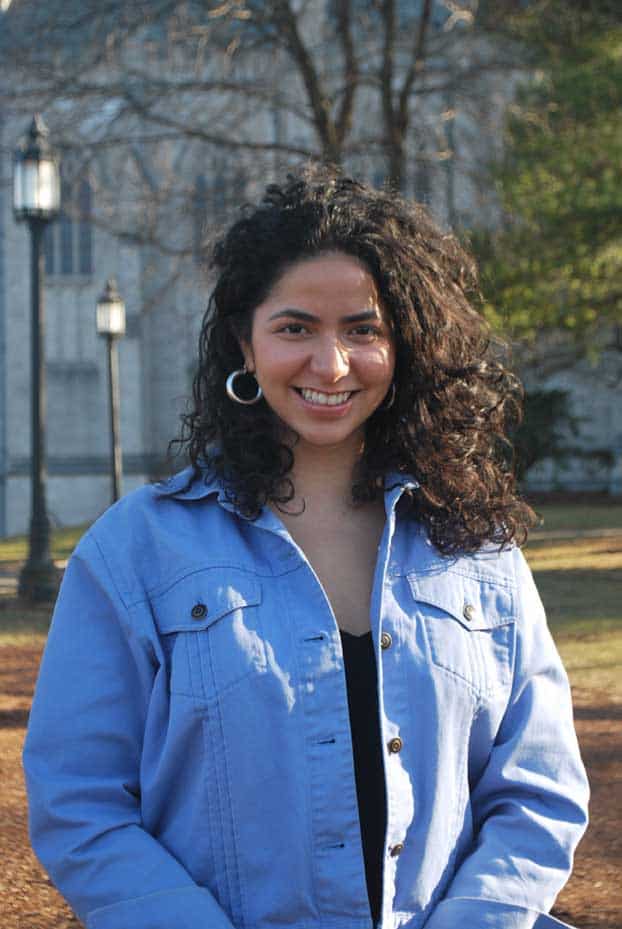 Neve Rivera '20
Hometown: Chicago, IL
Major: International Studies and Educational Studies
Current Profession: Diverse Learner Teacher at Tarkington School of Excellence in Chicago, IL
Recent Recognition: Recipient of the Trinity College Jonathan Levin Prize in Education 2020
Extracurricular Activities at Trinity: Student Admissions Associate, La Voz Latina (President), First-Year Mentor
Research or Internships while at Trinity: Educational Studies Thesis (fall 2019), Multicultural Recruitment Team Intern (2017-2020), Urban Education Leaders Internship Program with DC Public Schools (summer 2018), Intern for AMUMRA (Grassroots Organization for Migrant and Refugee Women in Argentina, summer 2019)

Q&A with Neve
Trinity was a strong fit for me during my college search process because I wanted to join a community that valued an intimate learning experience through small class sizes. I was also seeking a campus that encourages students to explore and get engaged. Whether that was through various opportunities to study away, attending off-campus outings to connect with the greater Hartford community, or exploring various career opportunities offered through the Center for Student Success and Career Development, I knew I would not be bored at Trinity and living in the city of Hartford, CT.
Posse gave me an open door to step into a life experience very far from anything any of my family members have experienced. As a first-generation student at Trinity, I discovered life mentors and friends who serve as my support system through my career exploration and world travels, and who encourage me to be the best version of myself everyday. Posse taught me that I can achieve anything I set my mind to. Doors will open, support will come, and I, too, deserve a seat at the table.
One of my favorite Trinity experiences dates back to my first year of college during J-Term (January Term) 2016. My first-year seminar focused on the people and cultures of the Himalayas, and then concluded with a two-week excursion through the city of Kathmandu and the Himalayan Mountains. I traveled with my peers, professors, and first-year mentor to a country I never imagined myself stepping foot in. I still get goosebumps reflecting back on this trip because of the unforgettable, precious moments I spent with a group of 15 members of Trinity College. We spent nights looking up at the stars in complete awe, hours of trekking in high elevation unsure if we could make it to the finish line, and countless moments of gratitude for the beautiful wonders of the world. I knew I was blessed to be part of such a unique experience thanks to Trinity.
Chase your curiosities in life. Never stop asking questions, do not forget to pause to reflect, and embrace all of your accomplishments. Do not be afraid to fail because those are prized moments of new knowledge and growth.