The first joint Trinity-Infosys program, Business Analysis for Digital Transformation, provides new Infosys hires with eight weeks of training, uniquely fusing business analysis, design thinking, liberal arts skills, and foundational technology.
Program information:
Trainees come from across the country; most are recent graduates.  Some will stay to work at Infosys's innovation hub in Hartford, while others will be assigned nationally.

Trinity faculty and staff are deeply engaged in the first five weeks of the program.  They teach modules, reinforcing the power of liberal arts skills and inspiring creative thinking.
Our partners at the CT Data Collaborative offer a half-day workshop, showcasing the area's resources.

 

Learn more about how recent Trinity graduates like Wilfried Tentchou '09 are applying their liberal arts education as business analysts at Infosys.
Informed by the IIBA and the liberal arts, Infosys employees are equipped to bridge the gap between IT and business needs by assessing processes, determining requirements and delivering data-driven recommendations and reports to stakeholders.

---
Digital badge: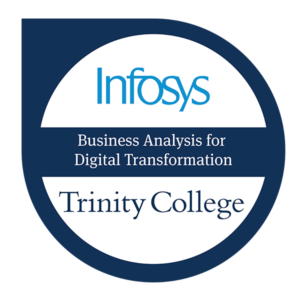 Program completion is recognized with a digital badge that can be published on social media such as LinkedIn and/or listed in resumes.