John Rose College Organist-and-Directorship Distinguished Chair of Chapel Music and Adjunct Professor of Music, ex officio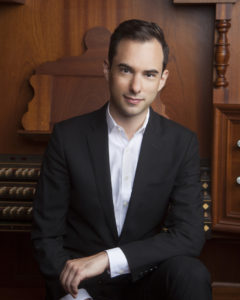 The organist Christopher Houlihan has established an international reputation as an "intelligently virtuoso musician" (Gramophone), hailed for his "glowing, miraculously life-affirming performances" (Los Angeles Times).
A graduate of Trinity, Houlihan has held the John Rose College Organist-and-Directorship Distinguished Chair of Chapel Music since 2017, succeeding his former teacher, John Rose. Houlihan is Adjunct Professor of Music and teaches an active studio of organists, many of whom gain co-curricular experience in performance opportunities in services and concerts at the Chapel. He also presents the annual Trinity Organ Series, inviting prominent organists to perform on Trinity's landmark pipe organ.
Professor Houlihan is director of The Chapel Singers, Trinity's oldest student organization. Under his direction the choir has begun offering a monthly service of choral Evensong, presented concerts on campus as well as in downtown Hartford, and released a recording of music sung at Trinity's popular Christmas Festival of Lessons and Carols. Recent performances include Bernstein's Chichester Psalms and Jonathan Dove's Missa Brevis.
Houlihan maintains an active concert career, offering solo recitals and making appearances with orchestras throughout the country and internationally. He has performed at Disney Concert Hall with principal brass of the Los Angeles Philharmonic; the Kimmel Center in Philadelphia, presented by the Philadelphia Orchestra; and at the Kennedy Center in Washington, D.C., presented by the National Symphony Orchestra.
His performances with orchestra include Barber's Toccata Festiva with the Hartford Symphony (Edward Cumming, conductor), Saint-Saëns' Symphony No. 3 and Poulenc's Organ Concerto with the Columbus (GA) Symphony (George Del Gobbo, conductor), and the Organ Concerto by Robert Edward Smith with the Boston Chamber Orchestra (David Feltner, conductor).
Christopher Houlihan has appeared in recital at celebrated venues across North America and Europe including the Cathedral of Notre-Dame de Paris, Glasgow Cathedral in Scotland, and San Francisco's Grace Cathedral and Davies Symphony Hall, as well as at numerous conventions of the American Guild of Organists and the Organ Historical Society. In 2017 he was a featured performer at the closing concert of the AGO Southeast Regional Convention at Jacoby Symphony Hall in Jacksonville, where he presented the world premiere of Hannah Lash's Ludus. In 2014, Houlihan performed in a prime-time slot of WQXR's All-Day Bach Organ Marathon in New York City which was webcast live and seen by thousands. Houlihan's "Vierne 2012" tour attracted international attention and critical acclaim for his marathon performances of the six organ symphonies of Louis Vierne in six major North American cities. The Los Angeles Times called his performance there "a major surprise of the summer, a true revelation."
He is a board member of the Albert Schweitzer Organ Festival Hartford, a nationally respected organ competition in residence at Trinity College. The opening concert of the 2019 festival will feature Houlihan as soloist with the Hartford Symphony Orchestra (Carolyn Kuan, music director), including a performance of Joseph Jongen's Symphonie Concertante. Other notable upcoming appearances include a recital featuring Louis Vierne's Sixth Symphony at St. Paul's Cathedral, London in October 2020.
In 2017, Houlihan released Christopher Houlihan plays Bach (Azica). Recorded at Trinity College, the CD was praised by The Whole Note as "playful, celebratory and sparkling with color" and by American Record Guide which stated, "there's no denying Houlihan's extraordinary achievement." A forthcoming release from Azica features music of César Franck and Louis Vierne.
Prior to his current appointment he was an artist-in-residence at Trinity, as well as director of music and organist at the Church of the Holy Apostles in New York City.
Houlihan studied with the Grammy Award-winning organist Paul Jacobs at The Juilliard School, where he earned a master's degree, and with Jean-Baptiste Robin at the French National Regional Conservatory in Versailles. In 2015 he was selected for The Diapason's "20 Under 30," a distinguished list of leaders in the organ world.
More information is at ChristopherHoulihan.com.​
Contact: christopher.houlihan@trincoll.edu