Minister of Music to the Gospel Choir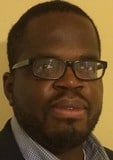 The Trinity College Gospel Choir (TCGC), which began in 1988, is dedicated to gospel music and the spiritual expression of African-American church traditions. As one of its two part-time directors, John Hayes teaches gospel music to the Choir members, leads weekly rehearsals, and accompanies the Choir on piano. Since taking on this role in 2004, Hayes has seen TCGC expand its presence on campus.
"Each year, we're seeing that more and more people are embracing what this choir brings to the campus," says Hayes. "It is gratifying to see how moved people are once they come and experience the music and the emotion beneath it."
Hayes grew up surrounded by gospel music. He learned it on Sundays at Ebenezer Gospel Assembly in Bridgeport, Connecticut, where his father serves as pastor. Today, the younger Hayes is the church's assistant minister of music, and has been playing piano for the past 12 years.
John Hayes holds a bachelor of science in Management Information Systems from Central Connecticut State University.