Protect the Nest
Throughout the spring semester, all students, faculty, and staff who are on campus will be tested regularly for COVID-19. This testing of asymptomatic individuals, known as surveillance testing, will help keep our community safe by identifying potential cases of COVID-19.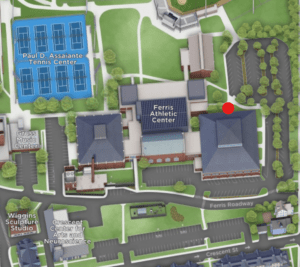 The college is providing this testing at no cost in a testing center on campus located in the Memorial Field House of the Ferris Athletic Center. Enter the facility via the doors on the north side of the building (red dot) and follow the one-way signs through the testing process to the exit.
Surveillance testing is performed by appointment only. Please review carefully the important information below about the testing process.
Overview of Testing Process
Before arriving at the testing center
Confirm that you are feeling well and not experiencing any COVID-19 symptoms.
Do not proceed to the testing center if you are experiencing symptoms—instead, students should contact the Health Center via phone and employees should follow the protocol for becoming ill while at work.
Bring your Trinity ID card.
At the testing center
First blow your nose outside the field house under the tent (if you haven't already blown your nose at your residence or in your vehicle).
Use the provided hand sanitizer.
Maintain social distancing by waiting in line at each step on the yellow "stand here" dots.
At the registration station, receive your collection tube and confirm that your name and details are printed correctly on the label.
Proceed to the collection station where a trained staff member will guide you through the self-administration steps to collect your sample.
After swabbing your nose for your sample, place your swab in the collection tube, seal the tube with the provided rubber stopper and place the sealed tube in the collection bin.
The entire process should take about 15 minutes.
Overview Video [contains audio]: