Protect the Nest
Testing will take place in the Ferris Athletic Center from 10:00 a.m. – 4:00 p.m., beginning January 24, 2022 the hours will be 9:30 a.m. – 4:00 p.m.
All students will be tested weekly, appointments for a test are not required; all tests will be walk-ups and we will not utilize the CoVerified app. Once test results are determined, you will receive an email notification and view results via a web portal.
Wednesdays will be set aside for employee testing.
We will monitor the health and safety of community and modify our testing plans if needed.
Trinity has partnered with the Clinical Research Sequencing Platform (CRSP) of the Broad Institute of MIT and Harvard to support our COVID-19 Testing Program. This clinical testing laboratory analyzes specimens collected via nasal swab using their RT-PCR diagnostic assay for in vitro qualitative detection of SARS-CoV-2, the virus that causes COVID-19.
Review the Patient Fact Sheet for more information about the test.
The test procedure is quick and easy, and produces a minimal amount of discomfort. Using a short nasal swab with a soft tip, you will collect your own sample.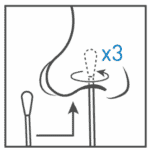 You will insert the swab inside one nostril only until the soft tip is no longer visible. After rotating the swab in a circle around the inside edge of your nostril at least three times, you will then repeat this step with your other nostril.
See the video below for an overview of the process.
We anticipate that most results will be available within 36 hours of specimen collection; however, during peak periods, results may be delayed 40 hours or more.
When your test result is ready, the lab will send you an automated email. Follow the instructions and link in the message to log in to the lab's patient portal. Upon your first visit to the website, you will need to register for an account. Note: the lab's portal does not use your standard Trinity username and password.
You can download a PDF of your test result report by clicking the "Save" button in the upper right-hand corner.
See below for instructions to reset your password.
In rare cases, a test result may be inconclusive or the laboratory may be unable to process a particular specimen. In the event of such a circumstance, you will be contacted by the Testing Center with instructions about your next test. Because a result was not available from this test, you may need to be retested sooner than your next scheduled test.
All students who are living on campus, taking in-person classes, or who will be on campus for any reason must participate in the surveillance testing program.
All employees who are working on campus are required to be tested weekly at the Testing Center.
Yes. All employees, regardless of vaccination status, are required to be tested as detailed above.
Contact Information & Technical Support
To reset your password to the lab's patient portal, follow this link.
If you are unable to complete the password reset, contact the lab's technical support team via the contact information on that password reset page. Trinity staff are unable to reset passwords.
Note: the lab's portal does not use your standard Trinity username and password.
Students: Contact the Health Center.
Employees: Contact your healthcare provider.