Protect the Nest
For students living on campus this summer, the Health Center will be open Monday through Friday, 9:00 a.m. through 1:00 p.m. Please come to the Health Center for COVID tests. (The testing trailer will be closed at this time.)
If you test positive for COVID after business hours or on weekends, please inform the healthcenter@trincoll.edu so you can receive instructions on what steps to take. Employees working on campus this summer should report a positive COVID test result to Kate Durante, associate director of human resources, at Kate.durante@trincoll.edu.
As of April 4, 2022, we have discontinued PCR surveillance testing. Students living on campus this summer should come to the Health Center for COVID tests. (The testing trailer will be closed at this time.) The Health Center will be open Monday through Friday, 9:00 a.m. through 1:00 p.m.
The test procedure is quick and easy, and produces a minimal amount of discomfort. Using a short nasal swab with a soft tip, you will collect your own sample.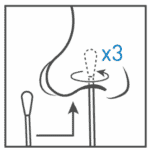 You will insert the swab inside one nostril only until the soft tip is no longer visible. After rotating the swab in a circle around the inside edge of your nostril at least three times, you will then repeat this step with your other nostril.
Rapid test results are usually available in under half an hour. You will be notified by phone only if the results are positive. You will be notified of a negative result.
Students: Contact the Health Center.
Employees: Contact your healthcare provider.