Back to News
Trinity College Welcomes the Class of 2023
Trinity Community
posted
by Andrew J. Concatelli
Arriving on campus this week, the members of the Class of 2023 already hold a special significance in the story of Trinity College: these are the students who will graduate in the bicentennial year of the college, which was founded in 1823.
Trinity is currently welcoming more than 600 new students, including 582 first-year students in the Class of 2023, 17 transfer students, and nine new Individualized Degree Program (IDP) students.
"Our college community is ecstatic to welcome all of our new students and their families," said Trinity College President Joanne Berger-Sweeney. "The rich and diverse experiences they bring will add to the vibrancy of our campus community and propel Trinity as we continue to climb to our Summit. I am proud to welcome them to campus and look forward to watching them reach their academic, athletic, and personal goals."
The Class of 2023 at a Glance:
582 first-year students
53 percent men and 47 percent women
13 percent international students; with the arrival of this class, 76 countries are now represented in the overall student body—the most ever at Trinity
Record-setting 17 percent first-generation students (who would be the first members of their families to earn a four-year college degree)
24 percent domestic students of color
Includes students from 32 U.S. states
85 students from Connecticut
Scholars include four Presidential Scholars, 37 1823 Scholars, 10 Global Scholars, 10 Posse Scholars from Chicago, and seven Davis United World College Scholars
43 percent of the students in the class are at the top of Trinity's academic rating scale
Drawn from an applicant pool of 6,121 students—up from last year's applicant pool
The Class of 2023 also includes 13 students who are beginning their Trinity journeys in San José, Costa Rica, through the new Global Start program, which allows them to explore global issues of all kinds. The students are spending their first semester of college living and learning in the vibrant capital city while they engage with fellow Trinity students, international students, their Trinity professor, and Costa Rican faculty and community organizations before returning to the Hartford campus in the spring.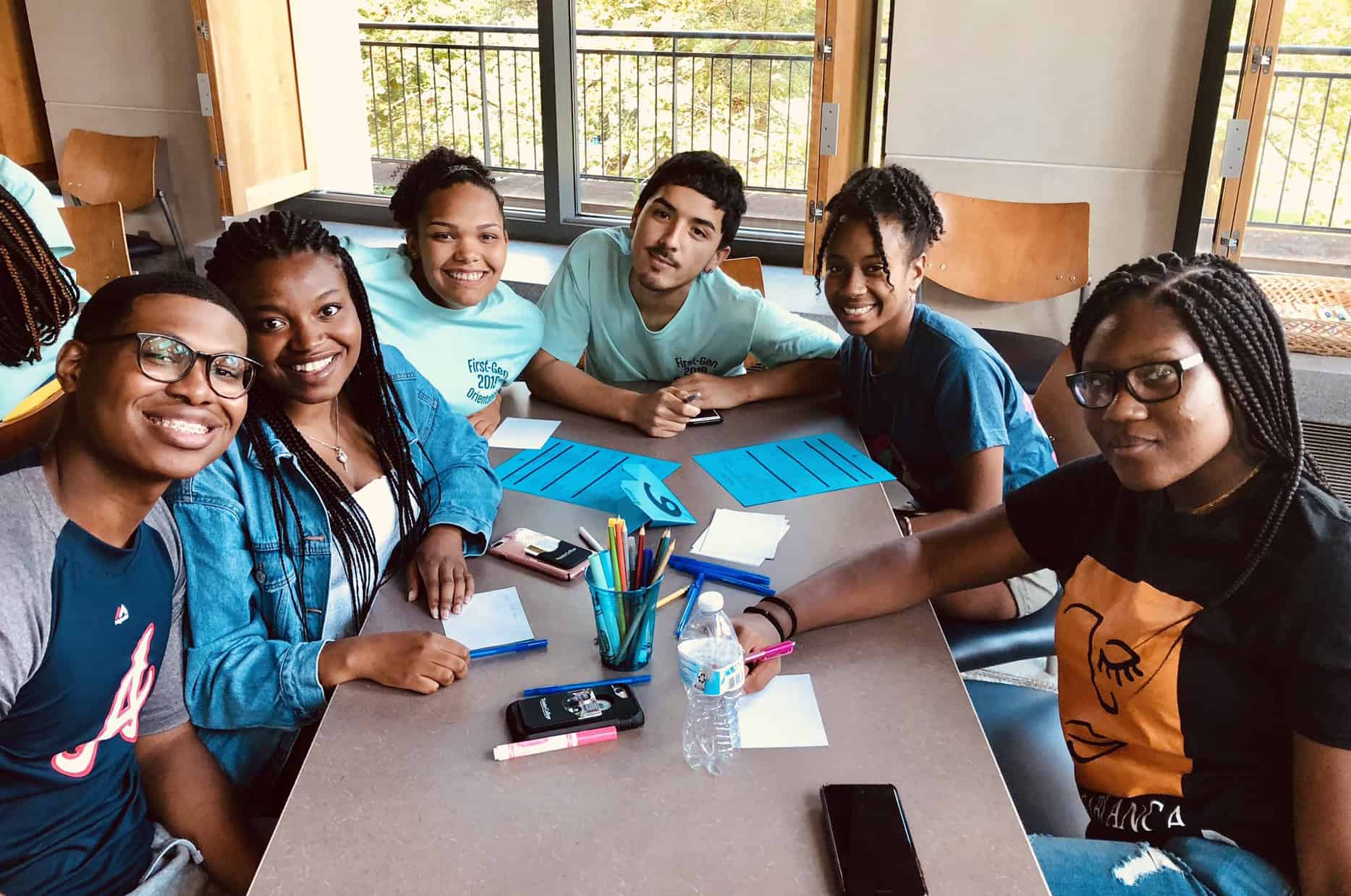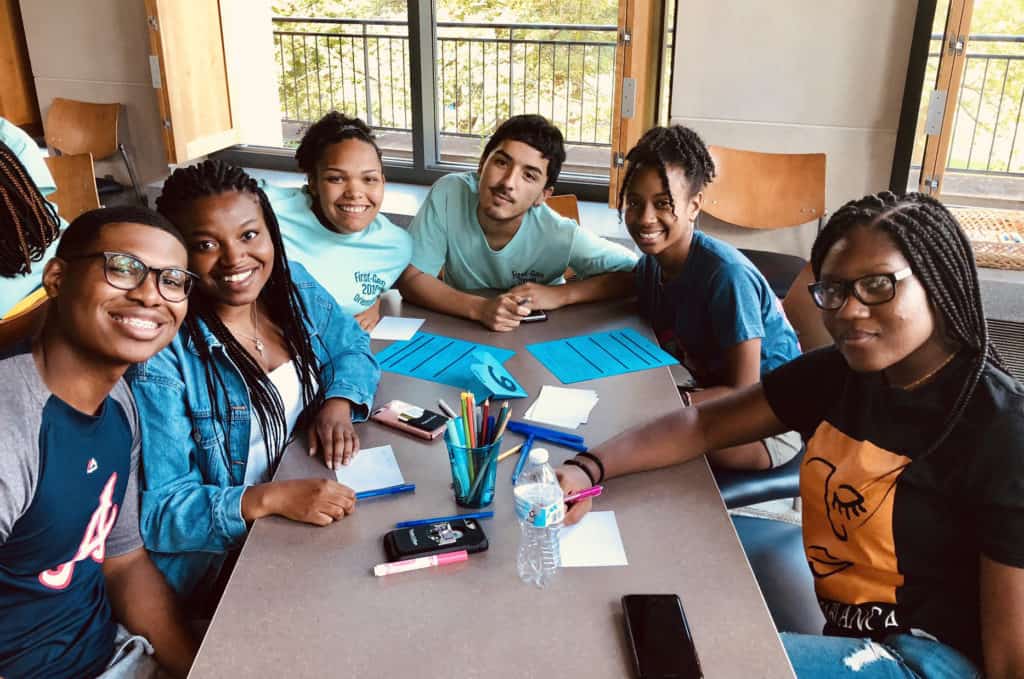 Vice President for Enrollment and Student Success Angel B. Pérez said, "This is an extraordinary experience for our students. Trinity is so passionate about internationalization and Global Start really brings that idea to life."
Students now entering Trinity from all over the world bring with them a rich diversity of experiences, perspectives, and opinions, Pérez noted. "I think that's the beauty of the residential liberal arts experience," he said. "People with all of these fascinating backgrounds learn from each other, and I think given where we are in the world politically, there is nothing more important than that. These students will come together and figure out how to speak across differences."
What's in Store for New Students:
Trinity is encouraging all new students to make the most of their time 'Neath the Elms by participating in New Student Orientation and Pre-Orientation programs led by fellow students, faculty and staff members, and representatives from local community organizations. Many activities are designed to help new students get acquainted with Trinity and their new home city of Hartford.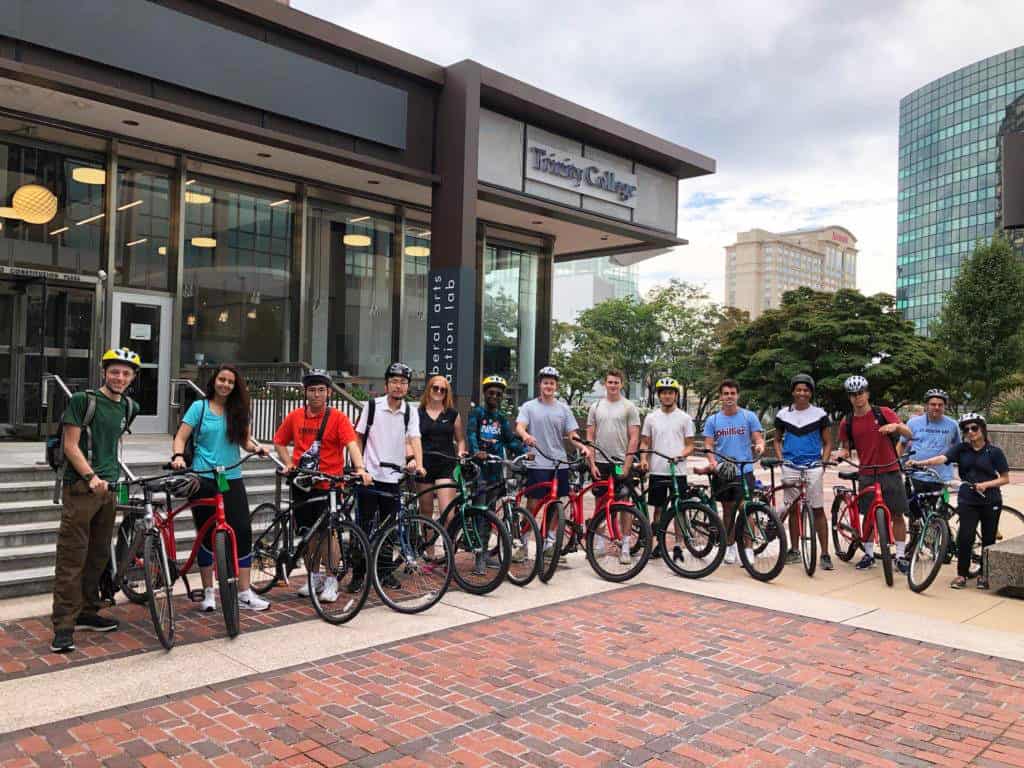 Under the guidance of the Student Activities, Involvement & Leadership (S.A.I.L.) Office, New Student Orientation Chairs Danyel Hudson '20, Kate Lucas '20, and Connor Wilde '21 are coordinating the work of 36 upper-year students serving as Orientation leaders. Hudson said, "I want to make this the best experience possible for every new student, since this is where they're going to spend the next four years. I want to expose them to Hartford because Hartford has so many opportunities and there are so many things you can do."
With new students coming from such diverse backgrounds, Lucas said that a big part of the job for Orientation leaders is to be ready to encounter new situations. "The Orientation leaders are open to new experiences, and I think that's what makes a difference for new students," said Lucas, who also was a New Student Orientation chair last year.
Wilde added that Orientation is a time for new students to receive lots of practical information, such as the meanings of Trinity-centric acronyms or where certain buildings are located on campus. "It's about trying to make sure that everyone feels connected," Wilde said. To that end, S.A.I.L. is promoting dozens of "Welcome Weeks" events on campus, in an effort to keep all students informed about the variety of things to do and groups to explore as the semester begins.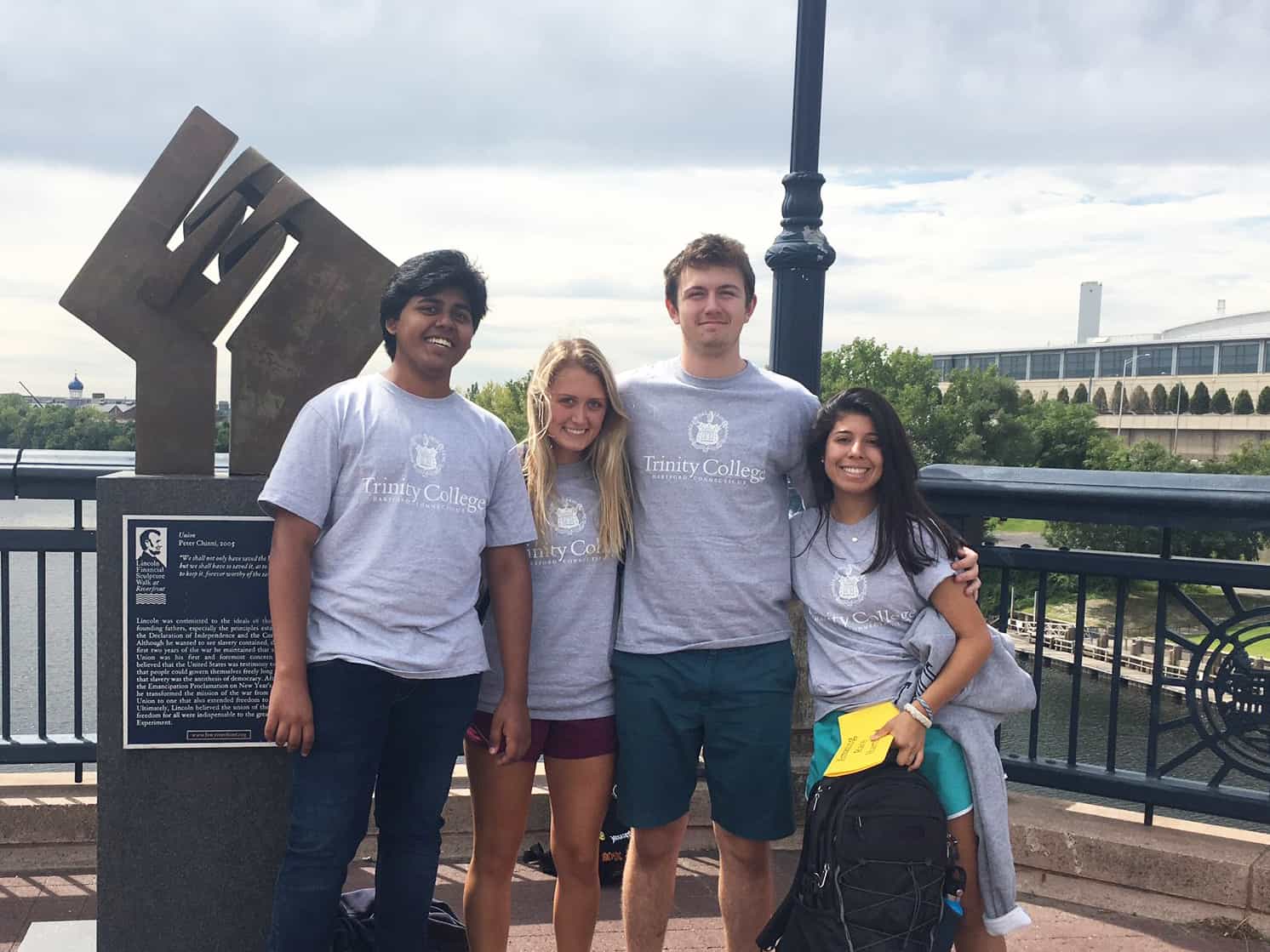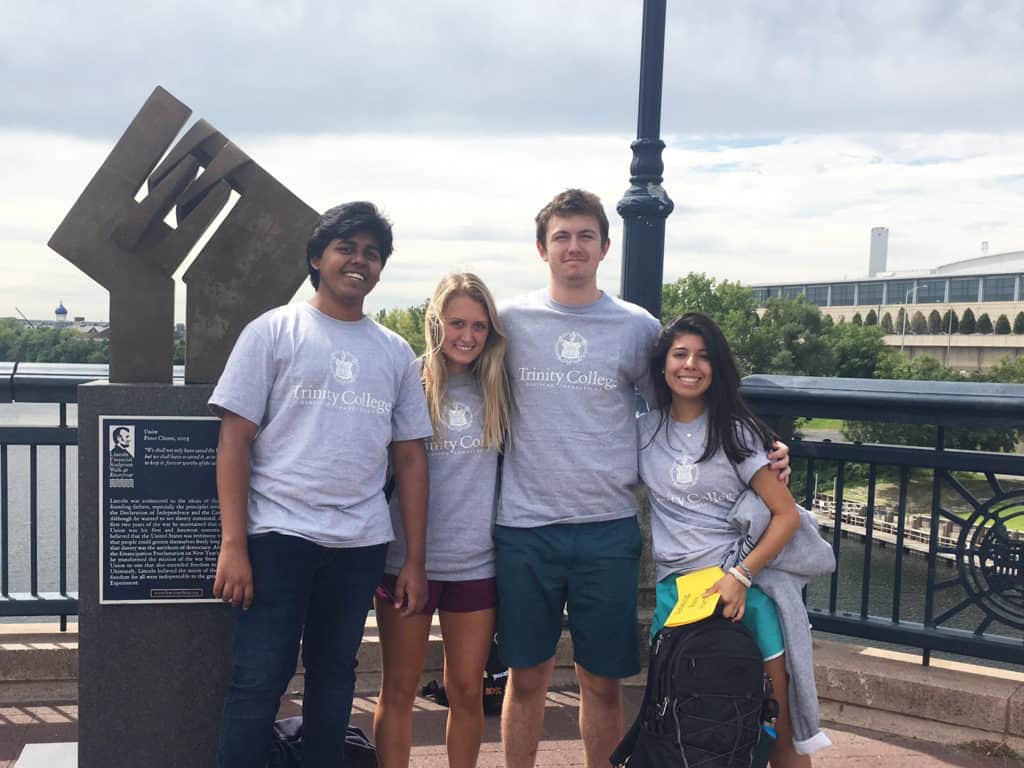 About half of the new students chose to participate in optional Pre-Orientation programs, which provide three- to 10-day opportunities to get a jump on making the transition to college. Among those opportunities were Quest wilderness adventures, the Venture Trinity leadership conference for women, a P.R.I.D.E. (Promoting Respect for Inclusive Diversity in Education) Welcome Weekend, the First-Generation Pre-Orientation, the International Student Orientation, and the Bantam Beginnings programming, which taught students more about Trinity and Hartford through fun and engaging activities on campus and around the city.
Move-In Day for new students is Thursday, August 29, as is the official kickoff of the new academic year, the President's Convocation, which will take place at 3:30 p.m. on the Main Quad. Faculty members in full regalia and first-year students will gather at the Fuller Arch at Northam Towers as music from Trinity's famous 49-bell carillon beckons all on campus.
During the Convocation ceremony, family members, faculty, staff, and student leaders will be seated on all four sides of the first-year class, forming a symbolic matrix of support. Highlights of the event include the welcome and introduction of the Class of 2023 by Pérez; Berger-Sweeney's Convocation address; and the official declaration of the opening of the college's 196th academic year by Interim Dean of the Faculty and Vice President for Academic Affairs Sonia Cardenas.
Members of the Class of 1973—the first four-year coeducational class at Trinity—and other pioneers of coeducation have been invited to attend Convocation and will be honored during the ceremony, as Trinity continues its celebration of "Women at the Summit" to mark 50 years of coeducation.
Following the ceremony, faculty and staff will join families and new students for a cookout in celebration of the start of these students' journey at Trinity. The cookout is where first-year students will be welcomed officially into their Bantam Network nests. New Student Orientation for all first-year and transfer students runs August 29 through September 2, in advance of the first day of classes on September 3.
See more photos and follow along with Convocation and Move-In activities on by following @trinitycollege on Instagram or by clicking here.