Olivia Zeiner-Morrish '22 had never left the United States before attending Trinity College.
As an undergraduate, studying abroad in China and Spain and researching Southeast Asia exposed her to the world of foreign policy and international relations.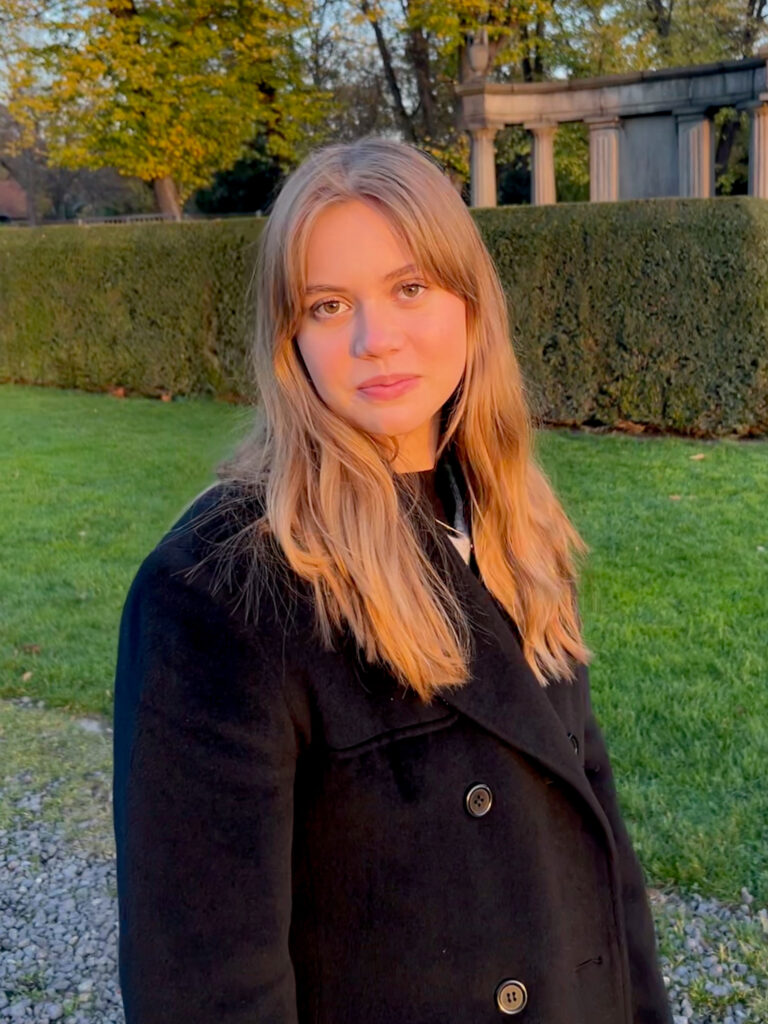 This month, thanks to a prestigious Fulbright English Teaching Assistant (ETA) Award, Zeiner-Morrish will travel to Cambodia, where she will spend nearly a year in local classrooms, helping to teach the English language while serving as a cultural ambassador for the U.S.
Zeiner-Morrish grew up in Washington, New Jersey. While working at a farm, she made connections with the local immigrant population and was inspired to work with communities in need of support. She came to Trinity as an 1823 Scholar and joined the Community Action Gateway for first-year students.
"I valued that there were lots of opportunities in social science research at Trinity, even as a first-year," she said. "I was drawn to the way you could engage in the local urban community, and I got involved doing research and working with nonprofit organizations in Hartford."
Zeiner-Morrish completed a major in political science, with a concentration in comparative politics, in addition to a minor in community action. During her time at Trinity, she also was a member of the Mock Trial Team, worked at the Writing Center, and a served as a student leader of the Quest Leadership Program during New Student Orientation.
But her experiences off campus would be the ones to ultimately shape her career path. "I studied in China after my first year, through the Center for Urban and Global Studies. It was my first time outside of the country and I had a fantastic experience. That drew me to study Asian politics and U.S. diplomacy with the Asian-Pacific region," Zeiner-Morrish said.
Her spring 2020 semester in Barcelona was cut short by the start of the COVID-19 pandemic, but that didn't put a damper on her international aspirations. "I worked with Associate Professor of Political Science Reo Matsuzaki for two years, researching Southeast Asia, which turned into my senior thesis project on Myanmar," Zeiner-Morrish said. "I realized that I wanted to spend time living in and studying the region."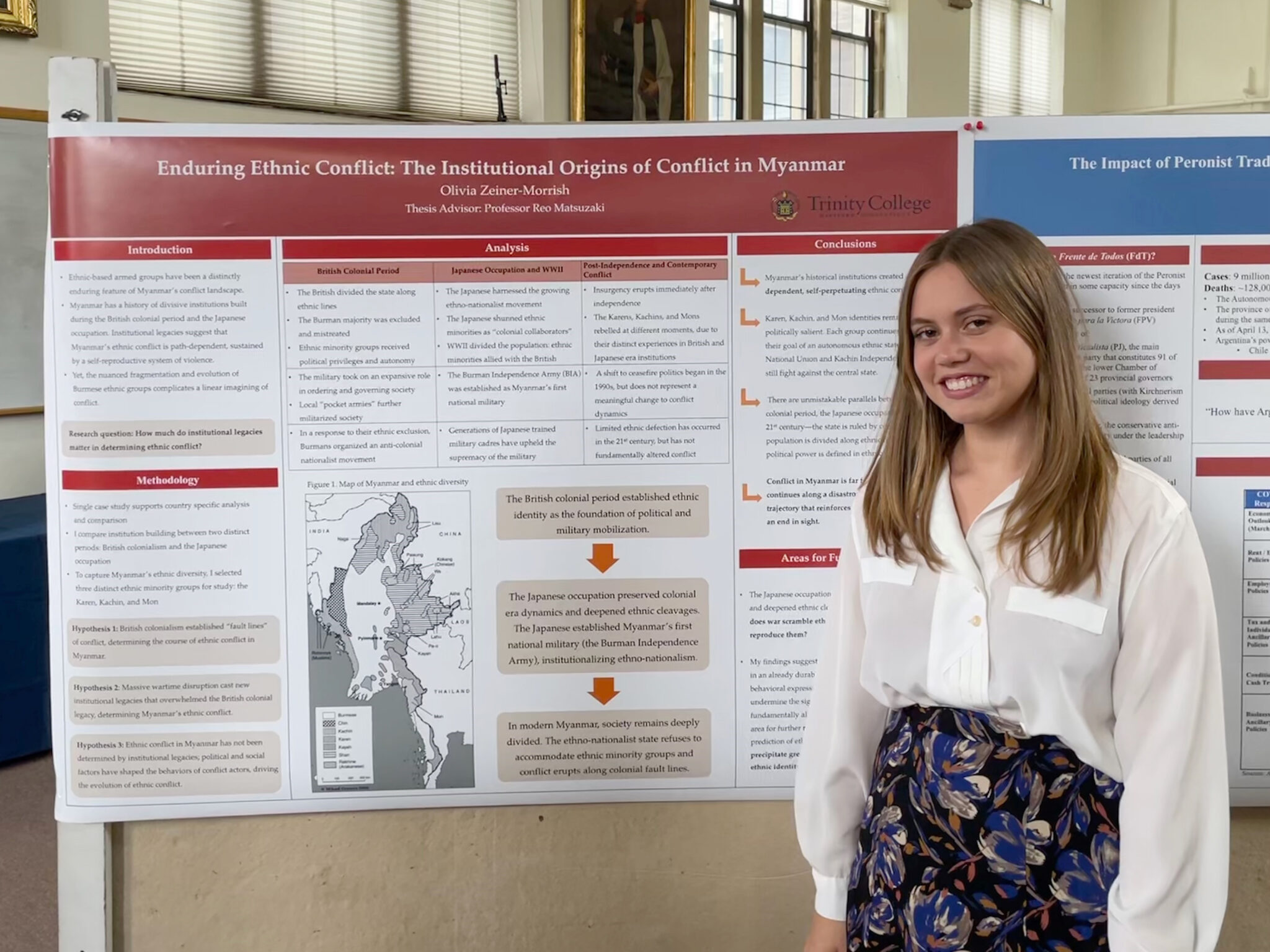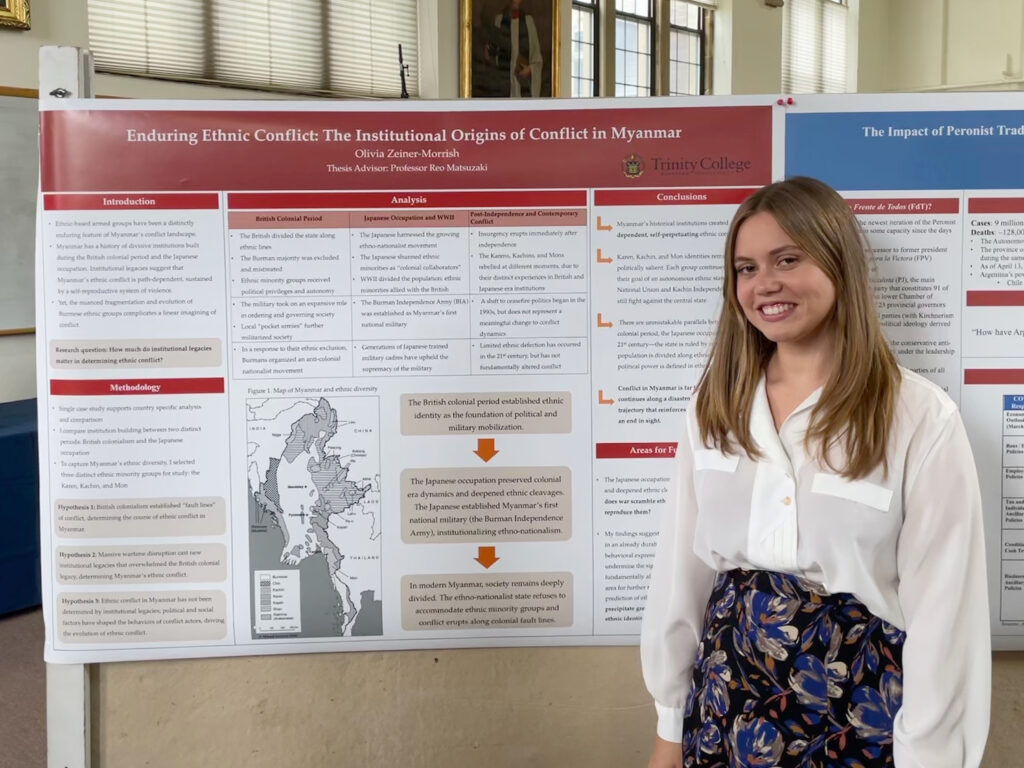 After graduating from Trinity summa cum laude and as a member of Phi Beta Kappa, Zeiner-Morrish worked on U.S. diplomacy with Southeast Asia at a think tank in Washington, D.C. She met colleagues there who had worked and studied in Cambodia. "It was a country I didn't know much about, and I was eager to learn more," she said. "Cambodia is in an interesting position, with a growing economy, a young population, and important ties to both the U.S. and China. It is increasingly important to clarify U.S. policy in the region."
In addition to the think tank in D.C., Zeiner-Morrish gained experience over the last year through an internship with the International Peace Institute and a job at a geopolitical intelligence firm, both in New York City.
"Now I'm excited to immerse myself in the language and culture of Cambodia, and I plan to work with a non-governmental organization there as well," she said. "I want to come back with added experience to contribute to the conversation about the future of U.S. diplomacy within Southeast Asia."
After her Fulbright experience, Zeiner-Morrish sees herself attending graduate school as she continues to pursue a career in international affairs. "I've already been lucky to contribute to conversations in some very important rooms, whether at the State Department, the United Nations, or think tank spaces. I'm hopeful about my ability to support both the local and global communities I care about," she said.
Looking back at Zeiner-Morrish's time as a Trinity student, Matsuzaki said that she was among the top students he has taught in the last 10 years. "Her potential for academic excellence was so abundantly clear from the very start that I recruited her to become my research assistant only after her second semester of college," he said.

Matsuzaki added that Zeiner-Morrish will put her education, her work experience, and her time in Cambodia to great use in the future. "Through her course work and involvement in research projects, Olivia has developed a keen interest in studying ways of mitigating and resolving civil war, ethnic and religious conflict, and political violence," Matsuzaki said. "Dependable, personable, humorous, and caring, Olivia is someone that people will naturally gravitate toward."
Zeiner-Morrish said that she believes all of the travel and the research projects she was able to get involved in at Trinity shaped her life's trajectory. "I didn't know this kind of career path was possible," she said. "I credit the professors who nurtured my interests. And I credit Trinity with opening these doors."
The Fulbright Program, the flagship international academic exchange program sponsored by the U.S. government, has fostered mutual understanding between the United States and other countries since 1946. The program provides awards to approximately 8,000 students, scholars, teachers, artists, and professionals each year from the United States and 160 countries.