Back to News
Ten New Tenure-Track Faculty Members Join Trinity College
Faculty
posted
by Andrew J. Concatelli
Among the 10 Trinity College faculty members who have been hired to new tenure-track appointments this year are three Trinity alumni and four assistant professors who have previously been on the Trinity faculty in other roles.
Sonia Cardenas, dean of the faculty and vice president for academic affairs, said, "This faculty cohort is particularly experienced and committed to the liberal arts. Regardless of their field, they are all passionate about their role as engaged teacher-scholars and mentors.  We can't wait to see the impact they will have at Trinity and beyond."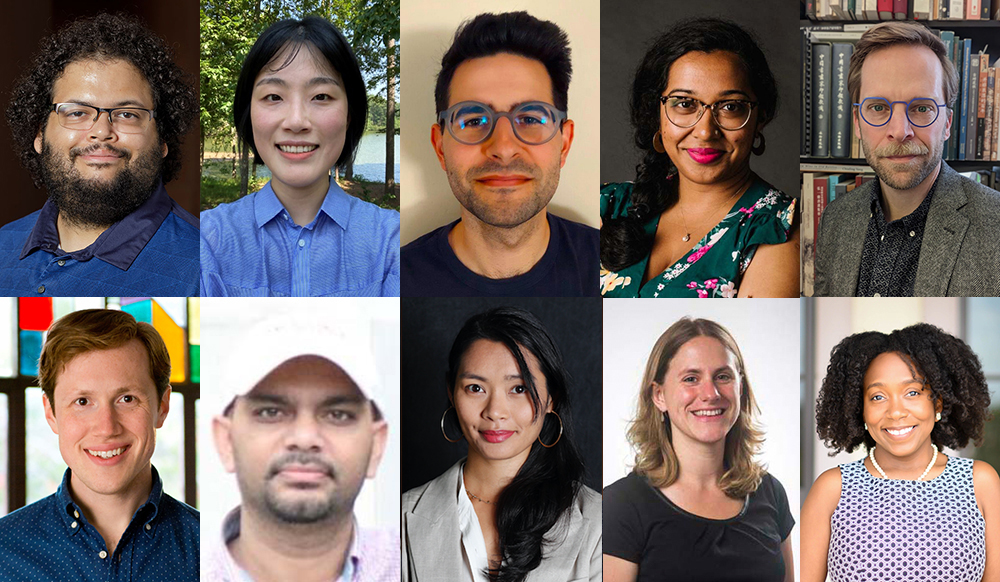 The new tenure-track faculty members hired this year are: Jonathan T. Ashby '09, chemistry; Jisoo Choi, engineering; Victor Churchill, mathematics; Natassja B. Gunasena, international studies; Michael J. Hatch, fine arts; Adam D. Hill '08, chemistry; Maminur Islam, computer science; Susanne Kerekes, religious studies; Serena Laws, public policy and law; and Channon S. Miller '11, American studies and history. Hatch will be joining the Trinity faculty in spring 2024 and Choi in fall 2024.
This season also marked the successful completion of the College's Special Opportunity Hiring initiative, which was launched during the 2020–21 academic year to help increase faculty diversity.
In all, Trinity welcomed 18 tenure-track faculty members over three years through this initiative. "We are a stronger and better community as a result," Cardenas said.
Read more about each faculty member below:
Jonathan T. Ashby '09
Assistant Professor of Chemistry
Ph.D., University of California, Riverside
B.S., Trinity College
Ashby began his education in chemistry at Trinity, investigating the extraction of pesticides from human hair for studying long-term exposure of farm workers to these toxins.
"One of the things that excites me about returning to teach at Trinity is connectivity," Ashby said. "As a student, I most enjoyed the faculty who connected fundamental concepts learned in the classroom to various local or global problems."
In the classroom, Ashby focuses on demonstrating the connectivity of the chemical sciences with a variety of other fields, using case studies to connect chemical analysis to food science, forensic science, art analysis, and other industries. He enjoys teaching quantitative and qualitative analysis.
"There is a large need for simple, straightforward methods of analysis in analytical chemistry," he said. "As we've found over the past few years, developing simple assays that can be done with minimal equipment and training is key to health and environmental services. A bonus of developing these types of tests is that the lower training barrier makes them amenable to students at nearly any stage in their undergraduate careers."
Jisoo Choi
Assistant Professor of Engineering
Ph.D., North Carolina State University
M.S., Ewha Womans University, Seoul, South Korea
B.S., Ewha Womans University, Seoul, South Korea
"I am genuinely thrilled about the prospect of teaching at Trinity College, particularly in a small class setting that fosters personalized interactions with students," said Choi, who will join the faculty in July 2024. "I am eager to get to know my students on an individual level, understanding their learning strengths, styles, and challenges. This will enable me to tailor my teaching methods and create an engaging and supportive learning experience."
While earning her Ph.D. in electrical and computer engineering at North Carolina State University, Choi pursued multimedia forensics focused on an environmental signature called the electric network frequency (ENF) signal for authentication and tampering detection for multimedia recordings. These are topics that Choi believes will resonate with Trinity students.
"In the digital age, we are surrounded by an abundance of multimedia content, ranging from images and videos to audio recordings. However, with the proliferation of advanced editing tools and the rise of deepfake technology, the authenticity and integrity of multimedia content have become significant concerns," Choi said. "My research in multimedia forensics addresses these contemporary challenges directly by developing innovative techniques and algorithms to authenticate multimedia recordings and detect manipulations within them. This aligns well with the tech-savvy nature of today's college students."
Victor Churchill
Assistant Professor of Mathematics
Ph.D., Dartmouth College
A.M., Dartmouth College
M.S., New York University
B.A., Boston College
Churchill is a computational mathematician working in the areas of scientific machine learning and image reconstruction. At Trinity, he will teach students about machine learning, probability and statistics, and scientific computing.
With research interests that include dynamical systems, imaging science, and computational mathematics and statistics, Churchill plans to connect with students on subjects of interest and use to them. "Machine learning is an extremely hot topic right now—even my grandmother has heard of it," he said. "I hope to demonstrate to students that its mathematical underpinnings are critical to its safe and successful use, and that knowledge of these intricacies are necessary to solve scientific problems that typically require much higher accuracy than flashy applications they've seen on the news."
Churchill's Ph.D. was focused on Bayesian uncertainty quantification framework for synthetic aperture radar imaging; his post-doctoral study concentrated on learning the evolution of unknown dynamical systems using neural networks.
"I'm excited to be a part of learning and scholarship in a small department and community where students receive consistent support," Churchill said. "Generally, I'm excited to be a part of learning and scholarship in a small department and community where students receive consistent support."
Natassja B. Gunasena
Assistant Professor of International Studies
Ph.D., University of Texas at Austin
M.A., University of Texas at Austin
B.A., Minnesota State University
Gunasena has been at Trinity since 2020 and was previously the Patricia C. and Charles H. McGill III '63 Visiting Assistant Professor in International Studies. Her research emphasizes the transnational in African and Asian diasporic formations of gender and sexuality.
"What attracted me to Trinity was its strong liberal arts tradition. What cemented my desire to remain was the exciting, interdisciplinary work of my colleagues in the International Studies Program," Gunasena said. "As a transnational scholar of gender and sexuality, I've found an intellectual and collegial home here, and I look forward to offering more courses in Black Atlantic gender and sexuality, Global South literatures, and transnational Black feminist theory."
In the classroom, Gunasena works with students to create an environment where they come to appreciate how a thoughtful, critical inquiry into race, gender, and sexuality can illuminate their lived realities. "This fall, I'm teaching 'Black Islam,' a new course on how religion, revolution, and ontology converge in the Black diaspora," Gunasena said.
Her pedagogy highlights student-centric learning, interdisciplinarity, and the use of art, film, and narrative in contesting the boundaries of traditional archives. She is currently at work on her manuscript, tentatively titled, Queer Readings of Black Orientalism.
Michael J. Hatch
Associate Professor of Fine Arts
Ph.D., Princeton University
M.A., Princeton University
B.A., Middlebury College
Currently an associate professor of East Asian art history at Miami University in Oxford, Ohio, Hatch will join the Trinity College faculty in January 2024. His teaching and research focuses on early modern through contemporary East Asian art, including China, Korea, and Japan.
"Joining Trinity's faculty means a return to the same scale and quality of education that helped me to grow in my college years," said Hatch. "I've always tried to emulate the kind of mentoring I received from my advisers as an undergraduate, and a small liberal arts college like Trinity is the ideal place to put a teacher-scholar model into practice."
Hatch, who completed an Andrew W. Mellon Postdoctoral Fellowship at New York City's Metropolitan Museum of Art in 2017-18, said that exploring what makes an artwork compelling to its audiences motivates his research. "I think most students can relate to this," he said. "When artworks offer us ineffable experiences, we're left trying to explain why we are so moved. Art history puts our assumptions about how we understand ourselves and others—in the past and the present—into sharp focus."
Hatch is the author of the forthcoming book, Networks of Touch: A Tactile History of Chinese Art, 1790-1840, and is in the process of co-editing Carved, Cast, and Ground: Antiquarianism and Craft in East Asia, 1700s-1900s.
Adam D. Hill '08
Assistant Professor of Chemistry
Ph.D., University of California, Berkeley
B.S., Trinity College
Hill first became interested in the chemistry of metals through high school art courses. As an undergraduate at Trinity, he worked with Associate Professor of Chemistry Maria L. Parr '90 to study ancient potshards using electron microscopy and with Professor of Chemistry, Emeritus, David E. Henderson to trace well water contamination.
"I'm most looking forward to working with the next generation of Trinity students on the kinds of research projects in which my own love of science was ignited," Hill said. "Working hands-on with independent mentored research projects is where so many Trinity students really engage and develop in their chosen discipline; I learned this firsthand through first-year research in the Interdisciplinary Science Program."
After earning his Ph.D. and joining the faculty of St. Lawrence University in Canton, New York, Hill took a sabbatical at Lawrence Berkeley National Lab's Molecular Biophysics and Integrated Bioimaging Division, and his research shifted to focus on the development of devices to mimic photosynthesis.
Hill's scholarship uses lasers and nanomaterials to reveal the core principles underlying the next generation of renewable, carbon-neutral energy sources. "Trinity's students care a lot about our planet's future, and this work involves them in finding large-scale solutions to climate and energy challenges," he said. "The Hill Lab provides young scientists with authentic experiences building a deeper understanding of how reality operates."
Maminur Islam
Assistant Professor of Computer Science
Ph.D., University of Memphis
B.Sc., Bangladesh University of Engineering and Technology
Islam joined the Trinity faculty in 2021 as a visiting assistant professor and is beginning a tenure-track position this semester. "I am highly enthusiastic about engaging in the broader teaching community at Trinity and participating in discussions about teaching with faculty from various disciplines," he said. "Additionally, I am eager to foster collaboration in research across different fields, contributing to Trinity's interdisciplinary academic environment."
Prior to starting his Ph.D. in computer science, Islam worked in the software industry. He is interested in neuro-symbolic artificial intelligence, distributed computing, and computer vision applications. Islam has been an IT specialist at St. Jude Children's Research Hospital and completed an internship at Adobe Research, where he developed an explainer model to identify sensitive frames in videos. Currently he is collaborating with multiple research groups for developing image reconstruction, particle picking, and denoiser models in computer vision domain.
Islam will teach Trinity students about programming, software engineering, computer networks and security, computer graphics, data science, artificial intelligence, and more. "Drawing upon my extensive experience in the software industry and my background in AI research, my primary goal is to simplify computer science for all individuals, fostering an environment that attracts students to delve into AI research—a prominent and rapidly evolving field."
Susanne Kerekes
Assistant Professor of Religious Studies
Ph.D., University of Pennsylvania
M.A., Mahidol University
B.A., DePauw University
Kerekes joined the Trinity faculty last year as a visiting assistant professor of religious studies. Her current research explores Buddhism, material religion, and contemporary religious practice in Thailand, especially those involving amulets, magic, and spirits.
"The word 'bantam' is derived from the Southeast Asian seaport of western Java. Returning to Trinity, I look forward to materializing the bantam-Southeast Asia connection through my 'Buddhist Materiality' course," said Kerekes. "Students will collaborate on cataloguing a private collection of Thai amulets—a rare opportunity."
Kerekes began her Buddhism professionalization while she worked on Wall Street, serving as a docent at the Rubin Museum of Art during her free time, and later as a guide at the National Museum in Bangkok. Her research extends Buddhist studies beyond the stereotypical tropes of what she calls the "three Ms": monks, manuscripts, and meditation. Her work is one facet of a larger public-scholar project called "Buddhism of the 99%," in collaboration with Dr. Jessica Zu (USC-Dornsife). Kerekes' work has been funded by the American Council of Learned Societies.
Kerekes believes that her scholarship resonates with today's college students as it introduces them to perspectives and practices that they cannot find online or in textbooks. Informed by her years of ethnographic research and material expertise, her pedagogy fosters inclusive and engaging classroom communities that celebrate the process of learning.
Serena Laws
Assistant Professor of Public Policy and Law
Ph.D., University of Minnesota–Twin Cities
M.A., University of Minnesota–Twin Cities
B.A., Amherst College
Laws, who previously was a senior lecturer in political science, has been a member of the Trinity faculty since 2013 and has led the Volunteer Income Tax Assistance (VITA) program at Trinfo.Café since it began in 2019. VITA is an Internal Revenue Service program that supports free tax preparation services through partner organizations.
"I am looking forward to continuing to work with students at the VITA site we operate each year, and I hope to expand the reach of the program in my new role," Laws said. "Beyond that, I'm excited to develop new ways for students to engage with public policy in Hartford and at the state level."
Laws said that her research focuses on the politics of debt and debt relief, social tax expenditures, and U.S. social policy more broadly. "In my classes, I strive to help students understand American public policy at an academic level, but importantly also to understand how policies play out for people on the ground," she said. "I think this approach helps students see the complexities of public policy—how intentions and outcomes often do not match, and the way politics is present at every stage of public policymaking." Laws added that her research on student loan debt forgiveness explores a pressing and difficult policy issue that resonates directly with many students.
Channon S. Miller '11
Assistant Professor of American Studies and History
Ph.D., Boston University
M.A., Boston University
B.A., Trinity College
Miller is a Hartford-raised, interdisciplinary Americanist and historian of Black women's interior and exterior lives who received her undergraduate degree in American studies at Trinity. "I am looking forward to being a part of cultivating and offering the transformative pedagogies—community-minded analyses, imaginative discussions, and compelling texts—that shaped me during my undergraduate years here," Miller said.
In her research, Miller excavates stories about Black motherhood and Black diaspora from places that are often marginalized. Her work is grounded and inspired by the city of Hartford and the lives and activism of its Black communities since the mid-20th century, including those who migrated from the South and the Caribbean.
"As a storyteller of Black experiences and realities, my scholarship is enmeshed in conversations around dynamics that contour the lives of today's college students: race, gender, class, community, and culture," Miller said. "As my work is rooted in Hartford's stories, these conversations also bear reflections of and create a map for the city we all call home."
For this academic year, Miller was awarded the Ford Foundation Postdoctoral Fellowship to further her book project on Hartford's diasporic, Black maternal communities and activism, working with Trinity's Social Justice Initiative. In 2024, Miller will begin teaching Trinity students about African American history, African American women's history, Hartford history, and race and gender.