Back to News
Panel Discussion Focuses on Black Girlhood and Womanhood
Trinity Community
posted
by Kate Whitman '23
Trinity College's Women and Gender Resource Action Center (WGRAC) recently hosted a panel discussion on Black girlhood and womanhood as part of the "Breaking the Silence: Amplifying Our Voices" series. Panelists Shanta Lee Gander '01, Taniqua Huguley '15, M'17, Micaela Rufus '23, and Associate Professor of Philosophy Donna-Dale Marcano addressed the idea of "trying to speak woman in woke tongues" and shared their perspectives on how the concept of "Black Girl Magic" shapes Black girlhood and womanhood. The moderator for the October 13 panel was Renita Washington '22, who serves as vice president of the Trinity Student Government Association's Multicultural Affairs Council.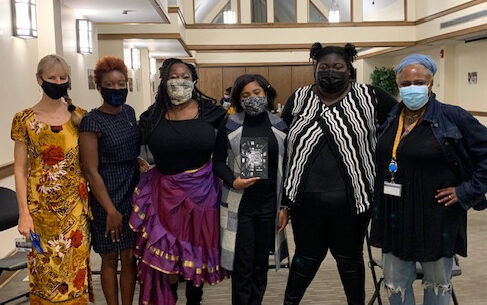 The discussion, which took place before an audience in Mather Hall but also welcomed virtual attendees via Zoom, was kicked off by Gander, a multidisciplinary artist and writer whose first full-length collection of poetry, GHETTOCLAUSTROPHOBIA: Dreamin of Mama While Trying to Speak Woman in Woke Tongues, was published in June 2021. Gander recalled her experiences growing up as a Black girl who related to characters in movies and TV shows but did not feel racially represented by Black actors or actresses. She described "navigating a culture that did not see me," adding that she dealt with expectations of "Black Girl Magic" by choosing her visibility and invisibility in society and constantly recreating and reimagining herself to fit the standards she felt were expected of her.
Huguley, the founder of Black Girls Achieve, an empowerment program for Black girls around the globe, shared the story of a girl named Natanya, with whom she worked on the island of Trinidad. Huguley, who was awarded a U.S. Student Fulbright research grant to study Trinidad and Tobago's criminal justice system and its impact on young women, said that Natanya was failed by society during her life as well as after she was murdered. Huguley said, "Black Girls Achieve is an organization that provides Black girls with the skills and tools needed to navigate Black girlhood. BGA provides Black girls the opportunity to amplify their voices while providing a safe space that allows Black girls to share their stories and experiences."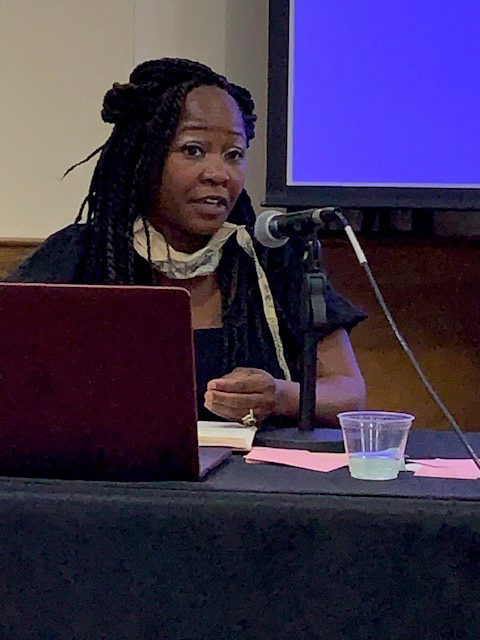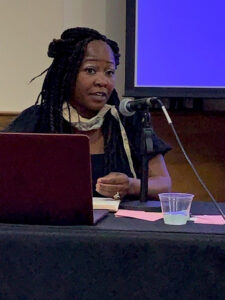 Rufus, who is a student leader with the P.R.I.D.E. (Promoting Respect for Inclusive Diversity in Education) program and co-coordinator of Students Expecting ConSent (SECS), a WGRAC organization, discussed being a Black woman at Trinity and how she has formed her identity the past two years on campus. Specifically, she described Trinity's Flag Project, inviting students to pose with their native country's flag, and how she felt she did not identify with the American flag. Instead, she decided to pose with the Pan-African flag because that is the flag she identifies with the most. Rufus read aloud a poem from Gander's book, which connected to her feelings about identifying with the Pan-African flag. Rufus concluded her remarks by saying, "Every Black person has a different identity, but collective memory, though distant, is still alive."
Marcano introduced many people in the audience to Pauli Murray, a civil rights activist, writer, Episcopal priest, and educator whose complicated experiences of gender and race led to her groundbreaking work that conceptualized the conditions of oppression for Black women using the term "Jane Crow." Marcano utilized Murray's life and intellectual work to explore how the history of racism, sexism, and economic oppression reinforce each other such that there is little room for Black girls and women to be seen as creators and contributors to the Black race and society as a whole.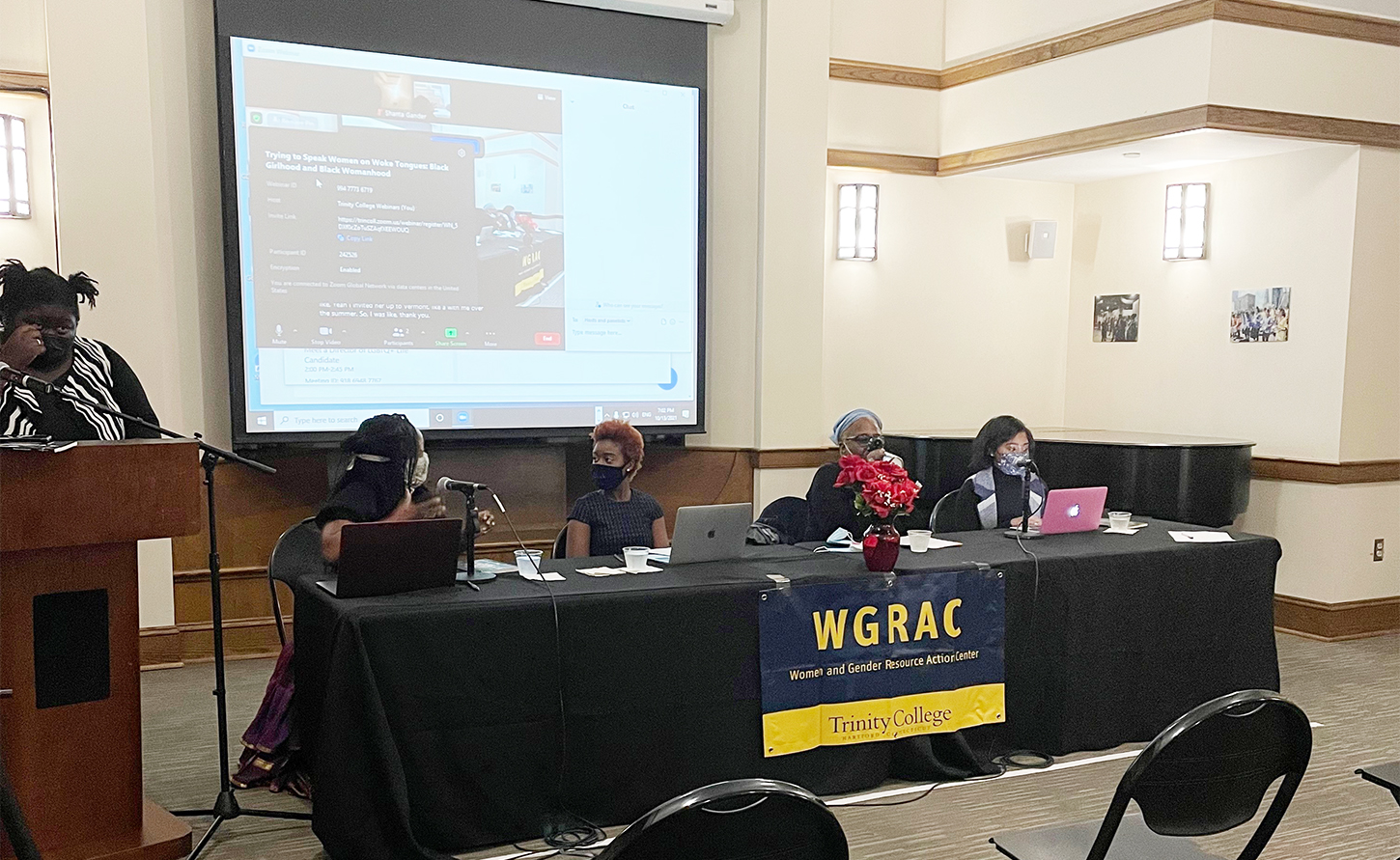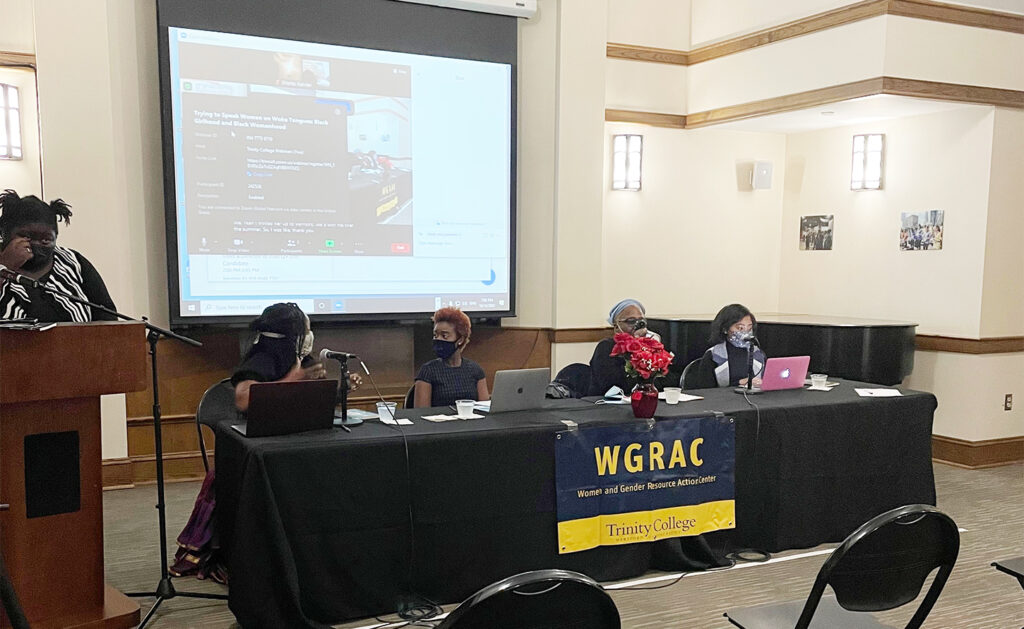 Washington, the moderator of the panel, added, "I am grateful for this conversation because it is different from the education you get in the classroom—it is an experience. This talk reminds us about who is silenced and who is safe."
Among members of the campus community who attended the discussion was Deion Kelly '23, who is majoring in sociology and minoring in community action. Said Kelly, "I appreciated this event, which provided a lot of insights into Black womanhood. This was an opportunity to better understand Black womanhood and other factors within society, such as race, such as class, such as culture."
Organizing committee members for the October 13 discussion represented the Office of Multicultural Affairs (OMA), La Voz Latina (LVL), the Office of Diversity, Equity, and Inclusion (DEI), Trinity College Black Women's Organization (TCBWO), the Women's Leadership Council (WLC), the Trinity chapter of IGNITE, and the Multicultural Affairs Council (MAC).
The following evening, the Women's Leadership Council (WLC) hosted a virtual workshop for its members with Gander, who shared examples and her insights about the challenges, but importance, of documenting one's memories. Said Associate Director of Alumni Relations Melissa Bronzino Regan '87, "Shanta's presentation culminated in a powerful interactive exercise, during which she offered a prompt that allowed participants to use poetry or prose to share a childhood experience with the group. Each of the WLC members' unique stories clearly illustrated points Shanta made during her talk."
Learn more about the Office of Diversity, Equity, and Inclusion (DEI), which encompasses OMA, WGRAC, and the Queer Resource Center. Learn more here about the Women's Leadership Council.