Back to News
Outdoor Carillon Concert Series Welcomes Visitors to Main Quad
Hartford
posted
by Andrew J. Concatelli
Trinity's annual Summer Carillon Concert Series has resumed live performances this year, welcoming listeners to the Main Quad beside the Trinity Chapel every Wednesday evening in July. The audience is invited to bring lawn chairs, blankets, and picnics as they enjoy the music of the 49-bell Plumb Memorial Carillon, one of approximately 200 such instruments in North America.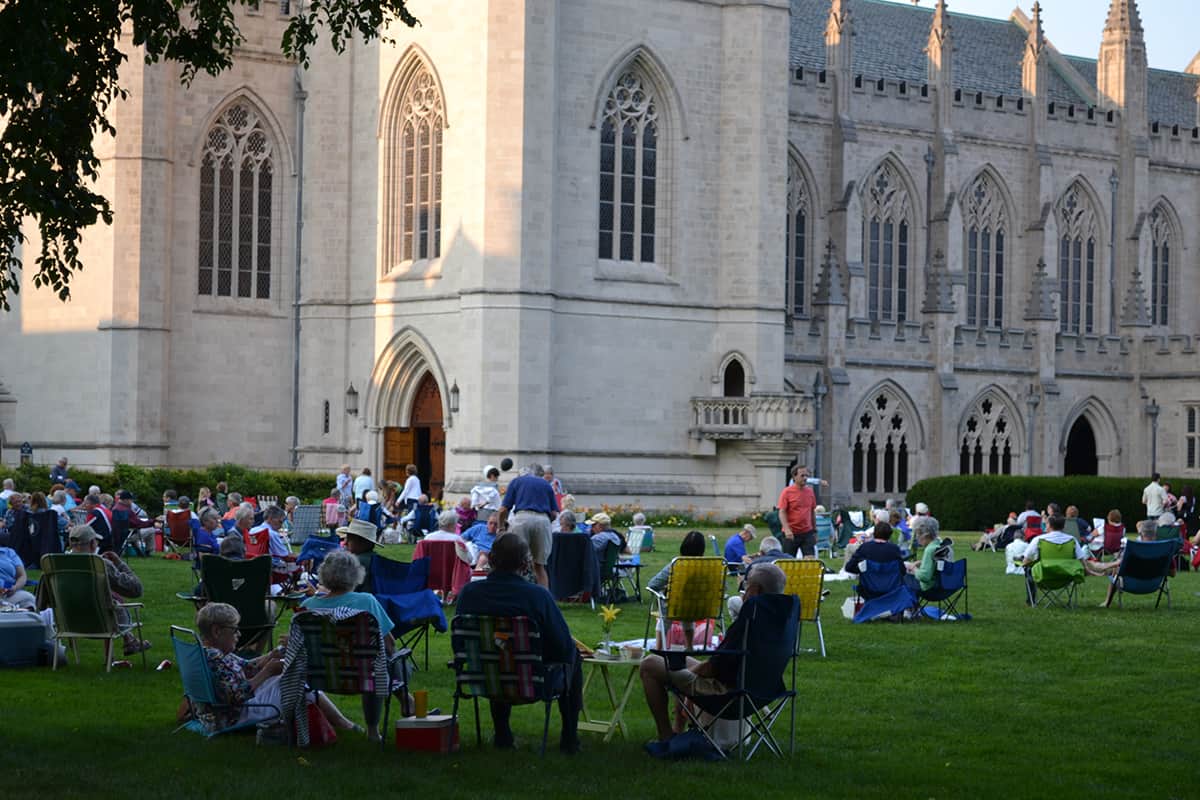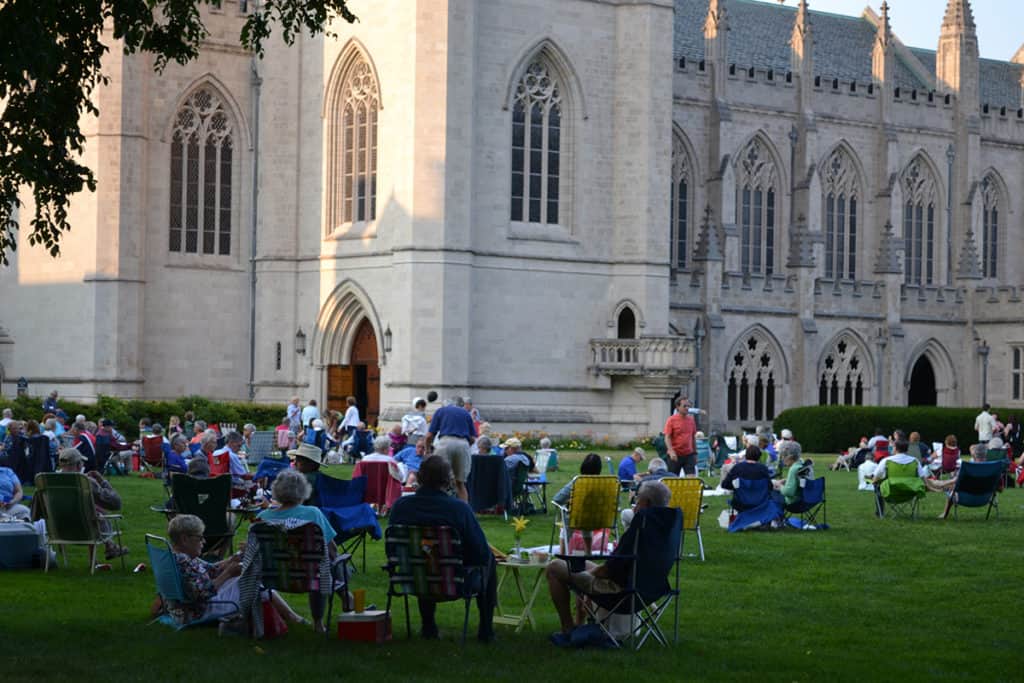 "It is very exciting to finally invite the Greater Hartford community back to campus," said Christopher Houlihan, John Rose College Organist-and-Directorship Distinguished Chair of Chapel Music and Artist-in-Residence, Department of Music. "The combination of the carillon and Trinity's beautiful campus makes for a perfect summer evening in Hartford—a respite for both the eyes and ears. The summer series is a beloved Hartford tradition and a pillar of our Chapel Music offerings."
This year's series kicked off on July 7 with a recital by Joey Brink, of the University of Chicago. The July 14 concert will be given by Paul Stelben, of Guilford, Connecticut. Trinity College Carillonneur and Summer Music Series Director Ellen Dickinson will perform on July 21 and July 28. All concerts take place from 7:00 to 8:00 p.m., rain or shine.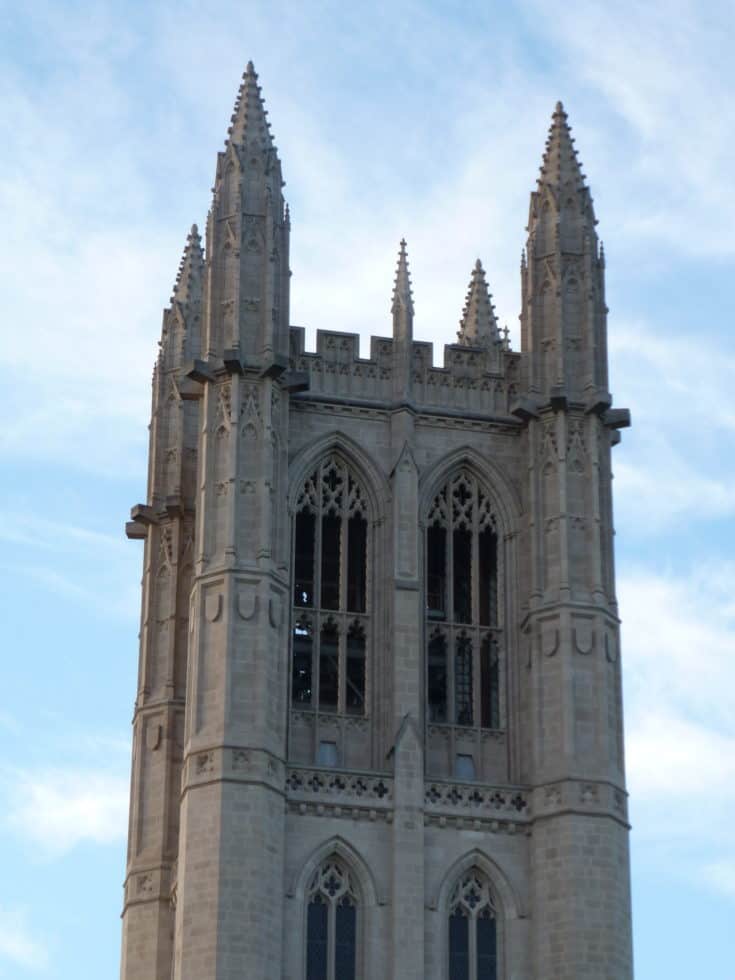 Located high in the tower of the Trinity Chapel, the bells of the carillon can be heard across campus and in the surrounding neighborhoods. "The music of the carillon brings people together," Dickinson said. "It has a reach and it's a very public instrument. The carillon is for everyone. There's no barrier; you don't even have to go through a door. It's one of the most inclusive instruments."
Last year's carillon series was presented virtually in the midst of the COVID-19 pandemic. "There were some silver linings to that," Dickinson said. "It was a nice opportunity to watch the carillonneur, which is something we don't usually get to do. But the carillon is meant to be heard live and outdoors, so it's exciting to be back live and in person. The carillon is a great way to bring people together safely outdoors."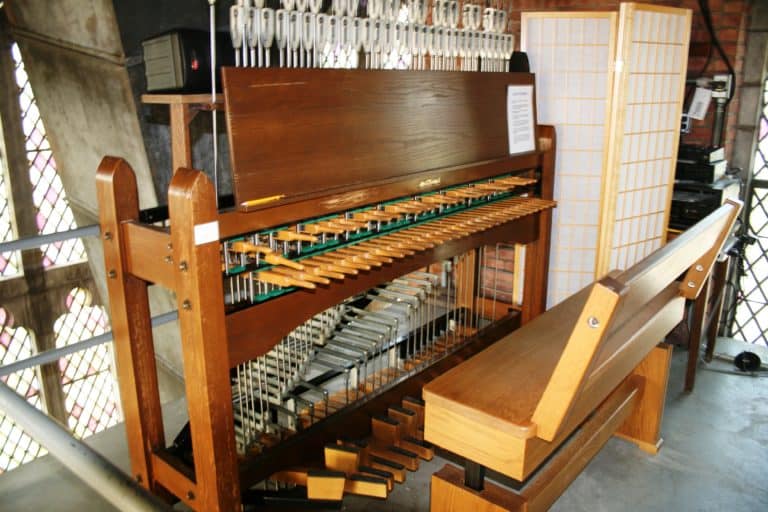 Trinity hosted a national and international conference of carillonneurs virtually in June. "We did proceed with our plans to commission to six new carillon pieces for the conference," Dickinson said. "During my performances at Trinity, I'll be performing the live premieres of those pieces."
Additionally, the Summer Carillon Concert Series is the start of Trinity College's celebration of the anniversary of the 200th birthday of landscape architect Frederick Law Olmsted and the college's participation in Olmsted 200.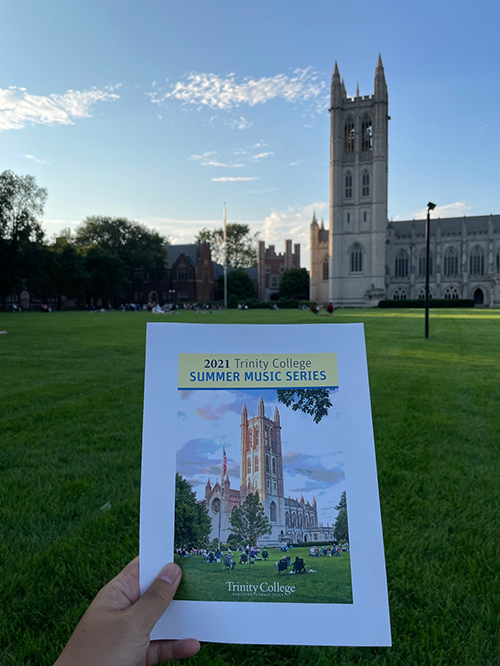 Parking for the concerts is available in any campus space. Visitors to campus are no longer required to wear masks outside. When visiting indoor public restrooms, a mask is required. Social distancing is encouraged between groups picnicking on the spacious Main Quad.
The Carillon Recital Series has been a Hartford tradition since 1949, featuring national and international guest artists. Due to the pandemic, the chamber series is on hold for another year; the full Summer Music Series is scheduled to resume in 2022. For more information, call 860-297-2000 or visit www.trincoll.edu/ChapelMusic.