Back to News
'Everything We Do Matters,' Trinity College Commencement Speaker Tells Class of 2023
Trinity Community
posted
by Andrew J. Concatelli
"Your life will have many twists and turns ahead, and all of them should be leaned into with curiosity and a willingness to embrace possibilities, to learn from every experience, and continue moving forward … just like you did here at Trinity College," Nicole Hockley '92, co-founder and CEO of Sandy Hook Promise, told the Trinity College Class of 2023 during her Commencement address on Sunday, May 21.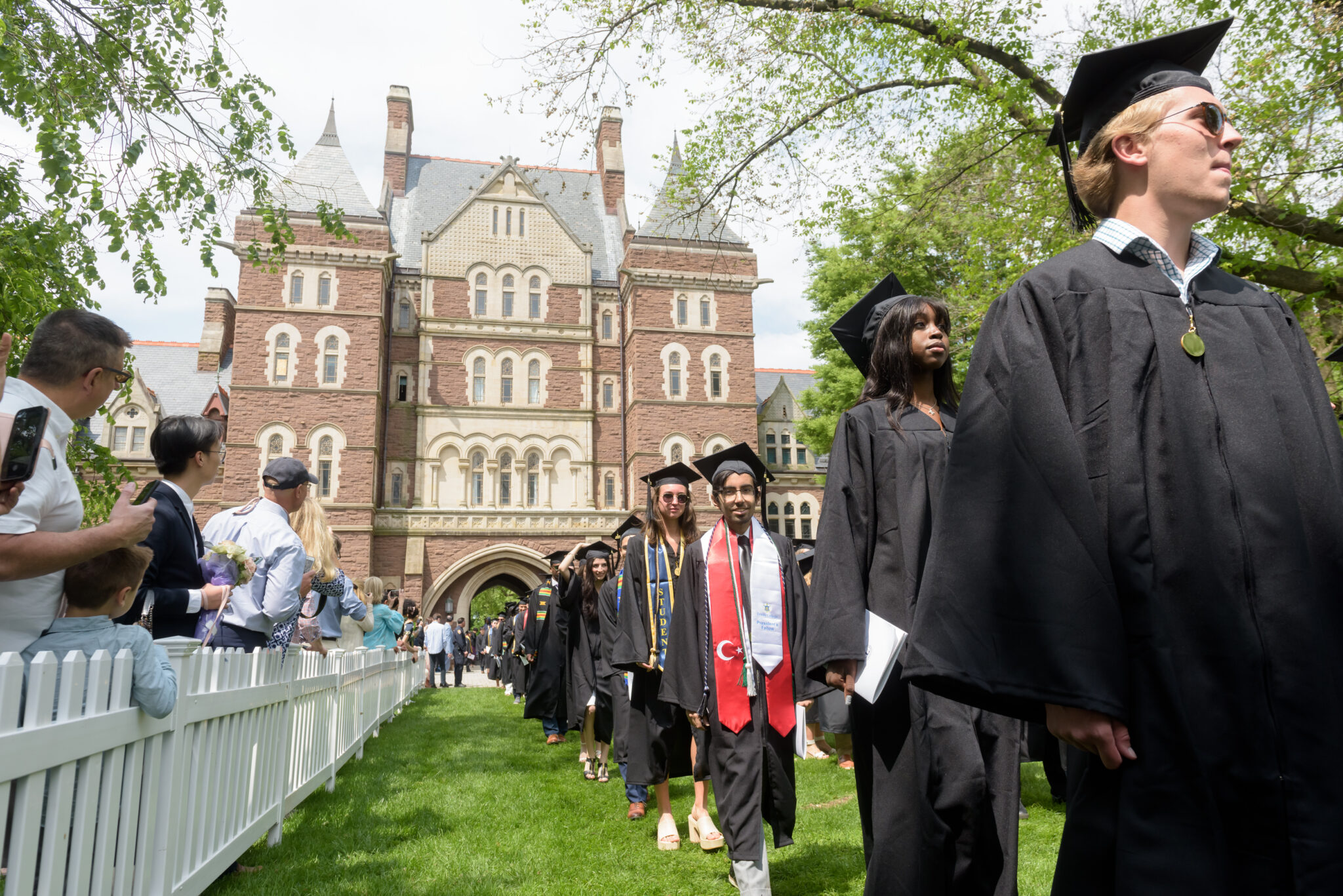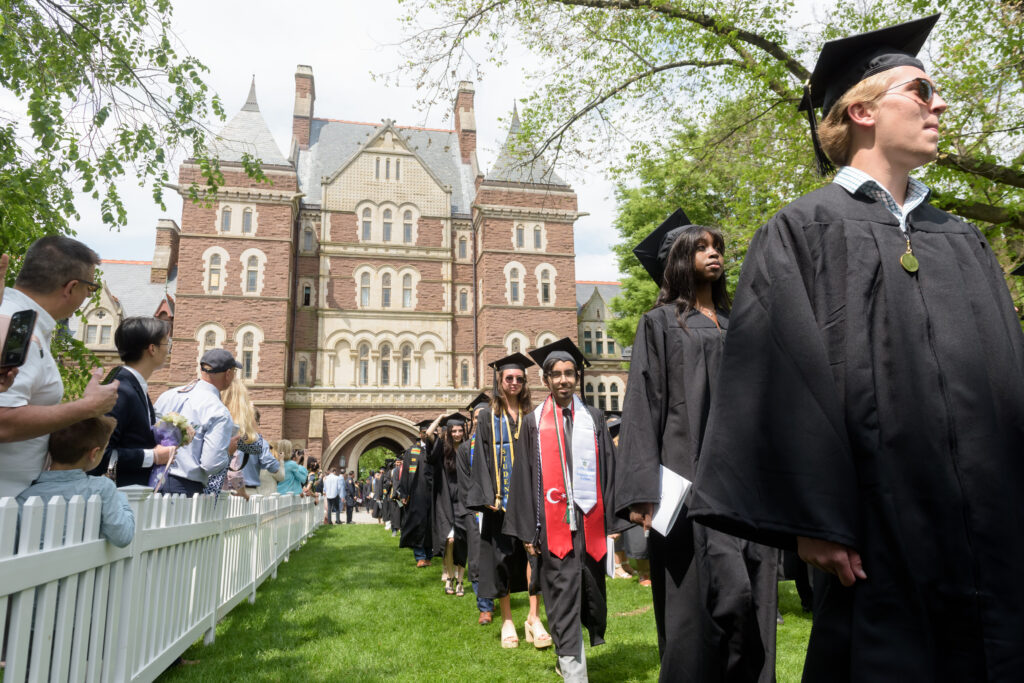 The ceremony was held during Trinity's Bicentennial year, when a slate of events will celebrate the 200 years since the College's founding in Hartford. A crowd including family members, alumni, faculty, staff, students, administrators, and guests gathered on the Main Quadrangle on a sunny spring day for the 197th Commencement.
In all, 527 students received their degrees. Among the undergraduates, 325 received bachelor of arts degrees and 182 were awarded bachelor of science degrees. Six of the undergraduate degree recipients were Individualized Degree Program (IDP) students. In addition, 20 graduate students received master's degrees.
Hockley received an honorary doctor of humane letters degree in recognition of her work at the helm of the national nonprofit organization to educate and empower youth and adults to prevent violence in schools, homes, and communities.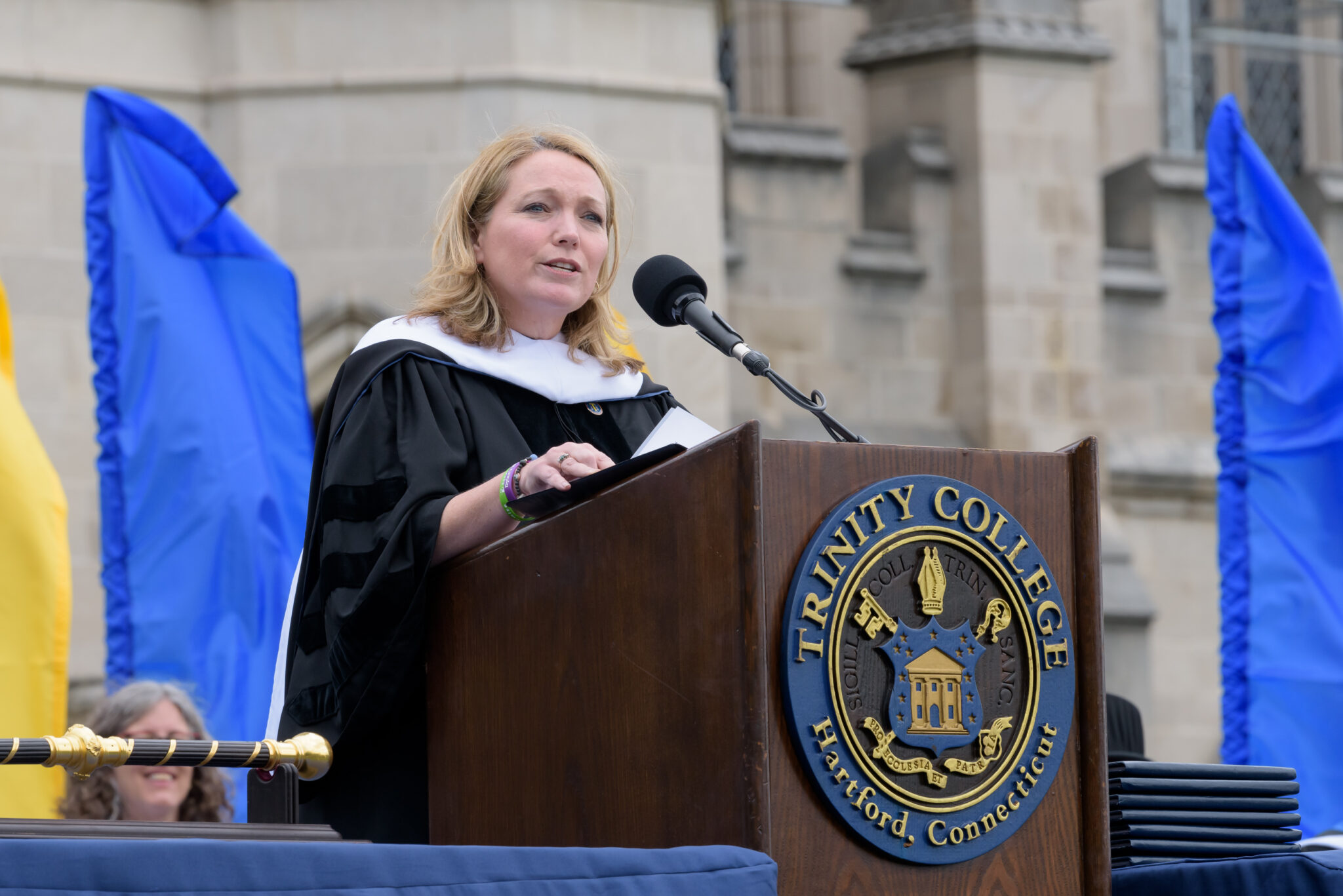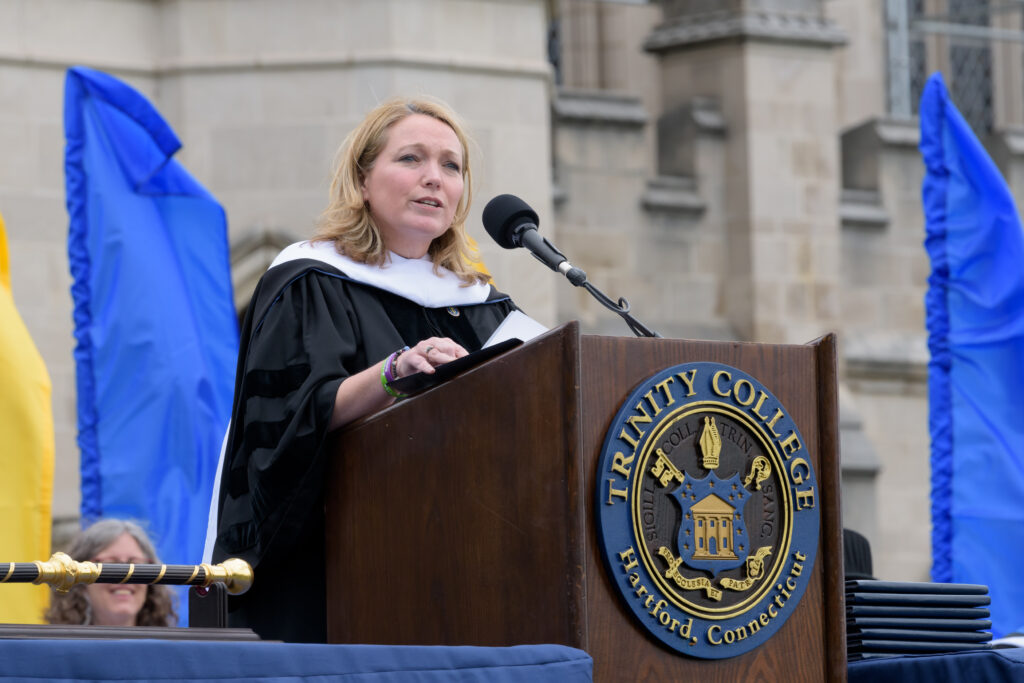 "Everything we do matters," Hockley said. "Every smile, every act of kindness, every time you use your voice for change—these all have meaning and create action and ripple effects that you may not even realize. We were created to make a difference. You were created to make a difference."
When her youngest son, Dylan, was killed in his first-grade classroom alongside 19 of his fellow students and six educators at Sandy Hook Elementary School in 2012, said Hockley, "My life changed in ways I hope none of you ever experience. What happened—the murder of my youngest son—was not something I could control. … Instead of succumbing to my grief, I chose to channel my sadness, anger, and love into preventing others from sharing my experience. My life's mission became about creating a safer, better future for young people. For your generation—and the generations to come."
Hockley told the graduates, "Go boldly forward into your future. Be the best at whatever you're asked to do. Never stop trying. Embrace all the beauty and all the hard parts of life. Use your voice to change the narrative. And always, always, remember to be kind and bring your grace and love to everything you do. Make your life your mission. And make that mission your passion."
During the ceremony, Trinity also awarded an honorary doctor of divinity degree to Sidnie White Crawford '81, in recognition of her distinguished career in higher education and of devoting a lifetime of work to religious studies.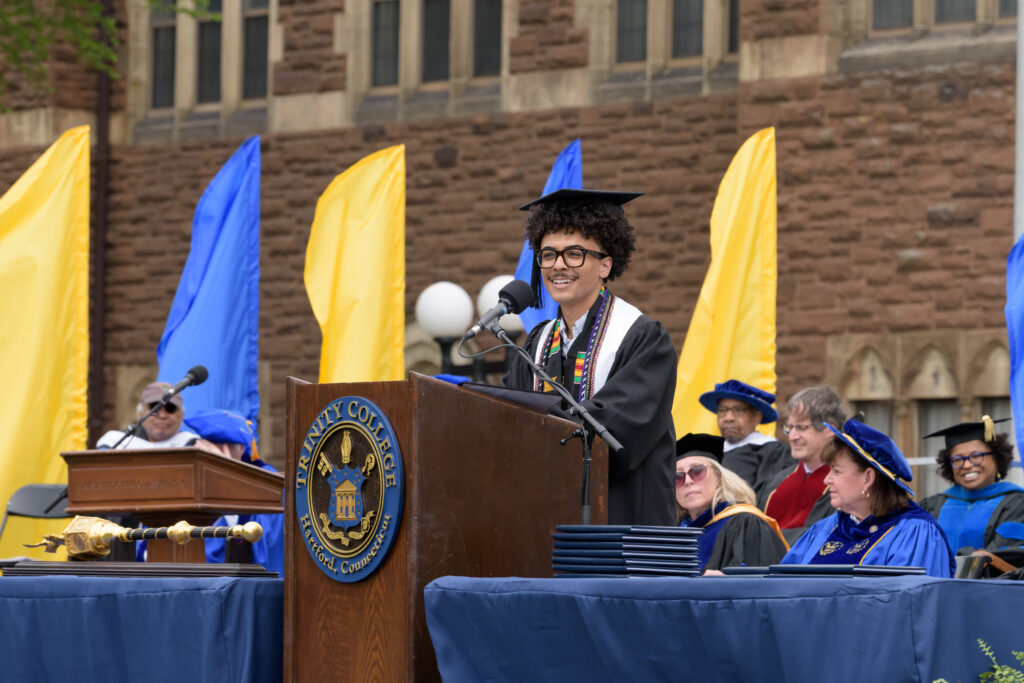 Members of the Class of 2023 also heard from Student Government Association President Jason Farrell Jr. '23, who was selected as the student speaker. Farrell told his classmates to both embrace past experiences and get excited about the future.
"We must appreciate all the moments that led up to this milestone. The times of laughter, enlightenment, joy, and even failure. Think about what it felt like to connect with a professor for the first time. Or that wave of relief you felt after getting through finals week. … Take these memories with you, both big and small," Farrell said. "This is also a time to be excited for new beginnings. Something is waiting for each of us beyond the gates of Trinity."
In her charge to the last graduating class of Trinity's second century, Trinity President Joanne Berger-Sweeney encouraged the members of the Class of 2023 to use what they have learned to improve the world and to empower others to do the same. "A Trinity education is about learning how to speak, how to be heard, and how to listen. It's about acknowledging and valuing different perspectives," she said. "We have taught you how to analyze an issue, not what the conclusion should be."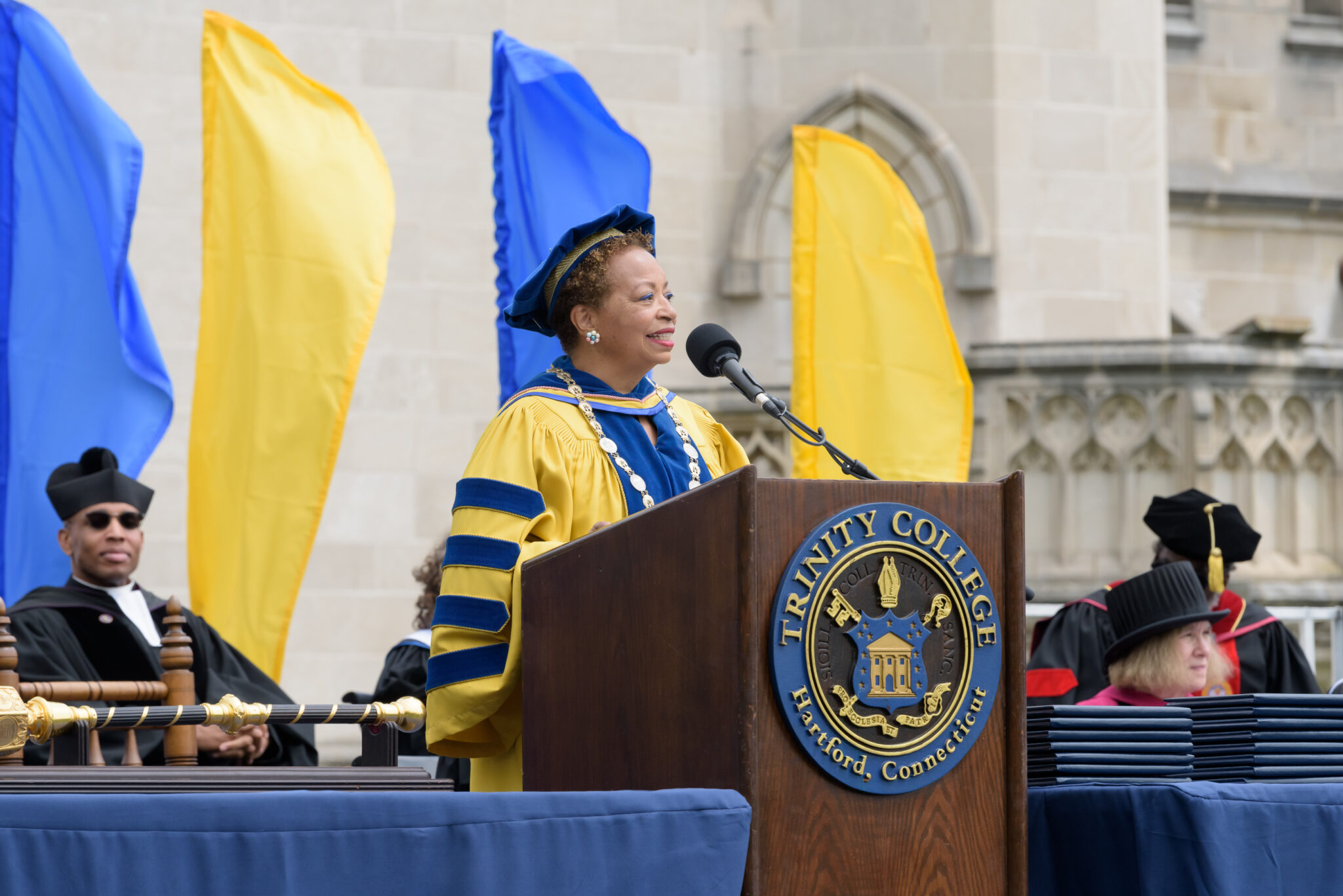 Berger-Sweeney added, "During our Bicentennial year, we want you to know that you will always be connected to us here at Trinity and to others by shared memories of this magical place 'neath the elms. Please, come back to campus often and stay engaged. Please remember that no one person can provide the single perspective for our multilayered history. This is what makes our Bicentennial so rich; we are celebrating not one single Trinity but all Trinity—and especially you. And so, I ask you, the graduates of 2023, what is your commitment to the future and how will you fulfill it? How will you use your power to make the world a better place?"
As the degrees were conferred, the valedictorian and salutatorian of the Class of 2023 were recognized for their outstanding academic achievements. Keelyn McNamara, of New Hampshire, who earned a B.A., summa cum laude, with honors in interdisciplinary computing with studio arts and a minor in rhetoric, writing, and media studies, was named valedictorian; Jacob Samuel Wolf Borgida, of Minnesota, who earned a B.S., summa cum laude, with honors in biology, was named salutatorian.
Following the awarding of degrees, Trinity College Alumni Association President Jawanza J. Gross '94, P'12 welcomed the graduates into the community of Trinity alumni, numbering 30,000 around the globe. "We're cheering for you and are excited for you as the next generation of Bantams," Gross said. "You are joining a passionate and engaged alumni community that is eager and willing to help all of you. … Life truly is a journey, and your success is largely driven by how you approach it—what you do from this day forth."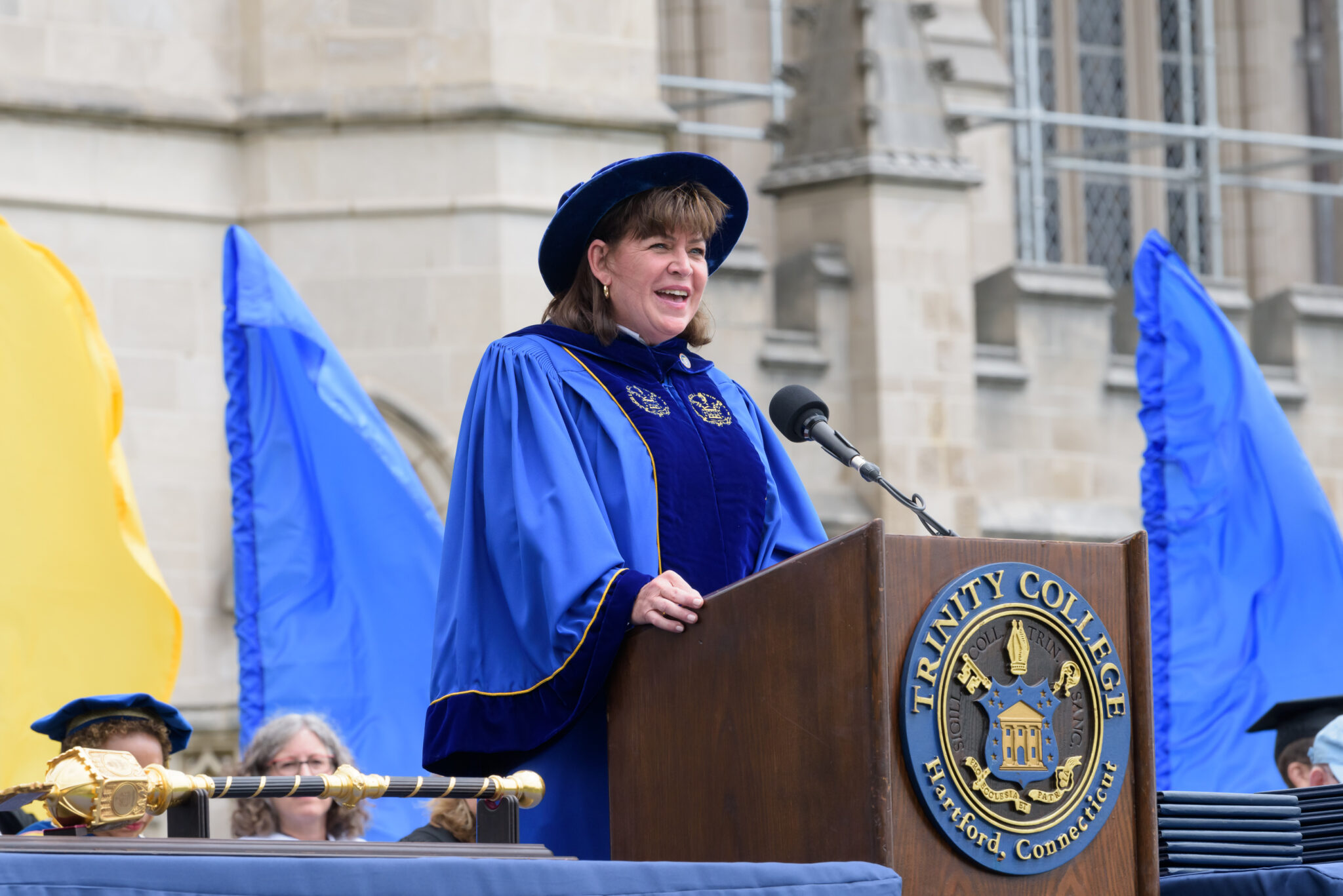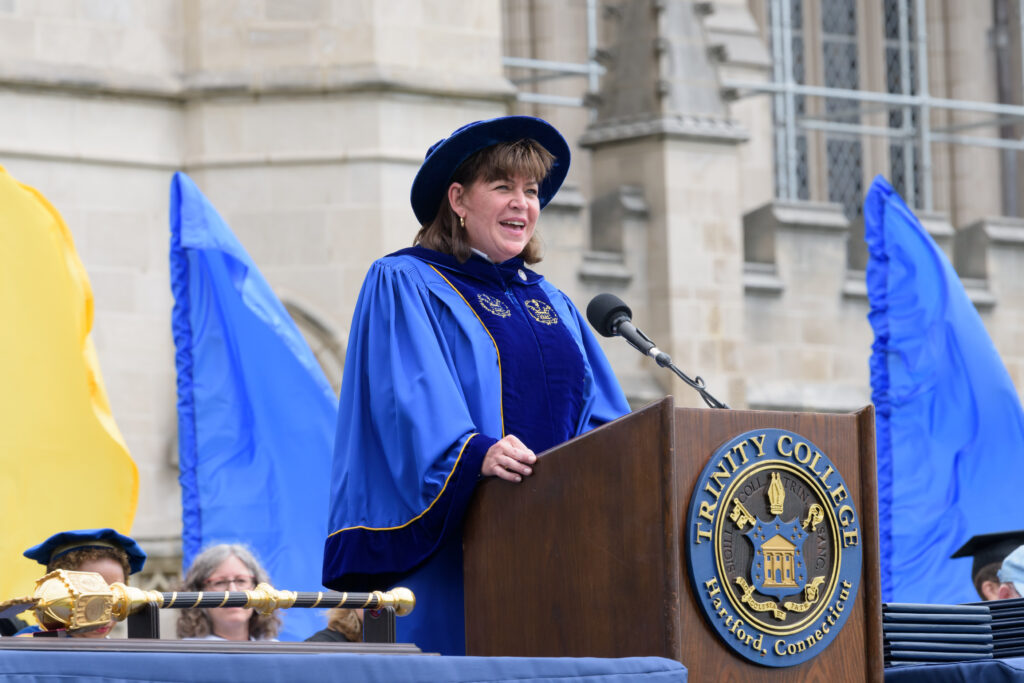 On behalf of the Board of Trustees, Board Chair Lisa G. Bisaccia '78 presented awards for faculty, staff, and student excellence. The Trustee Award for Faculty Excellence went to: Kevin J. McMahon, John R. Reitemeyer Professor of Political Science; and Irene Papoulis, principal lecturer in the Allan K. Smith Center for Writing and Rhetoric. The Trustee Award for Staff Excellence went to: Patricia A. Dinkins, human resources operations specialist; and Robert Lukaskiewicz, dean of community life and standards and interim director of campus safety. The Trustee Award for Student Excellence went to Class of 2023 graduates Deion Kelly and Zoë Camille Sylvester-Chin.
A Trustee Award for Lifetime Achievement was presented to Paul D. Assaiante P'06, Paul D. Assaiante Professor of Physical Education and associate director of athletic endowment, who is retiring after a 30-year tenure as the head coach of Trinity's men's squash team. Assaiante is one of the winningest coaches in any sport, guiding Trinity men's squash to 13 consecutive College Squash Association national titles and 252 wins in a row—the longest winning streak in the history of intercollegiate varsity sports.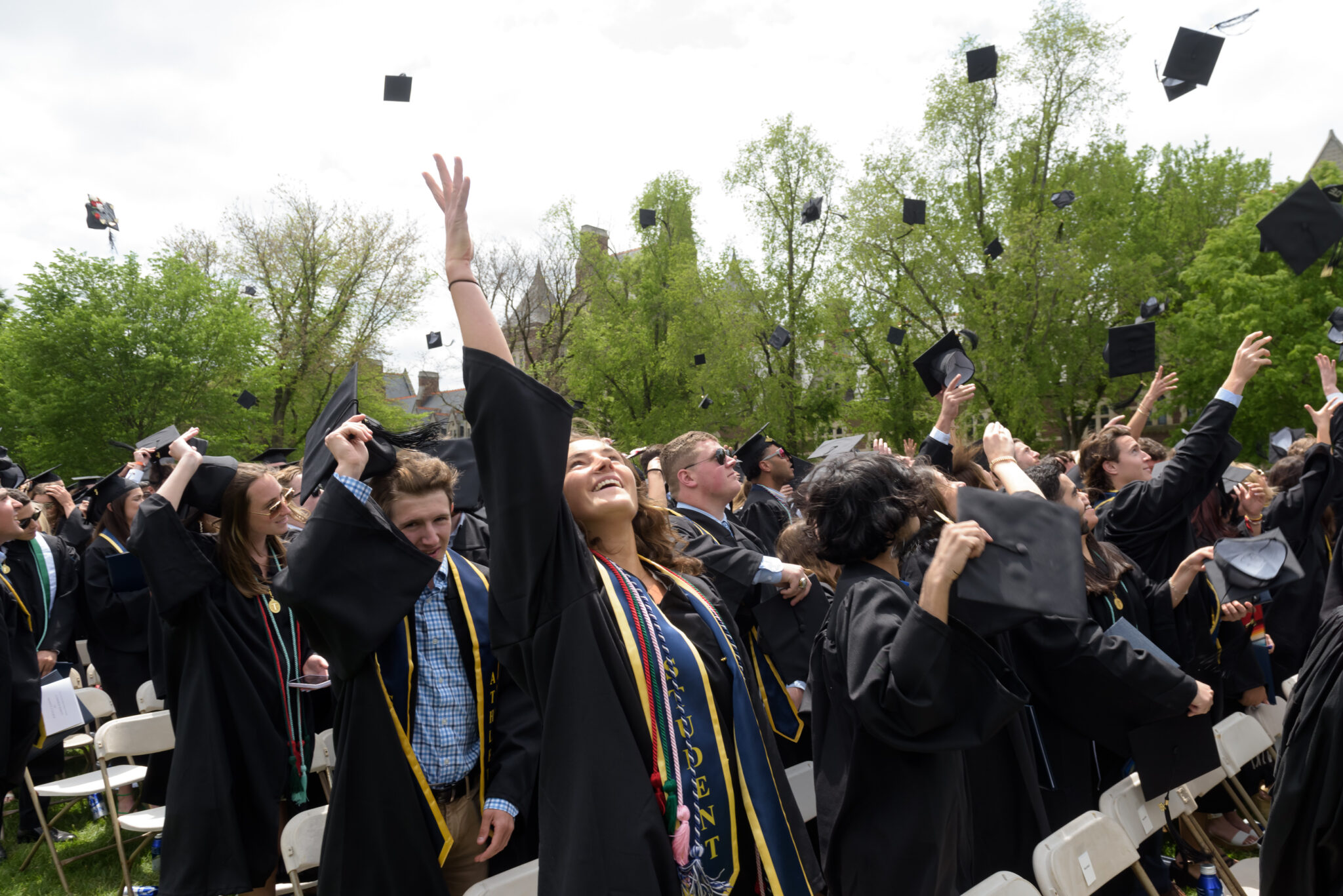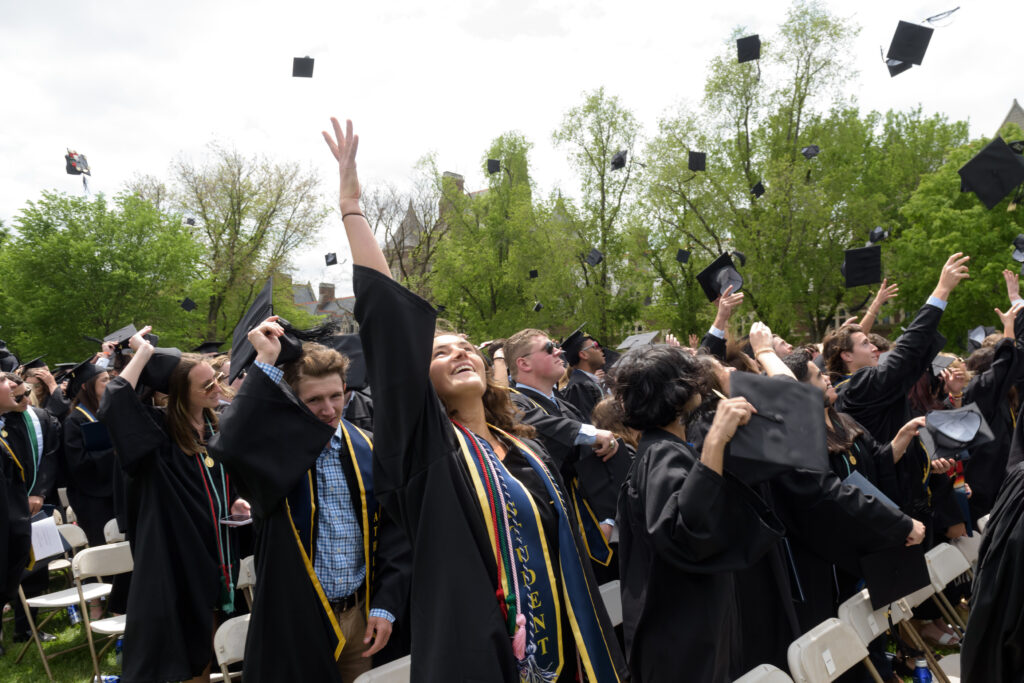 Dean of the Faculty and Vice President for Academic Affairs Sonia Cardenas honored several members of the faculty for their dedication to the academic life of Trinity. The Thomas Church Brownell Prize for Teaching Excellence for 2023 went to: Kifah Hanna, associate professor of language and culture studies; and Ethan Rutherford, associate professor of English. The Dean Arthur H. Hughes Award for Achievement in Teaching for 2023 went to: Clayton Byers, assistant professor of engineering; Lindsey Hanson, assistant professor of chemistry; and Gerardo Ruiz Sánchez, assistant professor of economics. The Charles A. Dana Research Professorship Award went to Joseph L. Palladino, professor of engineering. The Charles A. Dana Research Associate Professorship Award went to: Cheyenne S. Brindle, associate professor of chemistry; and Diana R. Paulin, associate professor of American studies and English.
Commencement 2023 Links:
Commencement Program
Commencement Speeches
Honorary Degree Recipients
Awards and Distinctions
Ceremony Video
Highlights Video
See more photos in the gallery below.
Explore the Gallery
Commencement 2023
Explore the Gallery
Commencement 2023