Back to News
Everett Elting '58 Gives $4 Million to Support Trinity's Human Rights Program
Trinity College has received a $4 million gift from Everett "Ev" Elting Jr. '58, P'85, P'87 to support Trinity's Human Rights Program—the first of its kind at an American liberal arts college—greatly enhancing opportunities for the college's students to study, and ultimately shape, the cause of human rights around the world.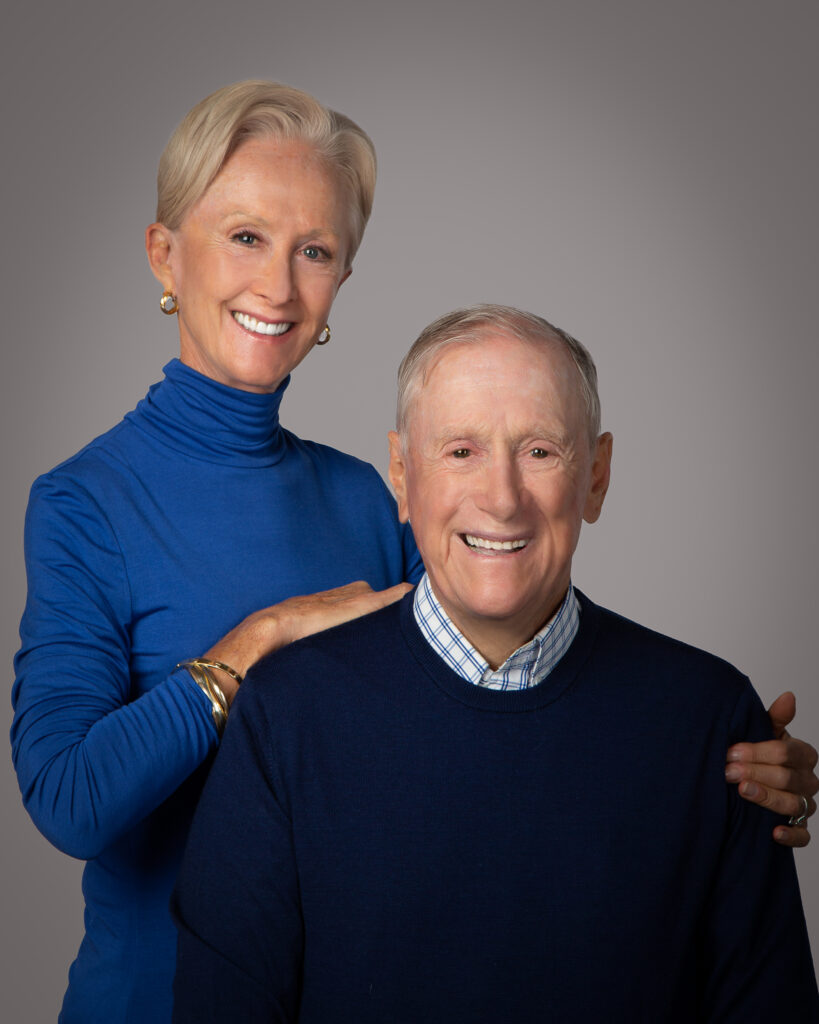 Elting's gift comes more than two decades after he donated $500,000 to create the program, which incorporates the study of human rights into the college's liberal arts curriculum. Inspired by the program's impact, Elting has designated his new gift to establish the Elting Fund for Human Rights and Global Citizenship. This latest commitment will build on the success of the Human Rights Program and offer additional resources for interdisciplinary study. His gift will ensure that Trinity students will continue to pursue solutions for some of humanity's most intractable problems for decades to come.
"Ev's transformational gift will markedly boost Trinity's impact as a leader of undergraduate human rights education," said Trinity Dean of the Faculty and Vice President for Academic Affairs Sonia Cardenas. "Students across the academic spectrum will deepen their appreciation of human rights and global citizenship in their lives. They'll experience unparalleled learning opportunities in this tremendously important field. The Elting Fund for Human Rights and Global Citizenship eventually will support a professorship, as well."
Elting's own passion for human rights and commitment to the imperatives of empathy, responsibility, and global citizenship began at Trinity more than 60 years ago. Coursework in art history, philosophy, religion, linguistics, ethics, and economics sparked his interest in diverse peoples and cultures. "At Trinity, my interests broadened and provided me the basis for a much more enjoyable and enlightened life," he said. "I am a true believer in a small-school liberal arts education."
Elting was able to combine his divergent interests—in business and humanitarianism—by investing both time and philanthropy in service to human rights causes while building a successful career. After Trinity, he rose through influential work in advertising and marketing to become president and CEO of Grey Advertising in Canada, which became the fourth-largest advertising firm in the nation under his leadership.
Travel around the globe during his career nurtured his inspiration, which was fostered at Trinity, to learn about others. After retirement, that interest only grew. Elting and wife Joanne have visited more than 100 countries. "Travel," he said, "is the ultimate way to gain the understanding that we're all better and happier when we look out for one another."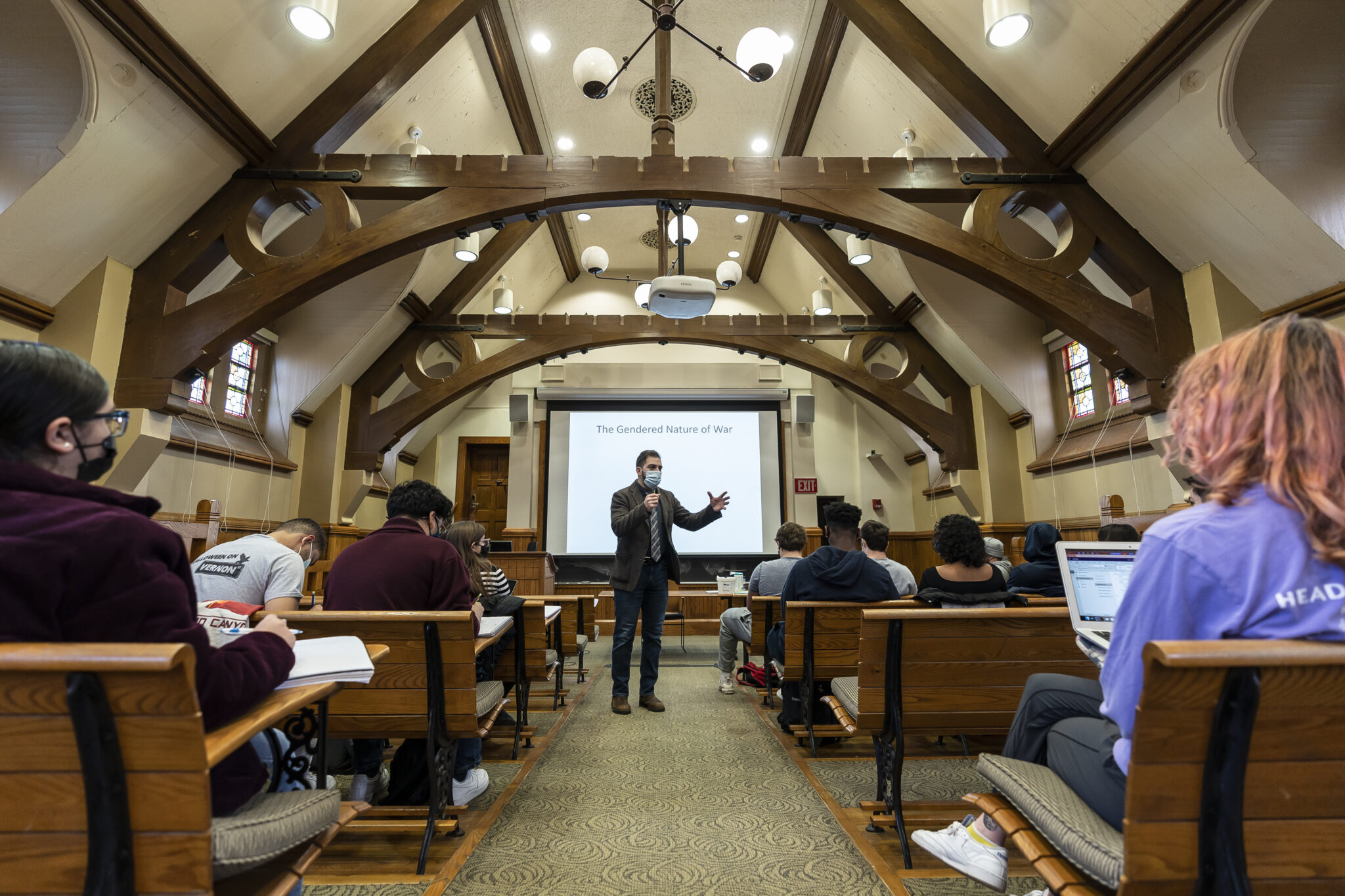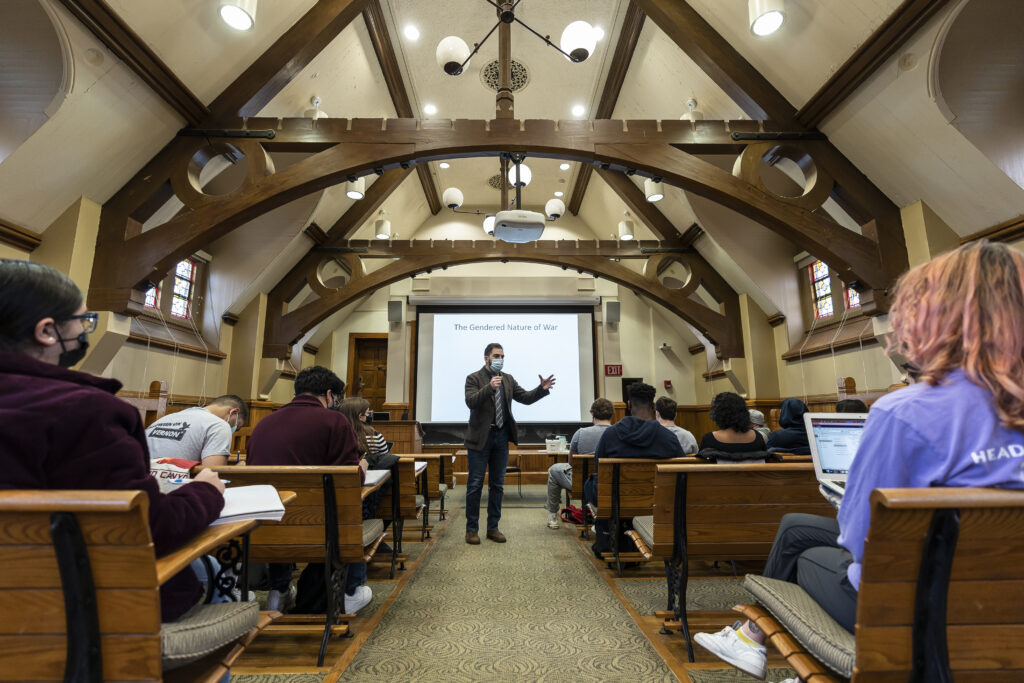 In its first two decades, Trinity's Human Rights Program—through its coursework, research, and internships at leading human rights organizations in the United States and around the globe—has educated hundreds of Trinity students with ambitions to understand and change the world. Their studies have led them to explore everything from resource wars on the African continent to mass incarceration in the United States, always keeping questions of human dignity and universal rights at the center of their pursuits.
"The growth and success of our program is a tribute to our fantastic students who are passionate leaders on campus and in their communities," said Benjamin C. Carbonetti, director of the Human Rights Program and lecturer in human rights. "A remarkable percentage of our students go on to work with organizations and institutions that engage directly with the cause of human rights. This generous gift will help even more students take advantage of opportunities to gain valuable experience before graduating, which keeps me very optimistic about the future."
Recent graduates of the program include:
Ana Stambolic '21, a Yenching Scholar who is pursuing her master's degree in China studies at Yenching Academy of Peking University and aims to become an expert in Chinese foreign policy.
Kabelo Motsoeneng '20, whose senior thesis project developed into a full-length novel exploring loss and queer identity within the context of South Africa, and who is currently pursuing an M.F.A. in creative writing at the University of Michigan.
Marlén Miranda '20, currently a program associate at the Pan American Development Foundation and a 2020 awardee of the U.S. Student Fulbright Binational Internship Grant in Mexico City (canceled due to the pandemic), who plans to pursue a career in business and international consulting.
For Elting, his investment in support of Trinity's Human Rights Program is deliberately timed to address what he sees as an inflection point in global history. "I believe," said Elting, "at this time when political and social dissension is rampant in our country, nothing is more important for citizens of the U.S. and the world than to profit and prosper through increased understanding and empathy toward one another."
During the 2021-22 academic year, 180 Trinity students were enrolled in Human Rights Program courses, including 31 students majoring and three students minoring in human rights studies.
Learn more about the Human Rights Program at Trinity College.