Back to News
'Creativity Helps Us to Stay Human,' Ukrainian Dancer Tells Trinity Students
Trinity Community
posted
by Andrew J. Concatelli
As war raged at home, Ukrainian dancer, choreographer, producer, and poet Anton Ovchinnikov focused on coping through creativity.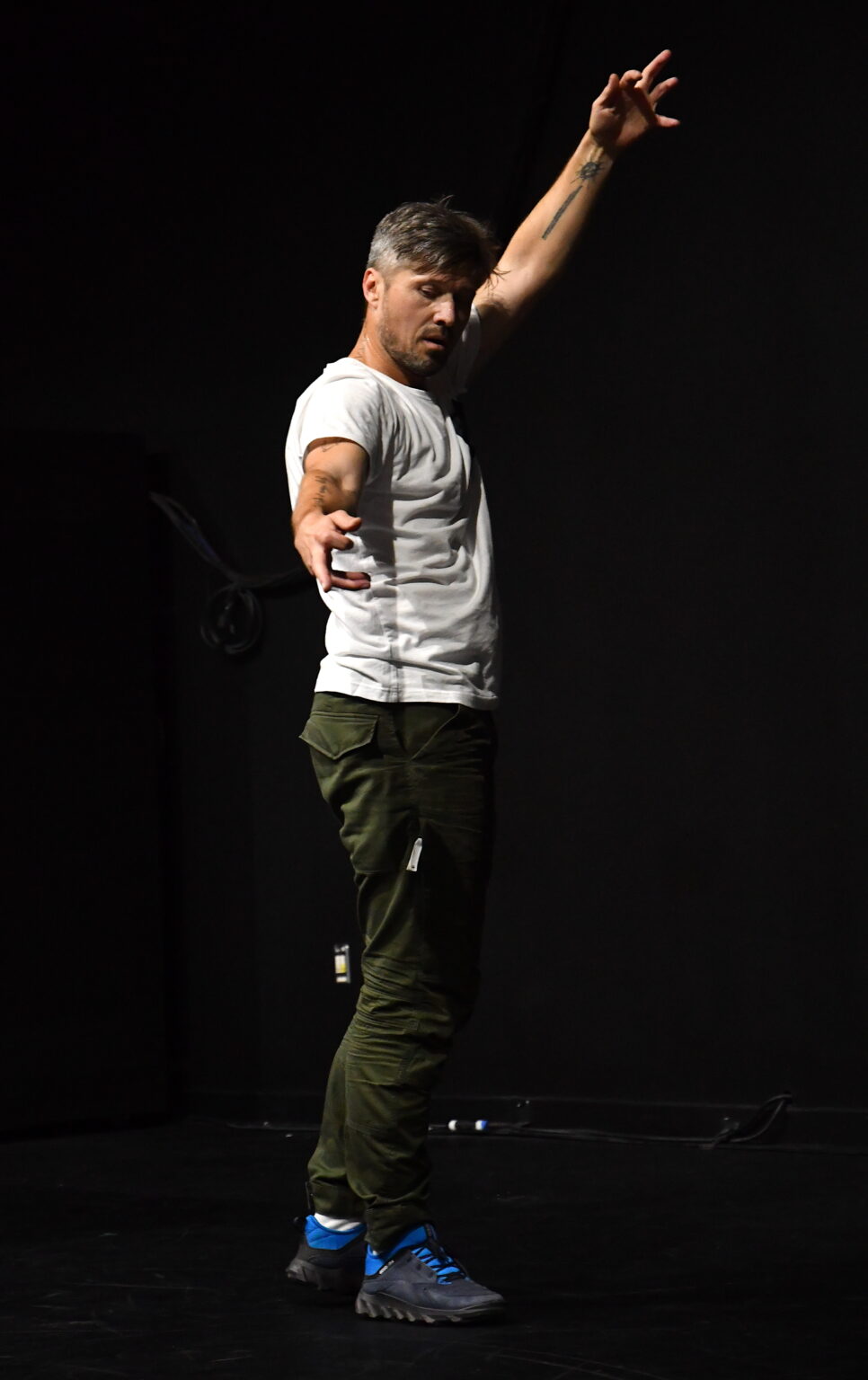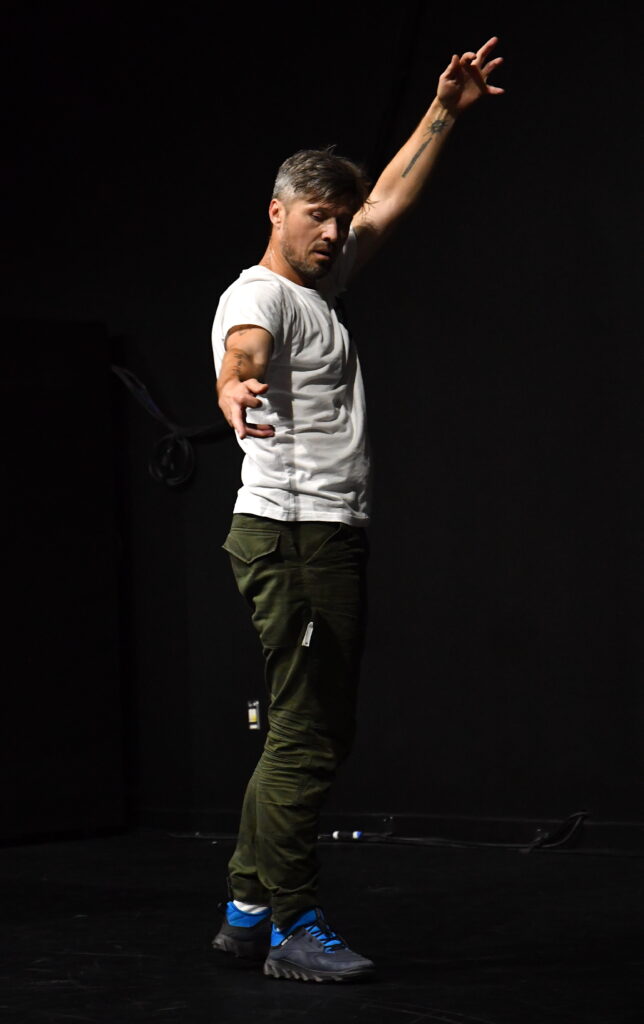 "A human should always find ways to be creative in every situation in our lives," said Ovchinnikov, while at Trinity College, where he pursued a fall 2022 residency. "Creativity has helped me to come back to normal human emotions, normal human relationships, and not to stay all the time in a feeling of rage.
"You can dance, you can write, draw, paint, run, do something with your hands. Sometimes it just takes time to push yourself to try something new."
From October 10 to 20, 2022, Ovchinnikov engaged with the campus through several class visits, two public performances, and an open "Creativity Jam," inviting the Trinity community to experience creativity as a practice of resilience.
Associate Professor of Theater and Dance Peter Kyle met Ovchinnikov in 2016, when Kyle had a Fulbright fellowship in Ukraine. Ovchinnikov and Kyle have collaborated over the years, leading to the residency at Trinity.
Since the war in Ukraine began early this year, Ovchinnikov said that he has relied on his art to channel and process his emotions. "Creativity helps us to stay human," he said. "Something new or something creative, from my point of view, can only come out of love—love to the world, love to the people. It is quite difficult, when there is a war, to feel love. Being creative helps you stay connected with people and connected to normal life."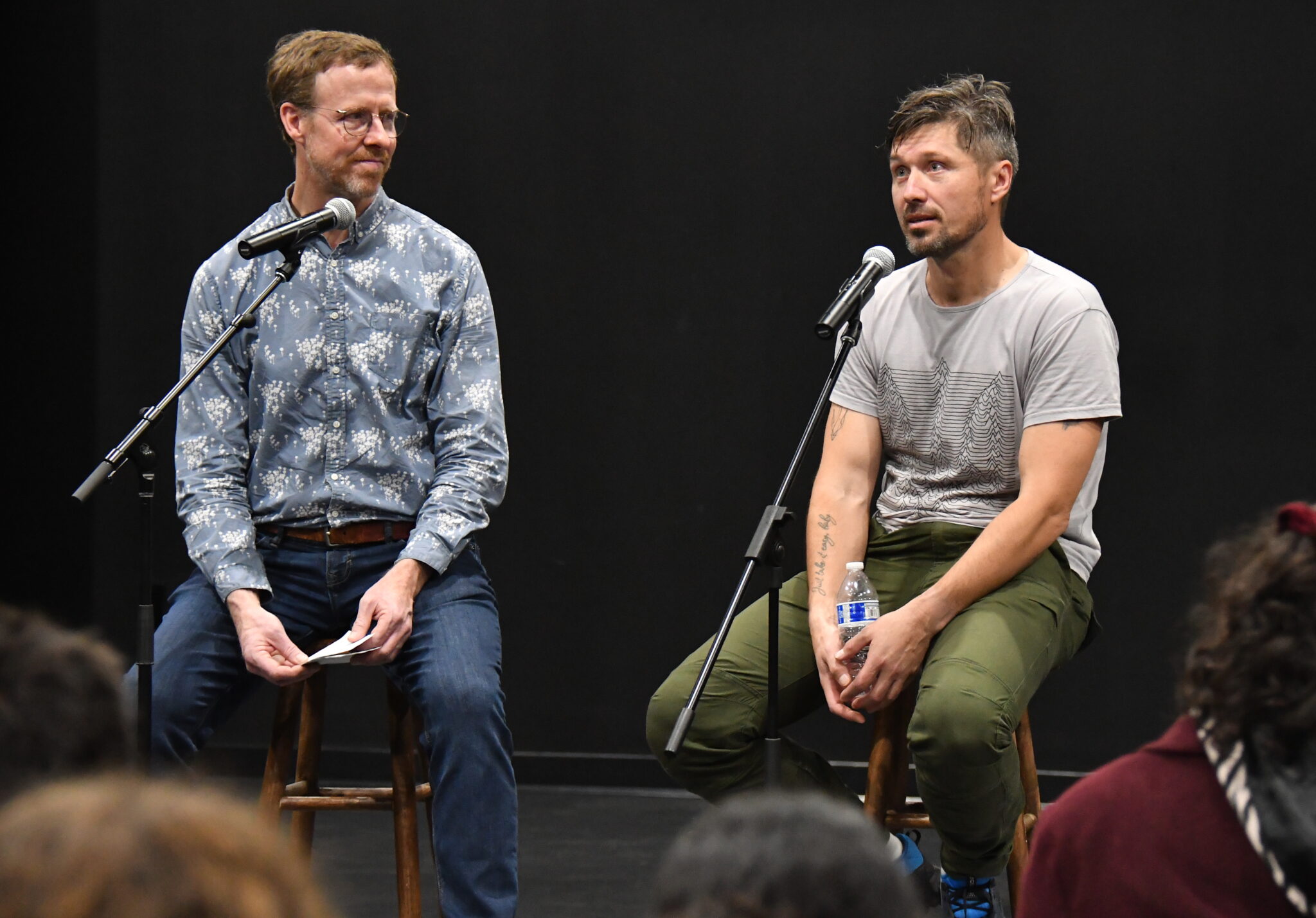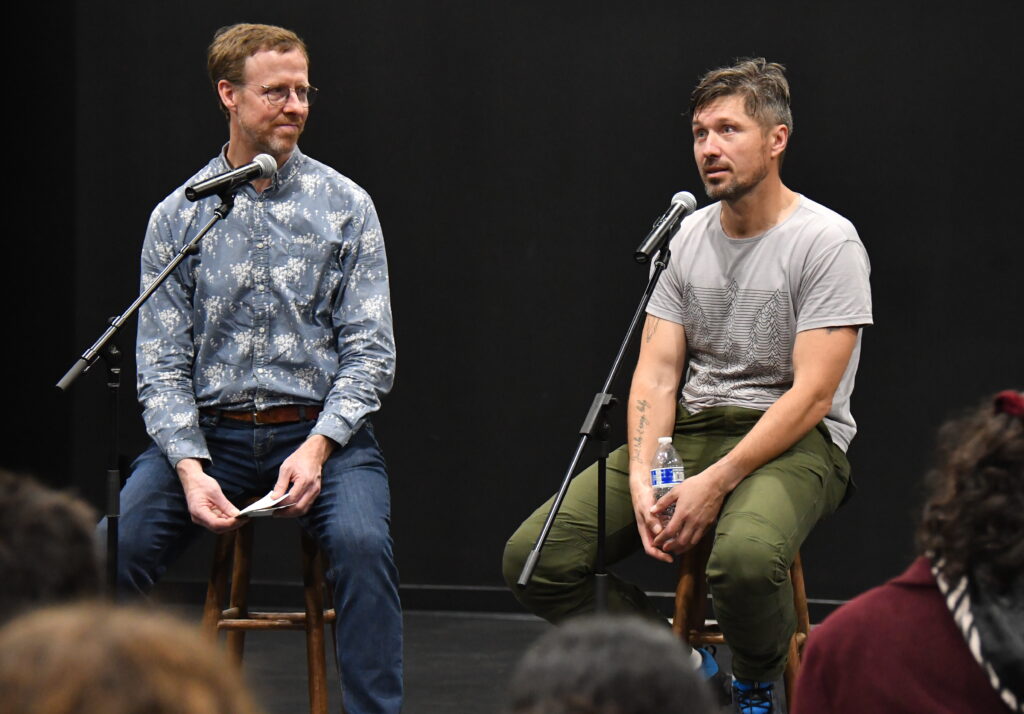 Born in Kyiv in 1971, Ovchinnikov enjoyed creative pursuits since childhood, when he first learned ballroom dance and began to write poetry. He served in the Soviet Army, danced in a professional company, and graduated from Kyiv National University of Culture and Arts with degrees in stage direction and choreography. He is currently writing a Ph.D. thesis at Lviv National University and organizes and performs at the annual international dance festival Zelyonka Space UP in Kyiv.
During his time at Trinity, Ovchinnikov spoke with students in the English, music, and theater and dance departments, the Hispanic Studies Program, and the InterArts Gateway Program for first-year students.
"I hope that students see new possibility for themselves," Kyle said about Ovchinnikov's residency. "They'll see how the creative spirit is indomitable and that it's within each of us to claim that opportunity; that even for someone whose country is under siege, there's still opportunity to be human, to find a way to go on."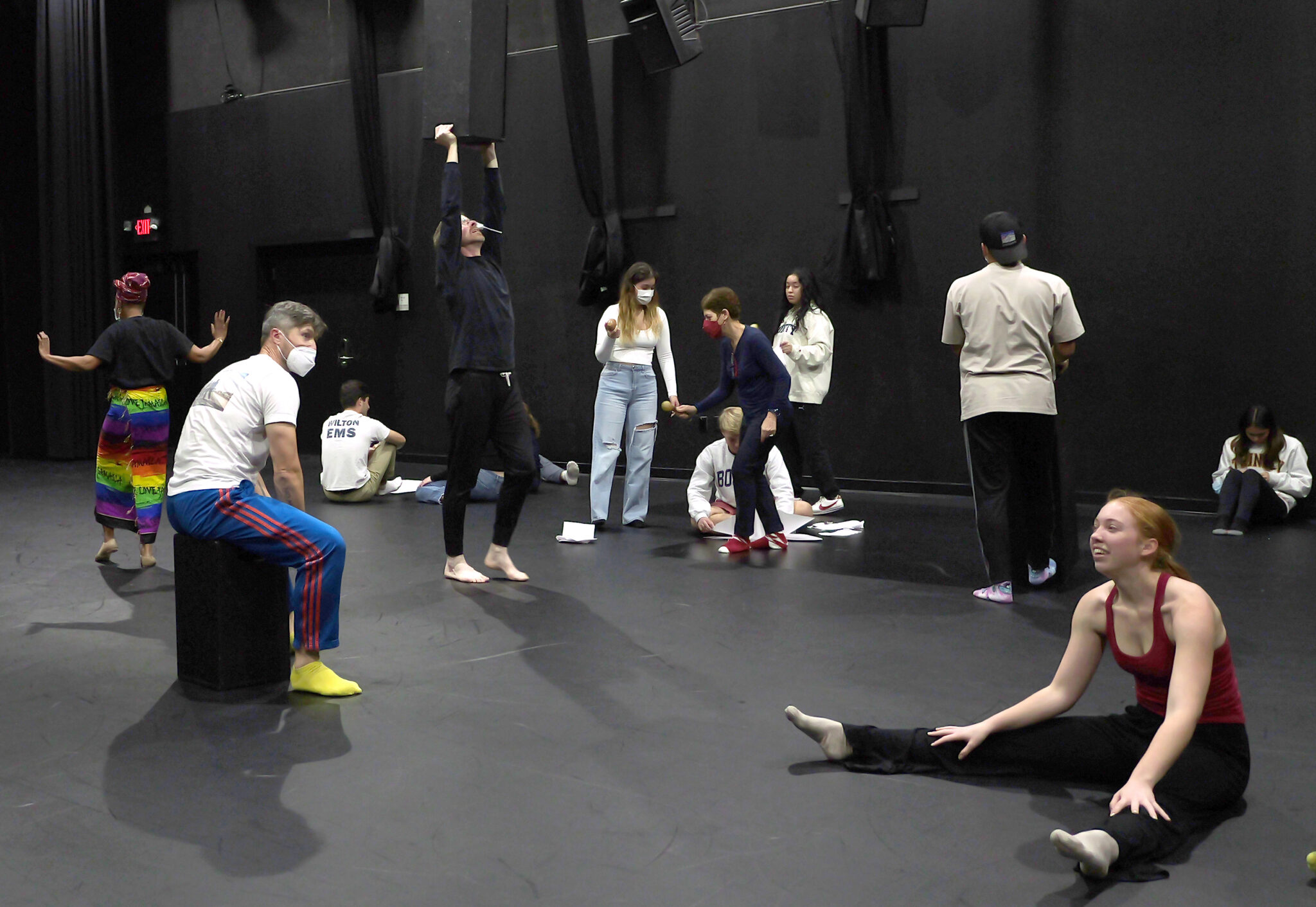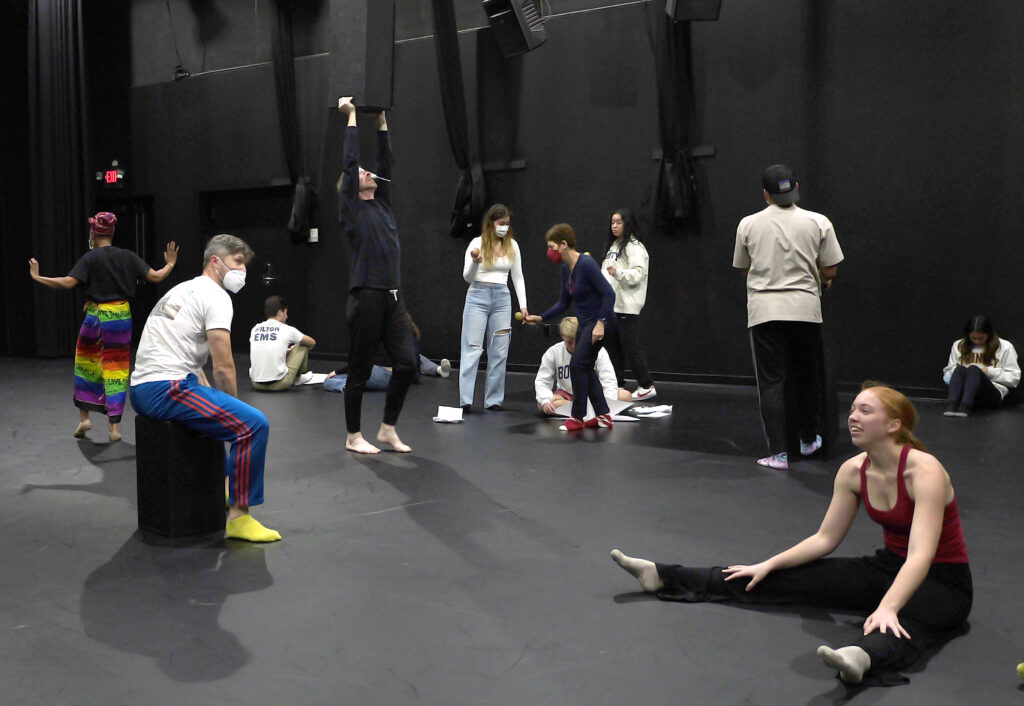 At the start of the war in February 2022, Ovchinnikov decided to write a poem every day and post each one on Facebook, which he did through June.
"For people who stayed in Ukraine or who left, for a few months you couldn't really do anything—you'd sleep, eat, and work, but all your thoughts are about how to stop all of this. The poetry helps to get out of this. Many people have told me that it helps them when they read it," Ovchinnikov said.
Allie Mikalatos '26, a student in the InterArts Gateway Program who is interested in dance, choreography, and storytelling, said that she appreciated hearing from Ovchinnikov about what it feels like to create art in a country at war and then share that art with audiences elsewhere who might not understand things in the same way.
Mikalatos said, "[Ovchinnikov] really wants to engage the audience in his art. His work leans more into not always knowing exactly what's going to happen, so I think it's really interesting to hear about his process of creating works that can change with the audience."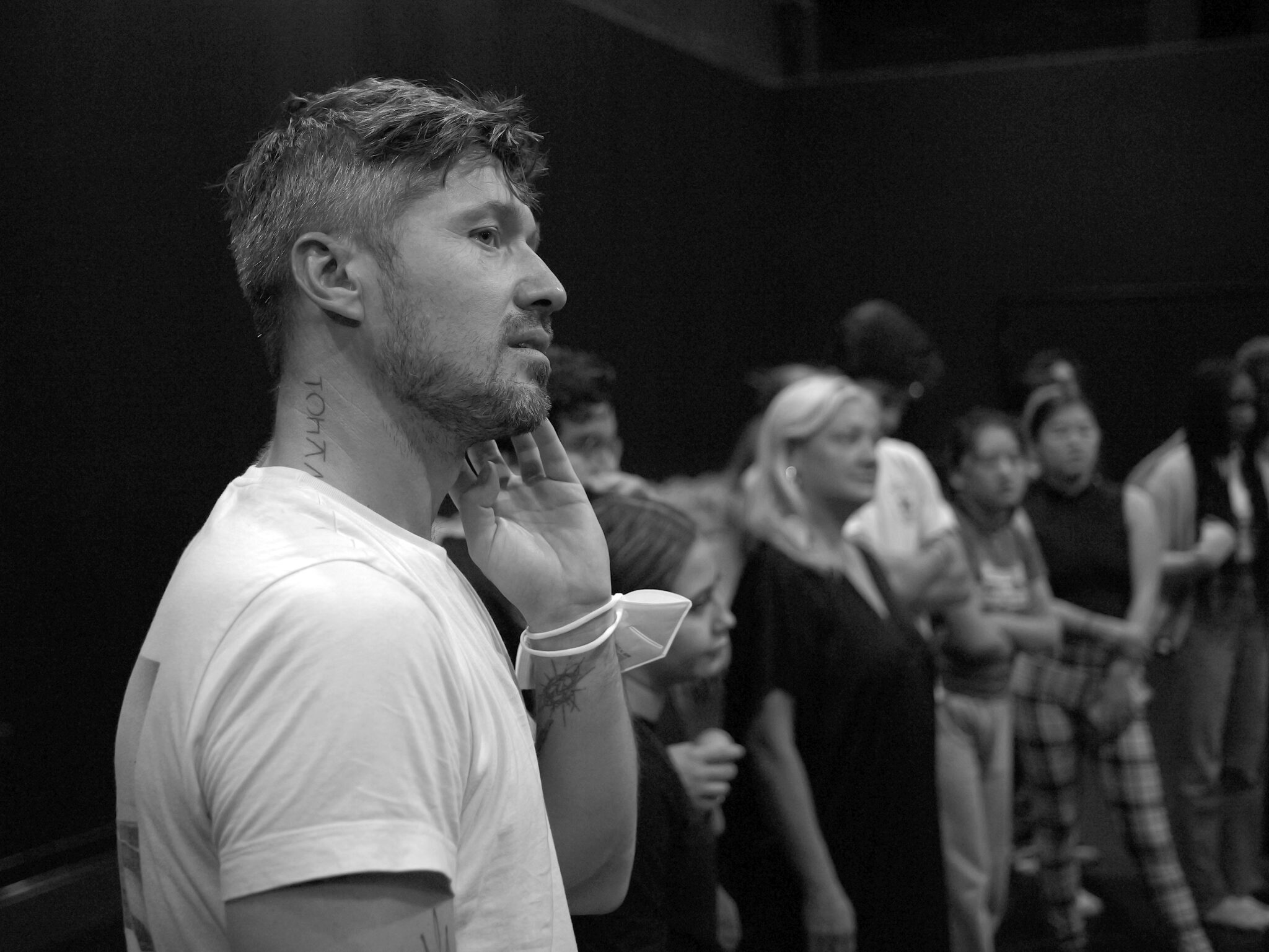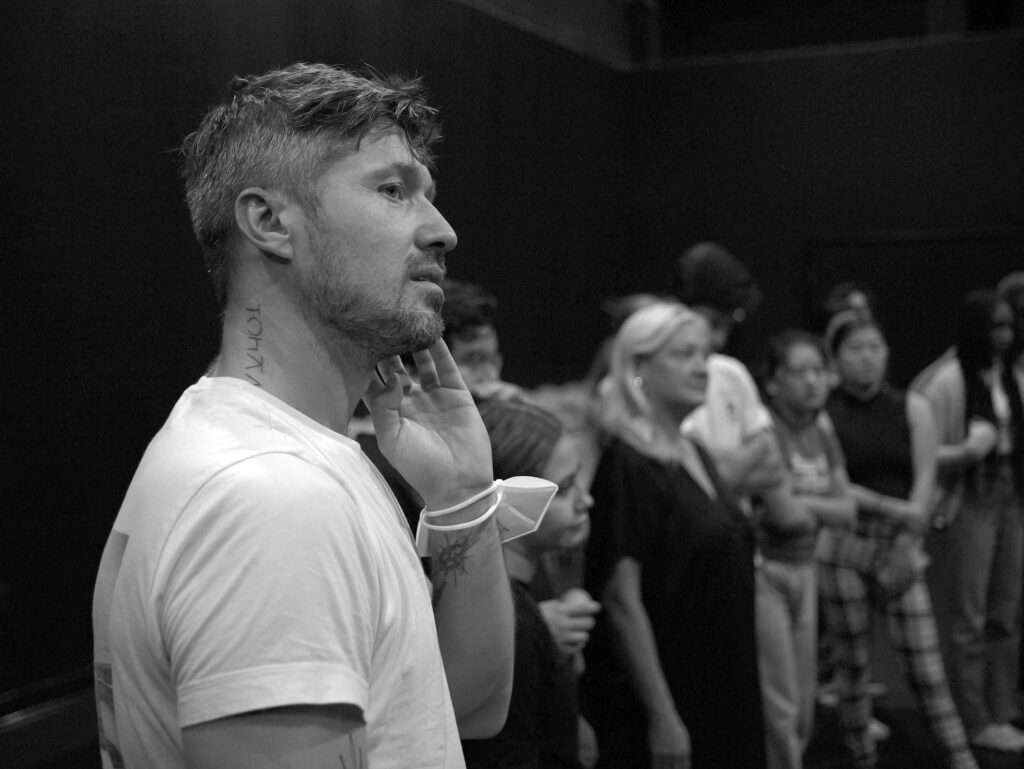 For his first performance during his Trinity residency, Ovchinnikov presented Beauty of the Beast, a collection of works created since war began in his country. The 30-minute solo performance on October 14 suggested looking at classical Russian ballet as an aestheticized form of violence against a person and over the body. Ovchinnikov also offered Monochrome, a video dance piece. To close the program, he read several of his war poems and joined Kyle in a conversation with the audience.
Kyle and Ovchinnikov hosted a "Creativity Jam" on October 17, mixing media and modes of expression, and encouraging participants to notice new things. Students, professors, and other members of the community joined in to move, dance, write, draw, and make music together.
"Anton is the living embodiment of someone who is using his intellect, his resourcefulness, and his drive to create more creative opportunities for other people," Kyle said.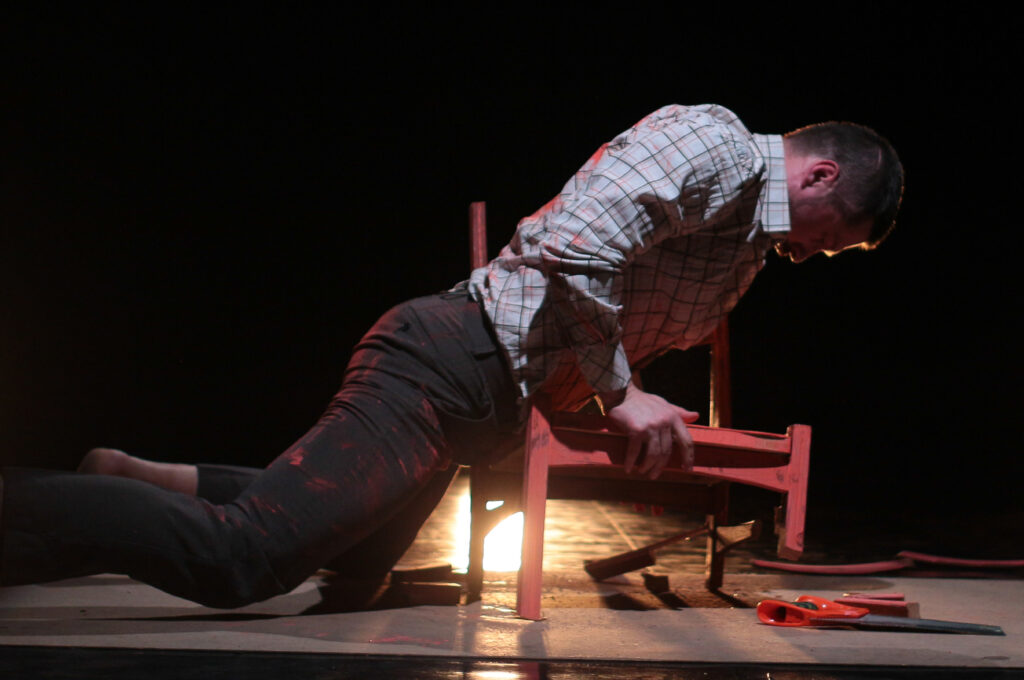 Ovchinnikov also presented the performance Duel.Solo (2018), in which he pondered the question, "Does the pursuit of perfectionism and self-improvement lead to self-destruction?" The performance was held in Garmany Hall in Trinity's Austin Arts Center on October 18.
The Trinity College residency was co-sponsored by the Department of Theater and Dance, the Department of English, the Department of Music, the Trinity Institute for Interdisciplinary Studies, the Center for Urban and Global Studies, and the Urban-Global Arts Initiative.
Below this video from the "Creativity Jam" is a poem written by Anton Ovchinnikov, published with his permission.
Backpack.
Have you ever thought that your life
you could easily fit
into one little bag
and it will look like that:
All that became so important's in it –
passport from paper
money, license
pills (what if the head aches)
book about conscience and hope,
a piece of very important
clothes,
matches, notebook
for poetry, notes,
charger android or maybe iphone
(depending on what is your telephone)
and a heart in a full metal
coat
to be fully protected
till the very last
and honest point.
But wait.. What about the?
'Bout the other?
The thing that is precious to you
The thing that is heartly crucial
The thing that you lack and then yell every step of the way,
closing your eyes "I can't"…
paper photo with darling and sea
sister's autograph
bike in the corridor
meetings with friends
wine
conversations
coffee with girlfriend
and Crimean mountains
and late nightly
kiss in the corridor
note on old paper piece
and tattoo
on a strong wrist
I know I need at first to start
my tiny backpack to pack
on the floor
try
do everything not by design
throw away everything that's
unimportant now
passport from paper
money, license,
pills (what if the head aches)
book about conscience and hope,
a piece of very important
clothes,
matches, notebook
for poetry, notes,
charger android or maybe iphone
(depending on what is your telephone)
and heart
in reliable full metal coat
leave outside
for son
for daughter
for the woman who
knows how to be with you
when you're in the basement
covered with shells
heart — leave it
let it bleed
day's always
here
after night