Back to News
A Day in the Life of a Remote Staff Member: Rose Rodriguez '15, M'18
Trinity Community
posted
by Andrew J. Concatelli
Many Trinity College staff members have been working remotely from home during the spring 2020 semester, as the COVID-19 pandemic largely prevents in-person work on campus.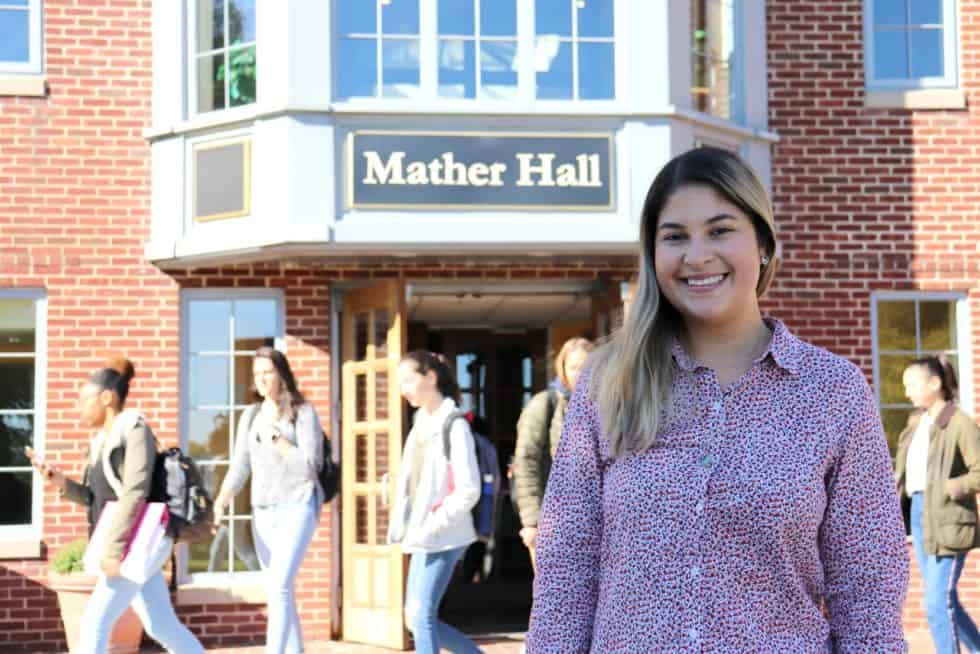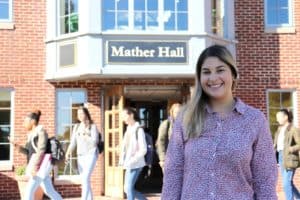 As Trinity's first sustainability coordinator, Rose Rodriguez '15, M'18 promotes a culture of urban environmental sustainability by collaborating with students, faculty, staff, and the administration on initiatives like composting and developing a campus-wide sustainability plan. "My job is much more student-focused at the moment, through online events and programming, while facilities-based projects on campus are on hold," she says. Rodriguez came to Trinity as a Posse Scholar from New York City and earned a B.S. in environmental science and an M.A. in American studies. She worked at Trinfo.Café before taking her current role in 2018 and now serves on the college's Summit Sustainability Committee and Summit Facilities Committee and as a member of the Exempt Staff Council.
Here, as Rodriguez recounts a recent day, she reflects on her experiences supporting virtual events, strengthening connections remotely, and maintaining a work/life balance while at home during a pandemic.
Friday, April 24, 2020 – Rose Rodriguez '15, M'18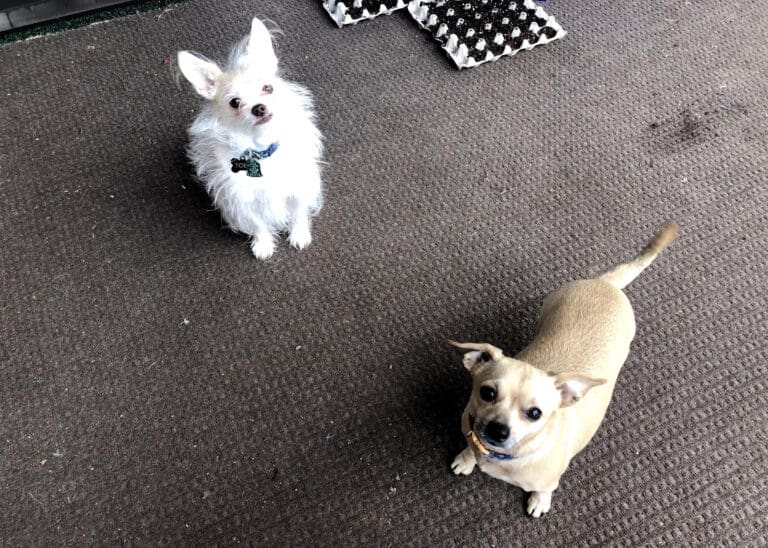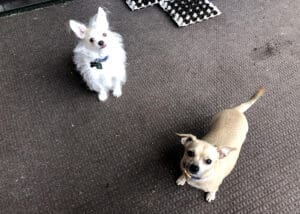 8:30 a.m. – Getting ready for the day. After I wake up and let the dogs out, my fiancé Juan Hernandez '13 M'15 and I quickly go over our schedules for the day. Because he has a Zoom meeting before I do, it means two things: 1. I have to make breakfast for both of us; and 2. He gets the home office, which means my office today is our living room.
9:30 a.m.-11:00 a.m. – Virtual Earth Month. While having breakfast, I begin sharing content over social media. I have been working with Trinity's Office of Community Service and Civic Engagement and the student groups Green Campus, TREEHouse, and CONNPIRG on a virtual Earth Month calendar in honor of the 50th anniversary of Earth Day.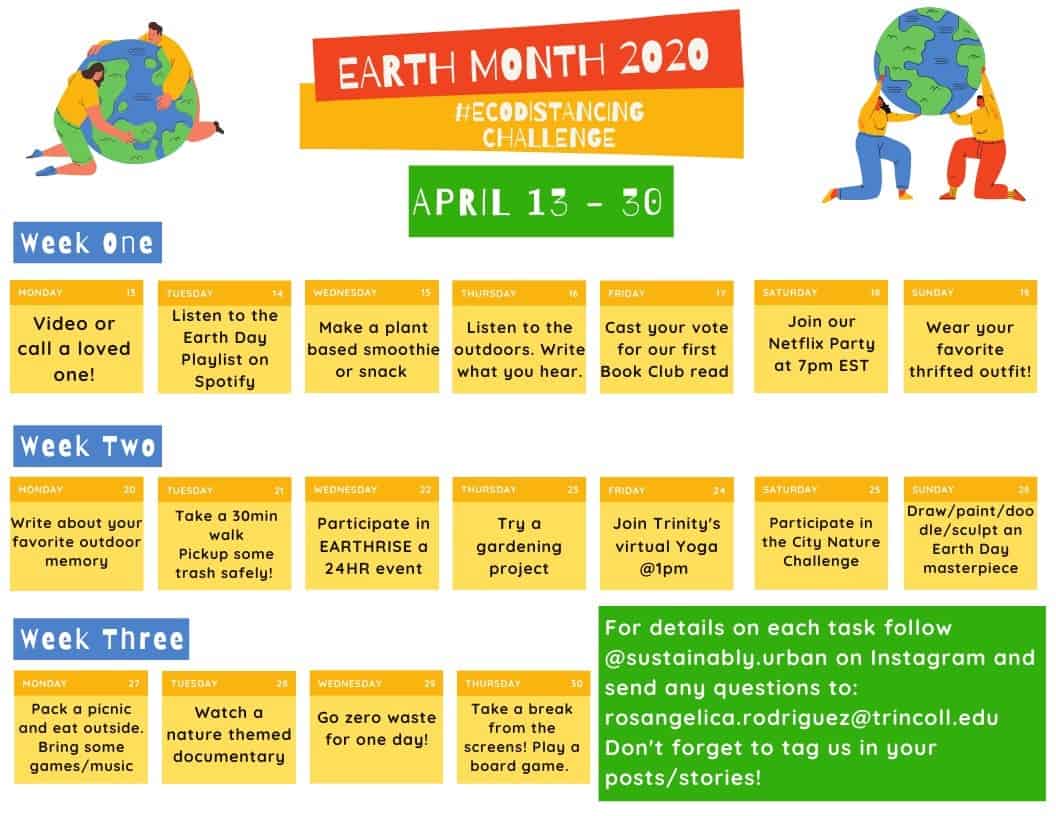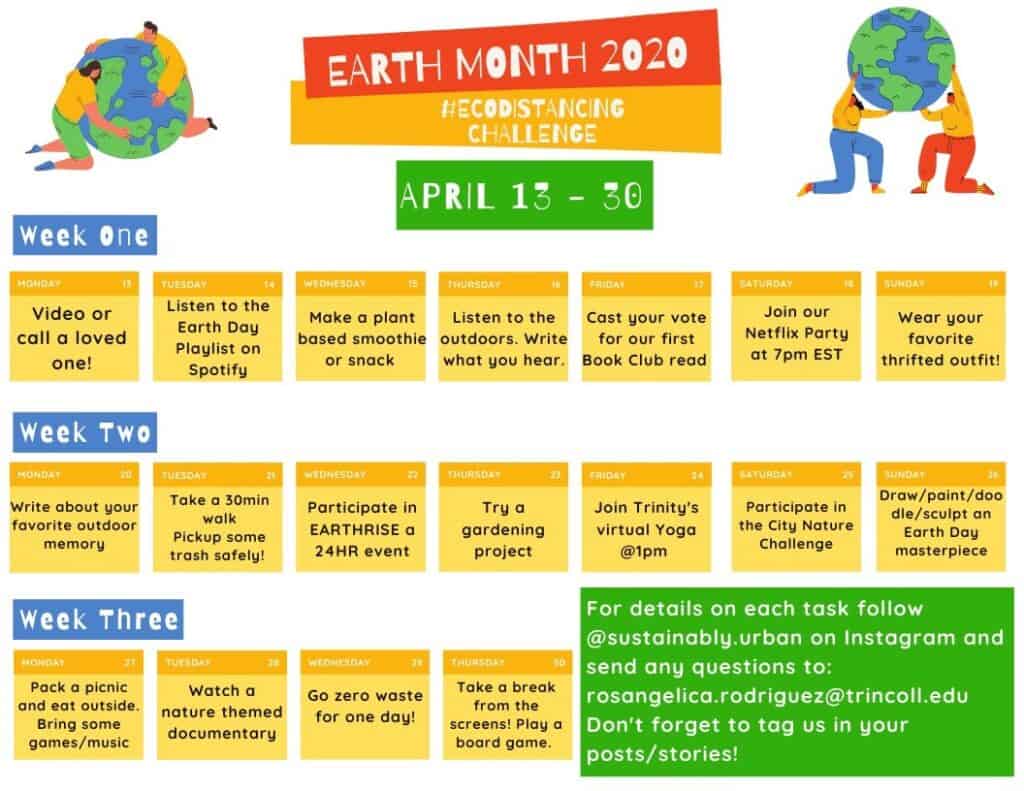 We put together a series of daily activities posted on my Instagram account (@sustainably.urban) in which the Trinity community can participate called the #ecodistancingchallenge. The goal is to celebrate Earth Month in a variety of ways while remembering to keep our distance from others. Yesterday was Day 11, when we asked everyone to tag us in photos or videos of them doing a gardening project. Today is Day 12 and we were supposed to participate in a Zoom yoga class led by Gabby Nelson, the program coordinator for the Center for Urban and Global Studies at Trinity. However, Gabby can't host class today, so I adjust the schedule: Over the past couple of weeks I have partnered with the City of Hartford's Sustainability Office to provide residents with a series of virtual events for Earth Week, one of which is today's "Mindfulness in Nature" program led by an instructor from Toivo, a peer-run non-profit center for holistic healing.
11:30 a.m. – Tech support for the City. I now switch roles and become tech support for Heather Dionne, Hartford's city forester, who is hosting a Facebook Live session called "Protecting Hartford's 560,000 trees." Earlier this week we made sure all our speakers had the right equipment and tested the communication platforms they planned on using. Some speakers are doing Facebook Live sessions, some have pre-recorded videos and are holding watch parties, and others are streaming live from Webex to Facebook.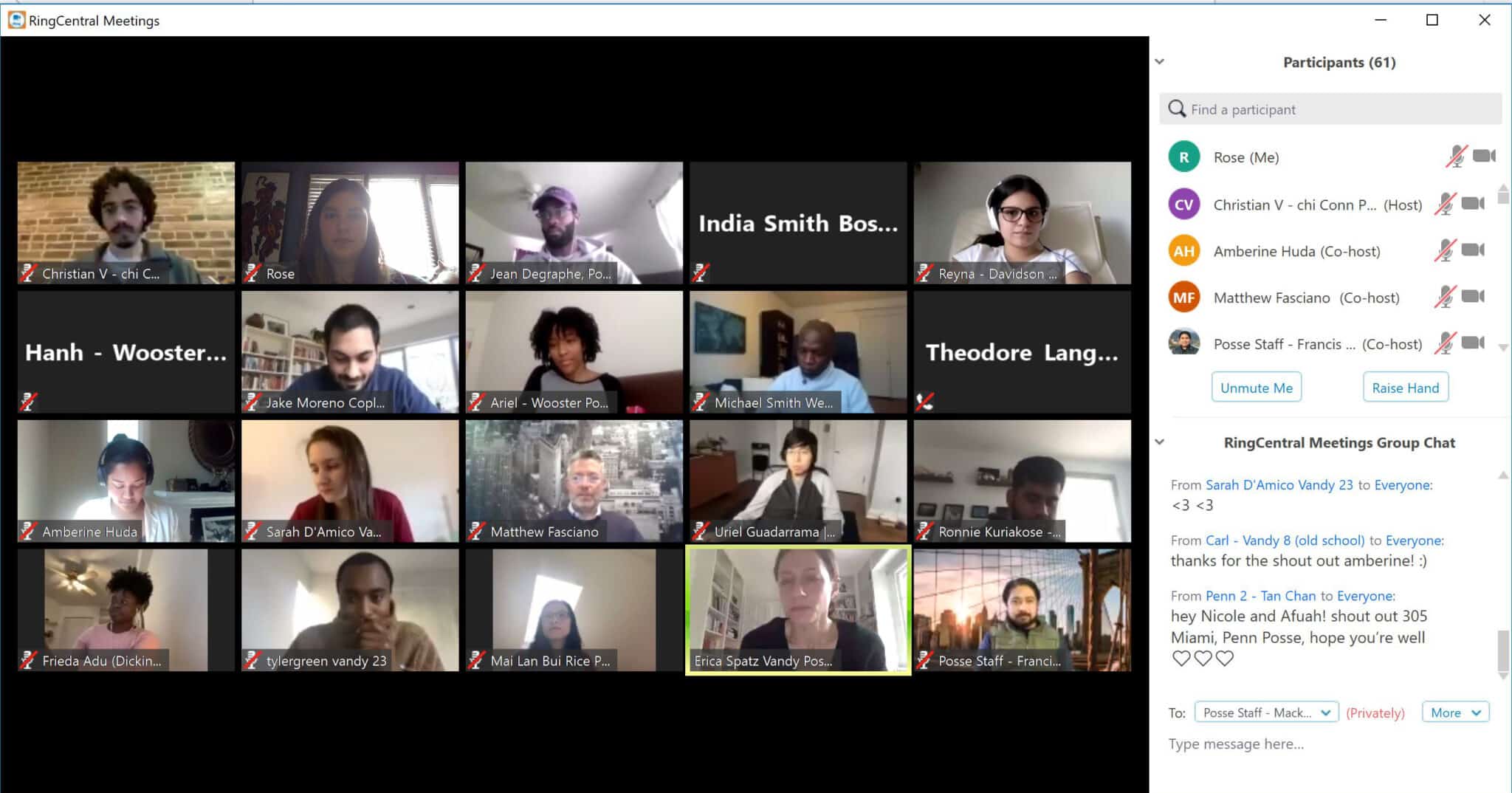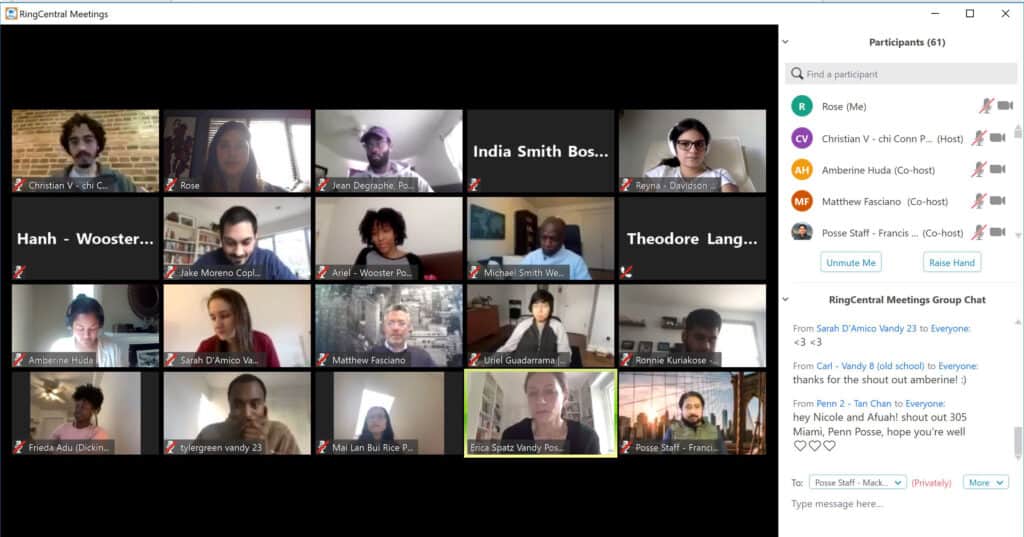 12:00 p.m. – Posse alumni chat. I join ConnectFriday, a weekly video chat with Posse alumni. There are more than 70 alumni in the chat all from different Posse colleges and universities. We spend most of the session talking about the experiences of healthcare workers and the people we may not think of as essential workers. A Posse alumna who is cardiologist mentions how much people thank her for going to work, yet she feels there are others who are more essential than her, like the people who clean the hospitals.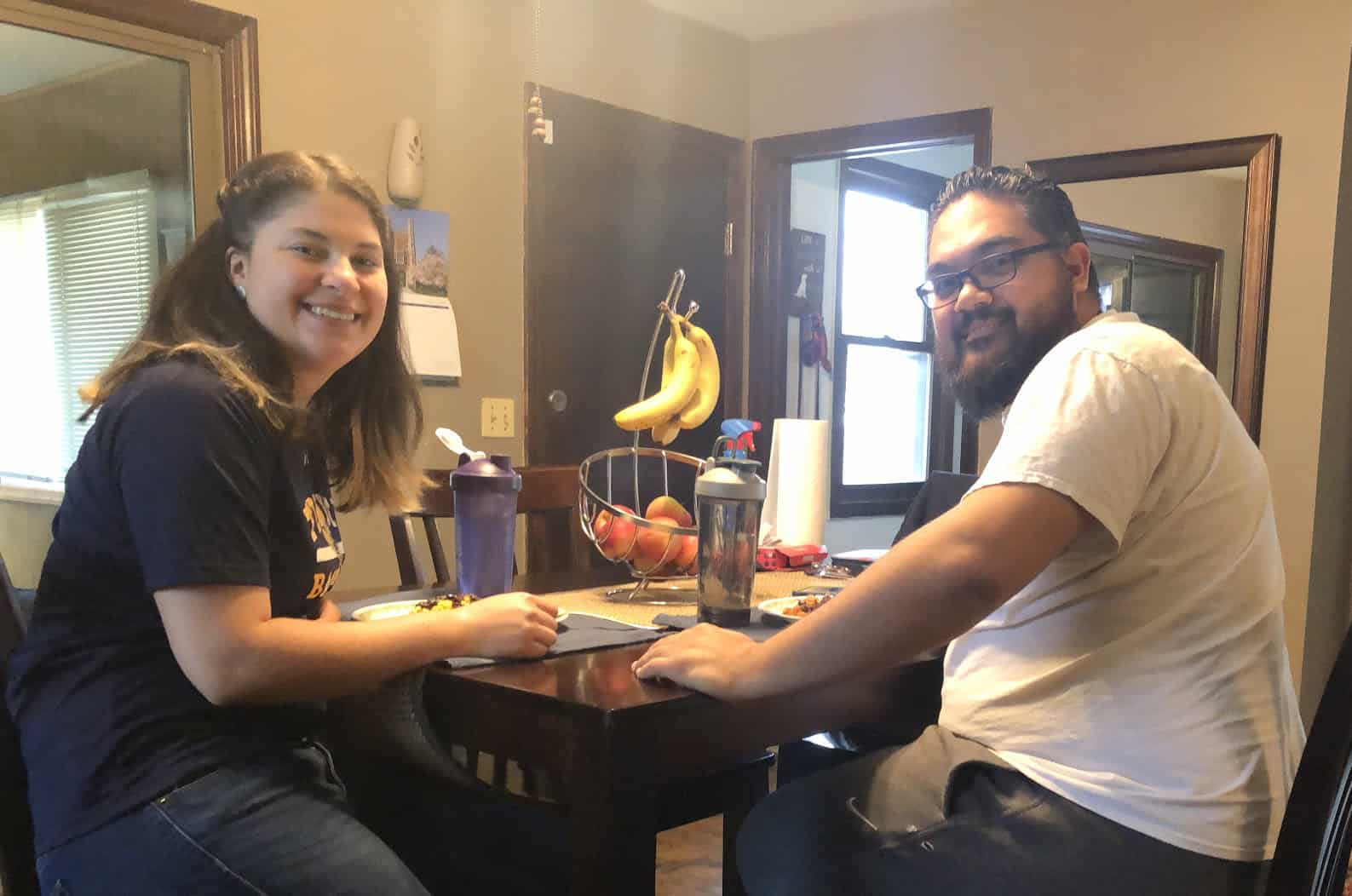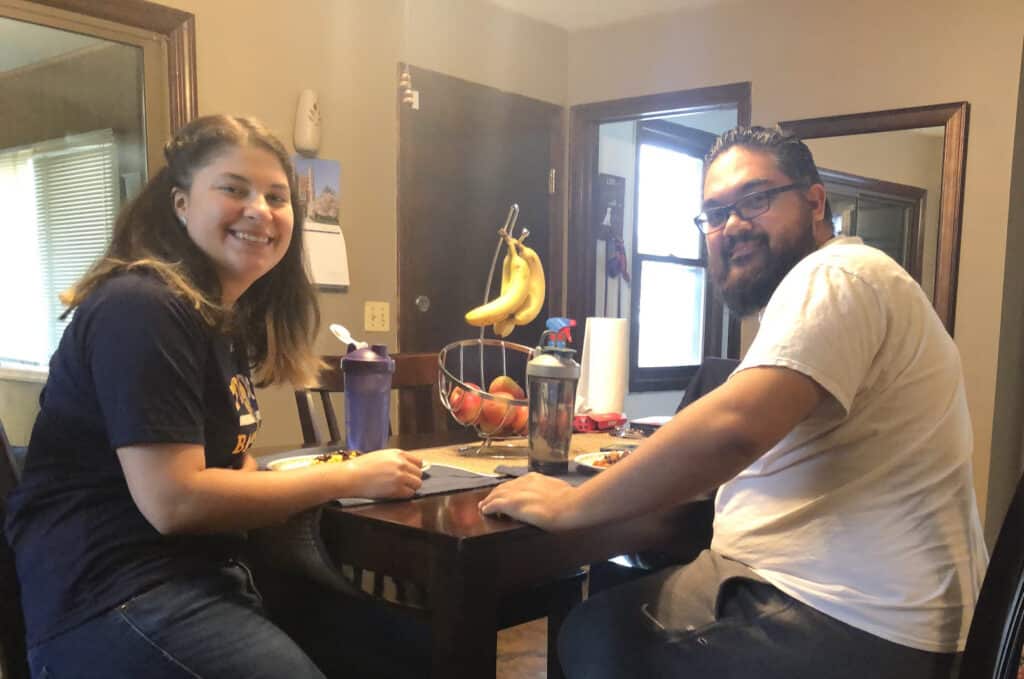 12:45 p.m. – Lunch together. Juan and I try to eat lunch together every day. Even though we are in the same house, we're so busy that we don't really see or talk to each other while we're trying to get work done. For the past couple of weeks, we have been meal-prepping on Sundays and it helps to have meals ready. This week we made a turkey and cauliflower casserole and beef chili.
1:00 p.m. – Another Facebook Live event with the City. I am once again tech support, this time managing the chat and questions for a talk called "Forest Power: Trees and Plants at Keney Park," by Colin McMullan, a public artist. Colin speaks about the variety of trees in the park and their tree-tapping project to make maple syrup. They use the steam produced by boiling the tree sap to fill a sauna; unfortunately, they haven't been able to let people use the sauna this spring because of social distancing rules. Here's a video about the project.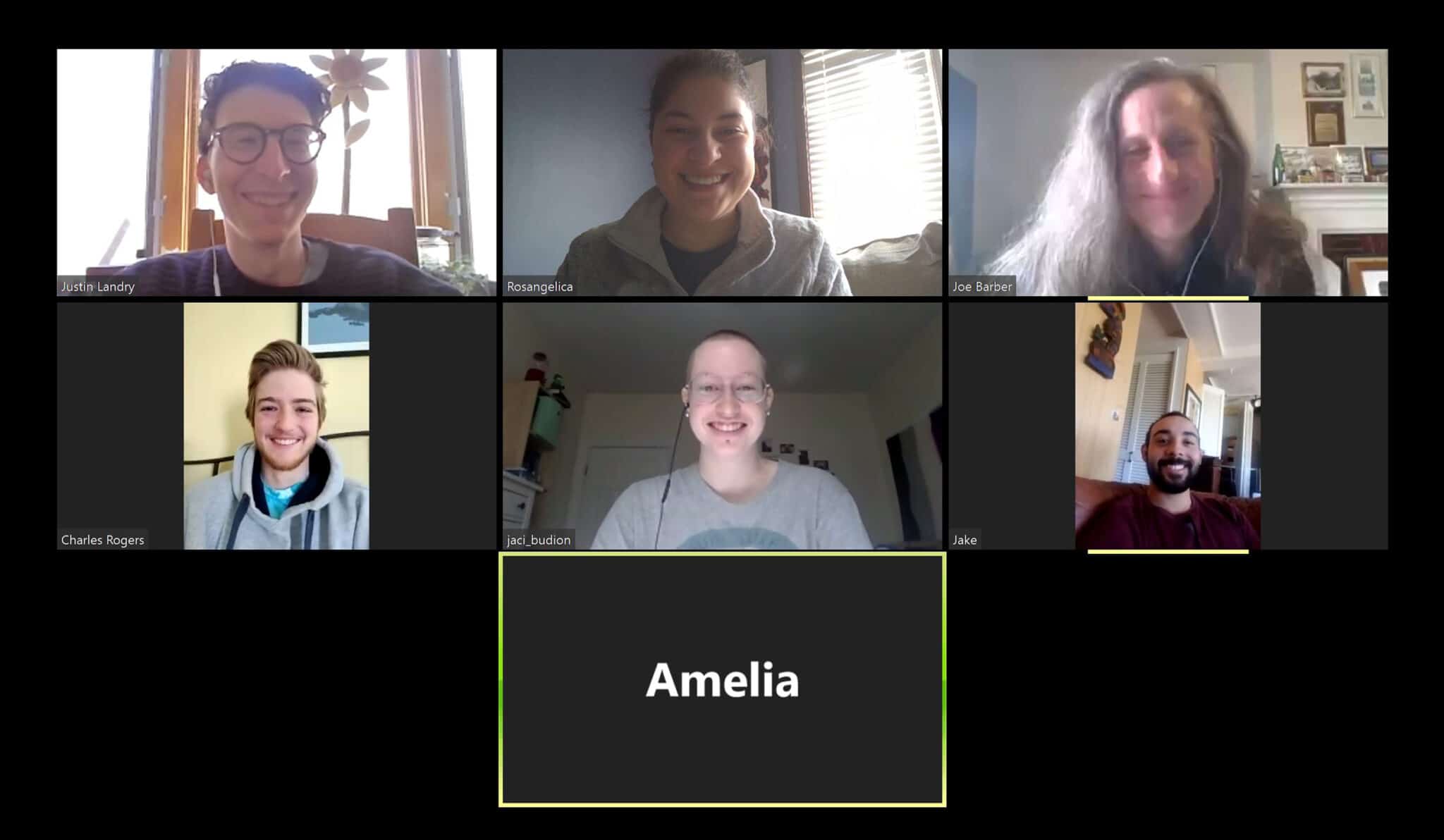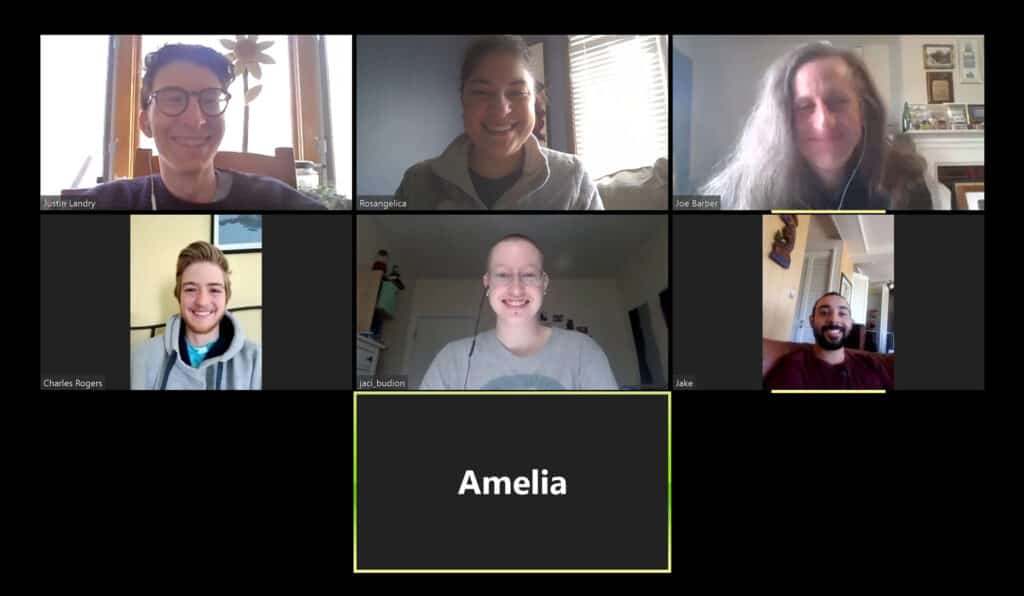 3:00 p.m. – Daily debrief call. The City of Hartford Earth Week group goes over the day's events. The call includes Shubhada Kambli and Grace Yi from the City's Office of Sustainability; Kathryn Fiducia, an AmeriCorps Vista with the City of Hartford's North Hartford Promise Zone and EnVision Center initiative; and Jeff Devereux '12 from Breakfast Lunch and Dinner.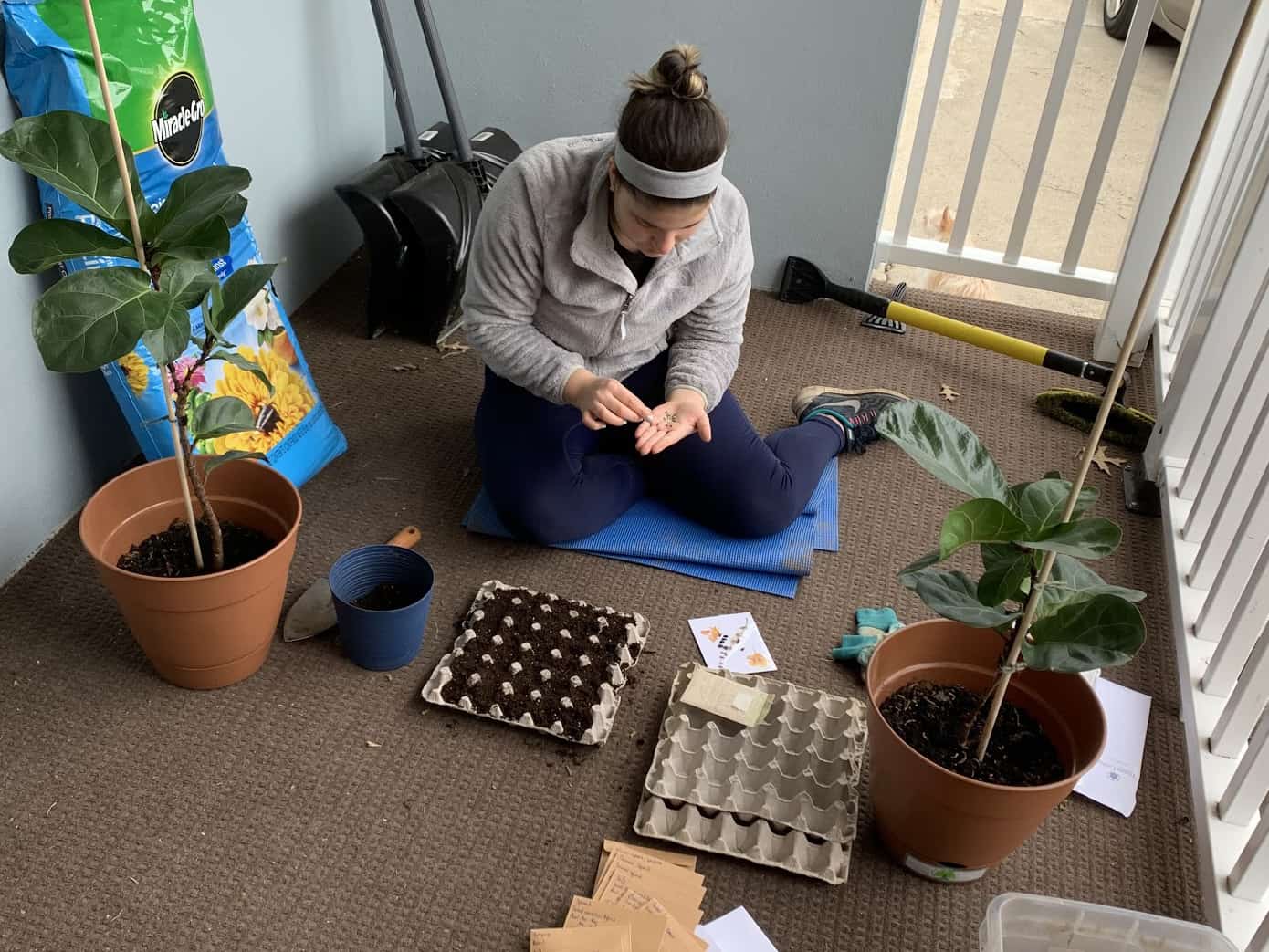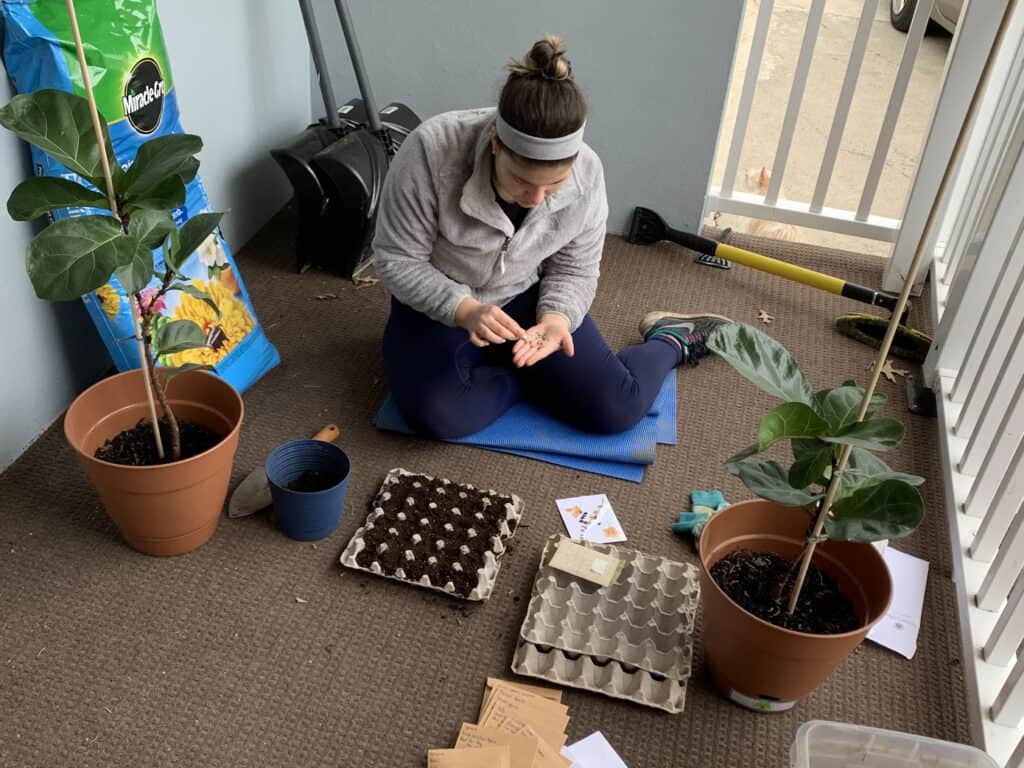 4:30 p.m. – Done with the (official) work day! Juan and I have a weekly FaceTime call with our nutritionist and trainer to make sure we are eating right and getting our exercise. We started 2020 with the goal of being fit by our wedding date in December. After gyms were closed, it made this journey a bit harder, but we are making the best of it; we even created a mini-gym in our basement.
5:00 p.m. – I lay in bed and close my eyes. I'm not actually tired; my eyes just need a break from all the screen time. At home, it's easy to just look at screens all day—TV, iPhone, Nintendo Switch, work laptop, personal laptop—since that's how all work and communication gets done.
8:30 p.m. – Checking in with family. After we have dinner, talk about our days, and catch up on some Netflix episodes, Juan's parents call. They're worried about our health, jobs, and finances, and we tell them we're doing okay. They ask us about our wedding plans and for now all we can say is it's not canceled, but plans are on hold until we know more. I decide to call my parents, too. My mom shows me the mask she made for my dad using her sewing machine and reminds me again why I should buy my own machine and learn how to sew. All in all, everyone seems fine at home; we just want to be able to hug each other soon.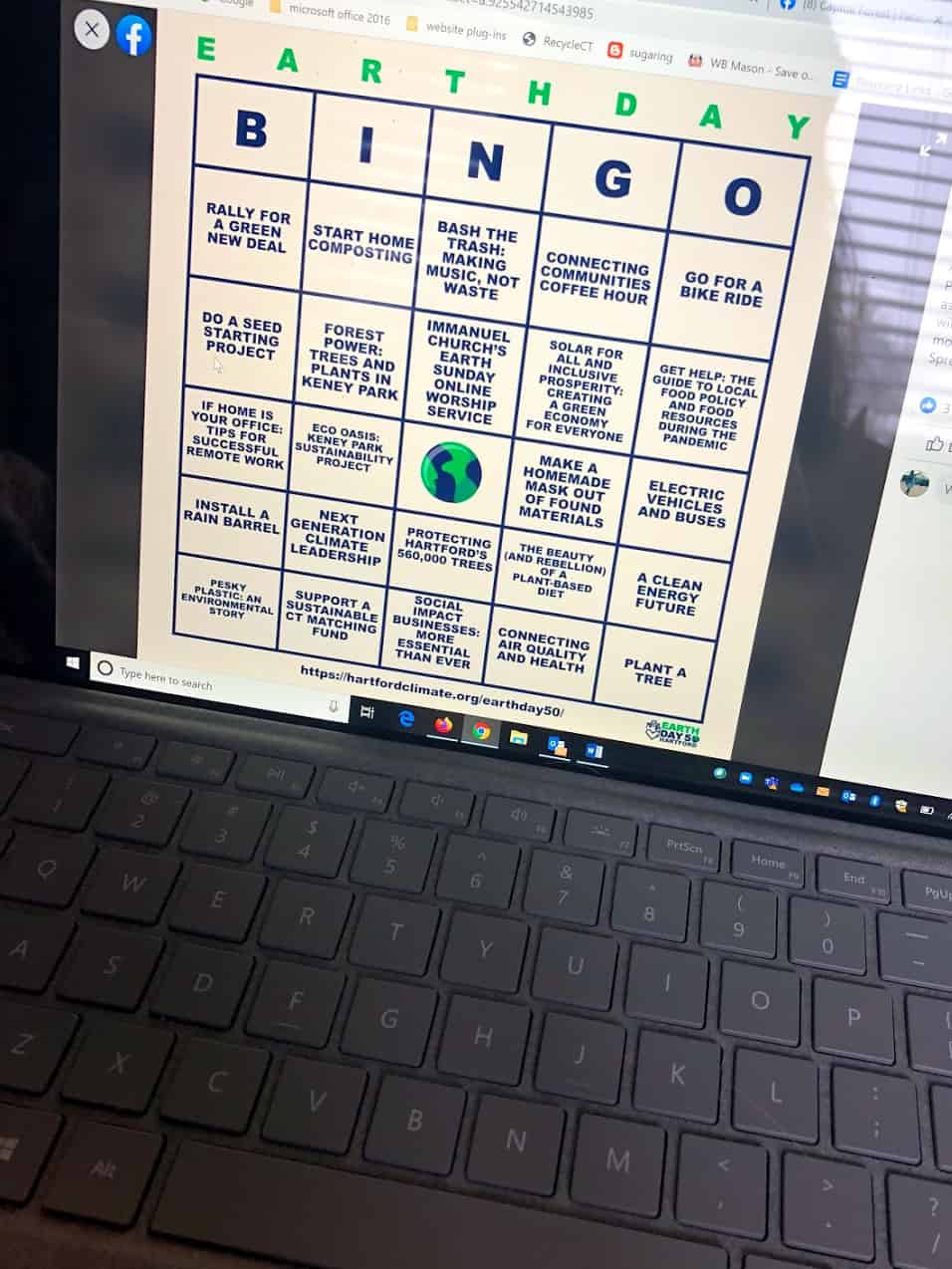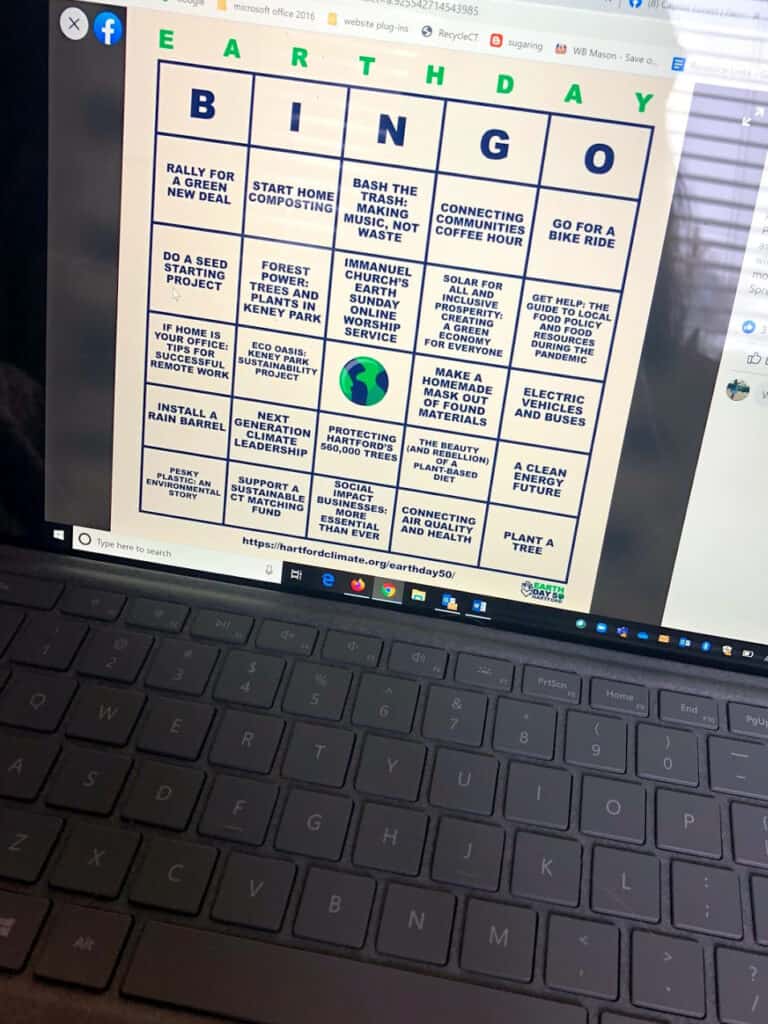 10:00 p.m. – Some fun with friends. Juan begins playing "Call of Duty" with his friends, which is one of the only ways to interact. I'm new to video games and my game of choice to play with friends is "Animal Crossing: New Horizons." We can build our own worlds, go shopping, and visit each other virtually, but it's not the same as being together in real life. I miss my friends!
11:00 p.m. – Time for bed. Before all of this, Friday was for girls' night, date night, movie night, or game night. But every day is the same now, weekends feel like any other day, and the lines between work and home are blurred. If students text me at night, I'll probably respond. I like to keep busy and stay productive, but mentally you have to tell yourself it's okay to have a break and not be on all the time.
Hopes for a sustainable future: People say they hope we get back to "normal," like we were before, but I think we need a new normal. When this is all behind us, we should leave behind things like single-use plastics—think of all the gloves, masks, disinfectant wipes, and water bottles that we have to throw out. In our new normal, these shouldn't be items we use daily, but only during emergencies. We should come out of this better than we were before. In terms of sustainability, we as a community need to think about what will make us resilient so that we don't just survive future adversities, but thrive through them.
A Day in the Life of a Remote Faculty Member: Clayton Byers
A Day in the Life of a Remote Student: Jyles Romer '20