Back to News
A Day in the Life of a Remote Faculty Member: Clayton Byers
Faculty
posted
by Andrew J. Concatelli
All faculty members at Trinity College have adapted their courses to a remote learning model for the remainder of the spring 2020 semester, as the COVID-19 pandemic prevents in-person gatherings.
Assistant Professor of Engineering Clayton Byers, who has been a member of the Trinity faculty since 2018, is teaching ENGR 226–"Engineering Mechanics 2" and ENGR 232–"Engineering Materials" this semester. When the college instituted remote learning, Byers worked alone from his office on campus for several weeks, using resources there to record lectures and access his lab. "I can't wait for in-person classes to resume, but remote learning is obviously better than canceling classes, so I want to give my students everything I can to allow their education to continue," he says. Here, as Byers recounts a recent day, he reflects on the experiences of conducting a review session, advising students, and teaching remotely via the Internet: 
Thursday, April 9, 2020 – Clayton Byers

7:30 a.m. – Arrive at the office, make coffee, check emails. I check in on a student who is back home in China. I'm concerned and want them to succeed, but they've been in a stressful situation. I receive an email about a conference I was planning on attending this summer that has been postponed a year, which is not surprising.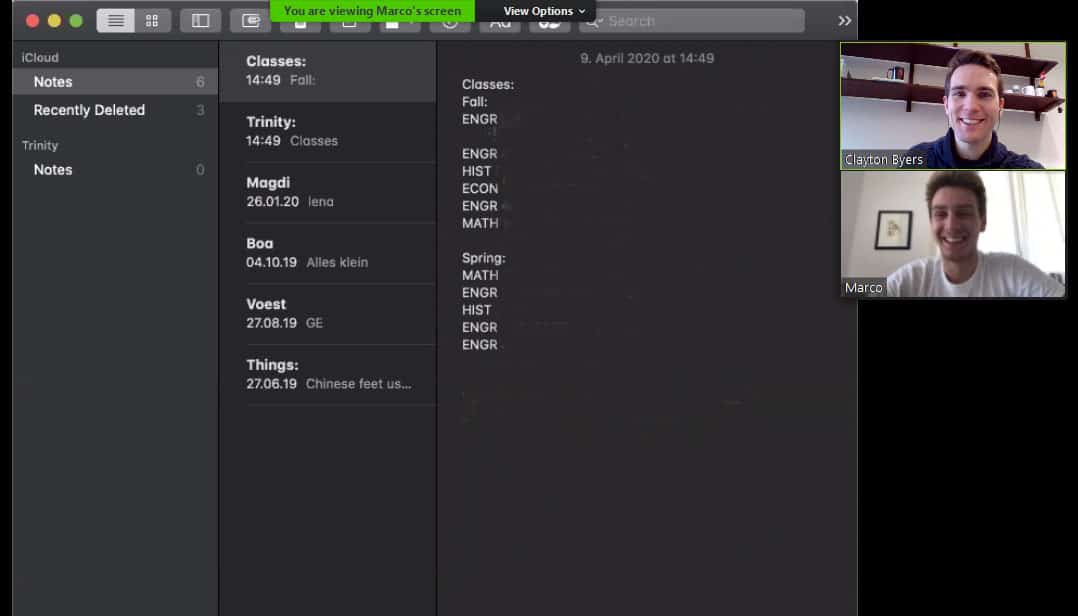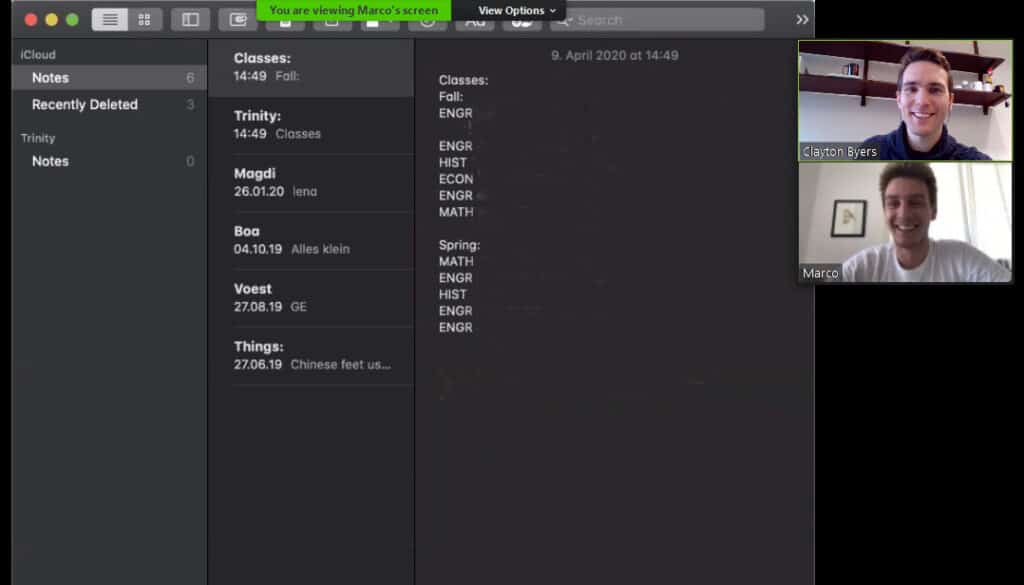 8:00 a.m. – Online student advising appointment. Marco Rupp '21 is back home in Europe, so morning here is the best time to talk. We double-check Engineering Department course requirements and work out conflicts with his second major for next year's schedule, but we end up spending most of the time chatting about life, how we are reacting to this crisis, and how his family is doing. It's a good chance to connect.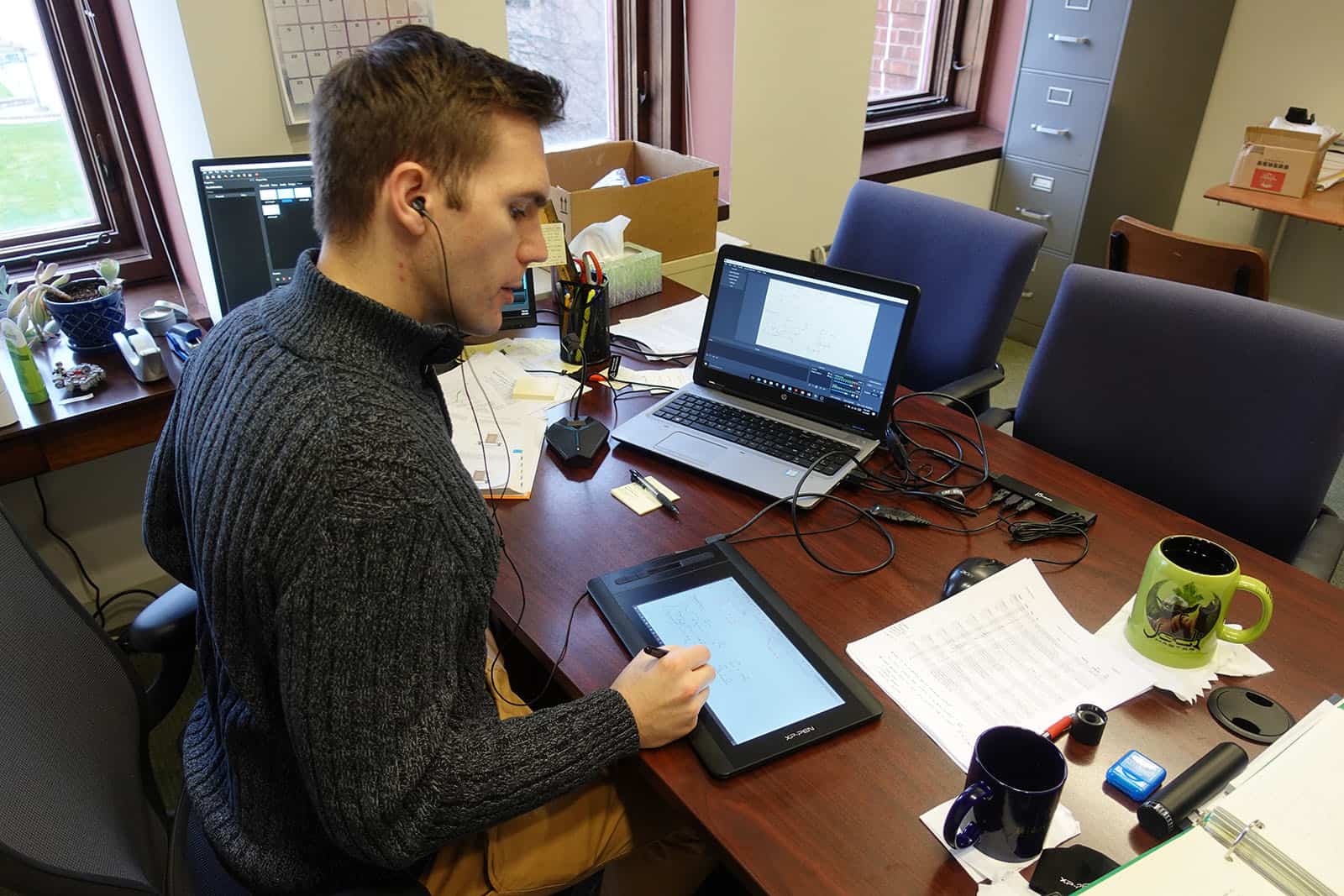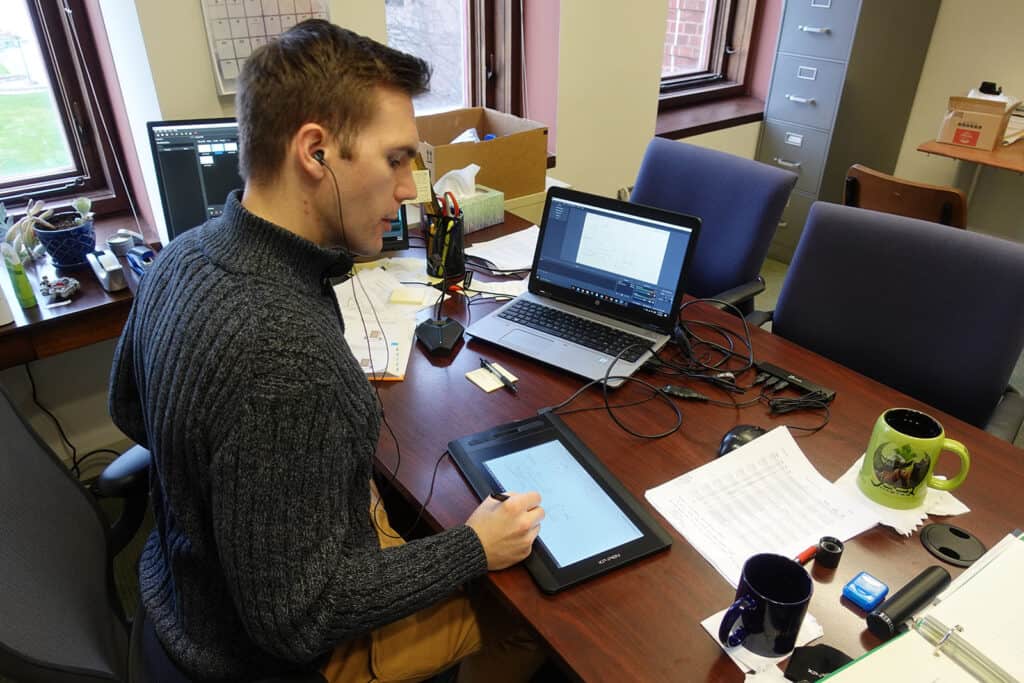 9:00 a.m. – Recording and editing clips for an online lecture. This has been a mixture of bizarre and exciting for me. I'm so used to the importance of interaction in my lectures, so to make videos to post on Moodle without live feedback from students is odd. At the same time, I'm really enjoying that I can put together a well-thought-out and edited series of videos that go into detail and provide examples of every concept I want to cover.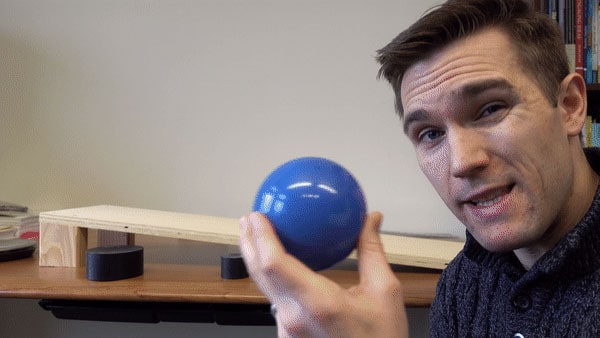 Students can watch and do assignments at their own pace. I don't want to make them all sit down at the same time; with students all over the world, trying to do a simultaneous lecture is challenging. I've received positive feedback, and the students are grateful that I narrate and do the work simultaneously on a tablet screen that they can see, instead of simply showing completed notes. Doing it this way is time-consuming (it can take several hours to film one lecture), but it is really helping me think about my work, what I do to convey it, and how best to approach each lecture.
10:00 a.m. – More online student advising appointments. "Face-to-face" discussions through Zoom are nice, and we talk a lot about contingency plans for their schedules, since we don't know yet what will happen after this semester. I've noticed many students just need assurances about the current situation and future plans, so I offer my continued support. The last meeting is a long talk with a first-year student about goals, courses, and trajectories to help him be successful and well-rounded in his education.
12:20 p.m. – Lunch, catching up on emails. I talk with my collaborator at Stanford about the paper we are working on. Some of the material was going to be presented at the conference I just learned was cancelled, so we're just focusing on publication for now.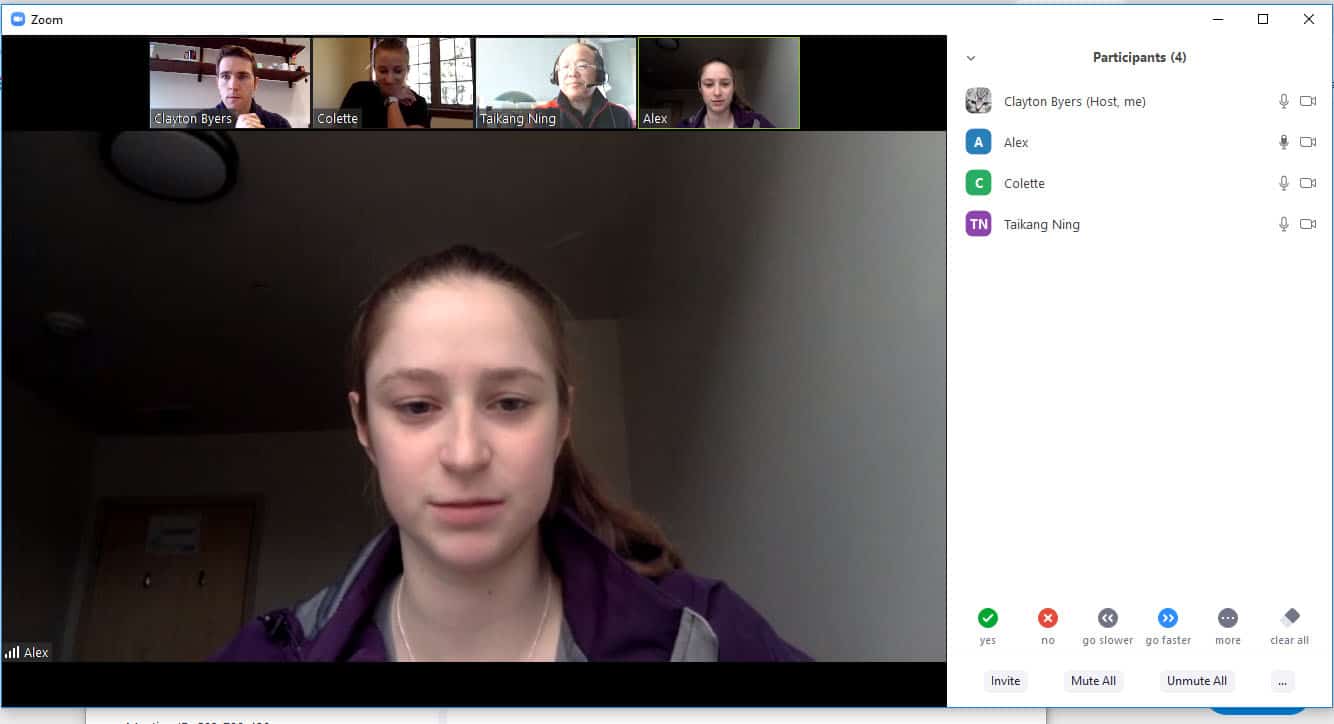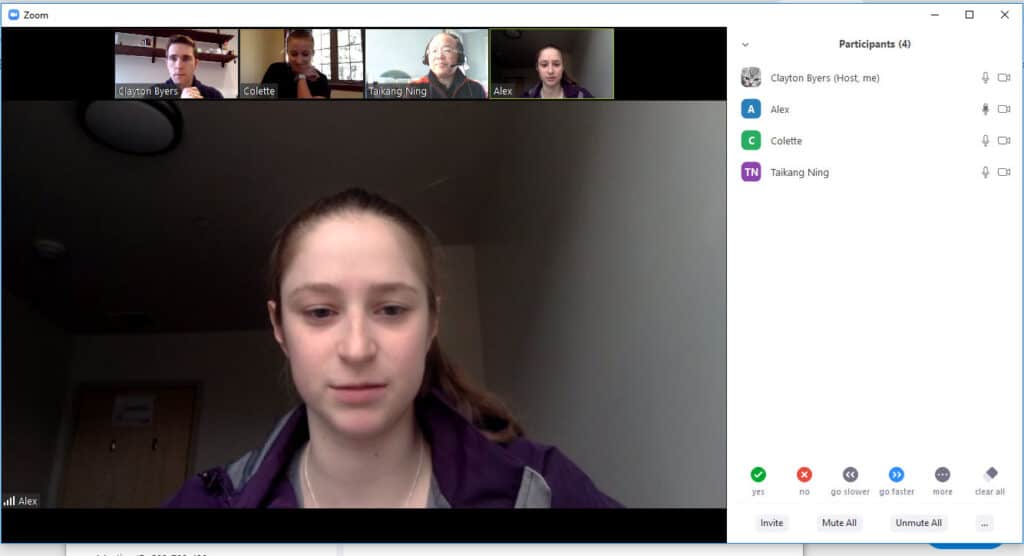 1:00 p.m. – Zoom meeting about senior design project. I join Professor of Engineering Taikang Ning to talk with engineering majors Alex Sinson '20 and Collette Scheffers '20 about their senior design project. This has been one of the more difficult aspects of the distance learning and isolation: senior design projects centered on the construction of an experiment or prototype that then needs to be tested. These projects have completely changed in their scope and expectations. Some testing has been completed, but both students will now complete the analysis and data processing at their homes and they'll be graded based on how we are adapting the project to the current circumstances.
2:00 p.m. – More coffee and research work. I write up some of the derivations and conclusions for the paper with my colleague I talked to over lunch. This process has always been remote; we use an online editor for writing the paper together from opposite coasts.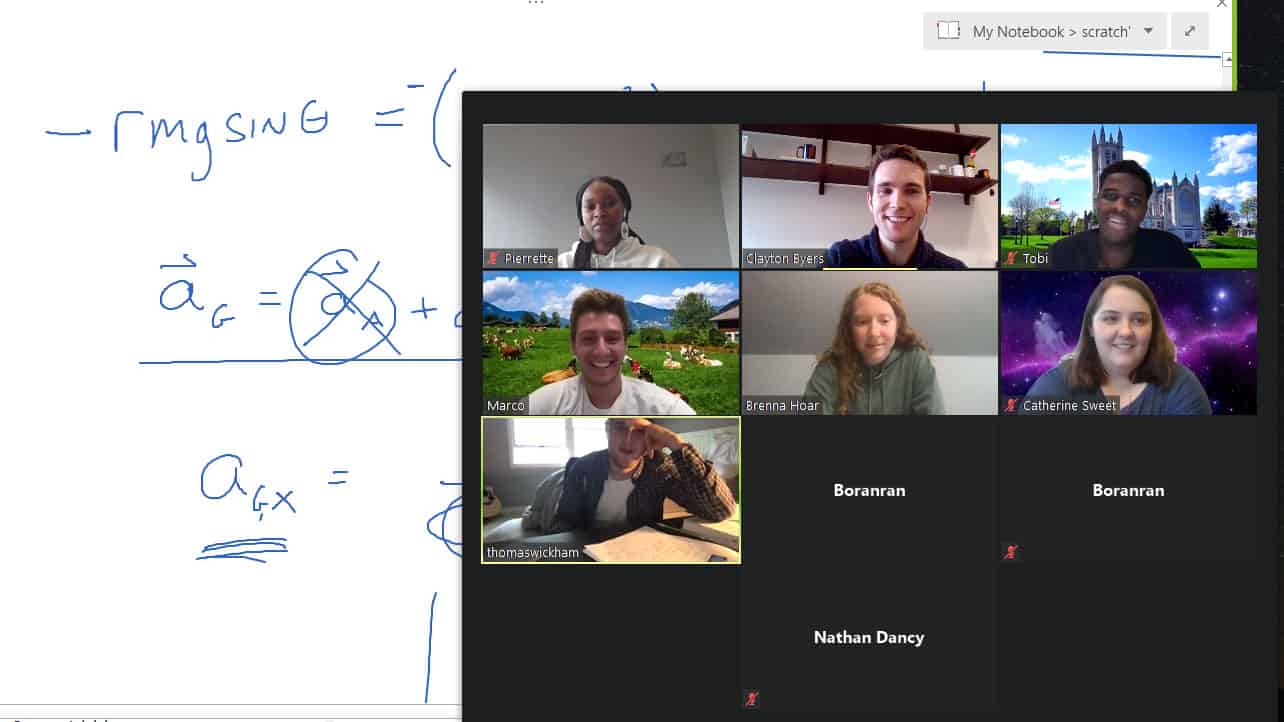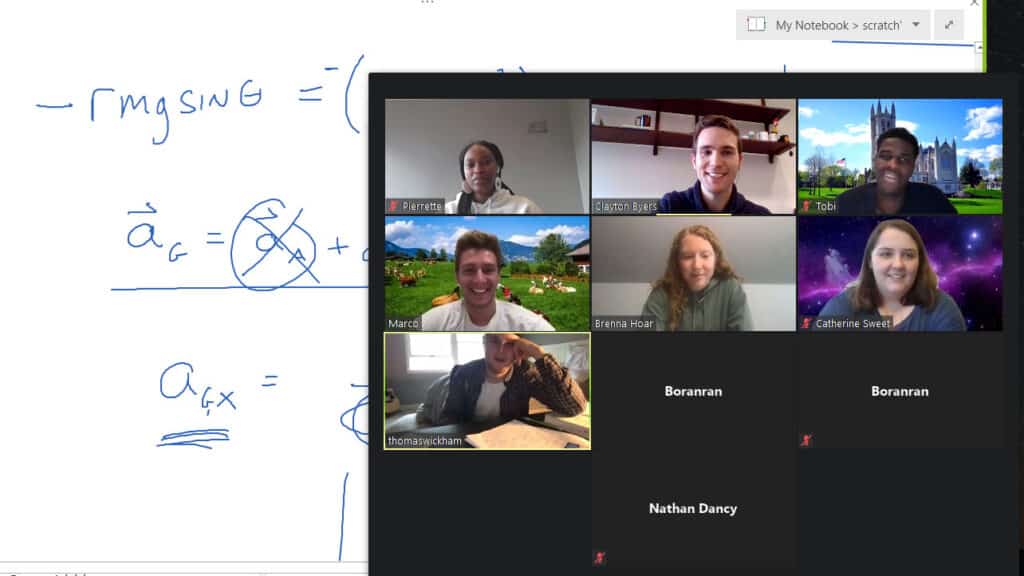 3:00 p.m. – Pre-exam Zoom review session for ENGR 226 course. There are a lot of great interactions here. It feels like a class again, working through a problem and getting feedback and questions from my students. Unlike my online office hours, where I meet with one or two students at a time, nine of my 13 students in the class attend this review session to go over practice problems live on Zoom. These kinds of interactions keep my spirits up, and seeing the students smile at my dumb jokes or ask pointed questions reminds me of how important it is to have interactions in a lecture. While I'm enjoying making the lecture videos to try to best convey the material, I'd rather have an in-person lecture, warts and all.
This exam is usually done in 50 minutes, in class, closed book, with no notes. But this time, I've told students I will post it at 8:00 a.m. Friday and it will be online for 24 hours. They can take it at any point in that time and I'll ask them to try to complete it in two hours. They can use notes, but I have made the problems a little bit more intense. It should really push the bounds of their knowledge. Like real engineers, they may consult references that are at their fingertips, but must still demonstrate abilities of critical thinking and problem solving.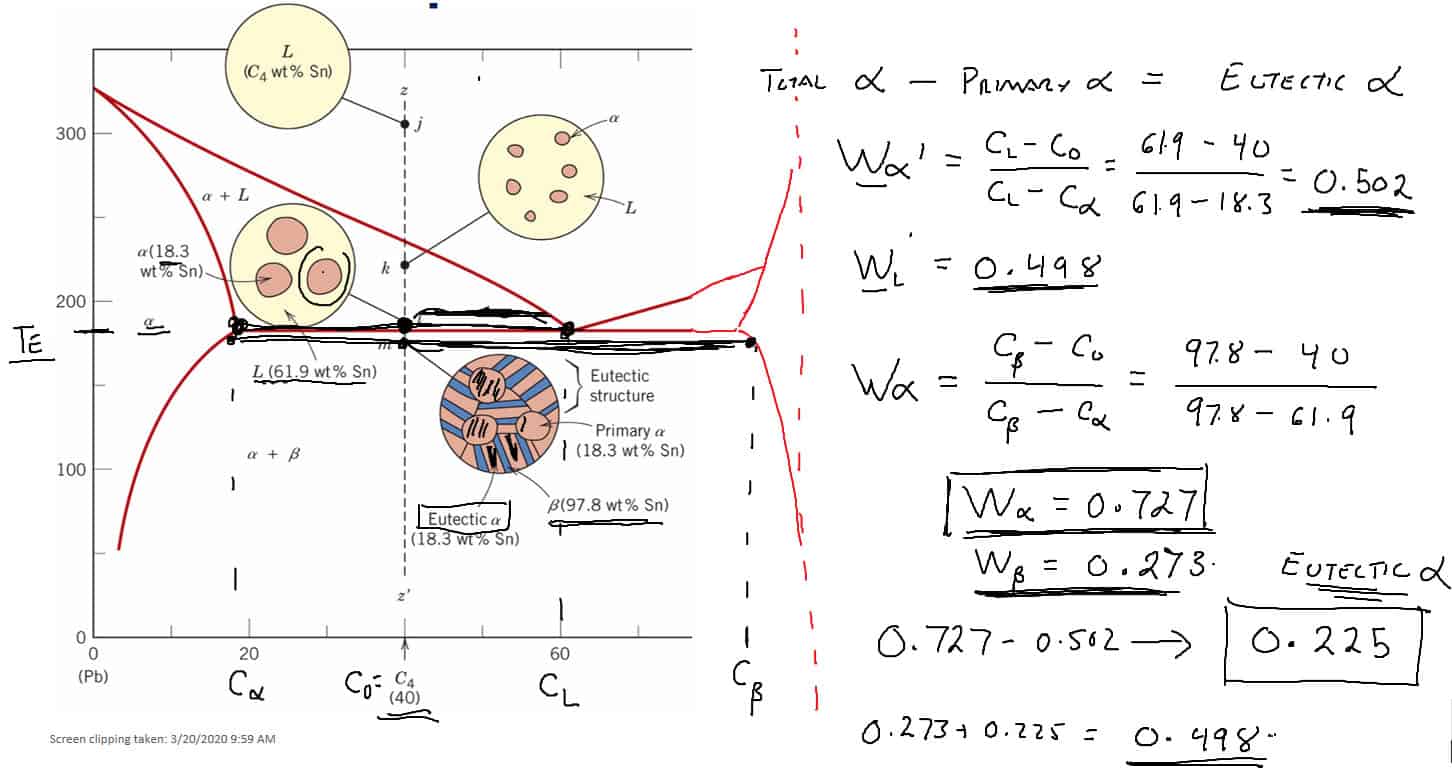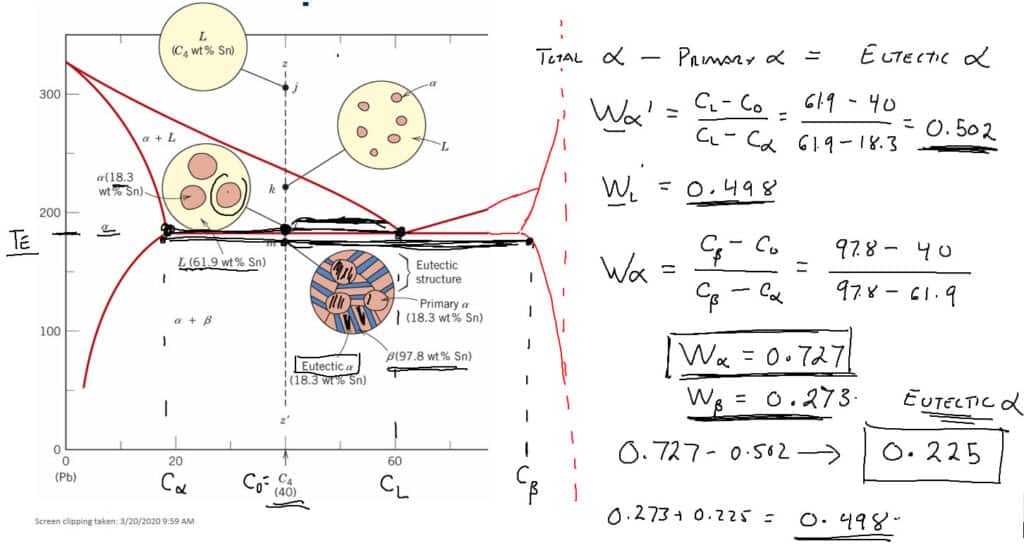 4:45 p.m. – A few more research notes. Lots of math manipulation; it's not terribly difficult, but it's extensive and time consuming. I get to a point where I'm ready to call it a day.
5:10 p.m. – Heading home. I've been happy to work at my office, but since coronavirus cases are starting to peak around here, I am planning to isolate myself at home, even though I've been isolated in my office. I'll pack up a box and bring everything home to do my work there for the remaining few weeks of the semester.
Some thoughts at the end of the day: Moving everything online so quickly is not ideal, but it's still a way to learn. My courses are lecture-based, but for the labs, there's been a severe change to how that material is learned. The students are no longer here on campus with their hands on that material. Some colleagues are doing virtual labs; others are showing videos of experiments, providing the raw data and having students analyze that. I'm glad to see that everyone is staying flexible. Right now, I care less about the students getting assignments turned in at a particular time and more about them finding a minute to think about what they're doing. It's most important that they're still putting in the effort to try to learn.
A Day in the Life of a Remote Student: Jyles Romer '20
A Day in the Life of a Remote Staff Member: Rose Rodriguez '15, M'18