Back to News
A Day in the Life of a Remote Student: Jyles Romer '20
Student Life
posted
by Andrew J. Concatelli
While most Trinity College students are completing the spring 2020 semester at home, as the COVID-19 pandemic prevents in-person gatherings, some students with special circumstances remain in their residence halls. No matter where they are, all students are learning remotely.
Jyles Romer '20, a psychology and sociology double-major from the Bahamas, applied to stay on campus to ensure that he could complete his academic experience and his job search. "Here, I can stay in the most productive mental space without worrying about Wi-Fi and power issues," he says. Romer has worked on campus as a social media associate (SoMA) in the Office of Communications and as a student technology assistant at the library. He is a 400m runner and triple-jumper on the track and field team and an avid photographer (all the images here are his). Below, as Romer recounts a recent day, he reflects on his four years at Trinity, his goals, and what it's like to learn remotely during a global pandemic:
Tuesday, April 14, 2020 – Jyles Romer '20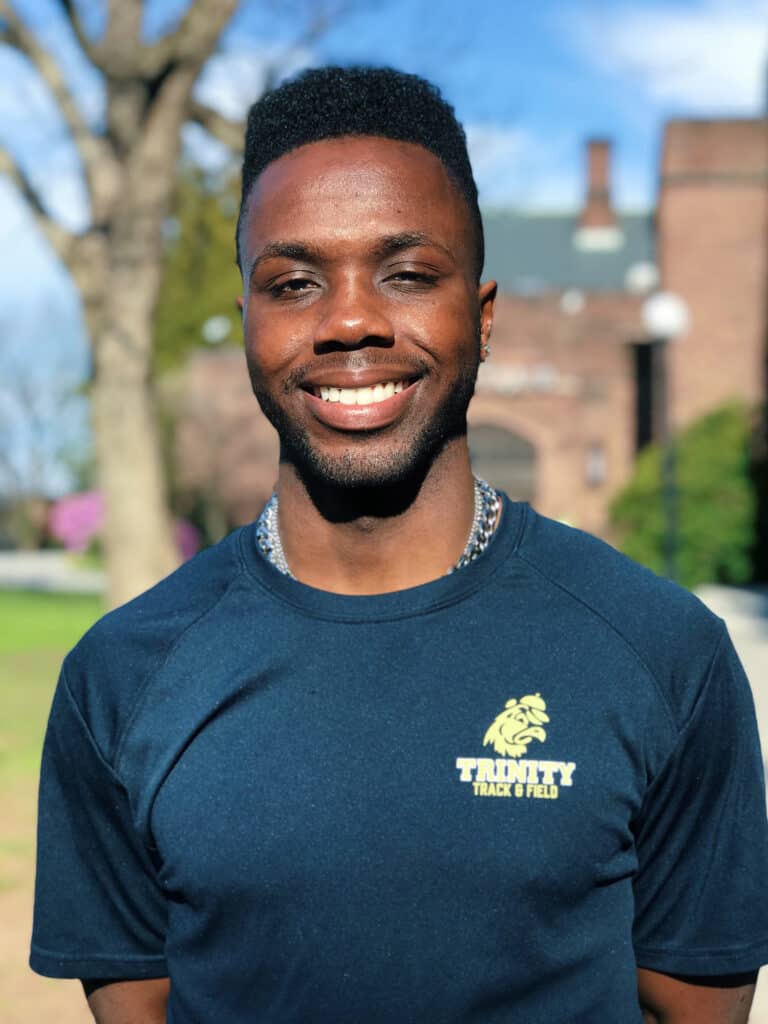 11:15 a.m. – The earliest I've started my day since Spring Break. Don't get me wrong, I'm a morning person. Before COVID-19, my day started at 7:00 a.m. I would go to work before class, which structured my day. Now I wake up, look at my phone, listen to music, and fall back asleep. As a spring-semester senior, I planned my academic schedule to commence after 1:00 p.m. daily, with no classes on Fridays, which I conceived would allow me to work more hours or finish homework in the morning. But during the pandemic, my reality is that I no longer have my student jobs as a point of reference. I have narcolepsy and am plagued with excessive daytime sleepiness (yes, that's a real medical term), so sometimes I would worry about sleeping through work, but that's not a problem these days. Although this pandemic has made being productive harder than I imagined, it in no way compares to those who are furloughed or have lost jobs and struggle to provide for their families.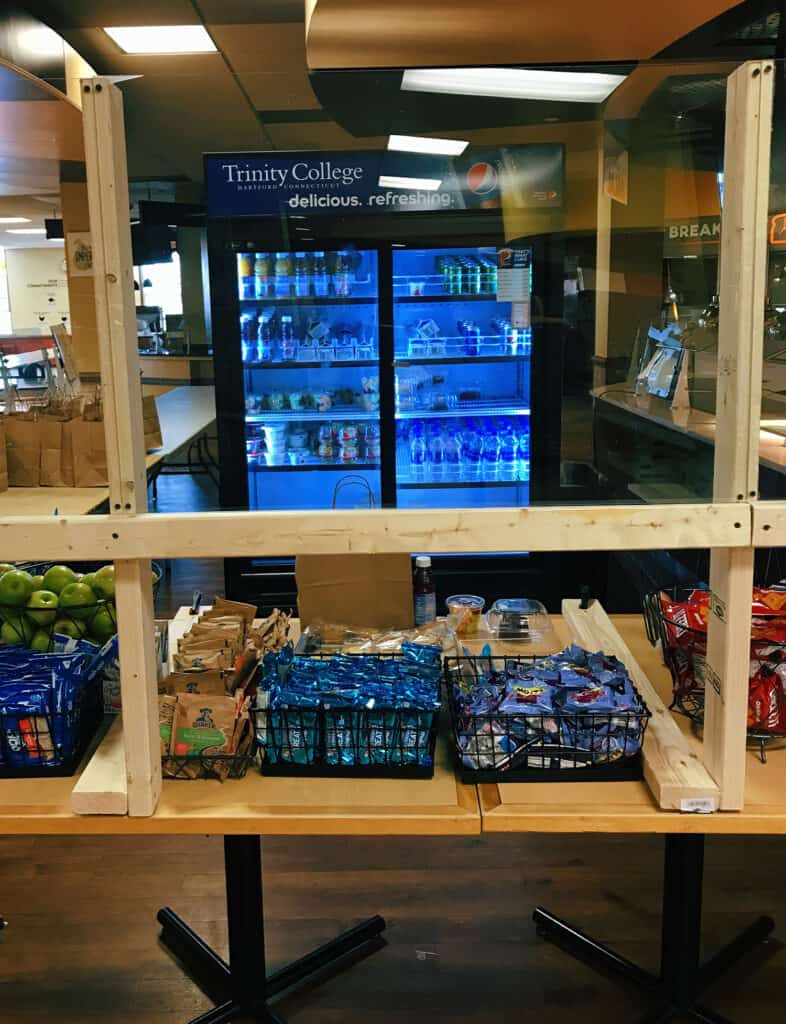 12:15 p.m. – Pick up brunch from Mather Dining Hall. This is my real sunrise. The 11:30 a.m. to 1:00 p.m. midday window to pick up food motivates me to start the day. Mather has been modified to ensure social distancing is being practiced, with neon yellow markings on the floor to remind students to keep 6 feet of space between us. For brunch and dinner, food options are spread out on tables behind plexiglass. I get the usual: cranberry juice, yogurt, chocolate cake (two pieces a day), and the entrée, which is mac & cheese with chicken and broccoli. A Chartwell's employee wearing gloves and a mask puts my selections in my bag. (Thank you to all the workers in Mather helping us out, and a shout-out to Miss Betty!)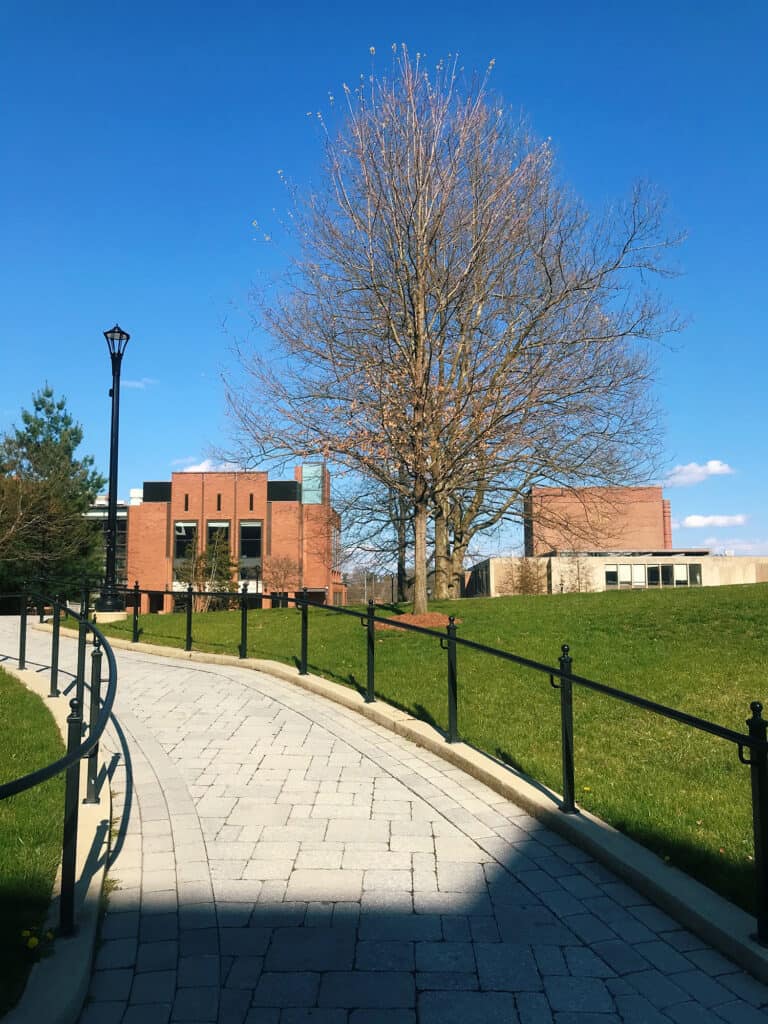 12:30 p.m. – Meeting with head track coach John Michael Mason '12 M'14. This is an academic check-in with Coach Mason, but more importantly, it's a mental wellness check-in.
1:36 p.m.-2:45 p.m. – Psychology seminar online. I'm late to my Zoom class meeting (I had to put my contacts in and it took me longer than I expected). Tuesdays and Thursdays are my favorite days because of my senior psychology seminar, "The Social Self," with Assistant Professor of Psychology and Neuroscience Molly Helt. I'm logged in from my room and the class discussions happen live; they are introspective, interdisciplinary, and invigorating. I love that the class dynamic hasn't changed much. We are all present and eager to engage. Prof. Helt put together an amazing syllabus and the course is geared to help us seniors tackle real-world problems. The things going on in the world end up lining up with what we're studying; it's magical.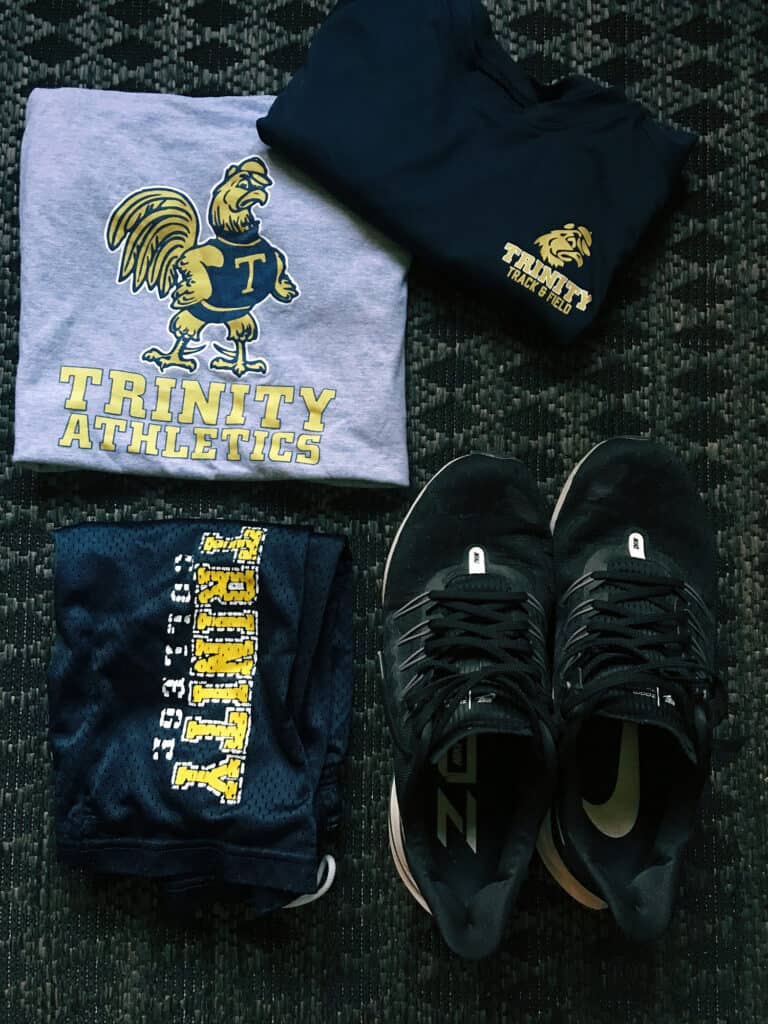 3:30 p.m. – Workout and a snack. Every day I schedule a "Dinner Buy-in" of 100 pushups in less than eight minutes. It's a conditional task that I set for myself to complete before I eat dinner. I would normally have track practice around this time. Exercising helps me feel more productive and better able to focus later in the day. As a track and field athlete, I'm grateful to have access to the track here on campus, but instead of running today, I use the time to complete my buy-in and then I eat chocolate cake. I like my desserts as stand-alone snacks. I've never been the biggest fan of chocolate cake, but this Mather chocolate is heaven-sent.
5:00 p.m. – Pick up dinner. I pick up dinner early today and feel quite proactive; usually I'm arriving 5 minutes before the dinner pick-up ends at 6:30 p.m. I'll eat my chicken breast, green beans, and potatoes later tonight. I grab my bag and exit through the door facing the Long Walk.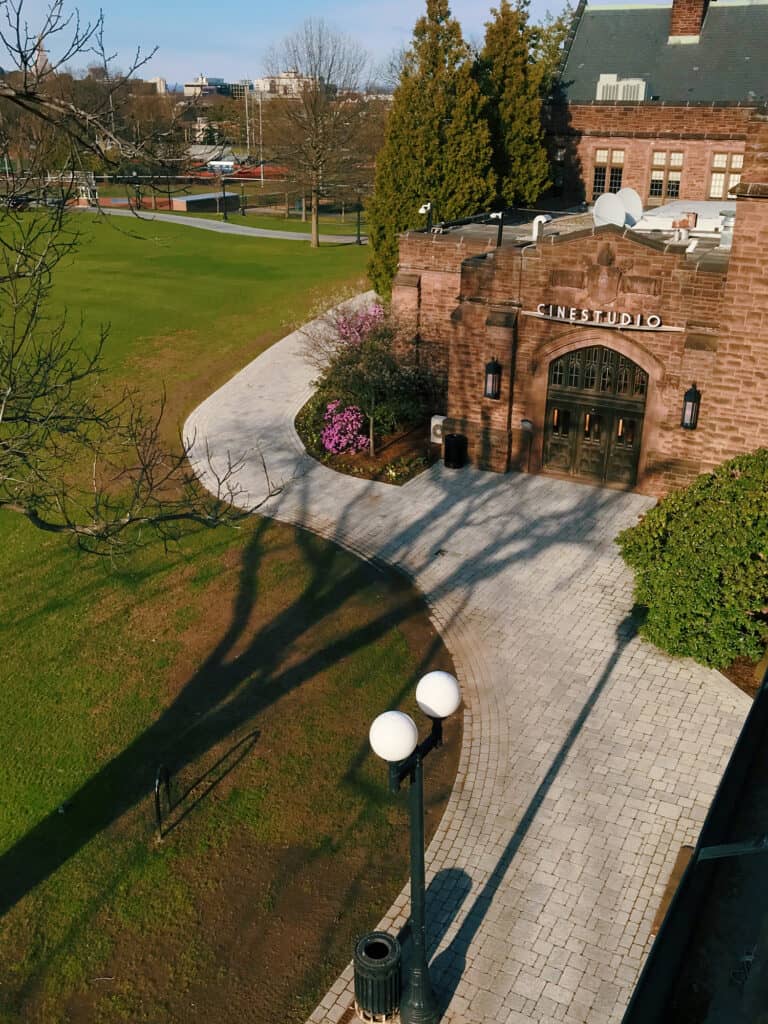 5:15 p.m. – Evening class postponed. Time for photos. On my way back to my room to prepare for my sociology class, "Medicine, Health, and Society," from 6:30 p.m. to 9:30 p.m., I receive an email that the class has been moved to Thursday. So I decide to pick up my film camera and my iPhone to take some photos around campus. Taking photos on my iPhone is a part of my daily routine. There are so many feelings throughout the day; I hope I can capture images and lighting that convey them.
7:00 p.m. – The second wind. I go on VSCO and Instagram and check my email aimlessly for a while. Dinner gives me my second wind. My academic day may start with lunch, but it surely doesn't end with dinner. Some days I go to the library to do assigned course work in a more classroom-like environment, but today I stay in. As a senior and international student, the biggest worry I have pertains to my career after college. I'm trying to not let my academics slide while I march full steam ahead with job applications, and vice versa. I have a cover letter I need to finish for a job I really want, doing marketing research for a neuroscience-based company. It's easier to apply while still in the country; I want to work in the U.S. and don't want to have to leave and come back. It's added pressure to get my life in order while finishing finals.
10:00 p.m. – Family time. My family calls and we talk about our days, our meals, and argue about who loves who more. Sometimes I'm in the midst of a workflow and answering the phone can disrupt that. However, my family is more important. I'm glad they're safe.
11:00 p.m.-4:00 a.m. – Existential thoughts and Rubik's cube. Every night, this is where the introspective questions or concerns emerge. Where did the time go? The days are no longer numbered or labeled. There is no countdown to graduation. (I'll have my degree in May, but Commencement has been postponed until next year.) As one of the few students allowed to stay on campus, I truly have no complaints. Mather is still open, and I have more freedom. Of course, I've spent the last three summers working on campus, so Trinity's depopulated campus is quite normal for me. I've been afforded opportunities that allow me to embrace this experience.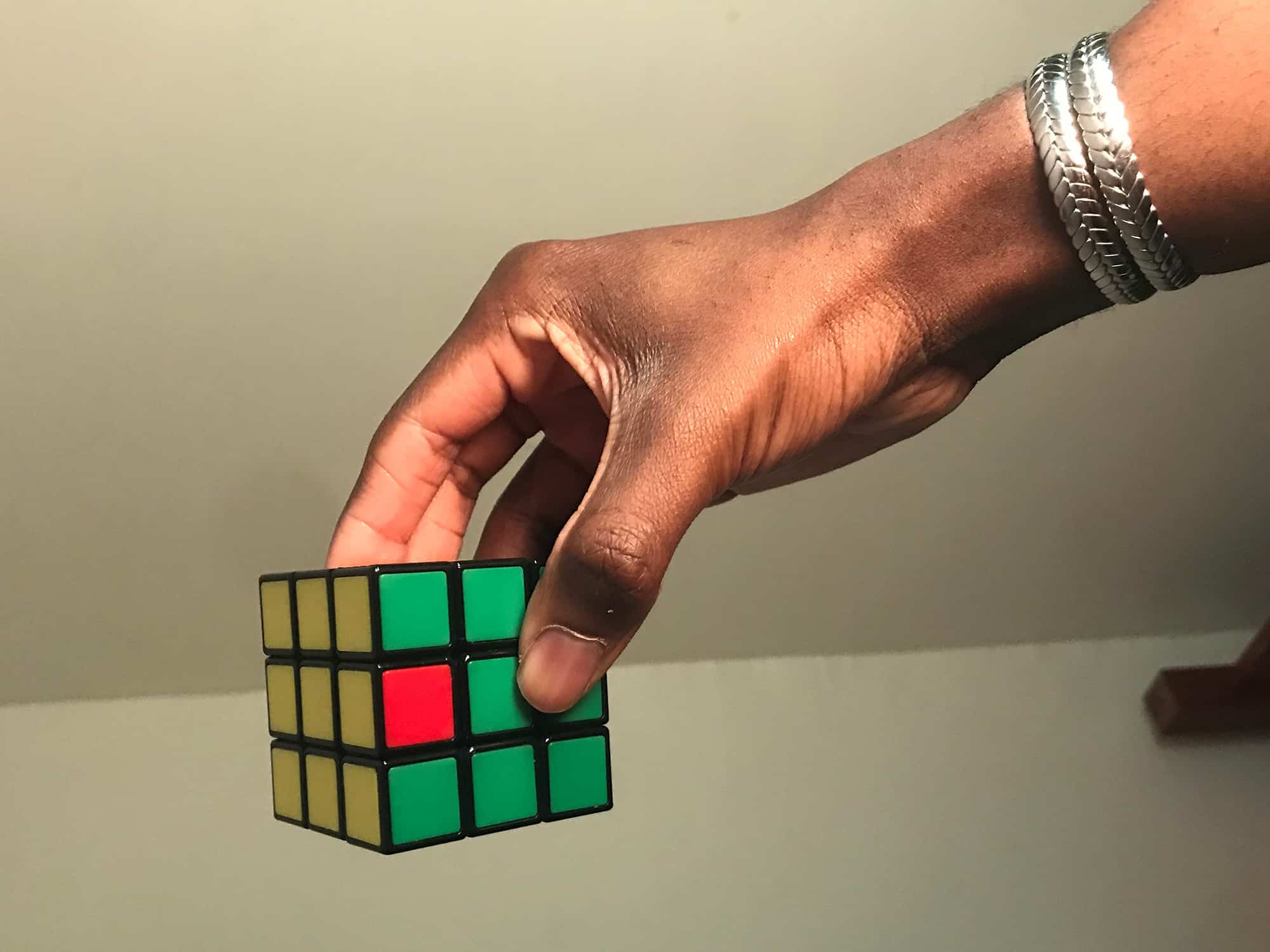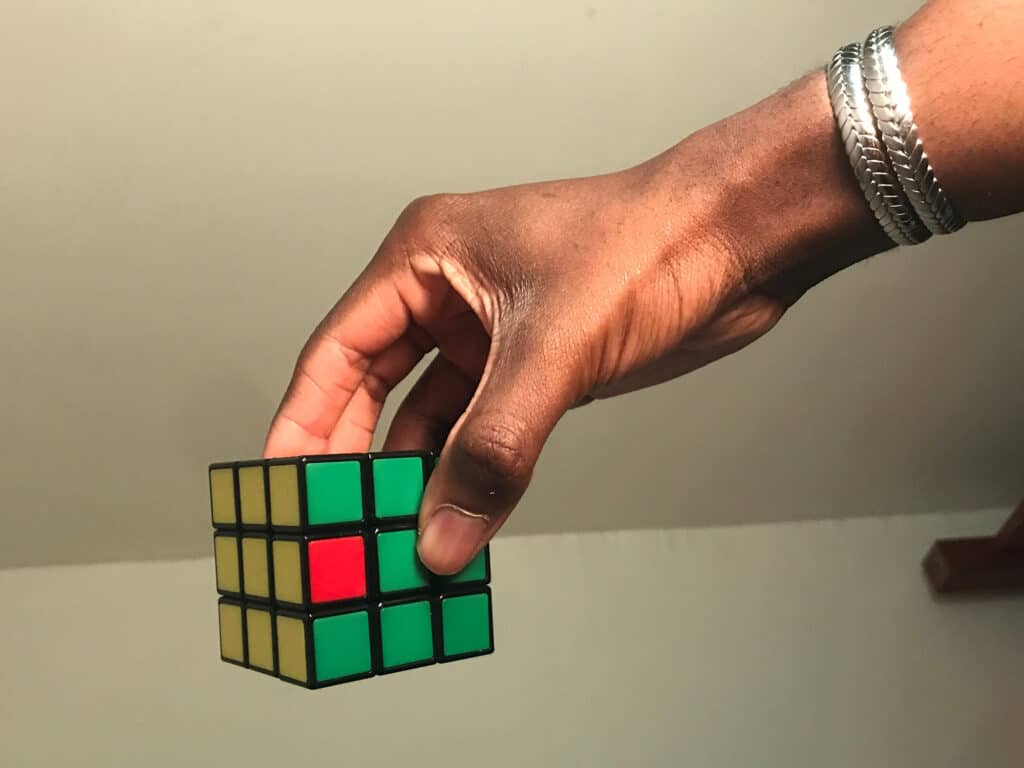 This has given me more time to work on other things. I think about who I am in the world and who I want to be. I also spend some time each night working on my Rubik's cube. I can solve it, but I want to get to a point where I can teach other people. It'll be way cooler to hear someone else say that I taught them how to solve it.
Although this is not the senior spring I imagined, I have no regrets about my time at Trinity. I feel like I got so much out of my four years. I gave others their flowers while I still could, tried and failed at many things, learned a plethora of things because of it, and enjoyed the fruits of my labor while they were ripe.
A Day in the Life of a Remote Staff Member: Rose Rodriguez '15, M'18
A Day in the Life of a Remote Faculty Member: Clayton Byers