Honoring '50 for the Next 50'
As Trinity College continues its Women at the Summit initiative celebrating 50 years of coeducation, the women who were named as "50 for the Next 50" demonstrate that the future of coeducation at Trinity is bright and beaming with talent.
On February 7, members of the Trinity community—including students, alumni, faculty, staff, administrators, and trustees—gathered at Hartford's Society Room to recognize 50 exemplary women who will have a lasting impact on the next 50 years of Trinity.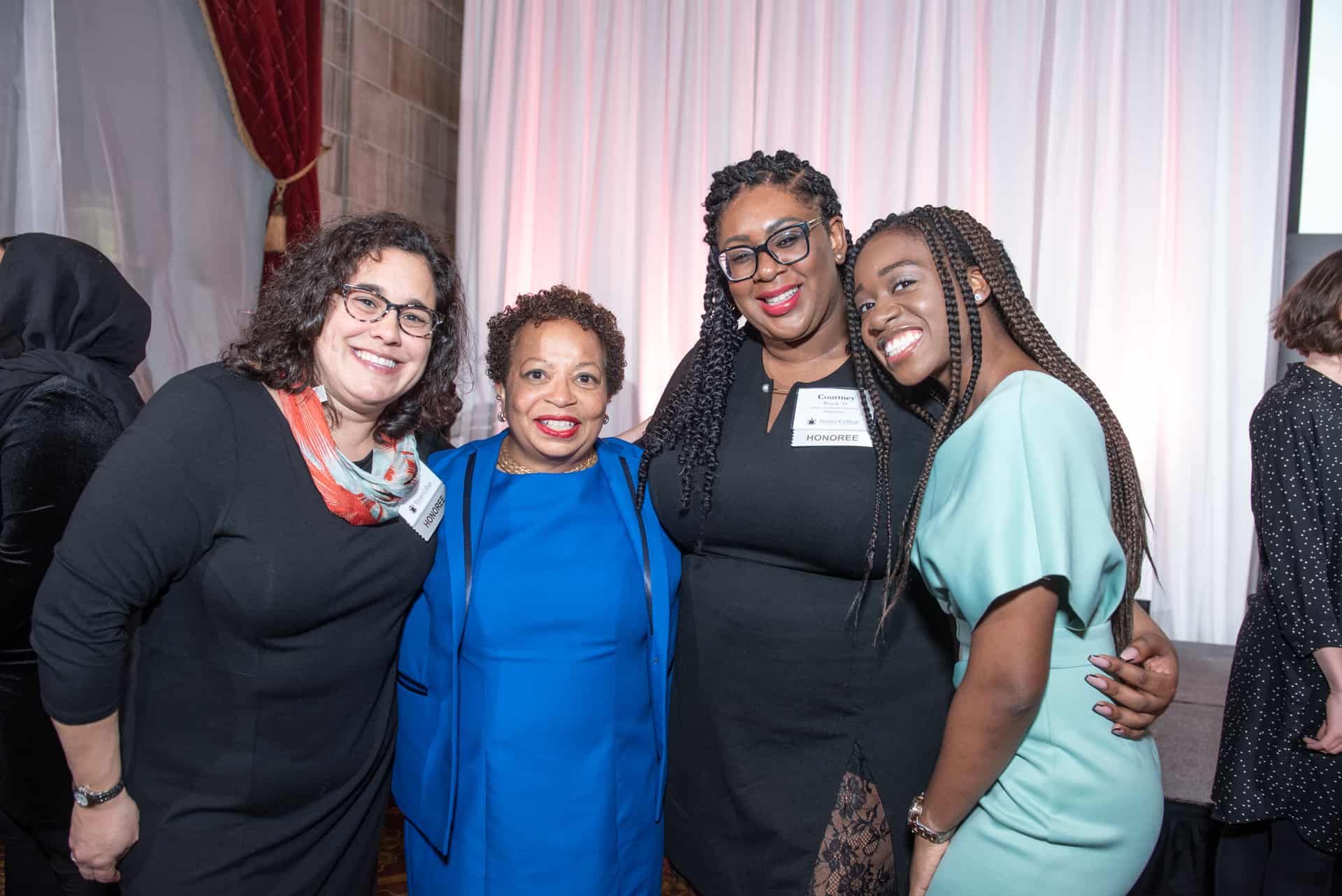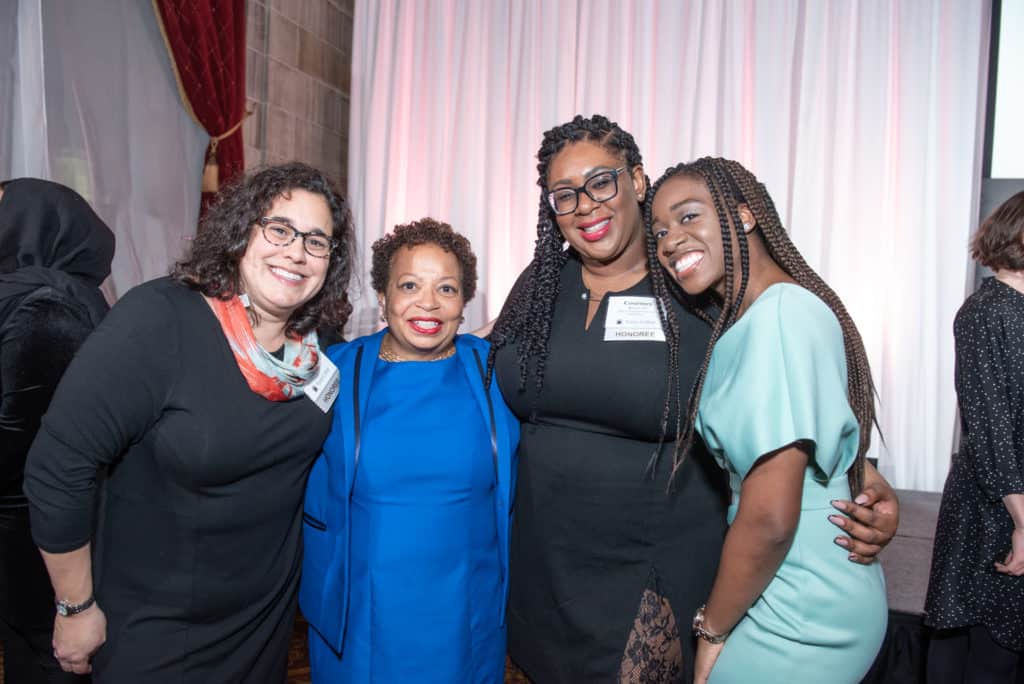 Friends, family, peers, and colleagues of the honorees also attended the event to celebrate the 50 women recognized for being current and future leaders. The Hartford Hot Several Brass Band gave a lively performance preceding a welcome from Trinity President Joanne Berger-Sweeney, who introduced "50 for the Next 50" Selection Committee Chair Sarah A. Raskin, Charles A. Dana Professor of Psychology and Neuroscience.
Raskin said the 15-member selection committee evaluated more than 200 nominations. "We wanted to recognize not only women who have made outstanding achievements, but also women who do the work that women often do that goes unrecognized," Raskin said. She added that the 50 women are extraordinary mentors, women who do coalition building, and women who are creative at problem-solving on campus, in the community, and across the globe. Click here to see the full list of honorees.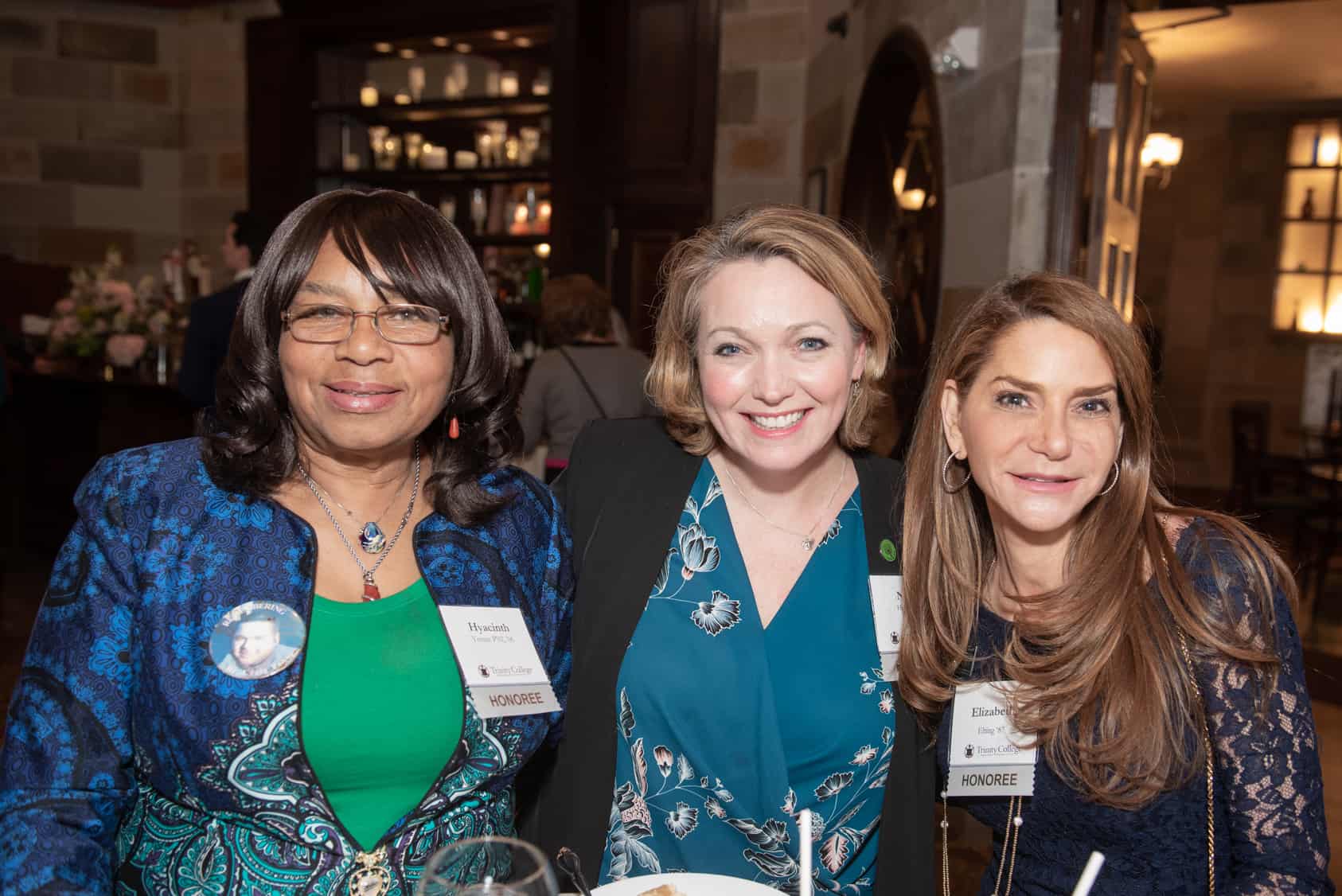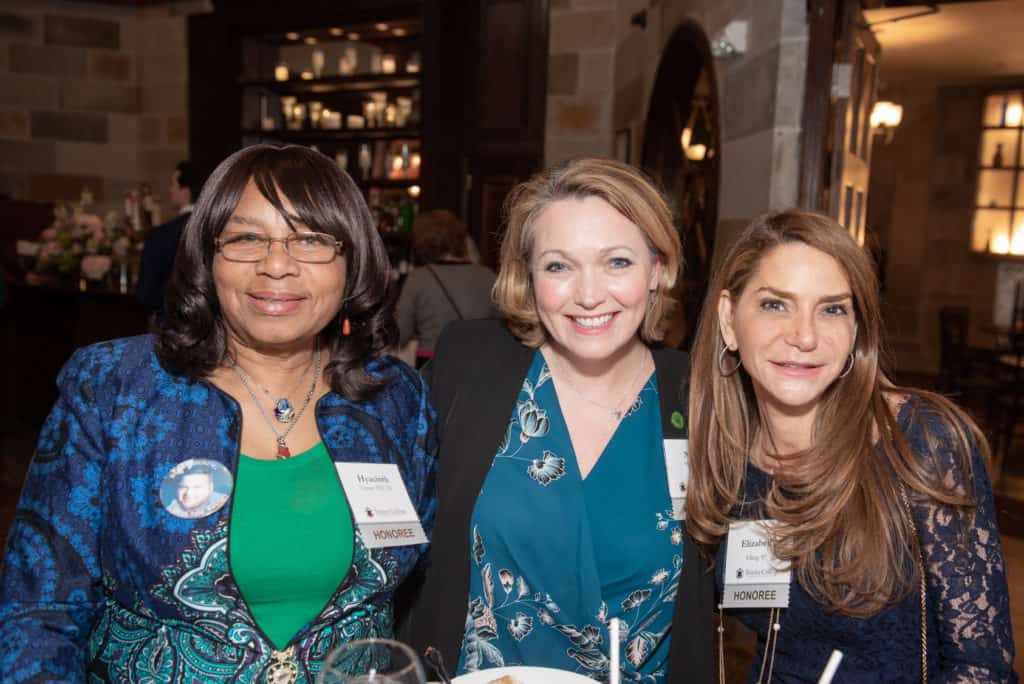 Honoree Nicole Hockley '92, the co-founder and managing director for the nonprofit organization Sandy Hook Promise, hopes to inspire women and men to be leaders of change and acknowledges the importance of Trinity's role in providing that foundation. "For women to truly be seen as equals throughout education and throughout their careers in terms of being change-makers, I think coeducation is incredibly important," said Hockley. "I think that the generation that are students now and that are soon to be students, they get it."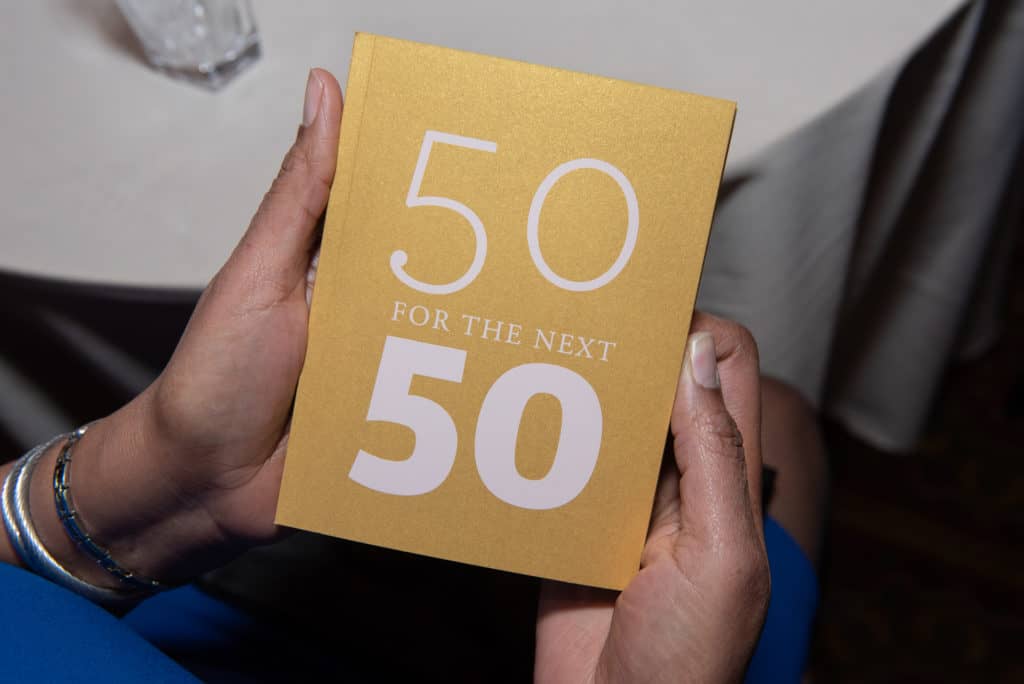 Current Trinity students see that an inclusive future at Trinity also entails cultural and ethnic diversity. Honoree Hamna Tariq '20, who's an advocate for the education of girls in her native Pakistan and was invited by Together for Girls to speak at the UN Commission on Status of Women's Conference in 2017, said, "I'm really happy with the way coeducation is going right now at Trinity, but I do imagine a more diverse Trinity, more women of color on campus, and more international women on campus." Tariq added, "I know Trinity has increased the international student body, but we can do more and I know we will because we have a wonderful administration."
Cornelia P. Thornburgh '80, the chair of Trinity's Board of Trustees and a "50 for the Next 50" honoree, said that the groundwork that Trinity lays for each student is at the cornerstone of achievement for these honorees. "Each and every student, with their unique perspectives and character, are and will be encouraged to engage one another and those of us that support them to ask the questions and find the answers we need to make our communities and our world more compassionate and inclusive," said Thornburgh.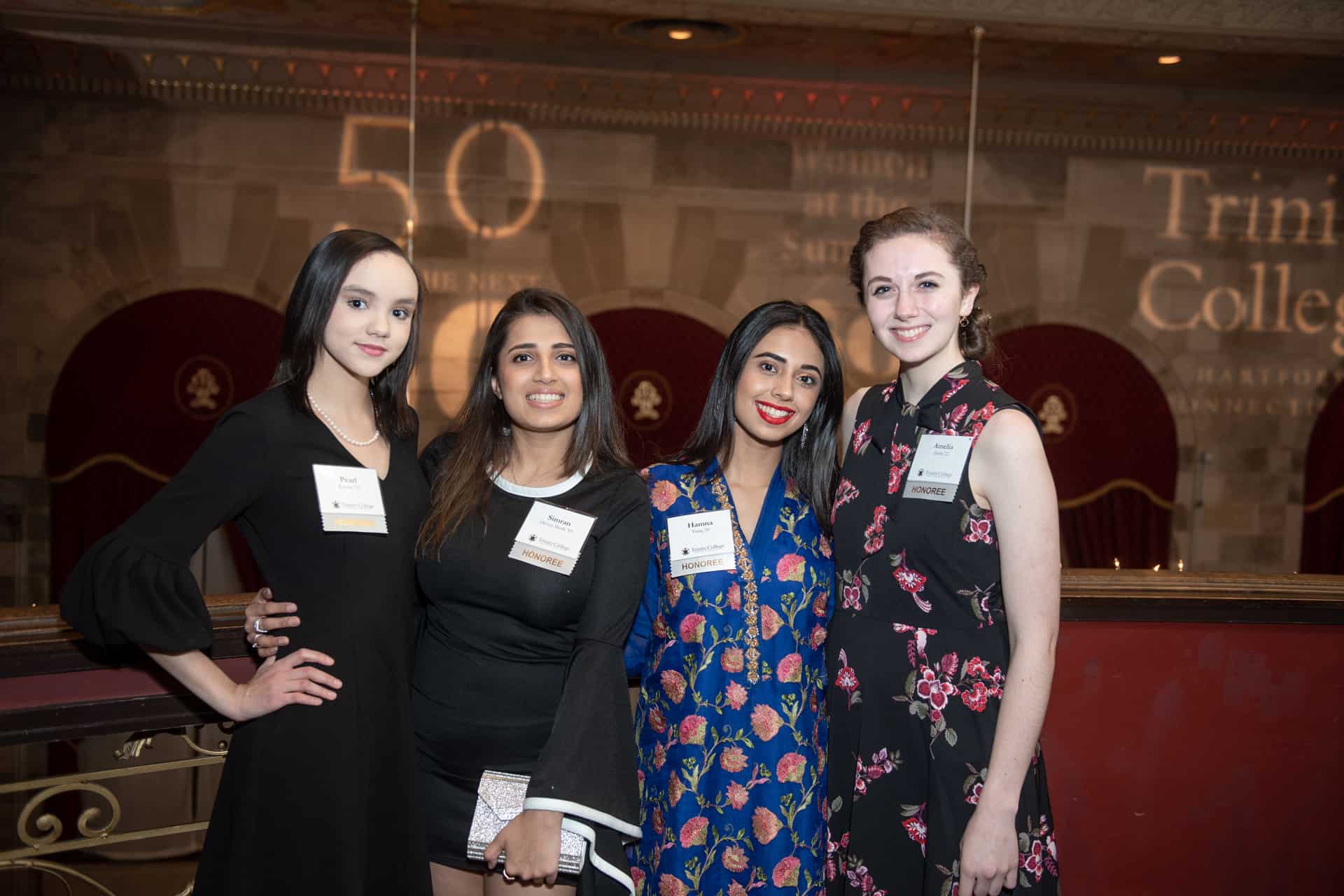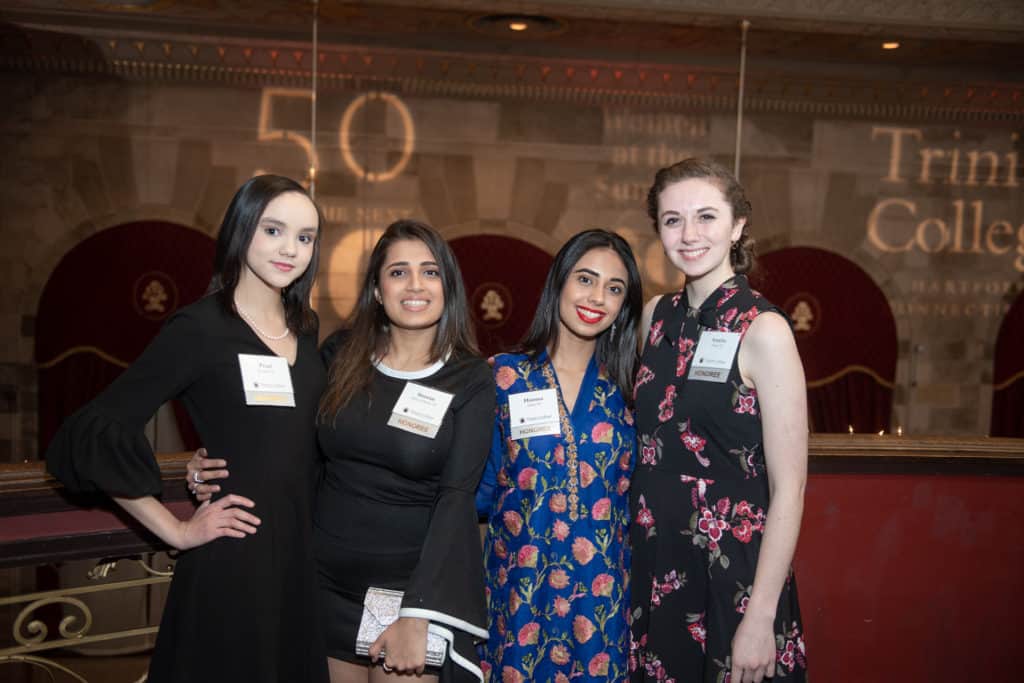 Honoree Amelia Elizabeth Huba '22 described the importance of recognizing the many changes that have occurred over the five decades of coeducation at Trinity. "It's astounding to see how far this college has come in just 50 years," said Huba. "Hearing from women who graduated in that first [coeducational] class and how hard they worked to find their place and establish this college as coeducational and then looking at today, our president now, and having a first-year class that is 50 percent women and 50 percent men—it makes me proud to attend this college."
The "50 for the Next 50" program is part of the Women at the Summit initiative, which has employed a three-semester framework of "Yesterday, Today, and Tomorrow," to acknowledge and provide programming that details the past, present, and future of women at Trinity. To read more about this initiative and its affiliated events, click here.
Click here to see more photos from the celebration and watch the video below.
Written by Amanda Lafferty '21