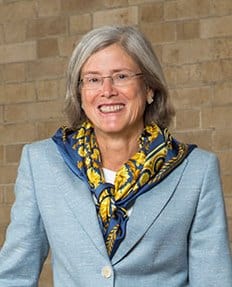 Cornelia Parsons Thornburgh, "Cornie," is chair of the board, a position she assumed in 2014. She has been on the Trinity board in varying roles since 2004. Her professional work history includes serving as a financial partner and chair of the advisory committee at New York-based Eachwin Capital, as a vice president and account supervisor at advertising agency J. Walter Thompson, and as a financial analyst at First Boston Corporation.
Additionally, Thornburgh served the College as chair of the Presidential Search Committee that brought Joanne Berger-Sweeney to Trinity. She was co-chair of the Charter Committee for Building Community and has served as a member of the Board of Fellows. Cornie is also one of the creators of and currently serves on the Founders Council of the Women's Leadership Council. In 2010, she was awarded Trinity's Eigenbrodt Cup, and in 2013, she and her husband, Richard E. Thornburgh, had their names inscribed on the Wall of Honor. Thornburgh serves as an ex officio member of all committees and subcommittees of the Board of Trustees.
Thornburgh earned a B.A. in political science from Trinity and an M.B.A. from Columbia University. She and her husband, who reside in Palm Beach, Florida, have three daughters.