Guiding students through challenges that affect their academic progress and personal well-being.
We recognize that every student has a unique experience. As a result, we help students identify possible strategies to help meet their individual needs. We connect students to resources and services that may aid their progress both in and out of the classroom. In addition, we work closely with parents and families, faculty, and staff, combining our efforts to help students navigate challenging situations as they arise.
Robert P. Lukaskiewicz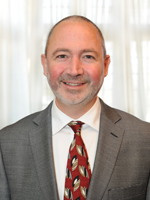 Dean of Community Life and Standards
Interim Director of Campus Safety
Office of Student and Community Life
Admissions Ground Floor, Room 101C
(860) 297-2304
Dr. 
Jody T. Goodman
Dean of Student Life and Director of The Bantam Network
Office of Student and Community Life
Admissions Ground Floor, Room 101A
(860) 297-5251

Dr. Ann E. Reuman
Sr. Associate Dean and Special Assistant to the VP for Student Success and Enrollment Management
Office of Student and Community Life
Admissions Ground Floor, Room 101B
(860) 297-2154
John L. Selders
Assistant Dean and Coordinator of Student Standards
Office of Student and Community Life
Admissions Ground Floor, Room 101F
(860) 297-2158