Back to News
2020 Public Humanities Collaborative Explores Digital Tools in Remote Work
Community Learning
posted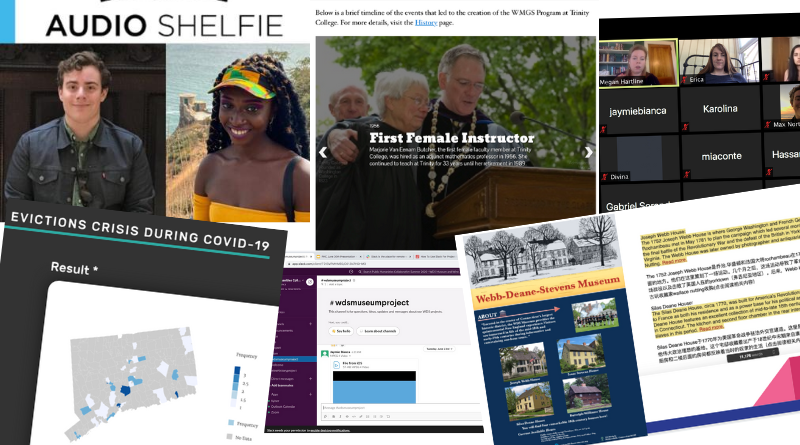 This summer, Trinity's Public Humanities Collaborative (PHC), a component of the Summer Research Program funded by the Andrew W. Mellon Foundation, went fully remote as students worked creatively with faculty and community partners. The Public Humanities Collaborative (PHC) brings together students, faculty, and individuals and organizations in Hartford to work on public humanities: the study of how people interpret stories of our human experience.
Over the ten weeks of the program students managed their time working with faculty and community partners on public humanities projects and participated in weekly lunch and learn workshops on Zoom to learn about a variety of topics in public humanities. In their projects students had the opportunity to engage in archival research, oral history interviewing, digital storytelling, story mapping, exhibit planning, social media engagement, website construction, and more. To enrich their field experience lunch and learn workshops focused on digital tools like Story Maps and Canva and discussed broader issues like ethical approaches to research and community projects and strategies for managing multiple projects.
In three years of PHC we have seen this program simultaneously present a challenge and opportunity for students to shift their way of thinking and working from that of a student to that of a paid research assistant. They were able to strategize with each other and with coordinator Megan Faver Hartline about how to manage project expectations, plus they reflected on what careers in the humanities looked like as they heard from partners with humanities backgrounds from Hartford History Center, YWCA Sexual Assault Crisis Services, Man on Fire LLC, and others.
During the summer, each project team was asked to present about their work and train the class in a digital tool or other skill they had learned through their project. Take a look at their presentations below.