Back to News
Connecting Trinity and HMTCA Students Through Tutoring
HMTCA-Trinity Partnership
posted
When the TRIN-HMTCA Tutors program launched in the fall of 2022, Liliana Polley IDP'21, MA'23 was worried about getting enough Trinity College student tutors and Hartford Magnet Trinity College Academy (HMTCA) students to join the program. It turned out that recruitment wasn't a problem. Trinity students showed strong interest in volunteering for the afterschool program and there was equal enthusiasm from HMTCA parents to enroll their children for tutoring and extracurricular programming. Polley, the Trinity-HMTCA Partnership Program Manager, had 15 Trinity student tutors and 15 HMTCA student mentees signed up in no time. By Spring 2023, that number has expanded to 19 Trinity students and 30 HMTCA students.
When HMTCA students arrive for tutoring on Tuesdays and Thursdays, they are greeted by Summer Tate, M.Ed., MFA from HMTCA's English Department. They have a snack, settle in, and get ready for an hour of tutoring with the Trinity volunteers. Trinity tutors set up tables grouped by subject, and the HMTCA students choose the table where they need help that day. Following an hour of homework assistance, HMTCA students engage in an additional hour of enrichment activities and games.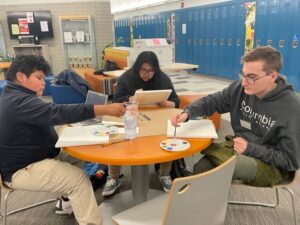 The Trinity-HMTCA partnership formally links Trinity College with HMTCA, the middle school and high school (grades 7-12) located on Broad Street, directly across from Trinity College. Polley began as the partnership's leader at Trinity in the summer of 2022 and hit the ground running by enrolling HMTCA students in Trinity's classes, finding a designated classroom for 60 HMTCA students to take their high school English class, and organizing the tutoring program.
The tutoring program is a particularly important initiative at this moment in time. "HMTCA students are returning from a period of remote school and pandemic learning loss, with some students needing individualized tutoring and mentoring. Trinity students are interested in developing civic partnership skills and connections through the new Trinity Plus curriculum Wellness Requirement," explains Abigail Fisher Williamson, Director of the Center for Hartford Engagement and Research and Associate Professor of Political Science and Public Policy and Law. "The TRIN-HMTCA Tutors program brings students from both institutions together to form relationships and pursue these interests."
This spring an Equity and Innovation Grant from Hartford Public Schools has helped the program reach more students at Trinity and HMTCA. "We thought it was going to be more challenging to increase the size of the program, but it worked out really well. We did a lot of outreach and the parents responded," Polley says.
For Trinity students, the program provides an opportunity to connect and use skills they have learned in college to help high school students. Lead mentor Otis Klawans '25 says, "This program means a lot to me because I was always afraid to ask for help in high school, so being able to provide support for students in the TRIN-HMTCA Tutors program is such a great experience. It's important to me that the program is a safe space where students feel comfortable asking questions and being themselves."
Victoria Furlan '23, also a lead mentor, adds, "My favorite part of the program has been to get to know all of the HMTCA students who are part of it. Seeing them smile and laugh makes my day, especially when we're playing games or doing enrichment activities."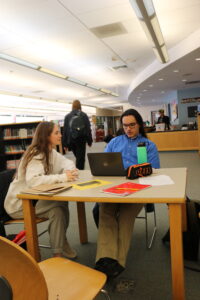 In addition to forming connections between students from both institutions, the program is designed to help HMTCA students achieve academic gains. Polley sees evidence that HMTCA students are increasing their academic confidence: "I walked into the tutoring program one day recently and one of the mentees expressed enthusiasm for the program and said, 'I feel like I am smart enough to do my homework now.'"
The Trinity-HMTCA Partnership is busy with other programs this semester as well. Ten HMTCA students are enrolled in Trinity College courses. The Summer Writing Institute will invite HMTCA students to learn about college writing with Trinity professors on campus in June. HMTCA students will also participate in events and workshops at Trinity including the Trinity International Hip Hop Festival, MOCA Men's Leadership Summit, a movie night at Cinestudio, Samba Fest, and a music production workshop hosted by Trinity College, Temple of Hip Hop, and Youth 4 Change.
To wrap up a full academic year of partnership programming, HMTCA will hold their high school graduation on Trinity's campus on June 20. Both institutions will have a chance to celebrate the graduating class and the Trinity-HMTCA Partnership's strides this year, including the relationships formed in the tutoring program.